Dieser locker leichte Käsekuchen mit Erdbeeren und Holunderblütensirup ist eine wunderbare sommerliche Erfrischung, wenn es richtig heiß ist.
Ich mag es den Boden kurz zu backen, aber wenn es zu heiß ist könnt ihr den Schritt auch einfach weglassen und ihr hab einen kompletten No-Bake Cheesecake. Genial oder? Dann braucht ihr nur noch schön aromatische Erdbeeren und Holunderblütensirup. Etwas später im Sommer könnt ihr auch einfach Pfirsiche, Himbeeren oder Brombeeren nehmen. Ich stelle mir das alles wunderbar lecker vor! Die Cheesecakemasse lässt sich auch anstatt mit Sirup mit Zitrusabrieb oder Vanille aromatisieren. So viele Möglichkeiten, da kommen mir so viele tolle Ideen!
Ich verwende für den Boden wieder meine geliebten selbstgebackenen Graham Cracker, die ich auf Vorrat zu Hause habe. Aber ihr könnt natürlich auch normale Vollkornkekse nehmen oder andere Kekse eurer Wahl. Ich finde, dass die Graham Cracker den besten Cheesecakeboden machen und der schmeckt einfach unvergleichlich gut! Probiert es doch mal aus!
Ich habe die Idee aus Luzia Ellerts wundervollem Buch Wilde Beeren, wobei ich das Rezept ziemlich abgeändert habe. Das Buch kann ich für den Sommer nur empfehlen! Ein tolles sommerliches Buch, das einen träumen lässt und viele schöne Rezepte aufweist!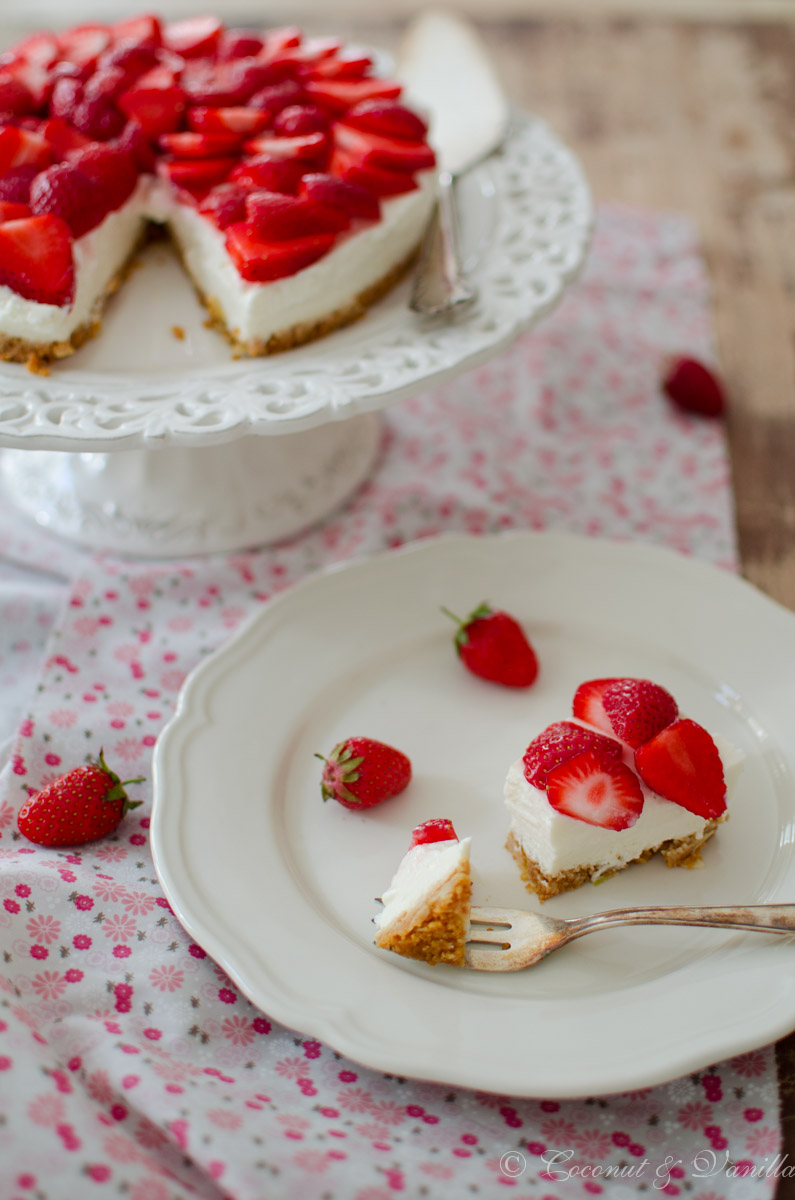 Vor einem Jahr: Lasagne
Vor zwei Jahren: Joghurt-Gurken Ice Pops mit Mango
Vor drei Jahren: Blätterteigtaschen mit Zucchini und Feta
Vor fünf Jahren: Friandaises mit roten Johannisbeeren
Erfrischender Erdbeer-Holunderblüten-Cheesecake
nach einem Rezept aus Wilde Beeren von Luzia Ellert & Gaby Halper

ergibt: einen 20 cm Cheesecake
Zutaten:
100 g Graham Cracker, selbstgebacken (alternativ Vollkornkekse oder andere Lieblingskekse), glutenfreie Graham Cracker
30 g flüssige Butter
30 g Mandelblättchen
4 Blatt weiße Gelatine
300 g Frischkäse
250 g Ricotta
20 g Zucker
1 TL Vanillezucker
100 ml Holunderblütensirup, am besten selbstgemacht
1 Bio-Zitrone, Saft und feingeriebene Schale
300 g Erdbeeren
Die Kekse im Blitzhacker zu feinen Krümeln zerhacken (alternativ die Kekse in einen Gefrierbeutel geben, verschließen und mit einem Nudelholz zerkrümeln).
Die Mandelblättchen in einer Pfanne bei mittlerer Hitze anrösten.
Die Kekskrümel, Mandelblättchen und Butter vermengen. In eine 20 cm Springform geben und gleichmäßig flach drücken.
Bei 150° C 10 Minuten backen. Auskühlen lassen. (Diesen Punkt kann man auch weglassen, er macht den Boden aber aromatischer).
Die Gelatineblätter in einem tiefen Teller mit kaltem Wasser einweichen.
Frischkäse, Ricotta, Zucker, Vanillezucker, Holunderblütensirup, Zitronenschale und Zitronensaft mit einem Schneebesen verrühren.
Die Gelatineblätter ausdrücken und mit 2 EL Frischkäsecreme in einem kleinen Topf unter Rühren erwärmen bis sich die Gelatine aufgelöst hat. Unter die restliche Frischkäsecreme rühren. Die Creme auf den Kuchenboden geben und flach ausstreichen. In den Kühlschrank stellen bis die Creme fest ist (am besten über Nacht).
Den Kuchen mit einem scharfen Messer vom Rand der Backform lösen. Dafür das Messer immer wieder in kaltes Wasser tauchen damit die Creme nicht kleben bleibt. Mit einem großen Messer oder einer Palette den Kuchenboden von der Form lösen und auf eine Kuchenplatte oder einen Teller schieben.
Die Erdbeeren waschen, entstielen und in Scheiben schneiden. Den Cheesecake mit den Erdbeeren belegen.
Sofort genießen :)!
This easy fluffy cheesecake with strawberries and elderflower syrup is a wonderful summer refreshment when it is hot!
I prefer to bake the bottom shortly, but when it is too hot for turning on the oven, you can also skip that part and you can make a whole no-bake cheesecake. Amazing, isn't it! You only need some tasty strawberries and some elderflower syrup. Later in summer you could also use peaches, raspberries or blackberries instead. Sounds great to me! The cheesecake batter can be flavorised with lemon zest or vanilla instead of the syrup, then. So many possibilites, so many great ideas!
I like to use my beloved homemade Graham Cracker, which I always have on hand. But you can also use ordinary whole wheat cookies or your favourite cookies. I prefer graham cracker, because in my opinion they make the best cheesecake bottom, which is unbeatable good! Give it a try!
I picked up the idea from the wonderful book Wilde Beeren by Luzia Ellert. A great book for summer, bursting with berry recipes! Totally recommended by me!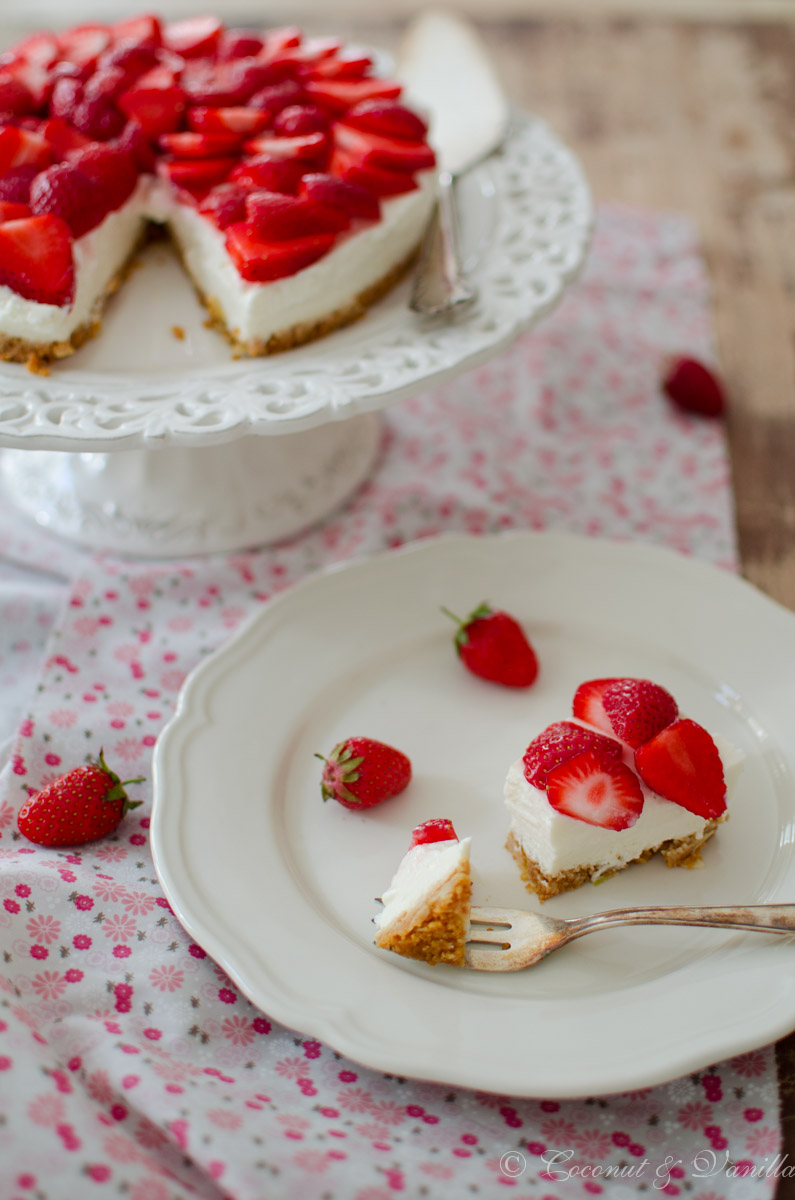 One year ago: lasagne
Two years ago: yogurt cucumber ice pops with mango
Three years ago: puff pastry turnovers with zucchini and feta
Five years ago: " target="_blank">friandaises with red currants
Strawberry Elderflower Cheesecake
adapted from Wilde Beeren by Luzia Ellert
yields: one 20 cm cheesecake
Ingredients:
100 g graham cracker, homemade (or whole wheat cookies or your favourite cookies), glutenfree graham cracker
30 g butter, liquid
30 g sliced almonds
4 sheets of gelatine
300 g cream cheese
250 g ricotta
20 g sugar
1 TL vanille sugar
100 ml elderflower syrup, best homemade
1 organic lemon, zest and juice
300 g strawberries
Chop the cookies in a food processor finely (or put them in a freezer bag, close it and smash them with a rolling pin).
Roast the almonds until fragrant and lightly coloured on medium heat.
Stir together the cookie crumbles, almonds and butter. Press them evenly in a 20 cm spring pan.
Bake the bottom for 10 minutes at 150° C. Let cool completely. (You can skip this point, but it makes the bottom more flavoursome.)
Soak the gelatine sheets in a deep dish of cold water.
Whisk the cream cheese, ricotta, sugar, vanilla sugar, elderflower syrup, lemon zest and lemon juice.
Squeeze the gelatine and heat with 2 tbsp elderflower cream in a small saucepan on low heat while stirring until the gelatine dissolves. Whisk into the rest of the elderflower cream. Pour the cream onto the cake bottom and spread evenly. Place the cheesecake in the fridge until the cream has set (best over night).
Loosen the cake with a sharp knife from the spring pan. Dip the knife into cold water from time to time so it doesn't stick to the cream. Transfer the cake to a large plate.
Rinse and hull the strawberries. Slice them and cover the cheesecake with the berry slices.
Enjoy!