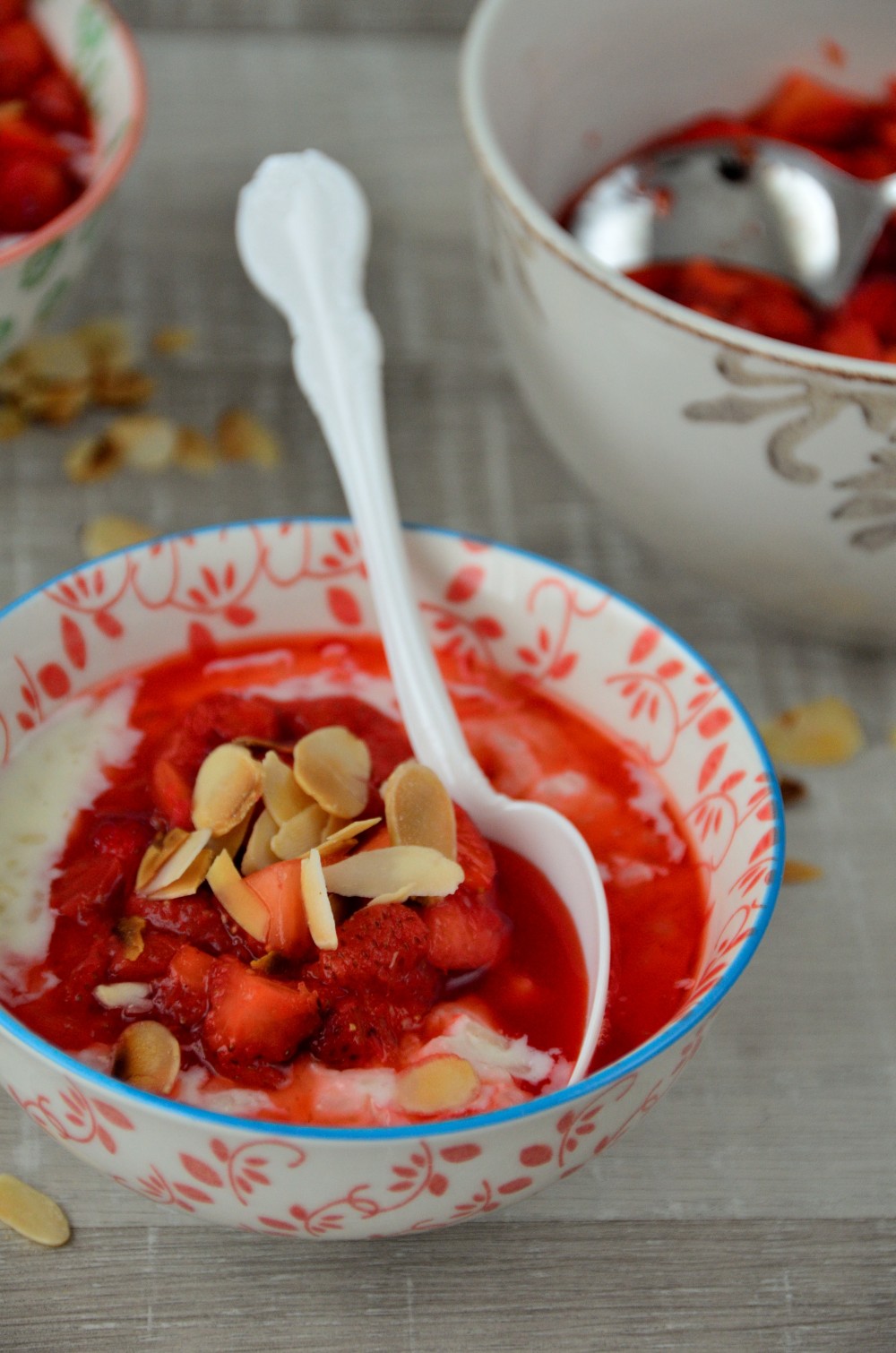 Da gerade Erdbeersaison ist, habe ich den Milchreis mit Erdbeer-Zitronengras-Limettenkompott von S. 230 ausgesucht. Hier könnte Ihr über Ina's Kocherfahrungen lesen.
Ich war erst etwas skeptisch, da ich erstens noch nie frisches Zitronengras verwendet habe und zweitens Zitronengras und Ingwer in Milchreis? Naja, ob ich das mögen würde?
Aber ich mochte es tatsächlich! Ich liebe es! Ich liebe es über alles! Es ist eins meiner Lieblingsrezepte aus dem Buch. Ich war sofort hin und weg von dem Gericht. Es ist sooo köstlich! Ich kann es nicht oft genug sagen.
Somit ist es auch die perfekte Gelegenheit, beim Event von Nata mitzumachen: Mein erstes Mal frisches Zitronengras benutzt und verkocht und es war ein voller Erfolg! Puh, da bin ich jetzt schon erleichtert, sonst hätte ich nichts vom Milchreis essen können, obwohl ich doch so auf Milchreis stehe.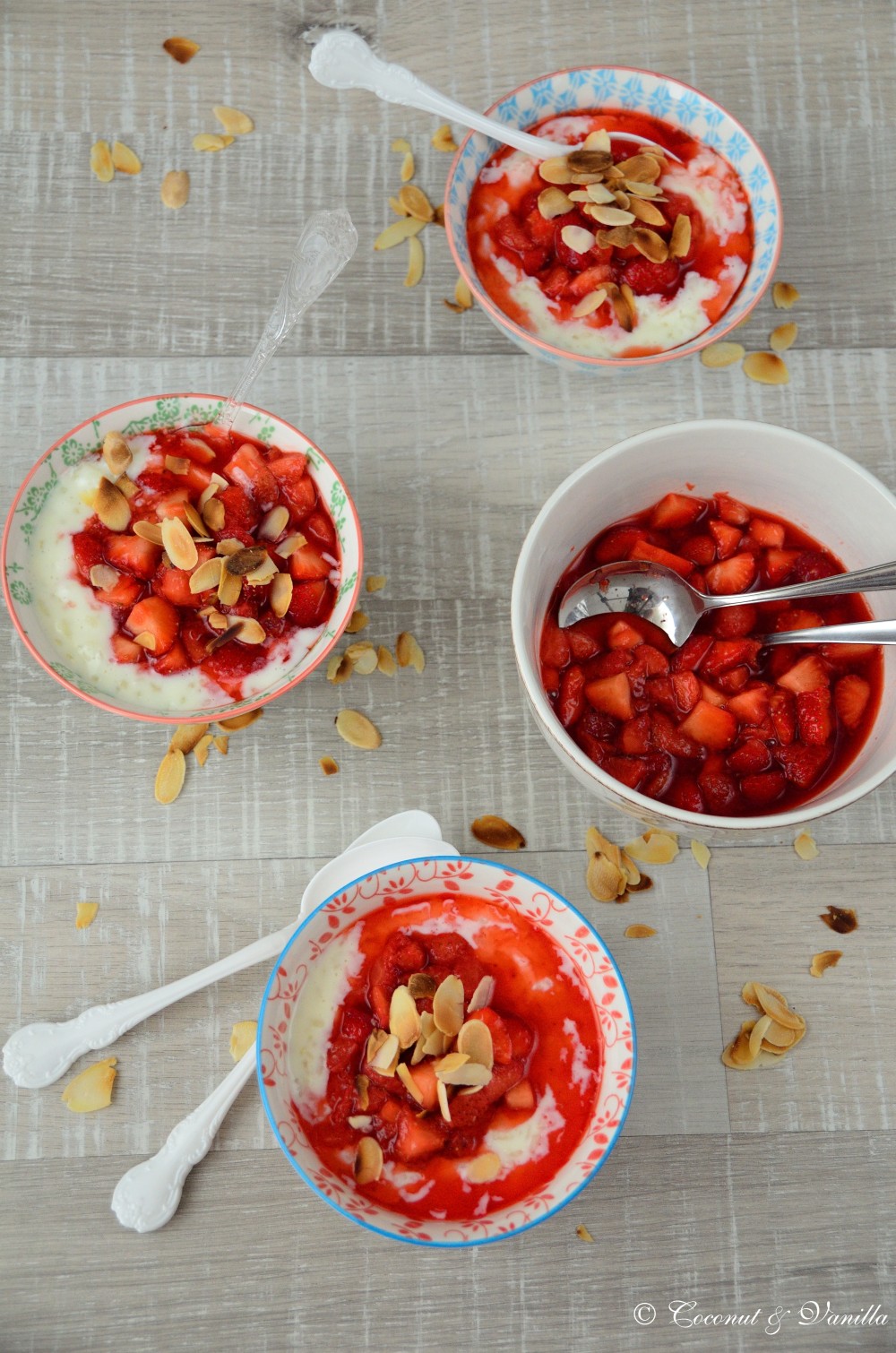 Der Milchreis ist schon ein Hit alleine. Ich hätte ihn auch fast sofort aus dem Topf gegessen. Die Erdbeeren waren aber auch sehr lecker. Die Limette und das Zitronengras passen einfach hervorragend dazu und der Ingwer fügt nur einen Hauch Aroma dazu, ohne scharf zu sein oder sich in den Vordergrund zu drängen. Das Gericht versetzte mich ein wenig in unseren Thailandurlaub. Nicht, dass wir dort etwas vergleichbares gegessen hätten, es ist einfach nur das Aroma im Allgemeinen. Aber es ist ja nichts Schlechtes durch ein Gericht an den Urlaub erinnert zu werden, oder?
Da ich dieses Gericht nun schon so in den Himmel lobe, kann ich Euch doch nicht ohne das Rezept davonziehen lassen. Es wird Euch die Essenz dieses Buches vermitteln. Es ist ein super Buch mit klasse Rezepten und das ist nur eines von vielen. Aber eines der Besten ;).
Wichtig bei diesem Gericht ist, dass man es vernascht wenn es noch warm oder lauwarm ist.  Wenn man es im Kühlschrank aufbewahrt (was ja normal ist, wenn man nur zu zweit ist), dann gehen viel der Aromen und die Textur flöten. Also lasst es. Esst einfach zwei Schüsselchen davon oder eine große. Vertraut mir, das sollte kein Problem sein.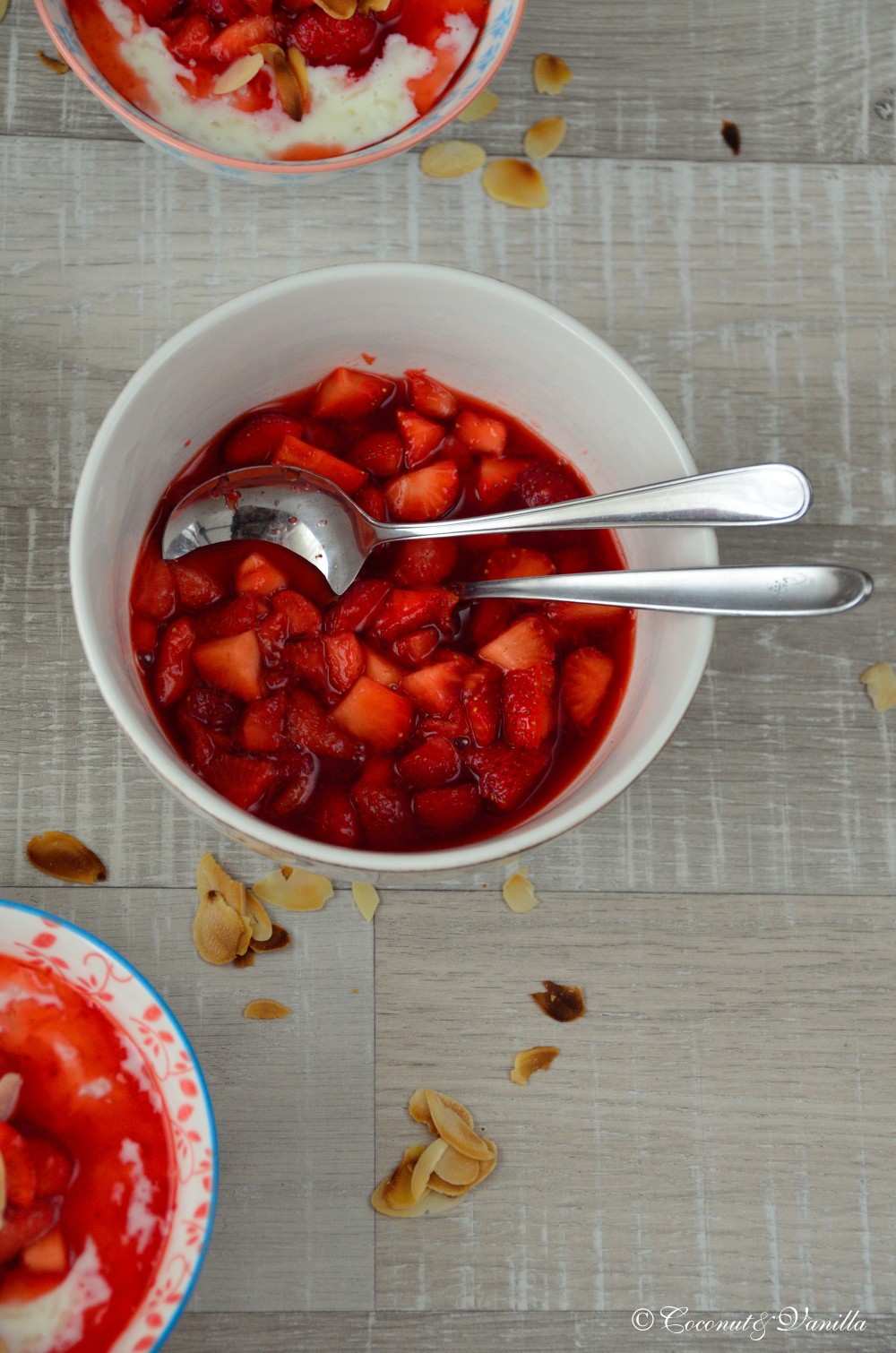 Vor einem Jahr: Heidelbeer-Zitronen-Tarte
Vor zwei Jahren: Erdbeer-Melonen-Süppchen
Milchreis mit Erdbeer-Zitronengrass-Limetten-Kompott
nach einem Rezept aus La Tartine Gourmande von Béatrice Peltre
ergibt: 4 Portionen
Zutaten:
2 Stangen Zitronengras

40 g Mandelblättchen

450 g Erdbeeren, gewaschen, geputzt und gewürfelt

1 Bio-Limette, Schale und Saft (wer hat noch zusätzlich die Schale einer halben Limette, hab ich weggelassen)

75 g braunen Zucker

2 EL Wasser

550 ml Vollmilch

100 g Milchreis

2,5 cm frischer Ingwer, geschält

60 ml Kokosmilch
Die dickere äußere Schicht vom Zitronengras entfernen. Eine Stange in drei Stücke schneiden. Die andere Stange mit den äußeren Schichten in einer Gewürz- oder Kaffeemühle mahlen (da ich keine Mühle hatte, hab ich es im elektr. Blitzhacker zerkleinert).
Die Mandelblättchen in einer großen Pfanne anrösten.
280 g gewürfelte Erdbeeren mit der Schale einer Limette, einem Teelöffel des gemahlenen Zitronengrases, 2 EL (20 g) vom Zucker und dem Wasser in einen Topf geben und aufkochen lassen. Dann die Hitze runterschalten und simmern lassen, bis die Erdbeeren weicher sind, aber trotzdem noch ihre Form haben (das dauert wenige Minuten). Den Limettensaft unterrühren und abkühlen lassen.
In einem Topf die Milch, mit den 3 Zitronengrasstücken und dem Ingwer (und wer hat, die abgerieben Schale einer 1/2 Limette) aufkochen. Den Reis dazugeben und bei kleiner Hitze für etwa 30 Minuten simmern lassen, bis der Reis weich und cremig ist. Zitronengras und Ingwer entfernen. Den restlichen Zucker (55 g) und die Kokosmilch unterrühren. Auf 4 Schälchen oder 2 größere Schalen verteilen.
Das Erdbeerkompott mit den frischen Erdbeeren vermischen. Den Milchreis mit dem Erdbeerkompott und den Mandelblättchen krönen.
Gleich essen!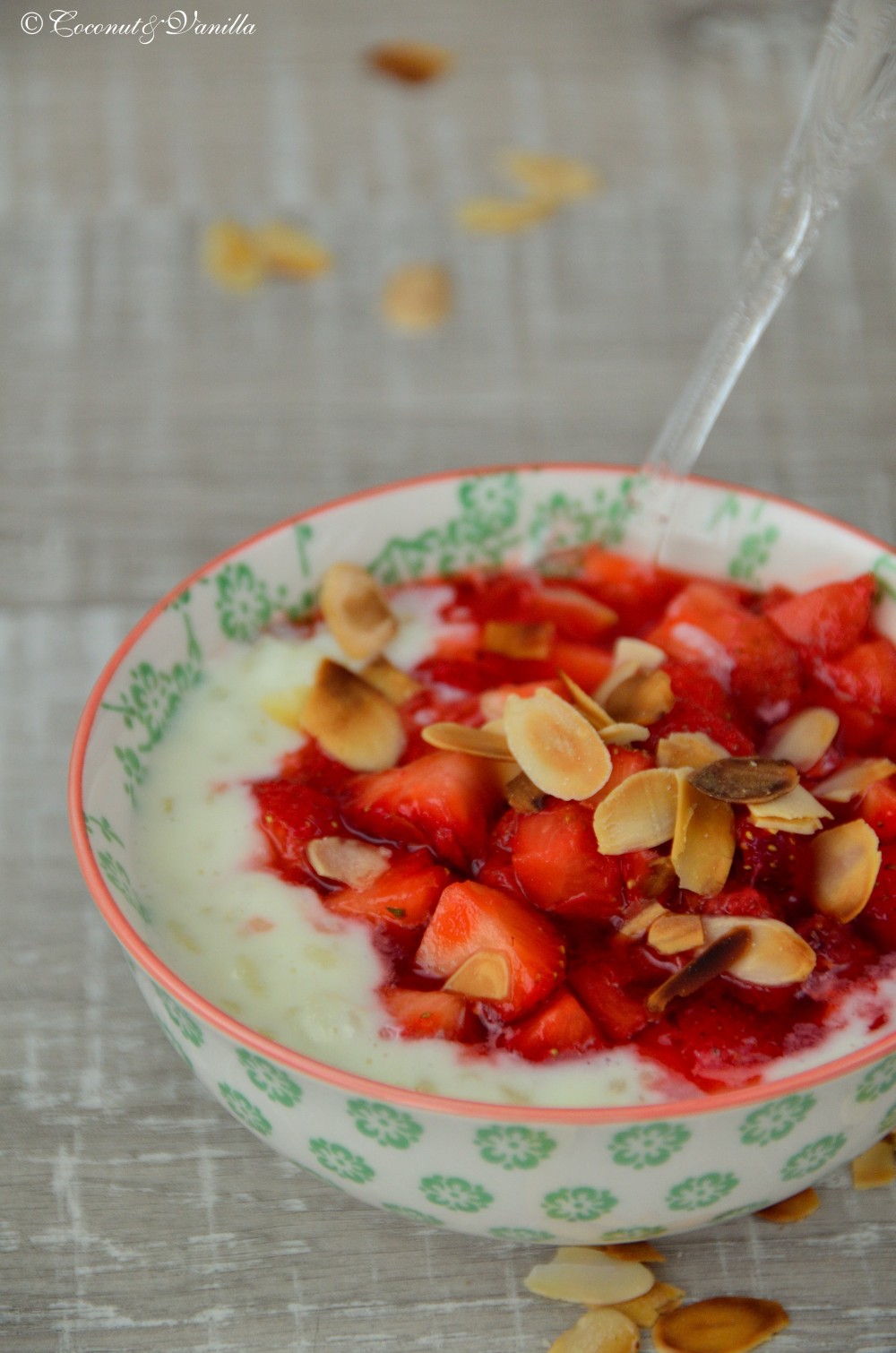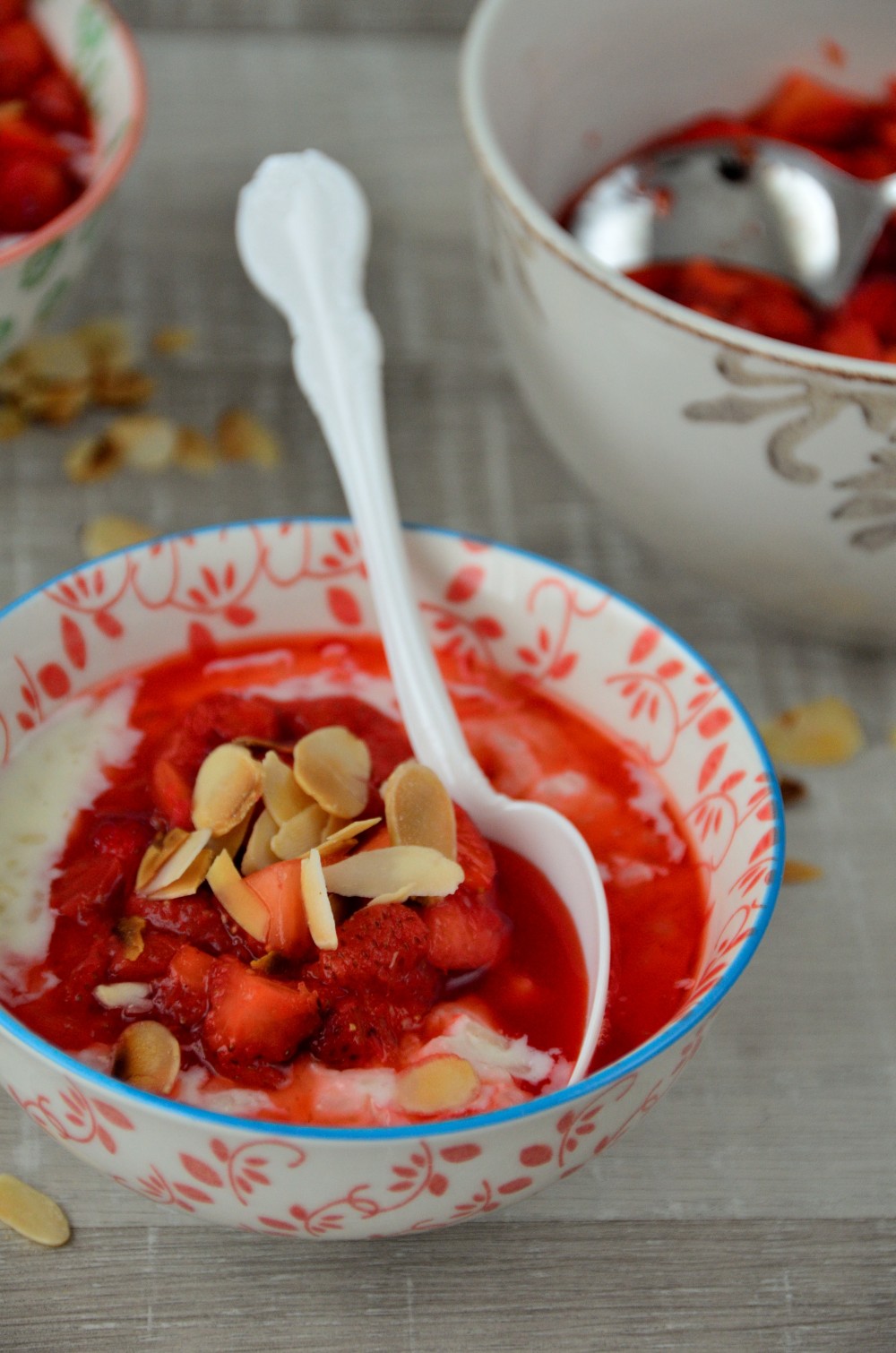 As it's strawberry season I chose the rice pudding with strawberries stewed in lemongrass and lime from page 230. You can read here about Ina's cooking experience.
I was a bit sceptical, since first I never used fresh lemongrass and second lemongrass and ginger in rice pudding? I didn't know, if I would like that. But indeed I liked that! I loved it! Loved it a lot even! It's one of my favourite recipes out of the book. I was so hooked by the whole dish. It's very delicious. I can't emphasize that enough.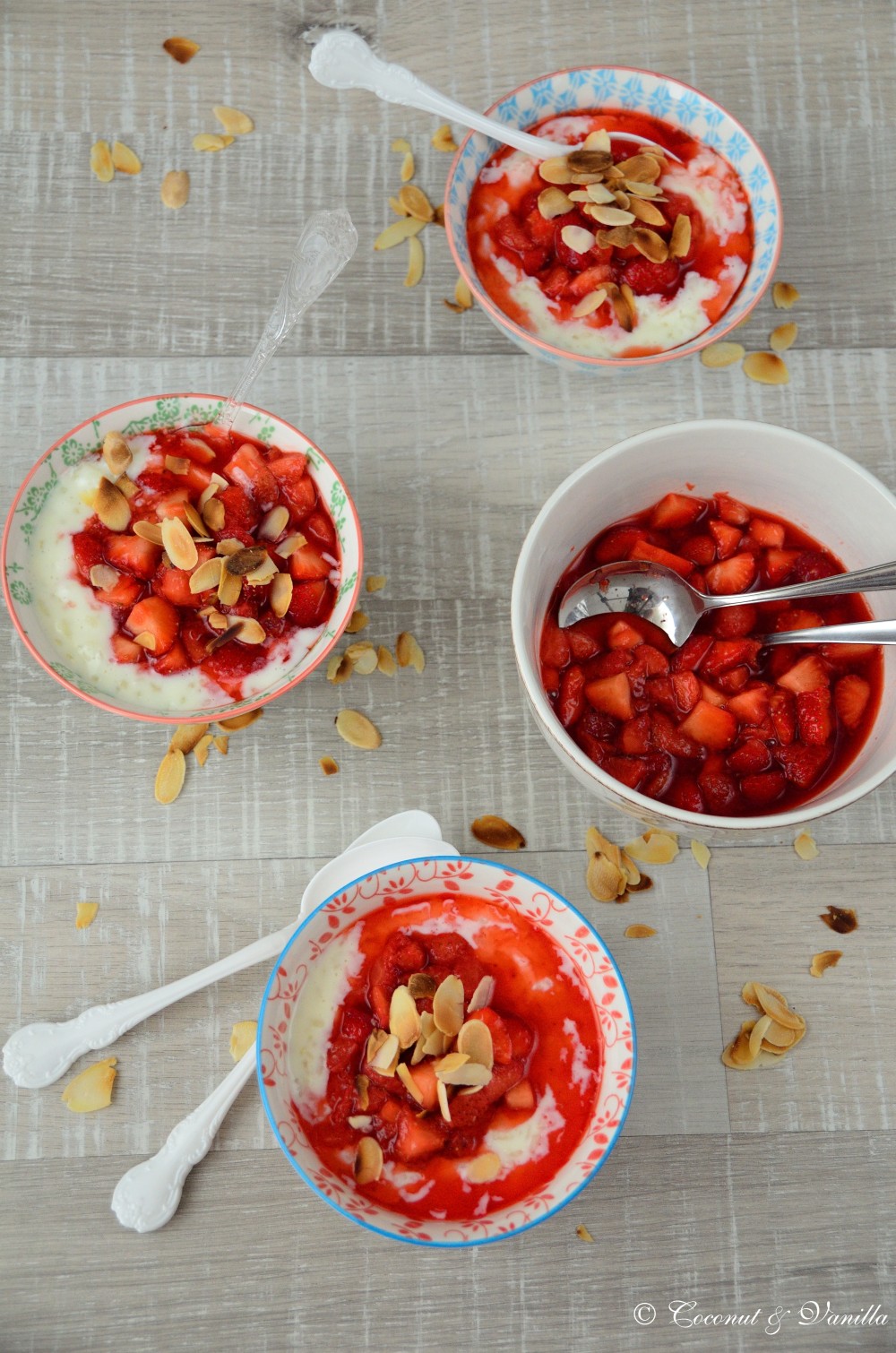 The rice pudding is already very good on it's own. I've could have eaten it right out of the pot. The strawberries are also delicious. The lime and the lemongrass are matching perfect here. The ginger only gives hint of its flavour without being sharp or too spicy. It reminded me a bit of our holiday in Thailand, not that we've eaten there something similar, it's just the flavour in general. But that's a good thing, thinking about holiday while eating a dish, isn't it.
As I'm praising this dish so much, I can't let you go without the recipe. Because this will give you the essence of the book. It's a great book with great recipes, and that's just one of them. But one of the best ones ;).
What's really important about this dish is to eat it while it's warm or lukewarm. You don't reach the flavour and the texture again, after having it stored in the fridge (which is quite normal, when you're only 2). Don't do it. Just eat two bowls or a large one. Trust me, it will be no problem.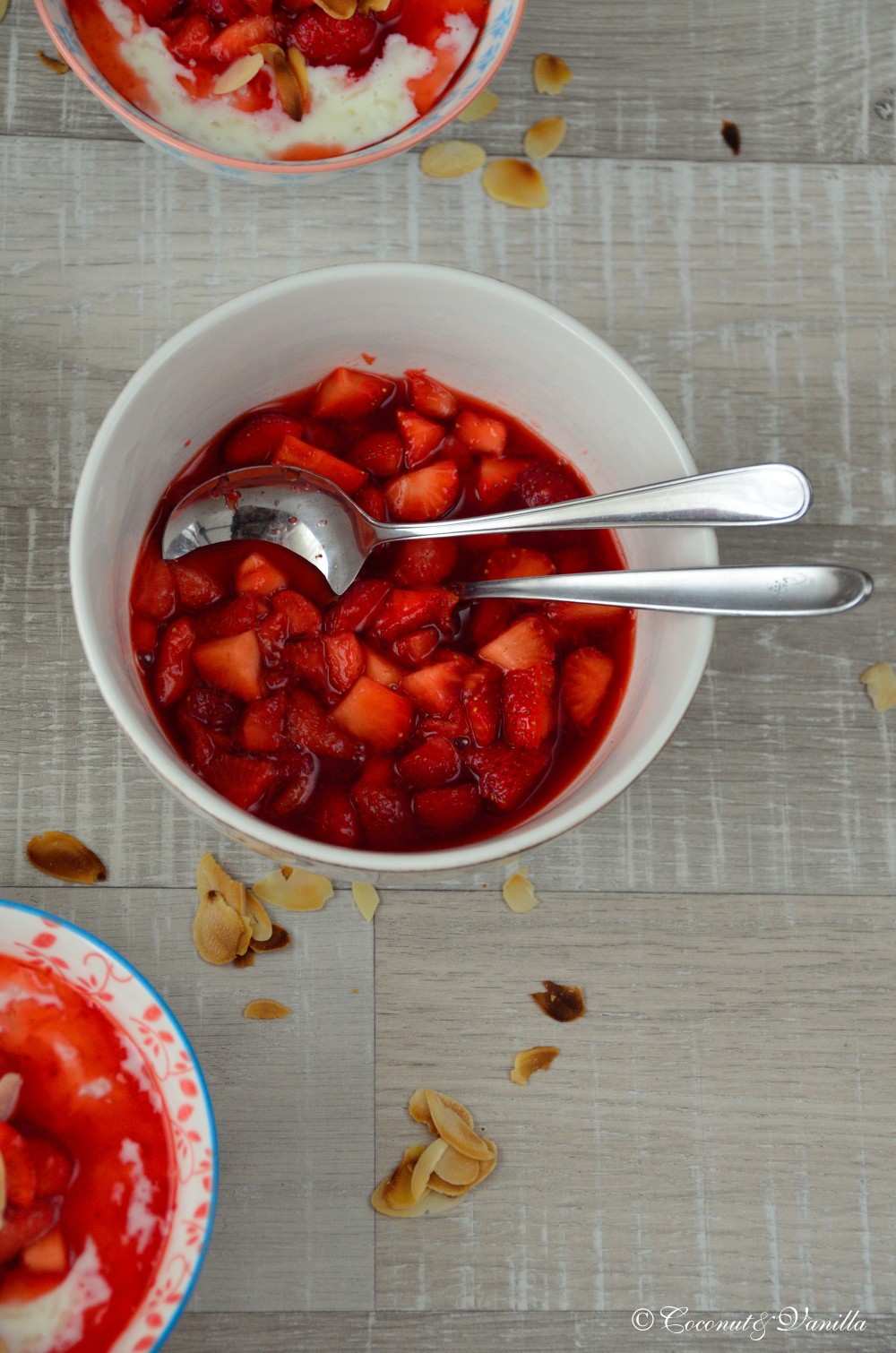 One year ago: Blueberry-Lemon-Tart
Two years ago: Strawberry-Melon-Soup
Rice Pudding with Strawberries stewed in Lemongrass and Lime
from La Tartine Gourmande by Béatrice Peltre
yields: 4 servings
Ingredients:
2 lemongrass stalks

40 g slivered almonds

450 g strawberries, hulled and diced

zest of 1 1/2 organic limes (I used 1)

juice of 1 organic lime

75 g blond cane sugar

2 Tbsp water

550 ml whole milk

100 g risotto rice

2,5 cm piece of fresh ginger, peeled

60 ml unsweetened coconut milk
 Remove the thicker outer layer of the lemongrass stalks. Slice one stalk into three pieces. Grind the other one with the outer layers, using a coffee or spice grinder (I don't own one, so I used a food processor).
Toast the slivered almonds in a frying pan, until lightly browned.
Combine 280 g of the strawberries, the zest of one lime, 1 tsp of the ground lemongrass, 2 Tbsp (20 g) of the sugar and the water in a small pot. Bring to a boil, the turn down the heat and let it simmer until the strawberries soften but still keep their shape. That takes only few minutes. Remove from the heat and add the lime juice. Let cool.
Combine the milk with the 3 lemongrass pieces, the ginger and the zest of 1/2 lime (if you have, I omit that). Bring to a boil, then add the rice. Lower the heat and simmer for about 30 minutes until the rice is creamy and soft.
Discard the lemongrass and ginger and mix in the rest of the sugar (55 g) and the coconut milk.
Divide the rice pudding among 4 small bowls or 2 larger ones.
Mix the cooked strawberries with the fresh ones. Top the rice pudding with the strawberry compote and the slivered almonds.
Enjoy immediately!