Die Erdbeersaison ist noch nicht ganz zu Ende, aber die Felder zum Selberpflücken sind hier größtenteils schon abgegrast. Irgendwie haben wir es dieses Jahr nicht geschafft, dafür haben wir aber Himbeeren und schwarze Johannisbeeren gepflückt. Für Marmelade mussten wir also noch Erdbeeren kaufen, denn der Vorrat war nahezu leer und ohne selbstgemachte Erdbeermarmelade komme ich nicht über's Jahr.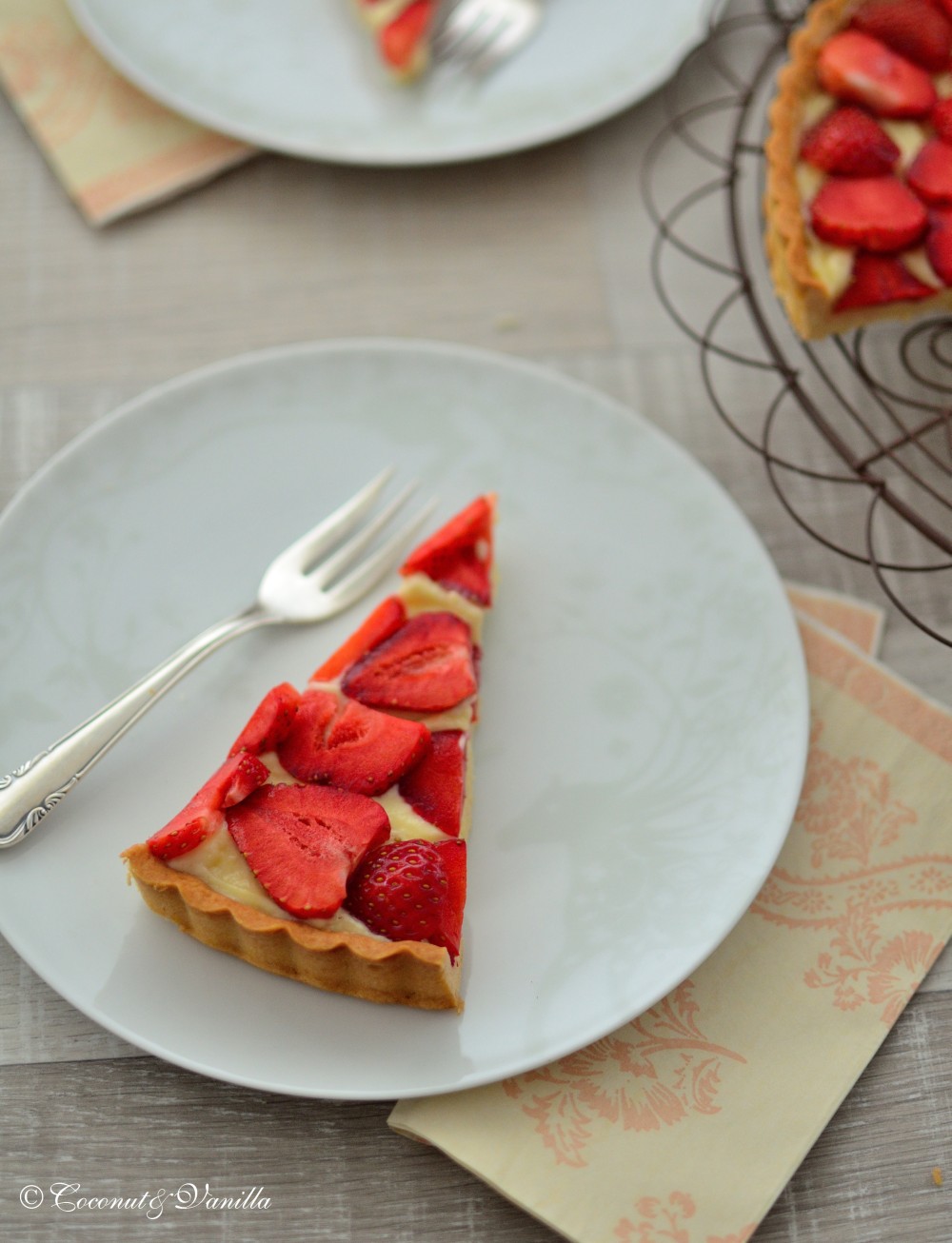 Unser Marktstand war überaus großzügig und in 2 Schalen waren nach dem Entfernen der Strünke 1 kg Erdbeeren übrig. Da die 3. Schale somit nicht angegriffen wurde, musste sie anderweitig verarbeitet werden. Und was liegt da näher als Kuchen?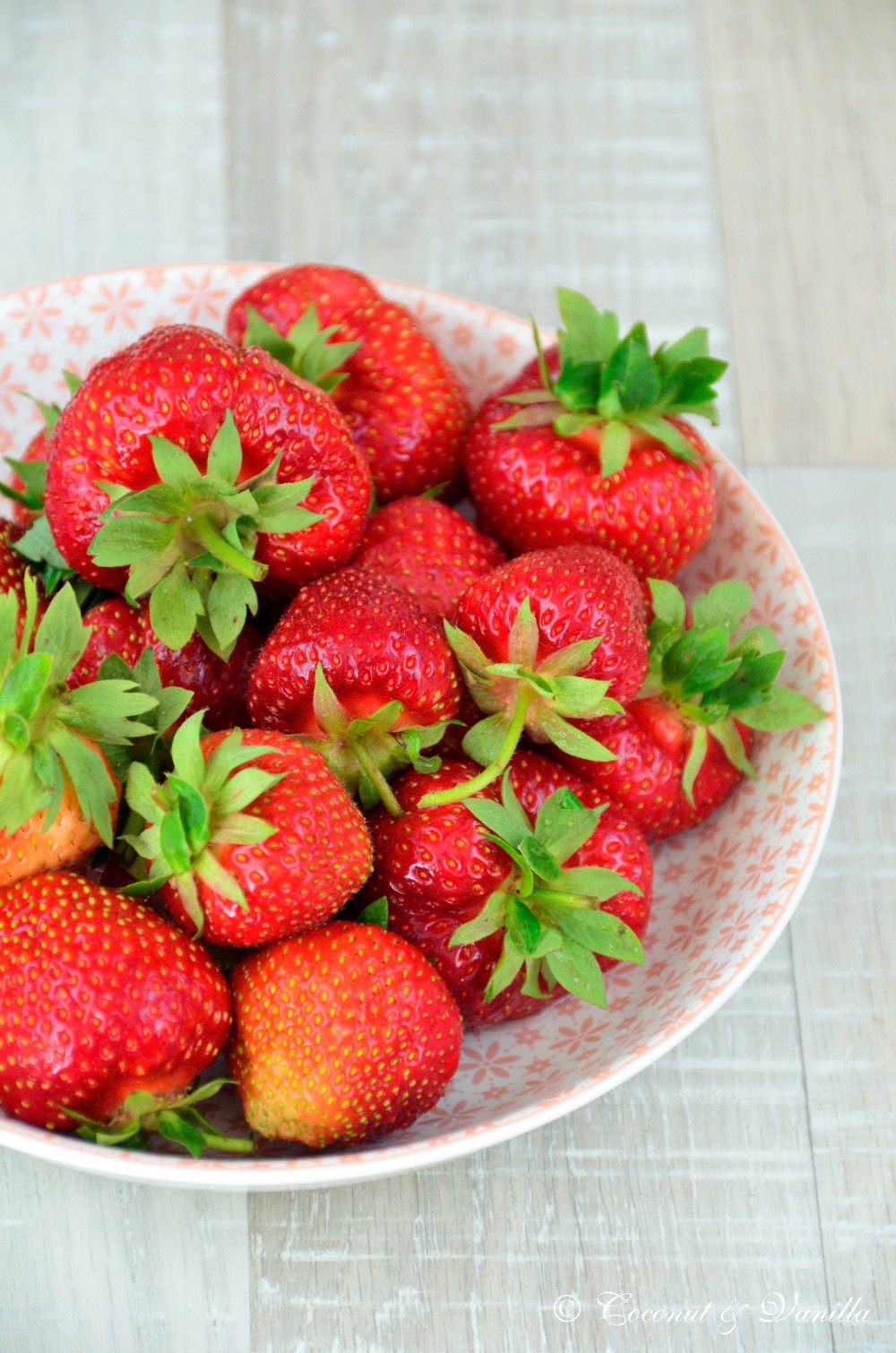 Nachdem ich ein paar Kochbücher gewälzt hatte, hab ich es doch einfach frei Schnauze gemacht: Mürbteig, Konditorcreme, Erdbeeren. Simpel, aber lecker. Ich liebe die Kombination des knusprigen Teigs und der Vanillecreme, getoppt mit Obst.
Lasst Euch von der Herstellung der Konditorcreme nicht abschrecken, nur weil Eier drin sind. Die Verarbeitung ist einfach, die Eier werden nicht zu Rührei bei der Herstellung und die Creme dickt leicht an. 2 Punkte die mir wichtig sind bei der Herstellung von Cremes und Saucen. Der Boden ist nachher auch so schön knusper, dass er sicher nicht durchweicht.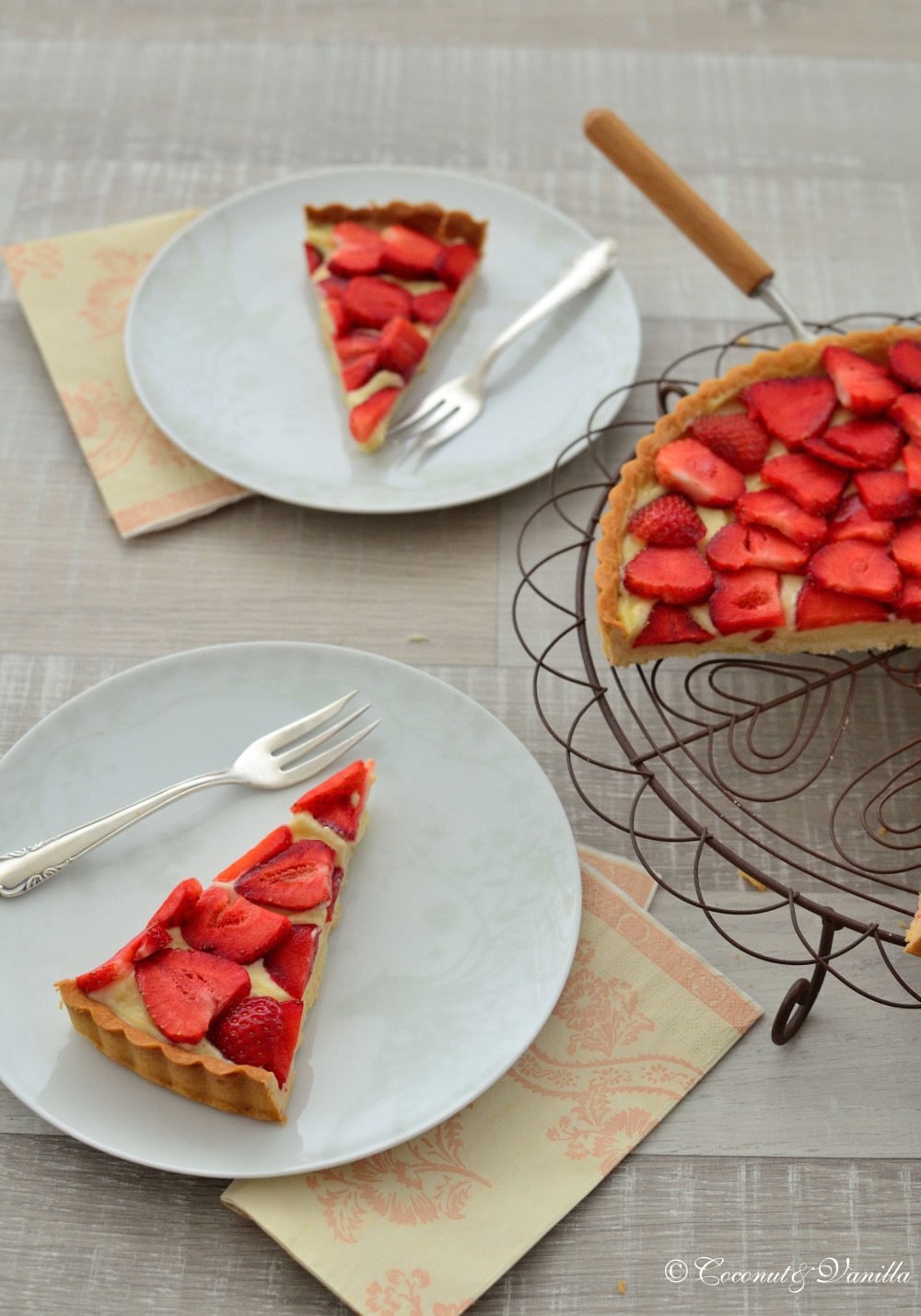 Wenn ihr also das Zusammenspiel von knusprig, cremig und fruchtig so sehr mögt wie ich, dann ist diese mürbe Erdbeer-Vanille-Tarte genau das Richtige um die Erdbeersaison nochmal so richtig auszukosten.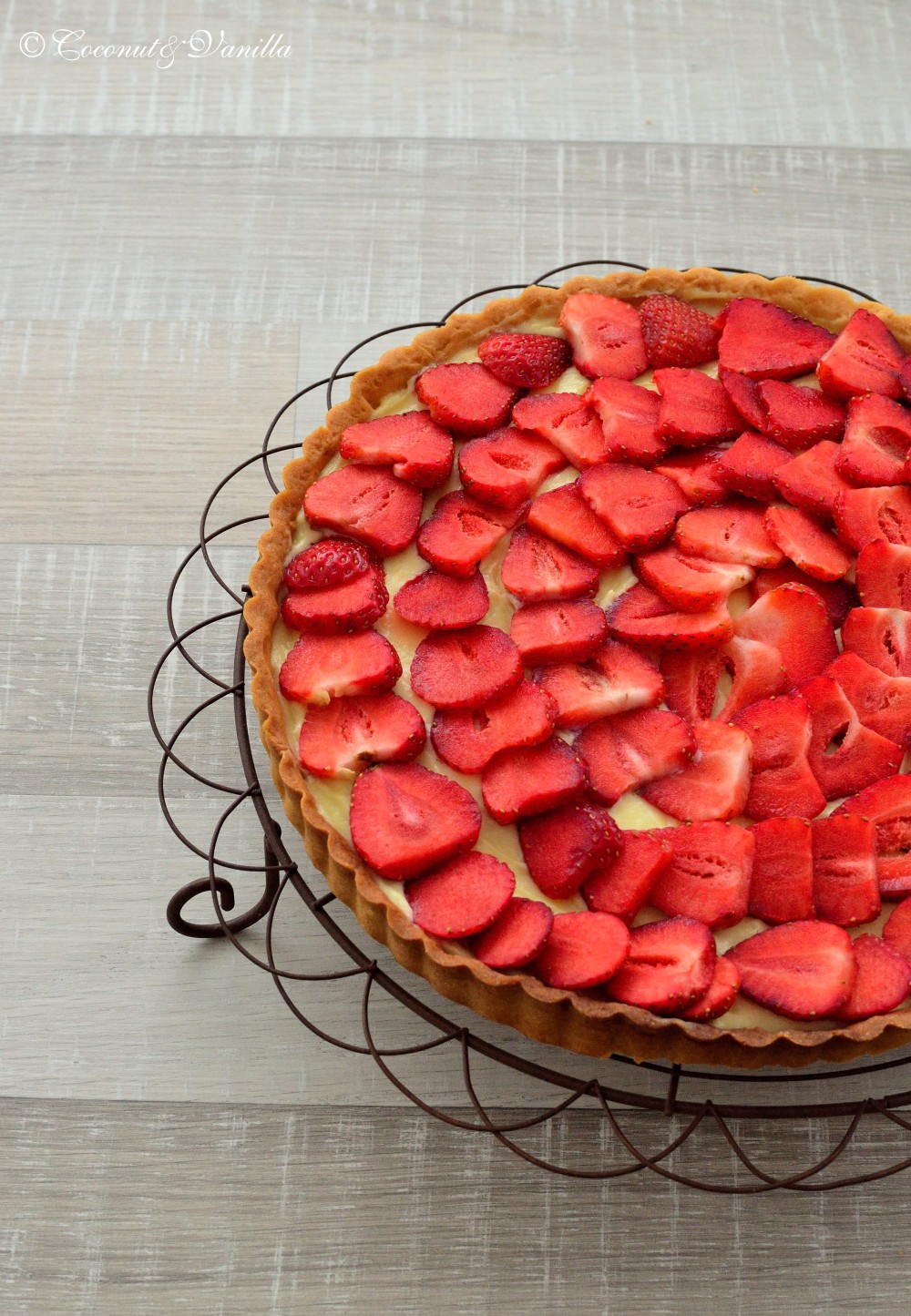 Vor zwei Jahren: Bruschetta
mürbe Erdbeer-Vanille-Tarte
ergibt: 1 Tarte mit 28 cm Durchmesser
Zutaten:
Für den Boden:
250 g Mehl

100 g weiche Butter

100 g Puderzucker

1 Prise Salz

2 Eier
Für die Konditorcreme:
3 Eigelb

70 g Zucker

20 g Mehl

250 ml Milch
Zum Belegen:
500 g Erdbeeren (man kann ebenso gut anderes Obst verwenden, z.B. Himbeeren, Pfirsiche, gedünstete Äpfel)
Die Zutaten für den Tarteboden in der Küchenmaschine oder mit dem Handmixer zu einem glatten Teig verarbeiten. In Frischhaltefolie wickeln und für 1-2 Stunden in den Kühlschrank stellen.
Die Tarteform ausfetten und den Ofen auf 180° C vorheizen.
Den Teig auf einer leicht bemehlten Fläche oder auf einer Silikonmatte dünn ausrollen. Der Teig sollte etwas größer sein als die Form, da ihr ja auch noch einen Rand möchtet.
Die Form mit dem Teig auskleiden und am Rand abknipsen.
Auf den Teig ein Stück Backpapier legen, es sollte größer sein als die Form. Darauf ausreichend Hülsenfrüchte verteilen und die Tarte 15 Minuten blind backen. Die Hülsenfrüchte und das Papier entfernen und nochmal 10-15 Minuten backen, bis der Boden leicht goldbraun ist.
Den Boden aus der Form nehmen und auf einem Gitter abkühlen lassen.
Die Eigelbe mit 30 g Zucker hell und cremig aufschlagen. Das Mehl unterrühren.
Wenn ihr eine 1/2 Vanilleschote verwendet, diese längs aufschlitzen und das Mark rauskratzen.
Die Milch mit dem restlichen Zucker (40 g) und dem Vanillemark / Vanilleextrakt aufkochen. Die aufgekochte Milch langsam unter Rühren in einem dünnen Strahl zur Eigelbmischung geben und mit einem Schneebesen unterrühren. Zurück in den Topf gießen und nochmal aufkochen. 2 Minuten kochen, währenddessen mit einem Schneebesen rühren, damit sich am Boden keine Schicht bildet. Die Creme dickt an.
Die Creme in eine Schüssel gießen und abkühlen lassen.
Die Erdbeeren waschen und die Stielansätze entfernen. Matschige Stellen abschneiden. Die Erdbeeren in dünne Scheiben schneiden.
Die abgekühlte Creme gleichmäßig auf dem Tarteboden verteilen und die Erdbeeren dachziegelartig darauf verteilen.
Anschneiden und genießen!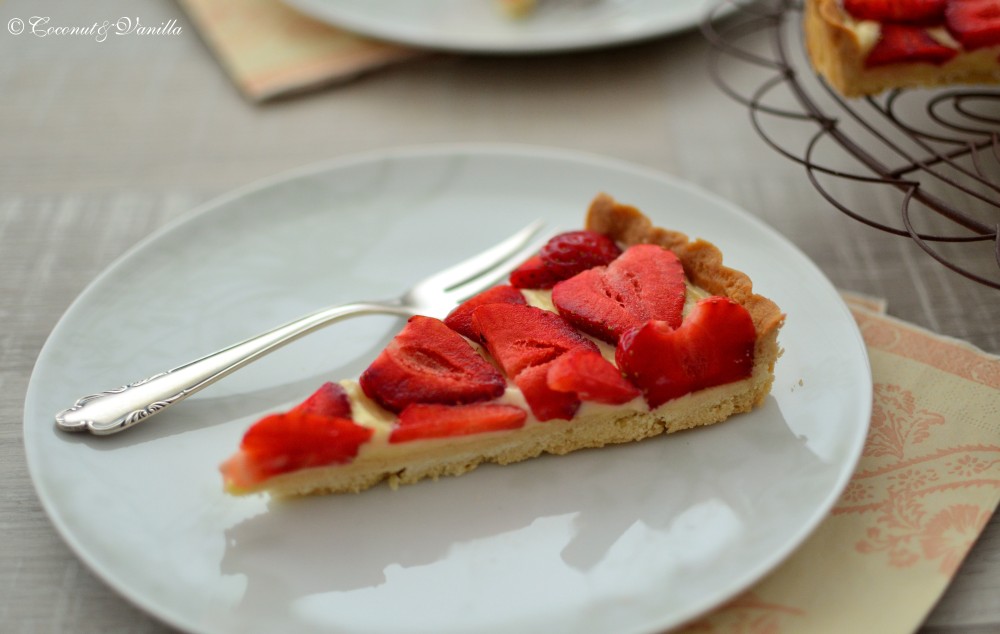 The strawberry season hasn't ended yet, but the Pick-Your-Own-Farms are mostly grazed off. Somehow we didn't managed it this year to go there, but we picked raspberries and black currants. We had to buy strawberries for jam, because our supplies were almost empty and I can't get over the year without homemade strawberry jam.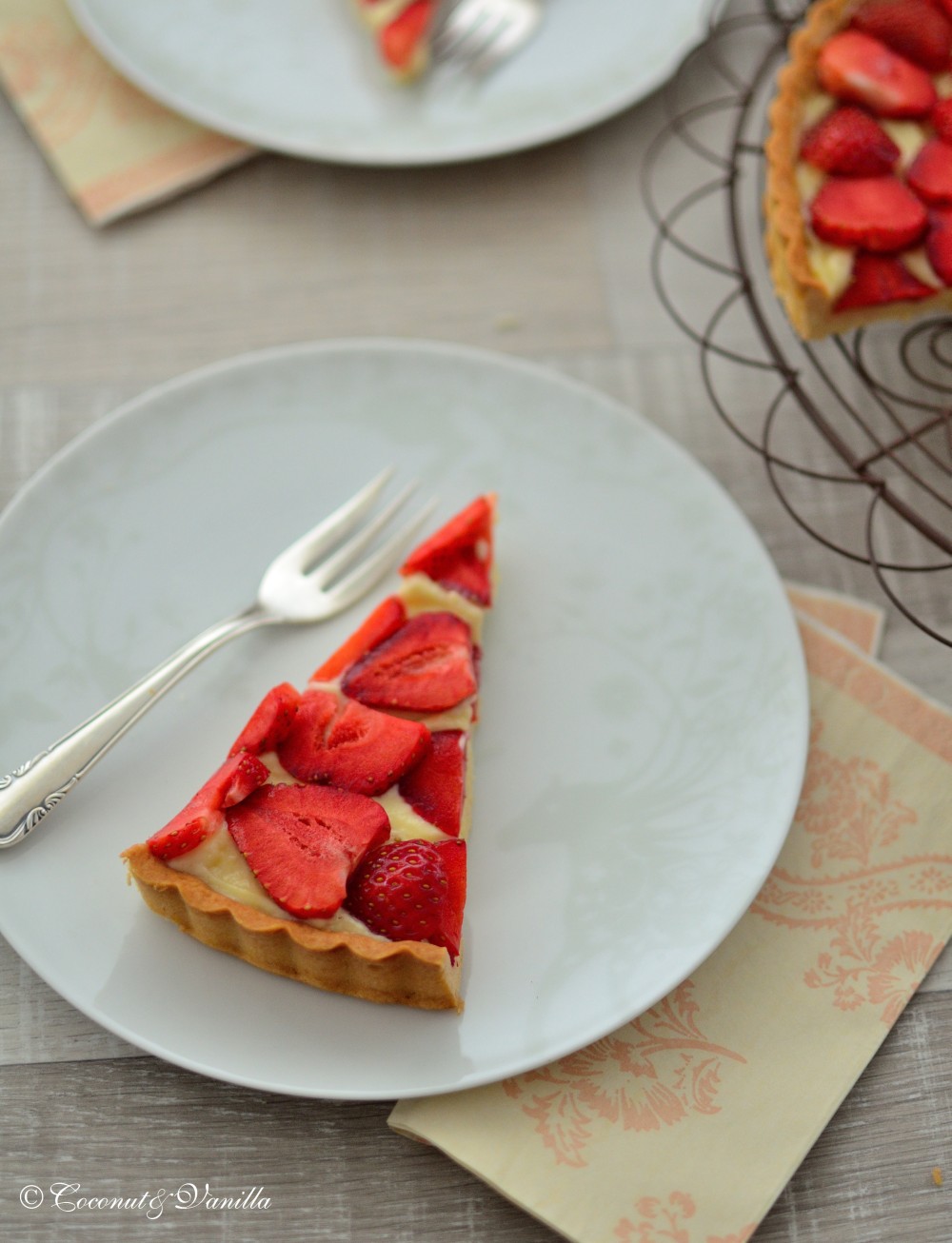 Our market stand was very generous, since in 2 baskets were still 1 kg strawberries after hulling them. Because of that we didn't used the 3. basket, which I had to use somehow else. And what's better than cake then?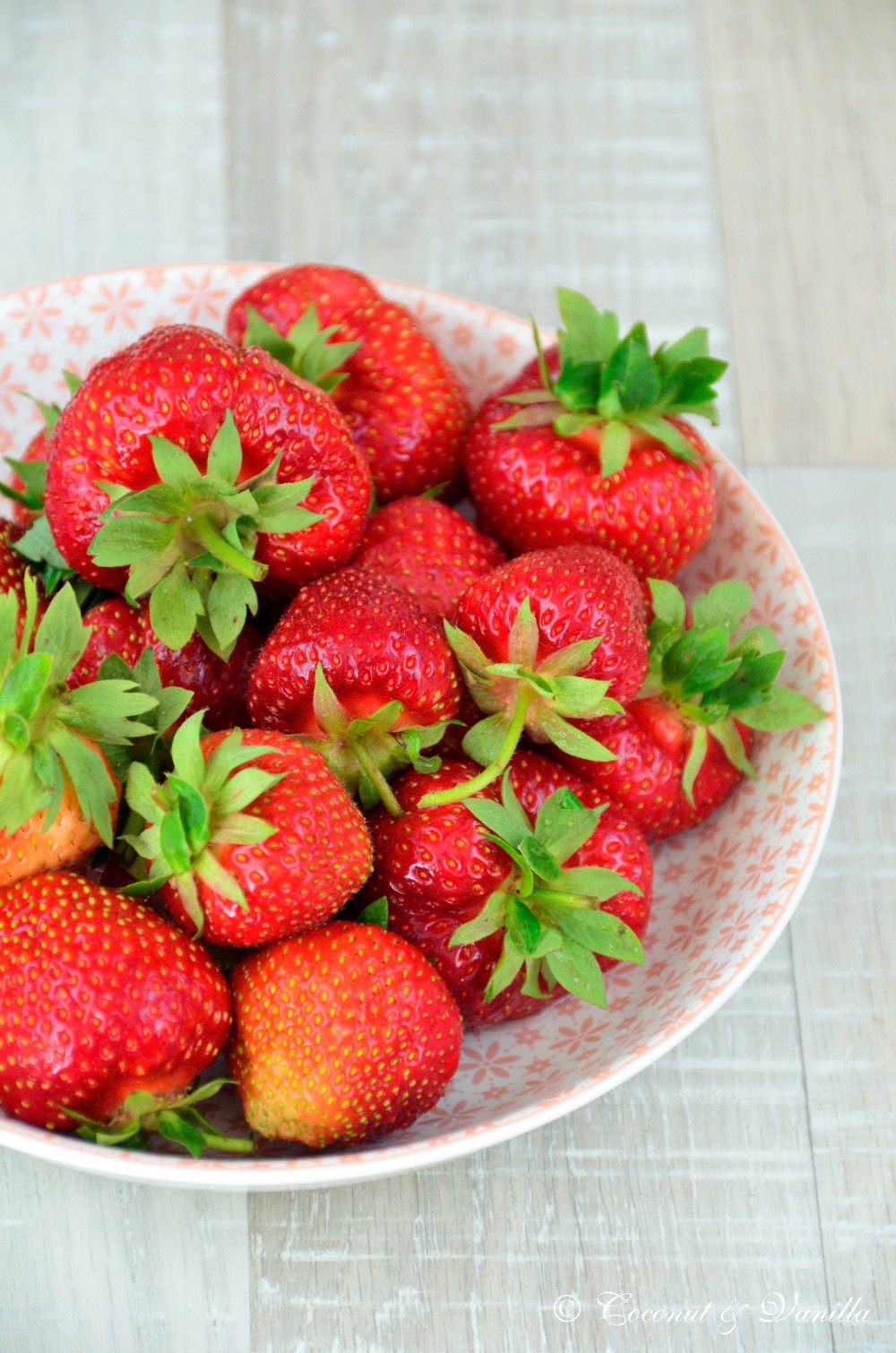 After searching through some cookbooks, I just did it freestyle: short crust pastry, crème pâtissière, strawberries. Simple, but delicious. I love the combination of the crunchy dough, the vanilla pastry cream, topped with fruit. Don't be put off by the making of the pastry cream, just because there are eggs in it. The preparation is easy, the eggs won't end scrambled and the cream thickens easy. 2 points that are important for me, when making creams and sauces. The bottom will still be crunchy and not soggy.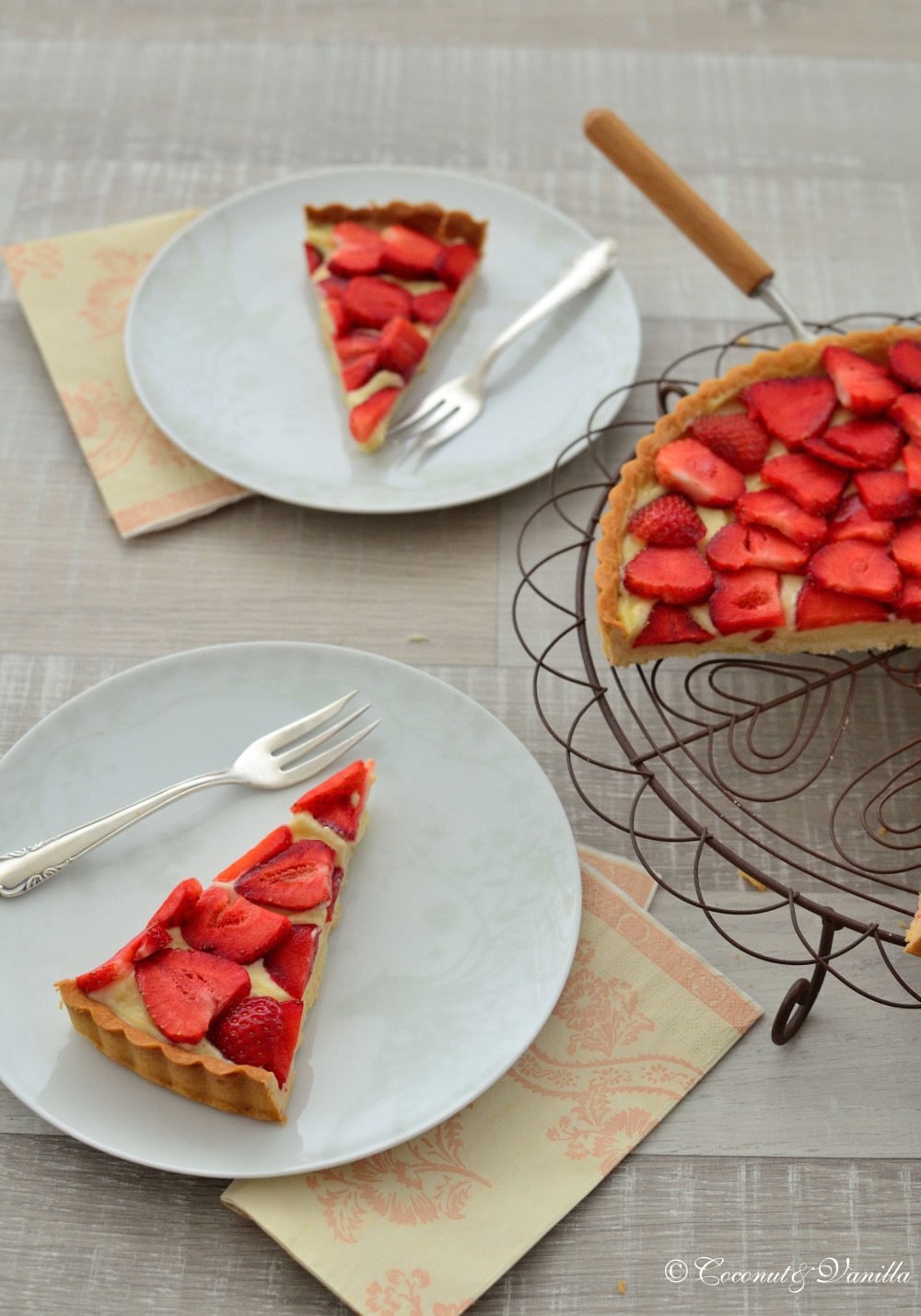 If you like the combination of crunchy, creamy and fruity as much as I, than this strawberry-vanilla-tart is just the right thing for you to savour strawberry season right away.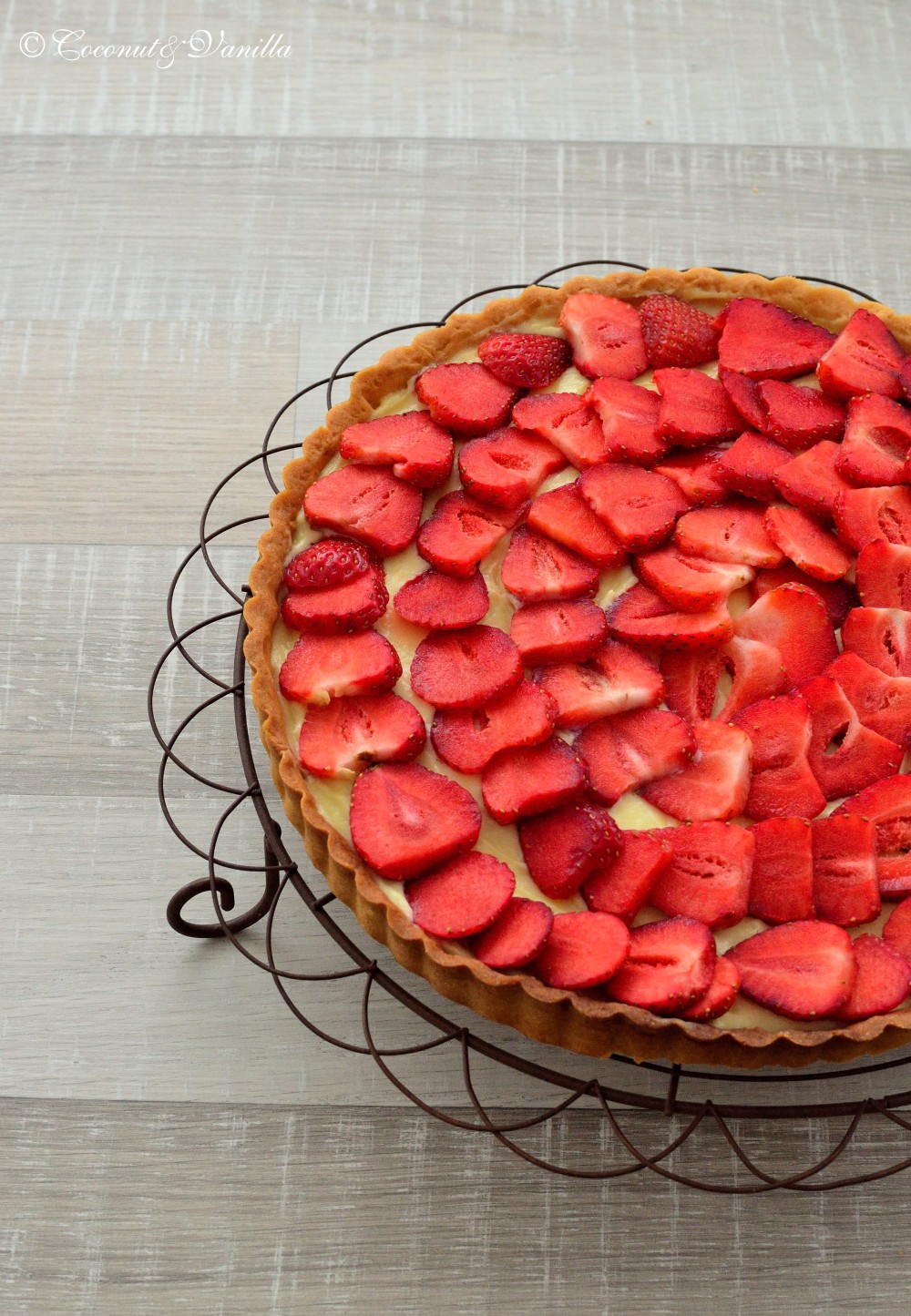 Two years ago: Bruschetta
Strawberry-Vanilla-Tart
yields: one 28 cm tart
Ingredients:
For the short crust pastry:
250 g flour

100 g butter, at room temperature

100 g powdered sugar

1 pinch of salt

2 eggs
For the pastry cream:
3 egg yolks

70 g sugar

20 g flour

250 ml whole milk
Additionally:
500 g strawberries (or other fruit, like raspberries, peaches, or stewed apples)
Place all the ingredients for the dough in a bowl of your stand mixer and process until you have a smooth dough. You can also use a handheld mixer of course. Wrap it in cling foil and place in the fridge for 1-2 hours.
Butter your tarte pan and preheat the oven to 180° C.
Roll out the dough on a lightly floured surface or a silicon baking mat . The dough should be a bit larger than your pan, since your want to make a rim.
Line the tart pan with the dough and cut off the excess dough.
Place a piece of parchment paper on the dough, it should be larger than the pan. Spread enough legumes on it and bake the tart blind for 15 minutes. Remove the legumes and the parchment paper und bake another 10-15 minutes, until the tart is slightly golden brown.
Remove the tart from the pan and let it cool on a cake rack.
Cream the egg yolks with 30 g of the sugar, until pale and fluffy. Whisk in the flour.
If you use 1/2 vanilla pod, cut it lengthwise and scrape out the vanilla seeds.
Bring the milk with the rest of the sugar (40 g) and the vanilla seeds / extract in a saucepan to the boil. Pour the milk in a thin stream to the egg yolk mixture while constantly whisking. Pour it back in the saucepan. Bring again to the boil and cook for 2 minutes, whilst whisking. The cream thickens.
Pour the cream into a bowl and let it cool.
Clean the strawberries and hull them. Chop off squishy parts. Slice the strawberries thinly.
Spread the cool cream evenly on the tart base and place the strawberries slices on it like tiles.
Cut the tart and indulge!