Monday, 9th July 2012
I don't like coffee. I don't drink any coffee. But there is one exception: Iced coffee. That powdered stuff from a can. But I like it and everyone has to have a guilty pleasure in a convenience product. Iced coffee is mine. Probably I like it so much, because it doesn't has much in common with real coffee.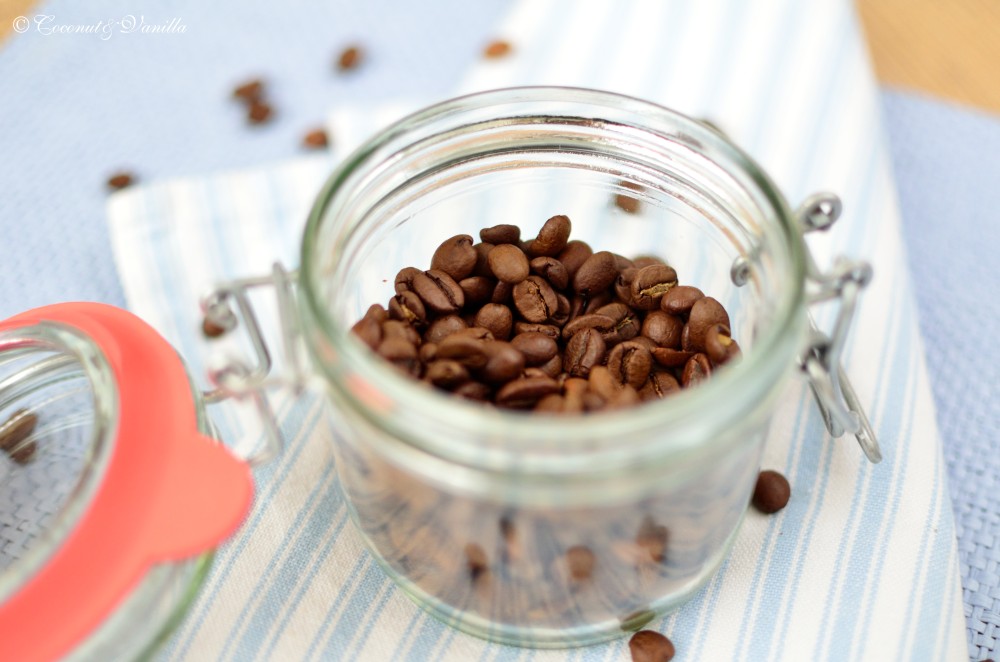 Recently a ice cream maker with compressor  moved in. Finally! After the attachment for the Kitchenaid nearly drove me nuts, because the ice cream didn't wanted to become ice cream. In any case. So far we are happy with our new machine and I wouldn't give it back.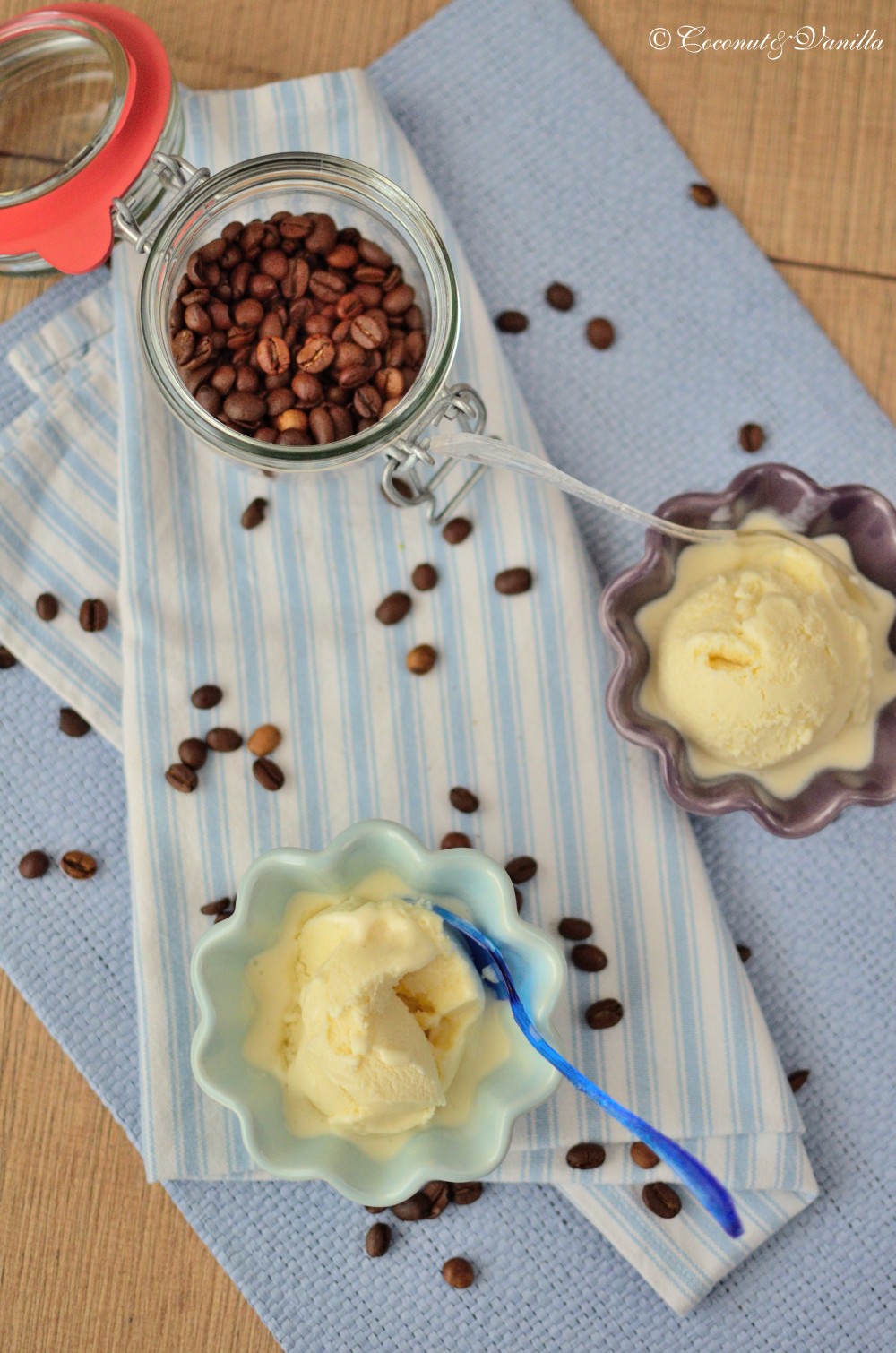 With the ice cream maker we also purchased a new book on ice creams, of course: Jeni's Splendid Ice Cream at Home by Jeni Britton Bauer (which is now available in German). A promising title. Already by flipping through the book in the book store, my mouth watered. The varieties were extraordinary, but sounded delicious and doable. Jeni uses no eggs in her ice creams, but a dollop of cream cheese and glucose syrup instead. The glucose syrup provides a creamy ice cream and makes sure the sugar doesn't crystallize. For what reason she uses the cream cheese questions me, since she only uses 40 g of that.
The machine moved in, the book too and so a ice cream had to be made! I was in the mood for iced coffee und ice cream, so iced coffee ice cream was born! And in Jeni's book there is a recipe for coffee ice cream. But the recipe suggests only to infuse the cream with some coffee beans, which were removed later and not to add any freshly brewed coffee. I associated it immediately with iced coffee. After the first spoon of the freshly churned ice cream, I was convinced of it's exceptional iced coffee taste. So I gave it another name.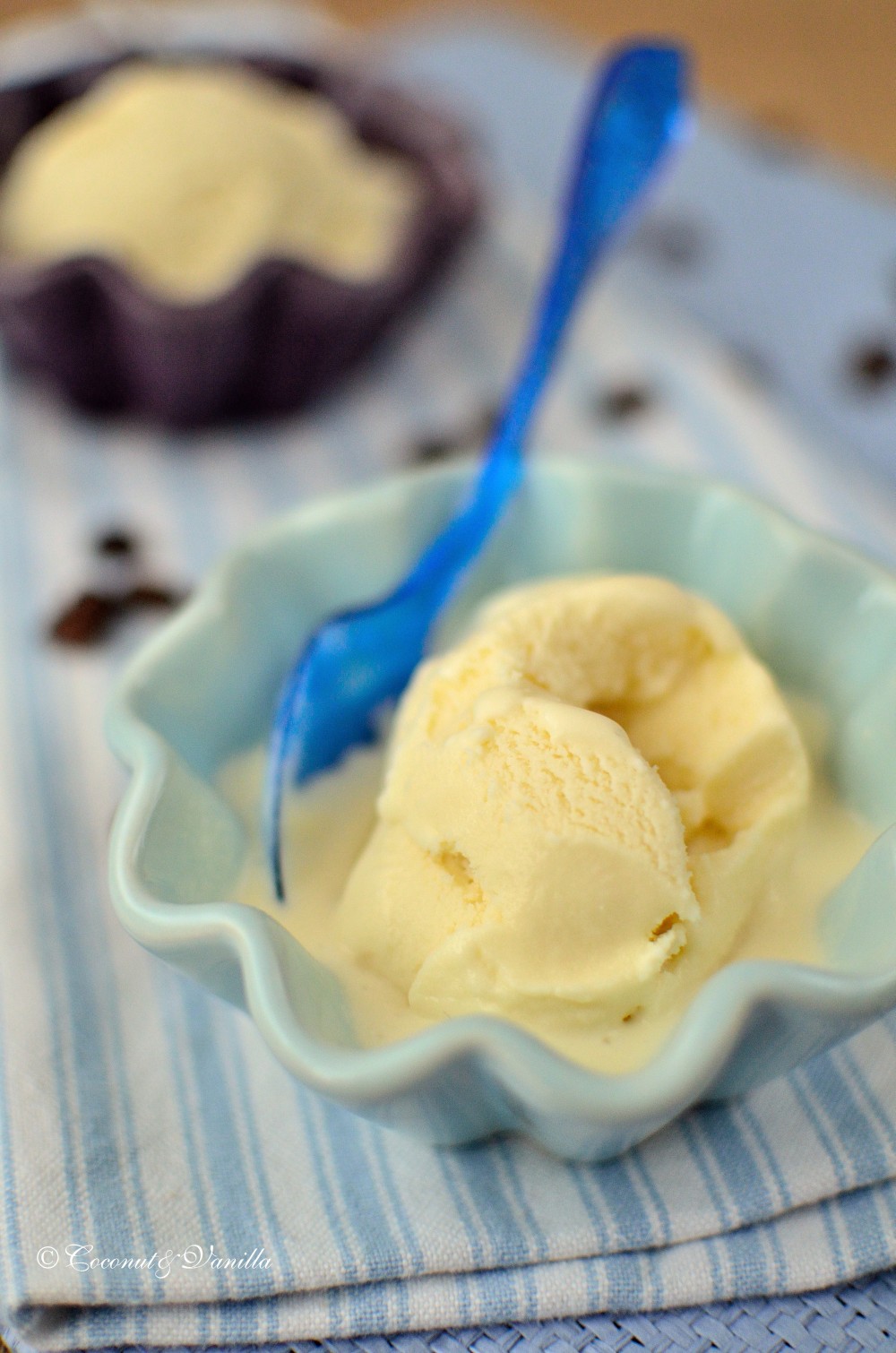 One year ago: Blueberry-Lemon-Tart
Two years ago: Strawberry-Melon-Soup
Iced Coffee Ice Cream
adapted from Jeni's Splendid Ice Cream at Home by Jeni Britton Bauer
yields: about 1,1 l
Ingredients:
580 ml whole milk

1 Tbsp + 2 tsp corn starch

40 g cream cheese

1/8 tsp fine sea salt

350 g whipping cream

150 g sugar

3 Tbsp glucose syrup

25 g roasted coffee beans, coarsely ground (I used 6 heaped tsp finely ground coffee instead, because that's just what I had. Put it in a muslin/tea bag, sealed with kitchen yarn and use that for infusing the cream)
Mix 5 Tbsp of the milk with the corn starch in a small bowl.
Mix the cream cheese with the salt in another small bowl.
Prepare a large bowl with cold water and ice cubes.
Heat the milk with the cream, sugar and the glucose syrup in a pot on middle heat until it boils. Remove from the heat and add the coffee beans (ground finely or coarsely). In both ways it's better to put the coffee into a muslin/tea bag, so you don't have to run everything through a fine mesh strainer lined with muslin. Let the milk infuse for 5 minutes. Remove the coffee or give through a muslin lined mesh strainer. Press out the liquid.
Whisk in the corn starch mixture and bring to the boil again. Stir with a heatproof spatula for about 1 minute, until the mixture thickens. Remove from the heat.
Stir in the cream cheese.
Fill the ice cream mixture into a large freezer bag, ziplock or not, just make sure they are well sealed. Close and place in the ice bath. Let it cool down for 30 minutes. I changed the water in between and added new ice cubes.
Fill the mixture in your ice cream maker and make ice cream according to manufacturer's instructions of your machine.