Sommer, Sonne, Eiscreme! Besonders erfrischend wird es mit einem Ziegenkäseeis mit Erdbeerswirls! Ziegenkäse im Eis? Ja, das geht und schmeckt lecker! Die dezente Note des Ziegenfrischkäses harmoniert außerdem wunderbar mit Frucht. Auch Himbeer oder Kirschen würden super passen. Je nach Jahreszeit lässt sich dieses Eis wunderbar variieren.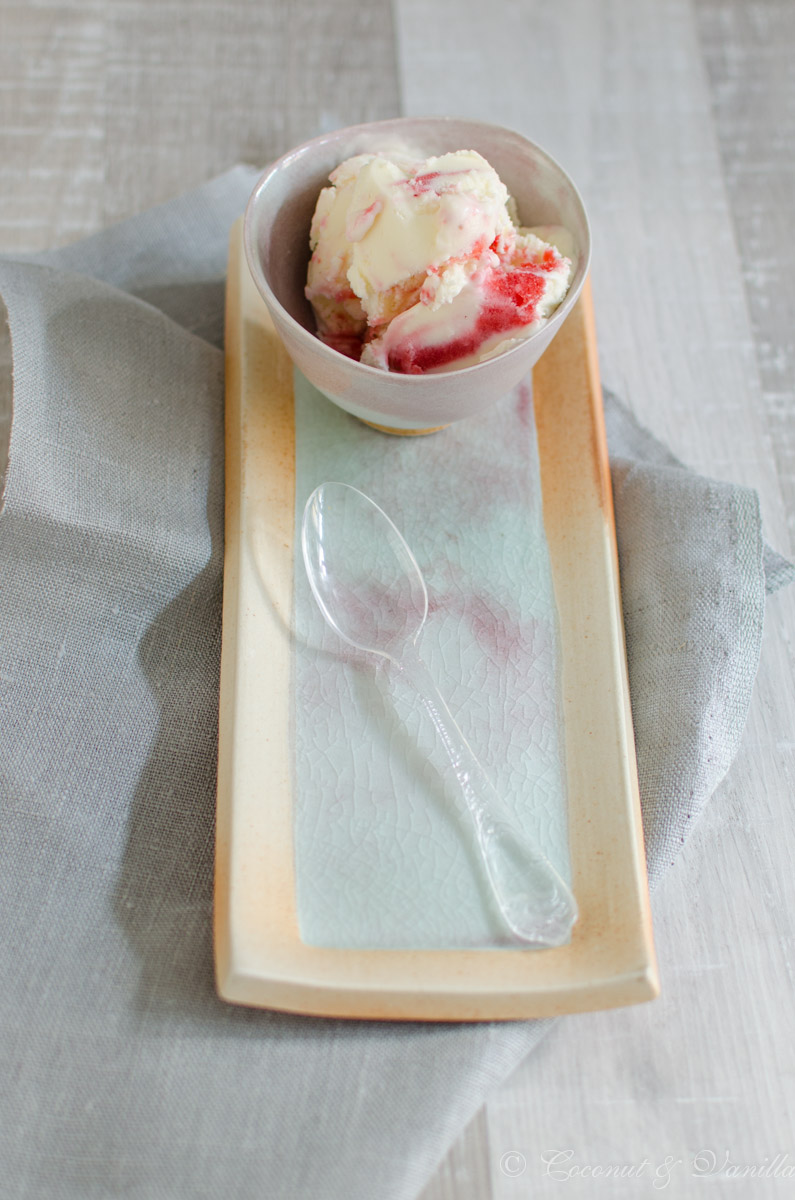 Auf dem Bild habe ich gleich meine Neuerwerbung vom Töpfermarkt in Rothenburg verwendet. Dort gab es ganz wunderbare handgemachte Töpfer- und Keramikwaren und ich musste natürlich etwas erstehen! Ich liebe solche Einzelstücke, denen man das handgemachte noch ansieht, aber trotzdem etwas feines ausstrahlen. Außerdem mag ich die Farben türkis und altrosa sehr und so hab ich mich gleich in diese Stücke verliebt. 2 Schälchen und eine Platte durften mit und falls ihr mal in der Nähe von Rottweil seid, empfehle ich Euch die Keramikwerkstatt von Holger Hoffmann. Ansonsten ist der Töpfermarkt in Rothenburg auf jeden Fall einen Ausflug wert, genauso wie Rothenburg und seine Umgebung!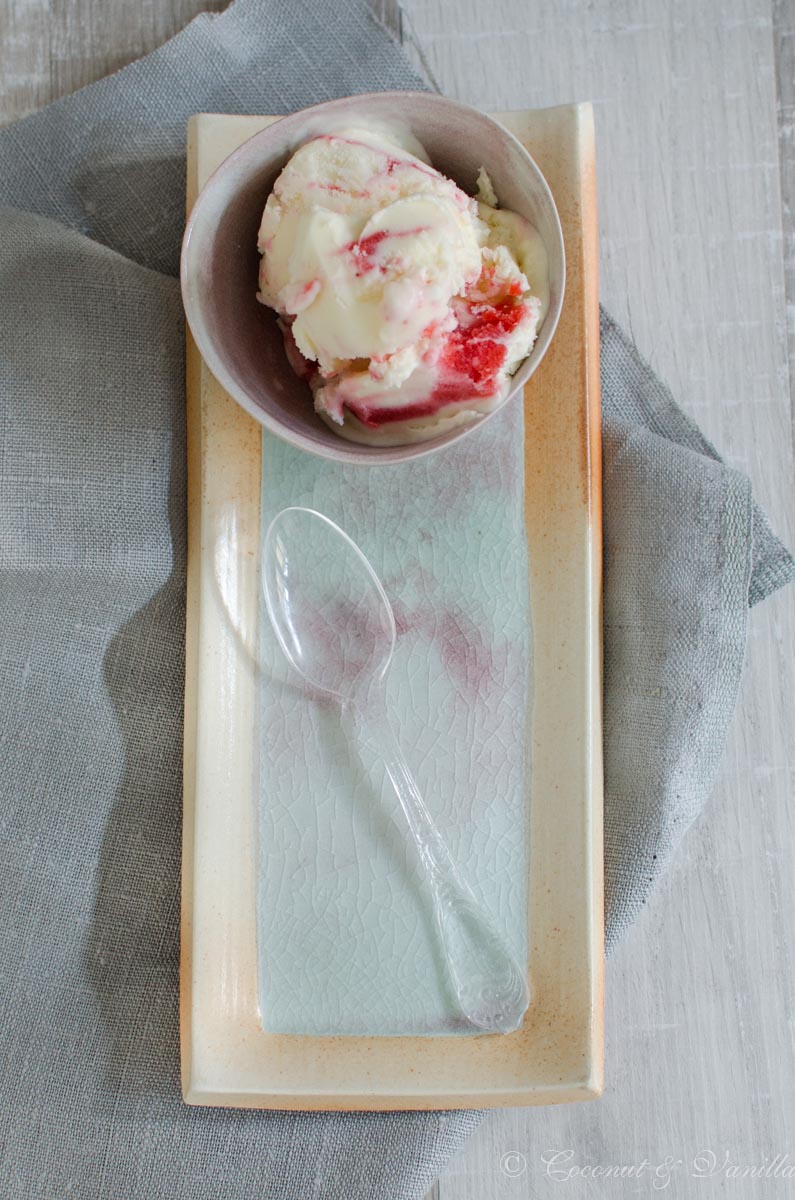 Vor einem Jahr: Honig-Erdnuss-Eiscreme mit dunklen Schokostückchen
Vor zwei Jahren: Eiskaffeeeis
Vor drei Jahren: Heidelbeer-Zitronen-Tarte
Vor vier Jahren: Erdbeer-Melonen-Süppchen
Ziegenkäseeiscreme mit Erdbeerwirbeln
nach einem Rezept aus Das beste Eis der Welt von Jeni Britton Bauer
Zutaten:
100 g Ziegenfrischkäse natur
300 g Bio-Sahne
500 ml Milch
150 g Zucker
2 EL Speisestärke
40 g Frischkäse 
1 Prise Salz
50 ml Glukosesirup
150 g frische Erdbeeren
1 EL Zucker
In einer mittelgroßen Schüssel (am besten eine die sich verschließen lässt und in den Kühlschrank passt) den Ziegenfrischkäse mit dem Frischkäse und dem Salz verrühren.
In einer kleinen Schale 50 ml Milch mit der Speisetärke glatt rühren.
In einem mittelgroßen Topf die restliche Milch mit der Sahne, dem Zucker und dem Glukosesirup zum Kochen bringen. 4 Minuten sprudelnd kochen lassen. Den Topf vom Herd nehmen und die Speisestärke einrühren. Den Topf wieder erhitzen und alles zum köcheln bringen. Die Masse köcheln lassen bis sie anfängt einzudicken, dabei immer wieder umrühren.
Die Eismasse zum Frischkäse geben und alles glatt rühren. Die Schüssel verschließen oder abdecken und im Kühlschrank runterkühlen.
Die Erdbeeren mit 1 EL Zucker pürieren und kalt stellen. 
Das Eis in der Eismaschine gefrieren.
Die Hälfte des gefrorenen Eises in einen flachen Behälter füllen. Mit Erdbeerpüree bedecken und mit dem restlichen Eis abdecken. Das Eis im Gefrierschrank nachgefrieren lassen, so dass auch das Erdbeerpüree gefroren ist.
Das Eis 5-10 Minuten vor dem Verzehr aus dem Gefrierschrank nehmen, so dass es formbar ist.
Summer, sunshine, ice cream! It will be especially refreshing with some goats cheese ice cream with strawberry swirls! Goats cheese in ice cream? Yes, that's possible and taste delicious! The subtle flavour of goats cream cheese harmonizes very well with fruit. Besides strawberry, raspberry or cherry would also be great. According to the season this ice cream can be modified easily.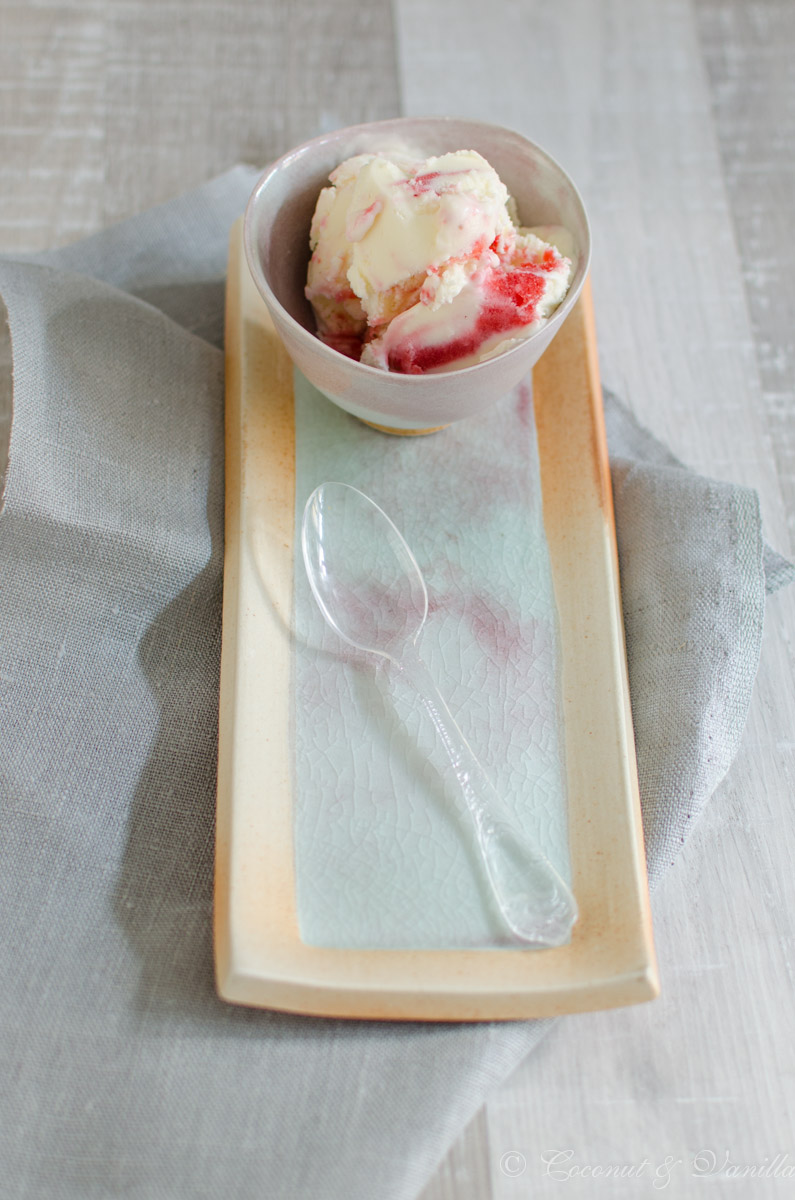 On the photo I used my latest bargain from the potters market in Rothenburg. They had some beautiful handmade pieces and so I needed to buy something! I love such individual pieces, which also look a bit like handmade work, but also radiate delicacy. Moreover I love the colours turquoise and antique pink and therefore I fell in love with those pieces in an instant. I bought two little bowls and a platter. If you are near Rottweil I recommend you to visit the pottery of Holger Hoffmann! Or you visit the next potters market in Rothenburg. Rothenburg is worth a visit anyway!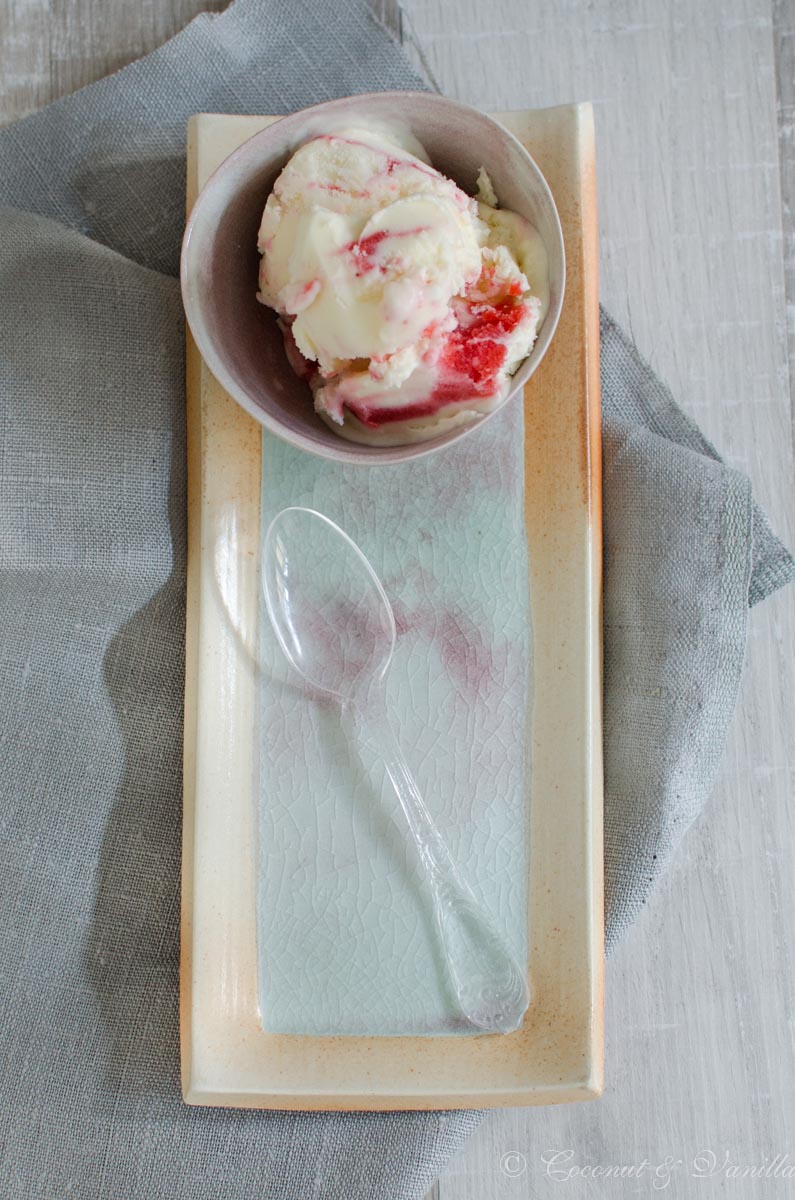 One year ago: honeyed peanut ice cream with dark chocolate chips
Two years ago: iced coffee ice cream
Three years ago: blueberry lemon tart
Four years ago: strawberry melon soup
Goats Cheese Ice Cream with Strawberry Swirls
adapted from Jeni's Splendid Ice Cream at home Jeni Britton Bauer
Ingredients:
100 g plain goats cream cheese
300 g organic cream
500 ml whole milk
150 g sugar
2 tbsp corn starch
40 g plain cream cheese
1 pinch of salt
50 ml glucose syrup
150 g fresh strawberries
1 Tbsp sugar
In a middle sized bowl (best use one which fits in your fridge and can be sealed with a lid) stir together the goats cream cheese, the cream cheese and the salt.
Whisk together 50 ml milk and the corn starch in a small bowl.
 Bring the rest of the milk, cream, sugar and glucose syrup to a boil in a middle sized pot. Let it cook for 4 minutes. Remove the pot from theat and whisk in the corn starch. Reheat again and cook until it thickens, keep on stirring.
Add the milk to the cream cheese and whisk until smooth. Cover the bowl and cool it in the fridge.
Purée the strawberries with 1 Tbsp of sugar. Place in the fridge.
Freeze the ice in your ice cream maker according to the manufacturers instructions.
Place halve the icecream in a shallow container and level it. Spread with strawberry purée and cover with the rest of the icecream. Freeze the icecream in the freezer until everything including the purée is frozen thoroughly. 
Remove the icecream 5-10 minutes from the freezer before serving, so it can be shaped easily.