Endlich haben wir uns den süßen Dingen des Buchs zugewandt. Davon gibt es viele Rezepte in diesem Buch, die alle glutenfrei sind. Entsprechend der Saison haben Ina und ich den Apfel-Rhabarber-Erdbeer-Crumble mit Nüssen von Seite 246 ausprobiert. Ich habe den Crumble auch glutenfrei mit den angegebenen Zutaten gebacken. Schließlich will ich wissen, ob die Gerichte so nachzukochen sind und dann auch schmecken. Zudem finde ich es äußerst spannend mit den glutenfreien Mehlen zu arbeiten. Dabei verwende ich keine Backmischungen, sondern verwende wie Béa auch reine glutenfreie Mehle, die dann gemischt werden.
Der Crumble stieß bei meinem Freund auf große Begeisterung. Mir schmeckte irgendwas in der Fruchtzusammensetzung nicht so ganz. Ich glaube der Apfel müsste nicht sein. Aber versteht mich nicht falsch: es war lecker! Die Streusel waren hervorragend. Eine tolle Geschmackskomposition und dann noch die Nüsse dazu. Und das wichtigste beim Crumble sind ja eigentlich auch die Streusel, denn das Obst variiert man sowieso je nach Saison.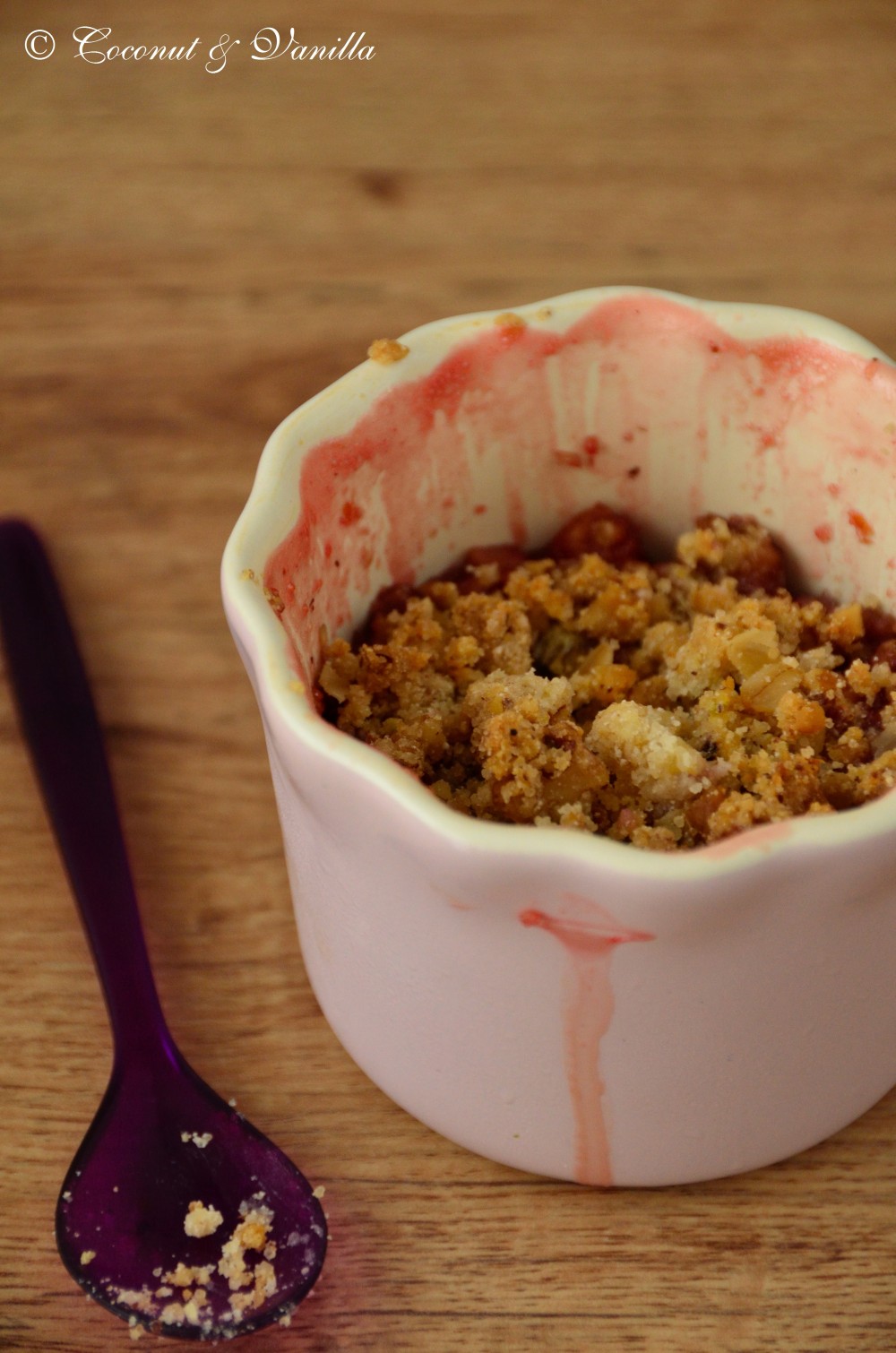 Finally we come to the sweet recipes in the book. There are a lot, and all of them are gluten free. According to the season Ina and I made the apple, rhubarb and strawberry nutty crumble from page 246. I baked it gluten free with the listed ingredients. After all I want to know, if the dishes can be prepared as the book claims and if they are tasty. Besides, it's fascinating to work with gluten free flours. Therefore I do not work with mixtures, but I'm mixing my own like Béa does herself.
My boyfriend loved the crumble. I didn't like something in the fruit mixture that much. I think the apple didn't had to make an appearance here. But don't get me wrong: it was good! The streusel were perfect, especially with the nuts. And for me the streusel are the most important thing in a crumble, because the fruit just varies over the season.