[:de]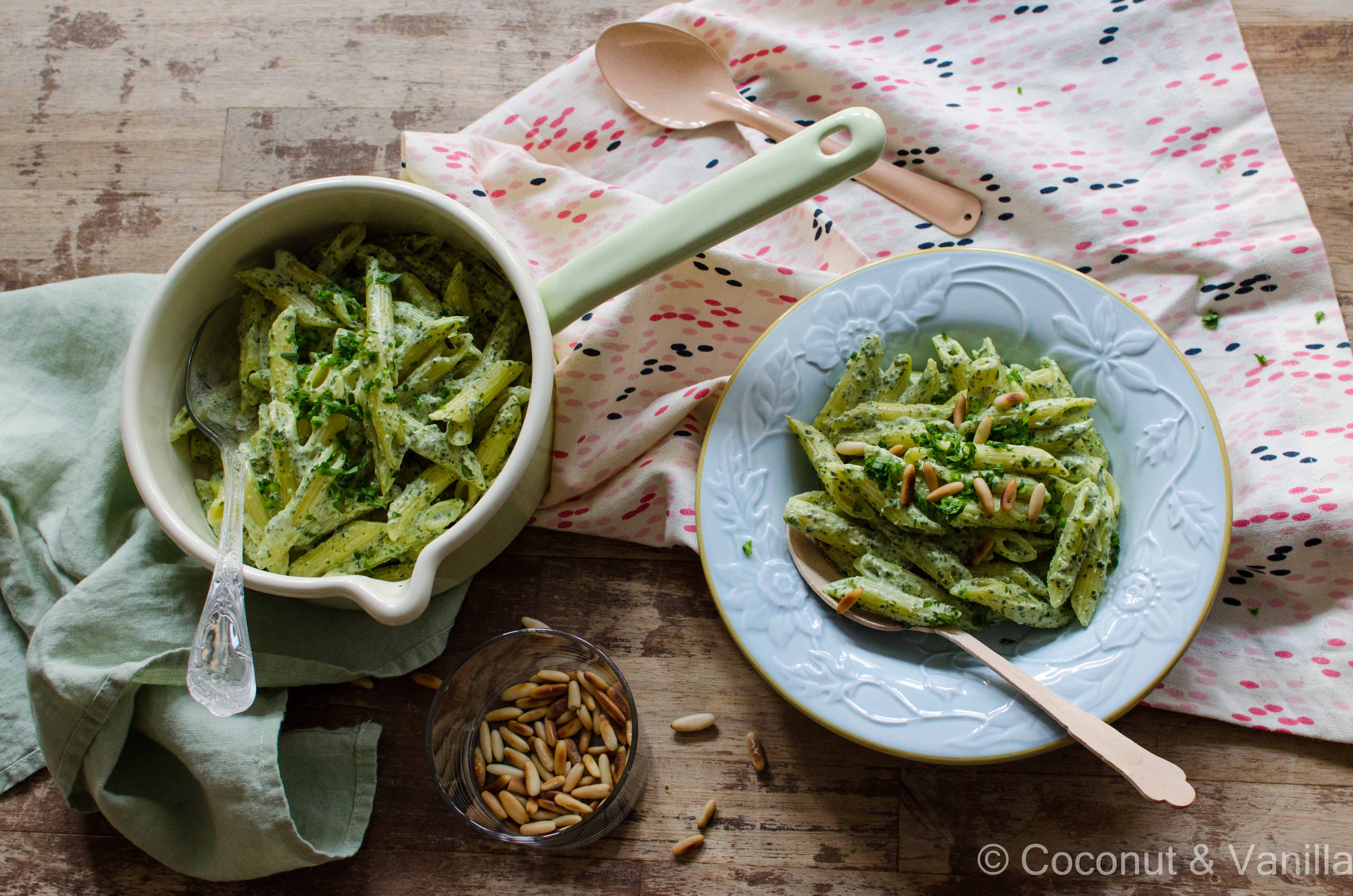 Diese Bärlauchpasta mit Ziegenfrischkäse und Pinienkernen wollte ich schon eeeewig verbloggen, denn sie ist eins meiner absoluten Lieblingsgerichte, wenn es Bärlauch gibt! Ich mache sie jedes Jahr und nicht nur einmal!
Nicht nur, dass ich Ziegenfrischkäse und Pinienkerne liebe und damit alles gut schmeckt, die Pasta ist ratzfatz zubereitet und schmeckt einfach köstlich! Saionales Soulfood vom Feinsten!
Deshalb geht es jetzt auch gleich zum Rezept: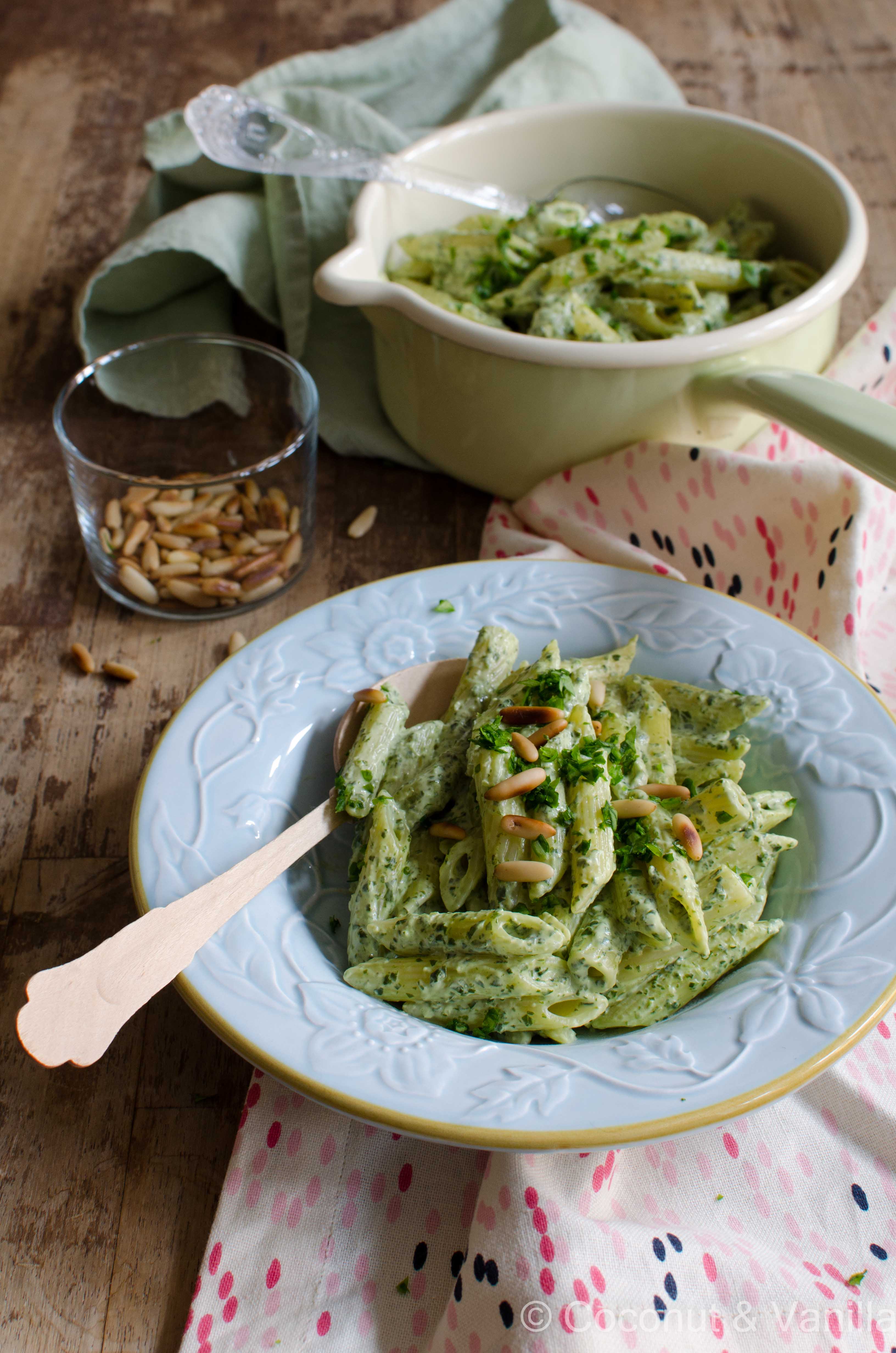 Vor einem Jahr: raw! Schokoladenbrownies
Vor zwei Jahren: Rhabarbergelee
Vor drei Jahren: Bärlauchravioli mit Zitronenbutter
Vor vier Jahren: Rhabarbersirup
Vor fünf Jahren: Rhabarber-Streusel-Tarte
Bärlauchpasta mit Ziegenfrischkäse und Pinienkernen
nach Schöner Tag noch!
ergibt: 2 Portionen
Zutaten:
250 g Pasta
50 g Bärlauch, gewaschen und trocken geschleudert
1 EL Pinienkerne
1 TL Butterschmalz
1 kleine Zwiebel oder Schalotte, geschält und fein gewürfelt
50 ml trockener Weißwein
100 g Ziegenfrischkäse
100 ml Bio-Sahne
Meersalz
schwarzer Pfeffer, frisch gemahlen
Die Pasta in kochendem Salzwasser al dente kochen.
Währendessen den Bärlauch in feine Streifen schneiden. Die Pinienkerne in einer Pfanne bei mittlerer Hitze goldgelb anbraten.
In einem kleinen Topf das Butterschmalz erwärmen und die Zwiebel bei kleiner Hitze darin goldgelb andünsten. Mit dem Weißwein und etwas Nudelwasser ablöschen. Kurz einkochen lassen, dann den Ziegenfrischkäse, die Sahne und 2/3 des geschnittenen Bärlauchs dazugeben. Warmhalten und verrühren bis sich alles gleichmäßig vermengt hat. Dann mit dem Pürierstab fein pürieren. Anschließend den restlichen Bärlauch untermischen und gegebenenfalls mit Salz und Pfeffer abschmecken. Wem die Sauce zu dick ist gibt noch etwas Nudelwasser dazu, bis die Sauce der gewünschten Konsistenz entspricht.
Die Sauce mit der abgetropfen Pasta vermengen und mit Pinienkernen bestreuen. Sofort servieren!
[:en]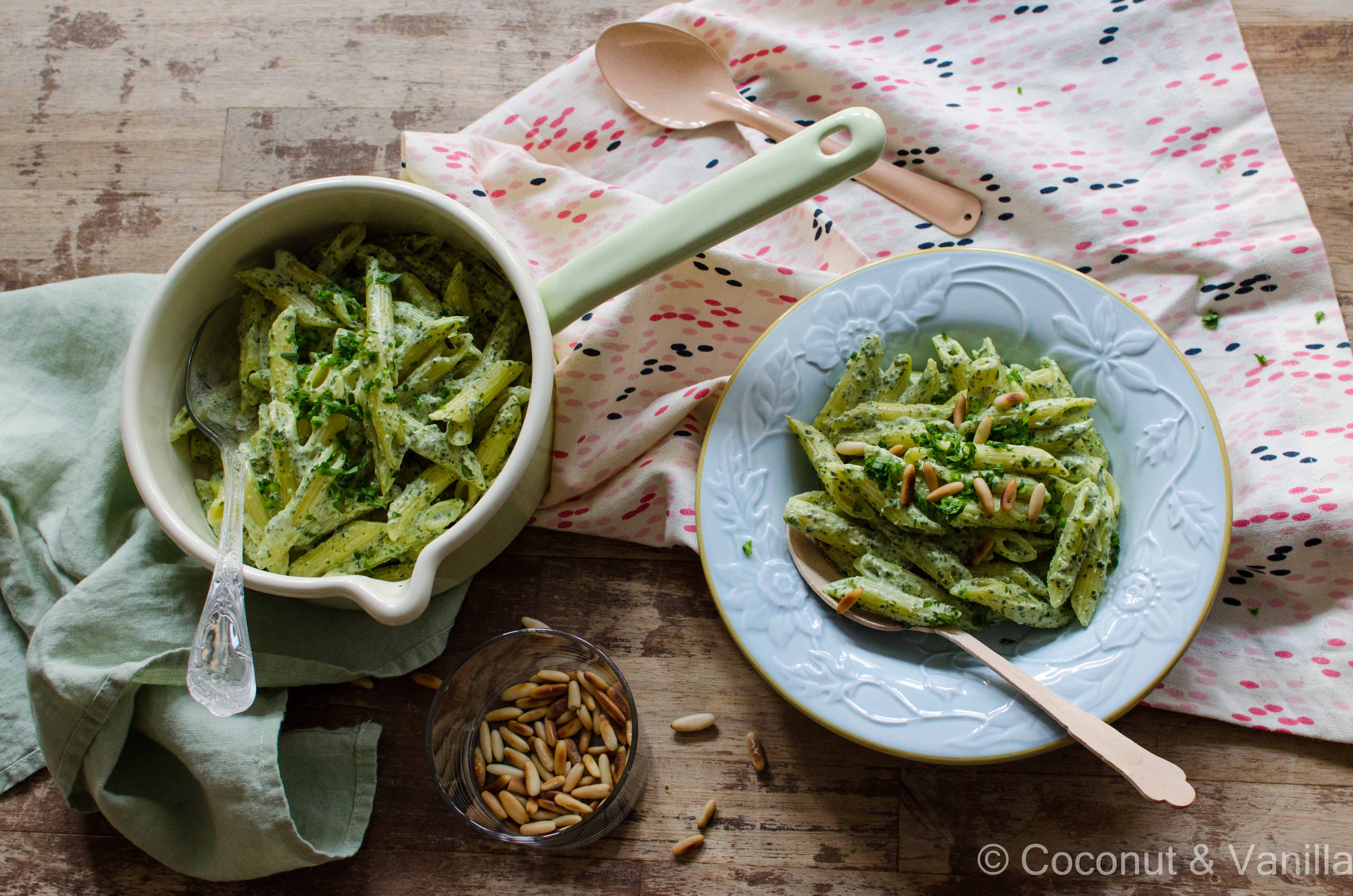 This pasta with wild garlic, fresh goats cheese and pine nuts is one of my favourites and I wanted to blog this recipe for eternity! I make it every year, when there is wild garlic season and not only once!
Not only, that I adore fresh goats cheese and pine nuts, but everything tastes good with it. The pasta is ready in no time and tastes just delicious! Seasonal soulfood at its best!
Therefore, I stop talking now and give you the recipe: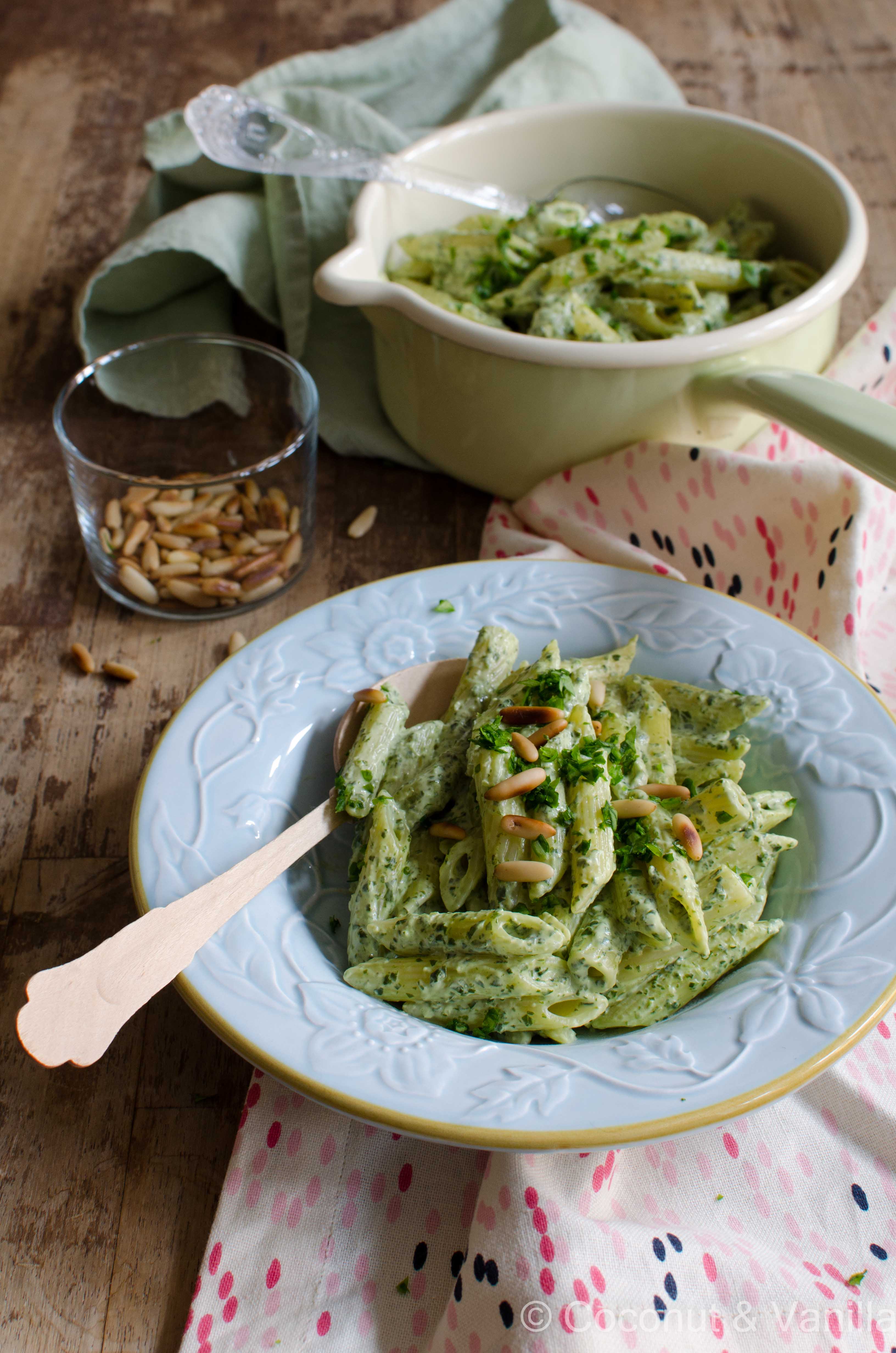 One year ago: raw chocolate brownies
Two years ago: rhubarb jelly
Three years ago: wild garlic ravioli with lemon butter
Four years ago: rhubarb syrup
Five years ago: rhubarb streusel tart
Wild garlic pasta with fresh goats cheese and pine nuts
adapted from Schöner Tag noch!
yields: two portions
Ingredients:
250 g pasta
50 g wild garlic, rinsed and spin dry
1 Tbsp pine nuts
1 tsp clarified butter
1 small onion or shallot, finely diced
50 ml dry white wine
100 g fresh goats cheese
100 ml organic cream
sea salt
black pepper, freshly ground
Cook the pasta in boiling salted water until al dente.
In the meanwhile slice the wild garlic in thin stripes. Roast the pine nuts in a pan at medium heat until golden.
Heat the clarified butter in a small saucepan and sauté the onions at small heat until golden. Add the white wine and a glug of pasta water and bring to a boil. Let it cook for 1 – 2 minutes, then add the goats cheese, the cream and 2/3 of the sliced wild garlic. Keep the sauce warm and stir until everything comes together. Purée with the immersion blender until you have a smooth sauce. Add the rest of the wild garlic and season with salt and pepper, if necessary. If the sauce is too thick add more pasta water to thin it out until you like the texture.
Drain the pasta.
Add the sauce to the drained pasta and combine everything. Sprinkle the pasta with the pine nuts and serve immediately!
[:]