Monday, 15th August 2011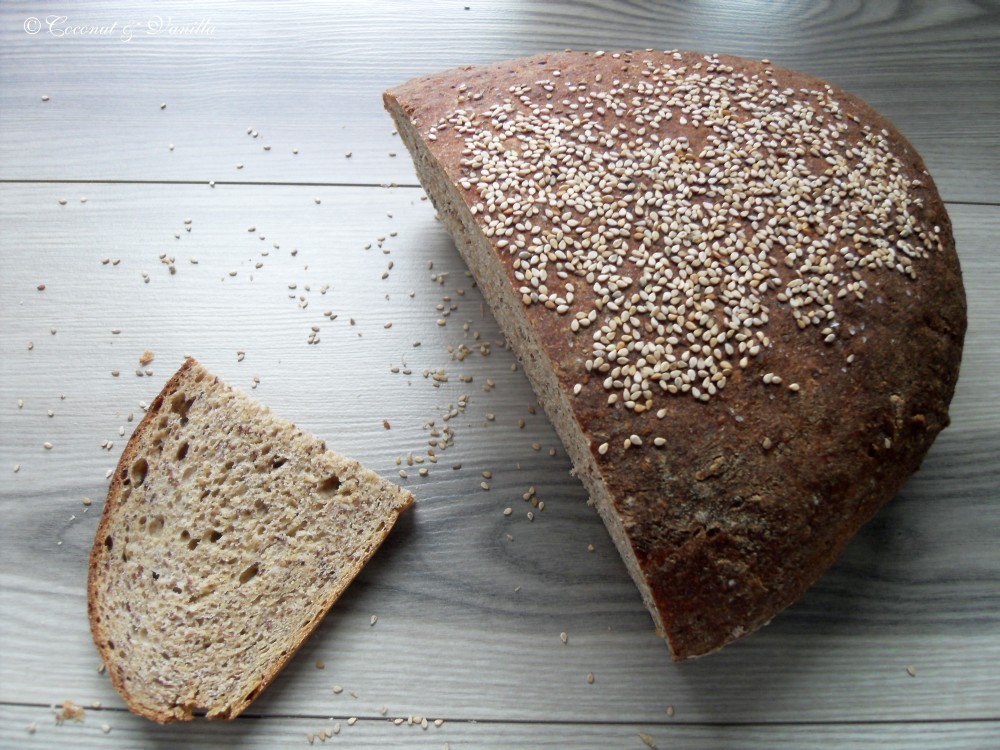 Bread is such a German thing. We could be proud of our "bread roots", but instead, almost all bread that is sold here, doesn't deserve that name. Don't get me wrong. The variety is huge, but the taste and shelf life are lacking and the number of ingredients is rising.
Baking my own bread was going around in my head since months. Lots of food bloggers, blogged about making their own sourdough. I was hooked. But it took me a long time to get myself to this point.
It didn't rely on the blog posts on the internet. What do I have to do, when having the sourdough? Most bloggers stopped here. Maybe one bread recipe followed, but that was it. But the afterwards is the most interesting part. Making bread. Time and again. What I needed was a book. Various recommendations later I chose Bread: A Baker's Book of Techniques and Recipes by Jeffrey Hamelman. It was the right choice. Hamelman leads you step by step to the world of bread baking, with everything you need to know, including the making of your own sourdough.
So if you are a total newbie to bread baking, I recommend you a good book. If you already have a sourdough waiting for the next dough, I recommend you: bake a bread! For instance this flaxseed bread. It's a good solid bread with a softer crumb and crust (for a sourdough bread) .
One year ago: Coconut Panna Cotta
Two years ago: Death by Chocolate
Flaxseed Bread
from Bread: A Baker's Book of Techniques and Recipes by Jeffrey Hamelman
Sourdough
360 g medium rye flour

285 g water

2 heaped Tbsp mature sourdough culture
Soaker
90 g flaxseeds

270 g water
Mix the ingredients for the sourdough and let it ripe for 14 to 16 hours at room temperature (over night). It needs longer in a cold room, shorter in a warm room. Cover with plastic.
At the same time put the flaxseeds in a small bowl and cover with the water. Cover with plastic.
  Final dough
180 g medium rye flour

360 g high gluten flour

120 g water

1 Tbsp sea salt

1, 5 tsp instant dry yeast

soaker ( all of above)

sourdough (all of above minus 2 Tbsp)
On the next day, add all the ingredients to the mixing bowl. Don't forget to remove your part of the sourdough for the next bread!
Mix for 3 minutes on first speed and another 3 minutes on second speed.
Cover with plastic again and let it sit for 45 minutes.
Divide the dough in to two pieces, if you like smaller breads. I made one large loaf. Shape round or oblong. I transfer mine now to a silicone mat on which I will bake the bread later  (I drag it onto the hot baking sheet).
Let it fermentate for another 60 minutes.
In the meantime preheat your oven. The books says to preheat to 235 °C. I only preheated to 200 °C. (because otherwise my breads become too dark). You will only find your way of baking the bread with you oven on your own. But after a few breads and taking a few looks at the bread while baking, you'll know it.
Add a ovenproof dish to the bottom of your oven, while preheating. Also load the oven with you baking sheet, so it heats, too (unless you use a pizza stone).
When the oven has the desired temperature, cook some water in your electric kettle. Pour it into the ovenproof dish in the oven. You so steamed your oven. I also use a spray bottle to steam the oven before and after loading the bread.
Drag the bread with the silicone mat onto the hot baking sheet. Be careful! Or load it with a pizza peel onto the sheet or the pizza stone.
Bake the bread for 40-45 minutes for a large loaf, 30 to 35 minutes for two small loafs.
Let it cool completely on a cooling rack.
PS: I use filtered tap water at room temperature for my bread baking and a Kitchen Aid for kneading, just for whom it may interest.