Nach langer Rezepteabstinenz gibt es heute diese köstliche Kartoffelterrine mit Ziegenkäse, Basilikum und Pinienkernen. Ich habe sie vor ein paar Wochen zu einem Brunch gemacht und war einer meiner liebsten Gerichte, die ich aufgetischt habe.
Ich liebe ja brunchen. Sowohl brunchen gehen, als auch selbst Gastgeber eines Brunch zu sein.
Leider sind die Möglichkeiten brunchen zu gehen in Stuttgart zu gehen sehr begrenzt. Man sucht fast schon die Nadel im Heuhaufen. Und diese überteuerten, schrecklich anonymen Hotelbrunchs zählen nicht. In Nürnberg ist brunchen vielerorts möglich und das auch sehr gut. Nur mein Lieblings-Bruncher hat leider vor ein paar Jahren zu gemacht.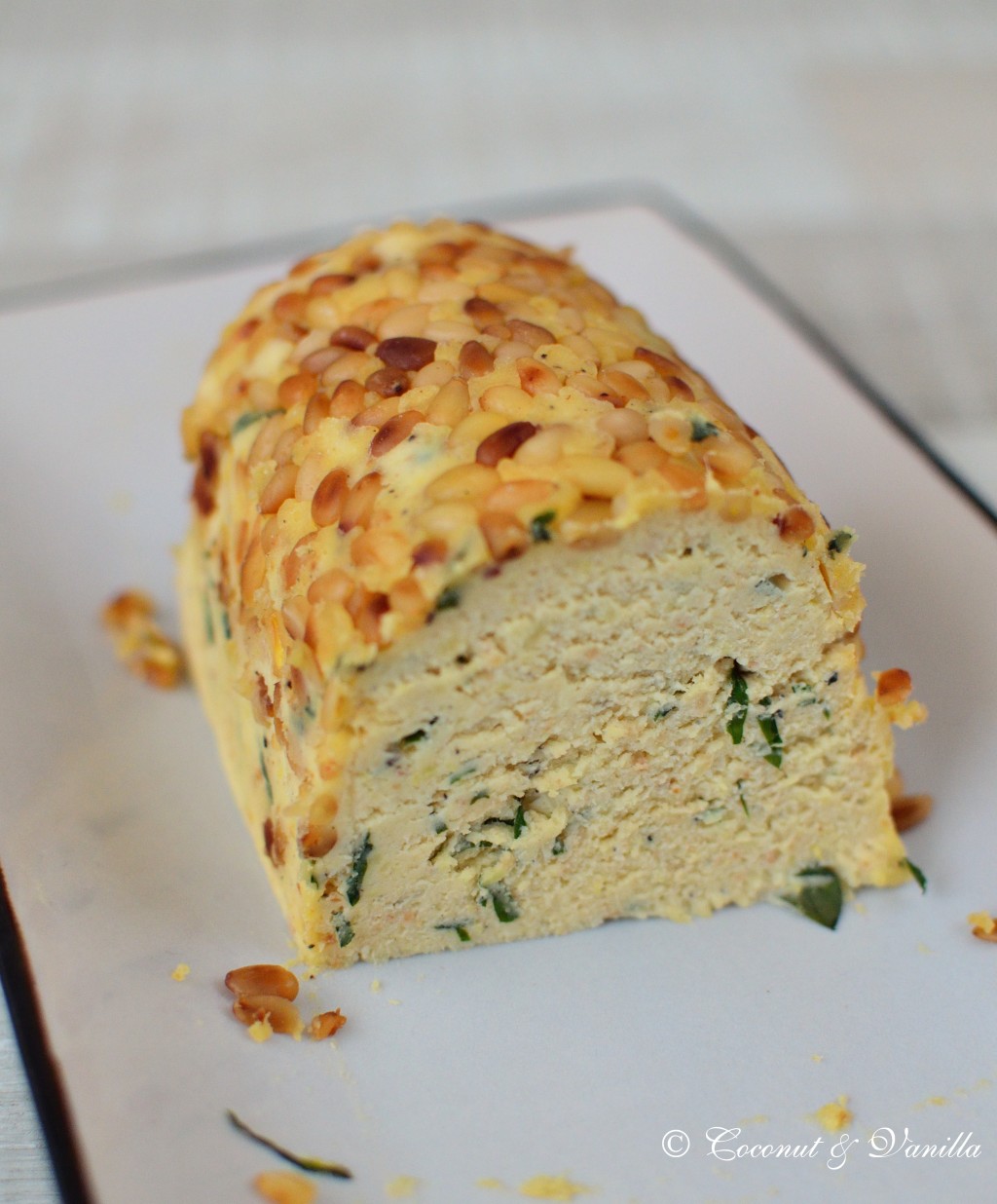 Selber einen Brunch zu veranstalten, macht mir natürlich einen riesen Spaß, schließlich ist es die Möglichkeit groß aufzufahren was Gebäck, herzhafte und süße Snack betrifft. Wir haben sogar Croissants selbst gemacht und ich sage euch, die waren himmlisch!
Aber auf oder zu einem selbstgebackenen Brot oder Brötchen (oder einem guten gekauften) passt diese Terrine perfekt. Man kann sie sich auch gut aufs Brot schmieren. Und man kann damit eigentlich jeden glücklich machen.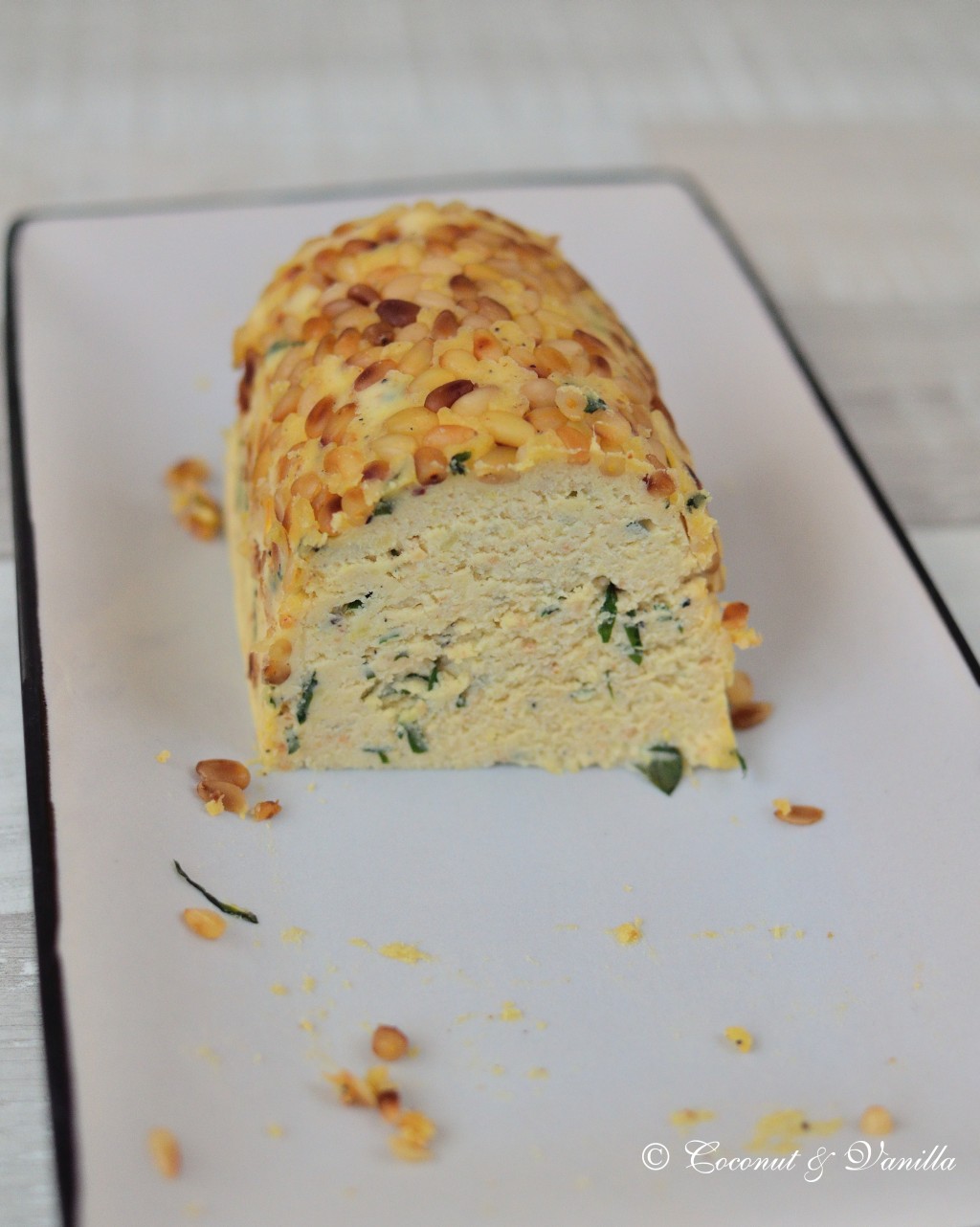 Vor einem Jahr: Orangen-Rotkohl mit Gorgonzola

Vor zwei Jahren: Flan Tarte
Kartoffelterrine mit Ziegenkäse, Basilikum und Pinienkernen
nach einem Rezept aus Party Basics von Cornelia Schinharl und Sebastian Dickhaut
ergibt: 1 Terrine für eine 1l Form, für 8-10 Personen
Zutaten:
500 g mehlige Kartoffeln
100 g Pinienkerne
1 Bund Basilikum
150 g Ziegenfrischkäse
50 g Parmesan, fein gerieben
50 g weiche Butter
200 g Sahne
Meersalz
weißer Pfeffer, frisch gemahlen
3 Blätter Gelatine oder ein halbes Päckchen gemahlene (4,5 g)
Butter für die Form
Die Kartoffeln schälen, in Stücke schneiden und weich kochen (15-20 Minuten).
Die Pinienkerne bei mittlerer Hitze anrösten. Die Hälfte im Blitzhacker zu Mehl verarbeiten.
Den Basilikum waschen, trocken schleudern und die Blätter grob hacken.
Die Gelatineblätter in Wasser einlegen, die gemahlene Gelatine mit ein paar Esslöffel Wasser verrühren.
Die Kartoffeln abgießen und durch eine Kartoffelpresse drücken oder fein zerstampfen. Mit dem Ziegenkäse, Parmesan, Butter, geriebenen Pinienkernen und Basilikum verrühren. Kräftig würzen.
100 g Sahne in einem kleinen Topf erwärmen, die Gelatine darin auflösen. Die restliche Sahne steif schlagen.
Erst die geschlagene Sahne unter die Kartoffelmasse heben, dann die flüssige Sahne unterrühren.
Eine längliche Terrinenform mit 1 l Fassungsvermögen ausbuttern und die restlichen Pinienkernen darin verteilen. Die Kartoffelmassen einfüllen, die Form vorsichtig auf die Arbeitsfläche stoßen, damit größere Luftblasen entweichen. Die Terrine mindestens 2 Stunden, besser über Nacht kalt stellen.
Zum Lösen mit einem Messer vorsichtig am Rand entlang fahren und stürzen.
After a long abstinence of recipes, I have this delicious potato terrine with goats cheese, basil and pine nuts for you! I made this a couple of weeks ago for our brunch and it was one of my favourite dishes on this day.
I love to brunch. To go brunching, as well as to host a brunch.
Unfortunately Stuttgart isn't a brunching town, except you want to go to expensive and faceless hotel brunches. In my home town Nuremberg brunching is possible in many places and moreover quite good. Just my favourite place to brunch shut down some years ago.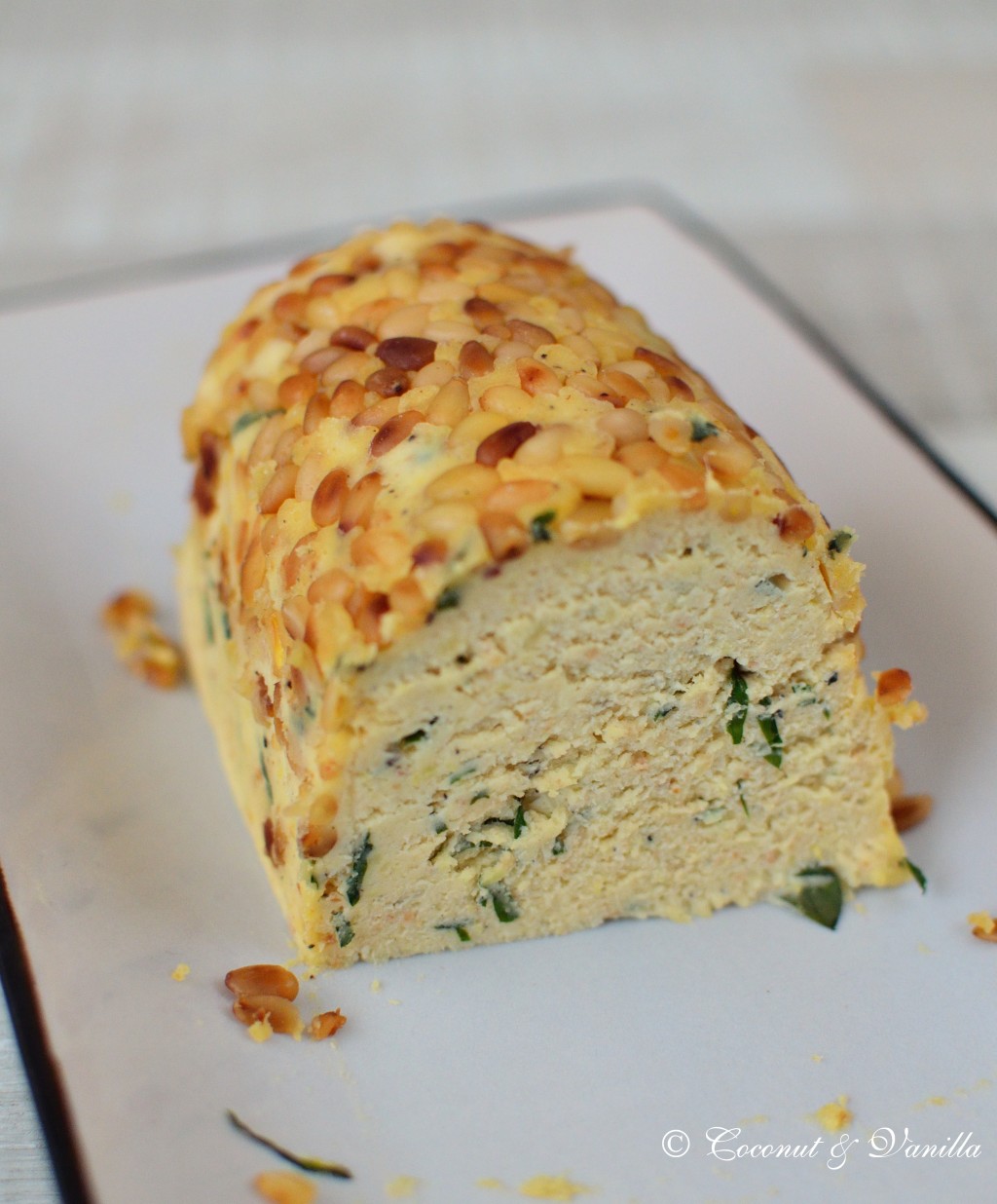 Hosting a brunch is a lot of fun for me, of course. After all it's the perfect possibility to bake and cook a lot. We even baked croissants, which were divine I must say!
But on a homemade bread or roll (or a good bought one) this terrine is just perfect. You can also smear it on your bread. So it's possible that you can make everyone happy with this dish.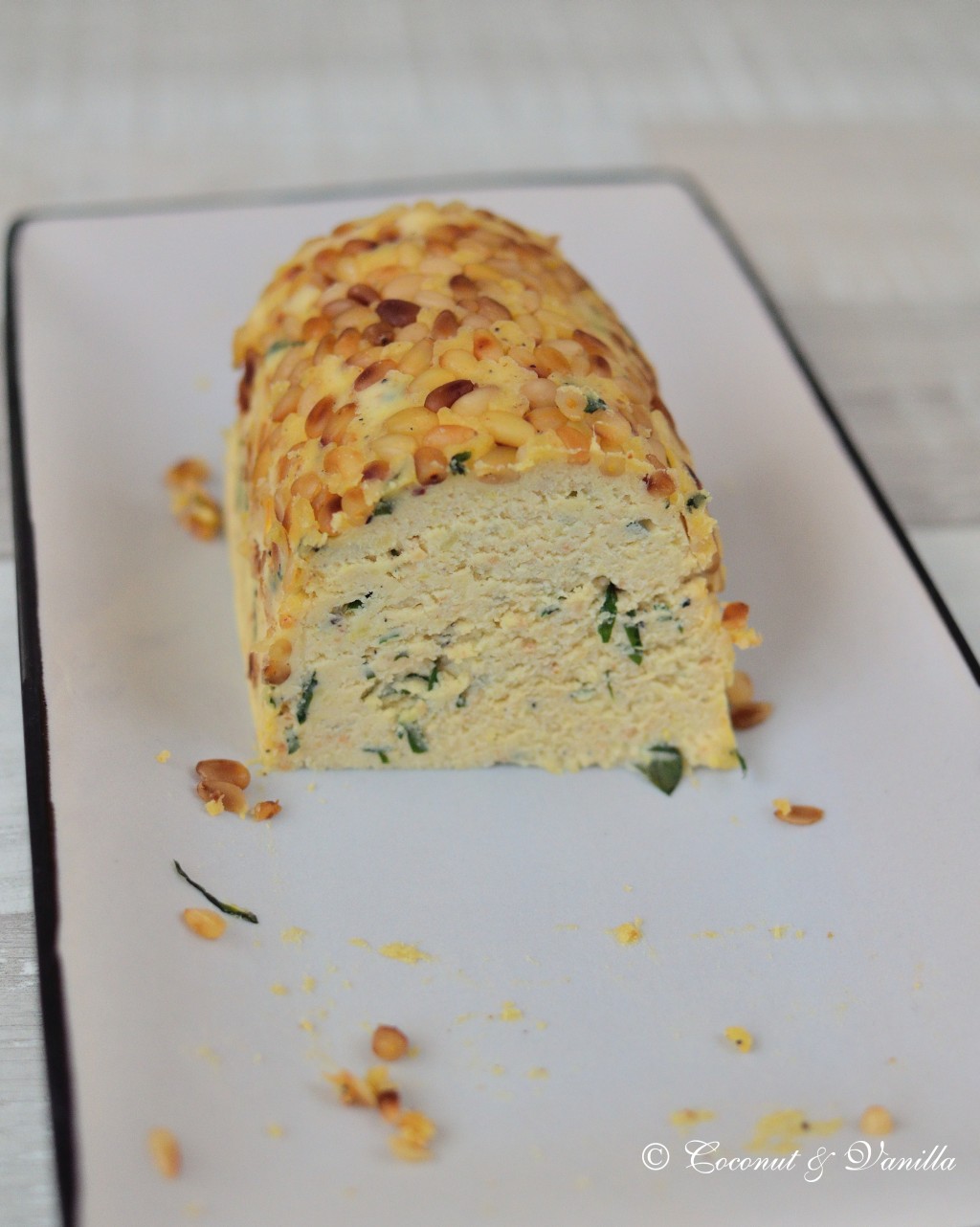 One year ago: Red Cabbage with Oranges and Gorgonzola
Two years ago: Flan Tart
Potato Terrine with Goats Cheese, Basil and Pine nuts
adapted from Party Basics by Cornelia Schinharl and Sebastian Dickhaut
yields: one 1 litre terrine, for 8-10 people
Ingredients:
500 g floury potatoes
100 g pine nuts
1 bunch of basil
150 g goats (cream) cheese
50 g parmesan, finely grated
50 g butter, at room temperature
200 g whipping cream
sea salt
white pepper, freshly ground
3 leaves gelatin or 4,5 g ground gelatin
butter for greasing
Peel the potatoes, cut them into chunks and cook until tender (15-20 minutes).
Roast the pine nuts on middle heat. Use a food processor to turn the half of them into meal.
Wash and spin the basil dry. Chop the basil leaves coarsely.
Soak the gelatin leaves in water, the ground gelatin just in some tablespoons of water.
Drain the potatoes and mash them thoroughly. Using a spoon, mix with the the goats cheese, parmesan, butter, grated pine nuts and the basil. Season well.
In a small saucepan, warm 100 g of the cream and dissolve the gelatin in it. Whip the rest of the cream until stiff.
First fold in the whipped cream into the potato mixture, then the liquid cream.
Butter a 1 l terrine mould and spread the rest of the pine nuts in there. Fill in the potato mixture and cautiously bump the mould on the counter, so larger air bubbles can escape. Keep the terrine for at least 2 hours in the fridge, better over night.
To remove the terrine from the mould, cun a knife round the edges and turn it out.