Sunday, 12th May 2013
New habit: every weekend I present you a new recipe with wild garlic! Ok ok, the season will soon be over, but still I have another great recipe today and maybe next weekend, too, since I bought another bunch wild garlic yesterday. Oops!
But I think 1 bunch of wild garlic per week in season is a good dose to enjoy it without getting sick of it too fast. As we had another holiday last week, I decided to make something special and these ravioli were on my to-do-list for some time. Quite perfect for the weekend or a day off.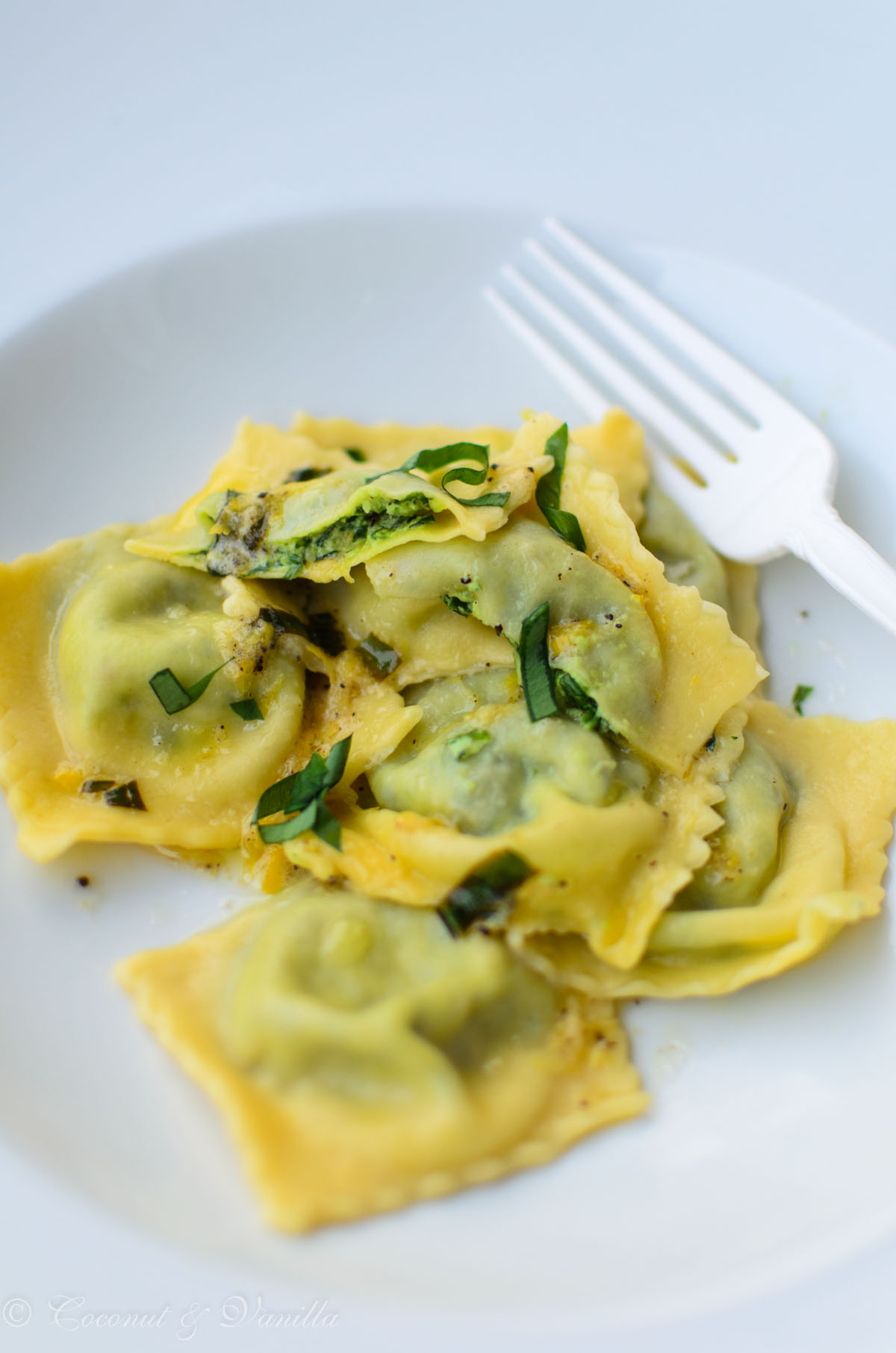 But together and using a Ravioli Board they were quickly made. Although I am not really satisfied with the ravioli board, because it's actually quite unmanageable to separate the ravioli with the attached mini rolling pin. So I skip that part and just use my pastry wheel, which is quicker, anyway. But every time I face this fact again, I'm getting a bit annoyed over it. But on the positive side you get 12 equal ravioli in little time.
The wild garlic really shines in the warm filling and the lemon butter fits very well without being overwhelming. As I didn't thought of buying a tube of ricotta the day before, I just made my own! You only have to plan in 1,5 hours for that. But you only need ingredients you've mostly at home and while the pasta dough rests, the ricotta can be drained. Perfect time management!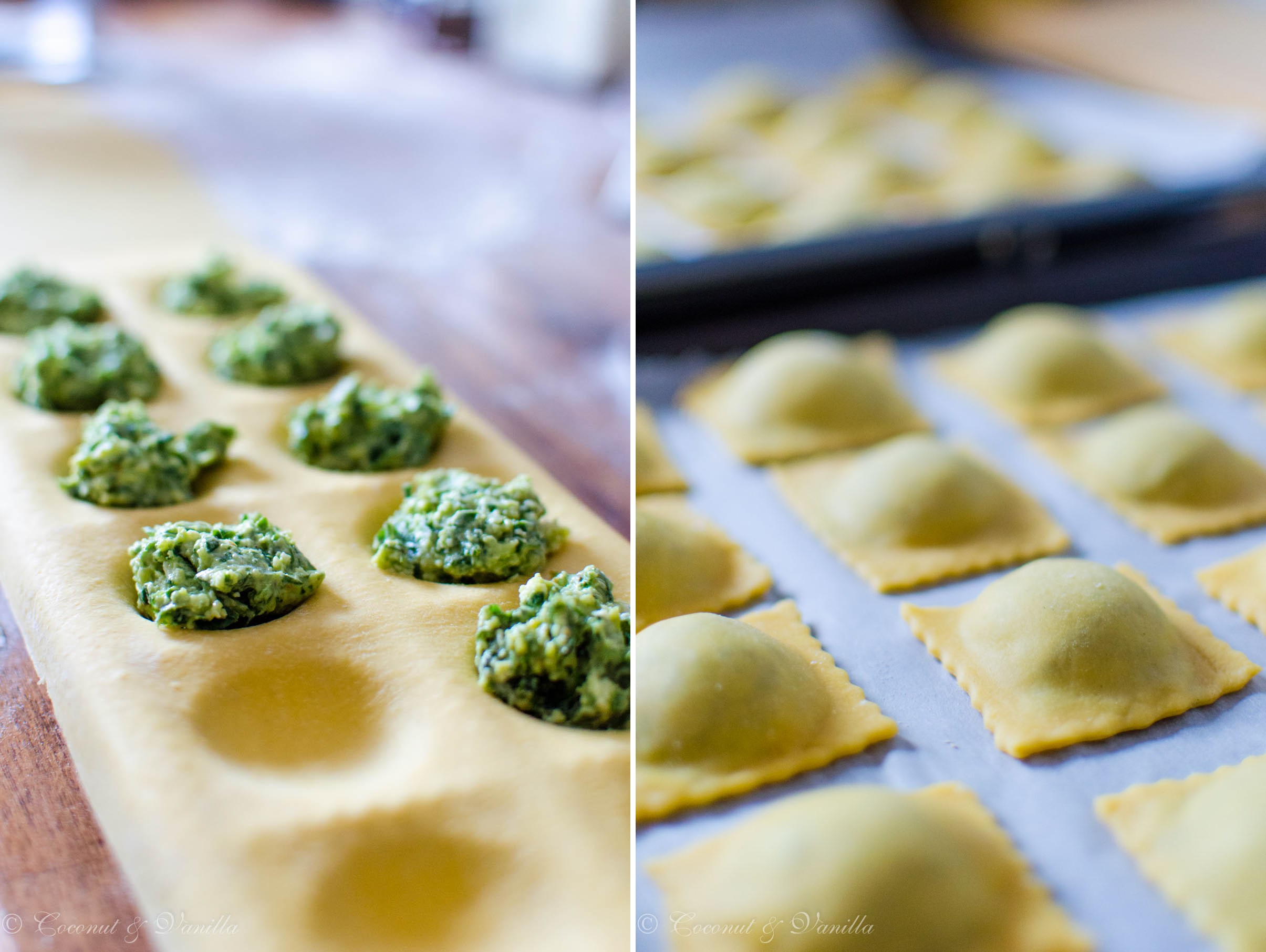 One year ago: crêpes with marinated green asparagus and smoked salmon
Two years ago: rhubarb streusel tart
Wild Garlic Ravioli with Lemon Butter
adapted from Küchengötter
yields: 3-4 servings
Ingredients:
300 g wheat flour (even better: Italian tipo 00)
3 eggs
salt
100 g wild garlic
250 g ricotta
2 egg yolks
50 g parmesan, finely grated
2 Tbsp breadcrumbs
salt, pepper
100 g butter
2 Tbsp lemon juice
zest of 1 organic lemon
Knead the flour, eggs and 1 tsp salt until you have a smooth dough. Add a small splash of water if necessary. Wrap in plastic foil and place in the fridge for 1 hour. 
Rinse the wild garlic and spin it dry. Cut off the stalks and put two leaves aside. Chop the other leaves finely and stir in the ricotta, egg yolks, parmesan, breadcrumbs and season generously with salt and pepper.
Prepare two baking sheets lined with parchment paper. Lightly flour the counter. Quarter the pasta dough and roll out with a pasta machine (level 7 of 9), therefore lightly flour the dough so it doesn't tear. Wrap the rest of the dough in foil again so it doesn't dry.
Using a ravioli board: Place one pasta sheet on the board, slightly pressing the sheet in the moulds. Place 1 heaped teaspoon filling in every mould and brush the space between with water. Place another pasta sheet onto it and press it onto it, from on side to the other to release the air. Either using the mini rolling pin to separate the ravioli or flip the board and separate them with a pastry wheel.
Without a ravioli board: Half the pasta sheet lengthwise and place 1 heaped teaspoon of filling with 5 cm space in between on it. Brush the pasta sheet with water and place the other sheet on it. Press it to seal it while releasing the air out of the pockets. Separate each ravioli using a pastry wheel.
Place the ravioli on the baking sheets. Leftover dough can be pressed together and rolled out another time.
Slice the two wild garlic leaves thinly.
Cook the ravioli in a large pot with boiling salted water until they are al dente, 4-5 minutes. Meanwhile melt the butter in a skillet, add the lemon juice and zest and bring it to the boil. Season with salt and pepper.
Drain the ravioli and serve with the lemon butter. Garnish with the wild garlic stripes.