Tuesday, 5th May 2015
Last year in October I was at Neue Heimat in Berlin. There was a small street food market with live music. It was really beautiful and they had some interesting food to sample. Main dishes were quite boring, but the snacks and the cocktails were exciting! They had a stall with cocktails made with tea, which were awesome and a stall with raw food, which had amazing raw chocolate brownies! It was my first time eating raw and I liked it! Since then my plan was to make those brownies.
My version of the chocolate brownies are not exactly like those at Neue Heimat, but after the first bite this wasn't important after all, because these are really good! I like my chocolate glaze on the thin side, but if you like it thick than double the amount of the ingredients. The nuts and cocoa nibs add a nice crunch, which is wonderful! A small piece is already very filling, because it's full of premium ingredients. But that's also very convenient ;).
For me it is fascinating that the chocolate glaze tastes very much like real chocolate glaze. Almost cannot taste a difference. Of course, you can also use normal chocolate, but doing the whole raw thing one time is just great!
By the way, raw means of course that the brownies are not baked. So this recipe is perfect for hot summer days, when you do not want to turn on the oven! Also the brownies need to be stored in the fridge (or a cool room), otherwise the chocolate glaze will melt (the coconut oil melts, when its warm).
This kind of raw food (food that isn't treated above 46° C) makes everyone happy: vegetarian, vegan, gluten-free and the best: it's just delicious!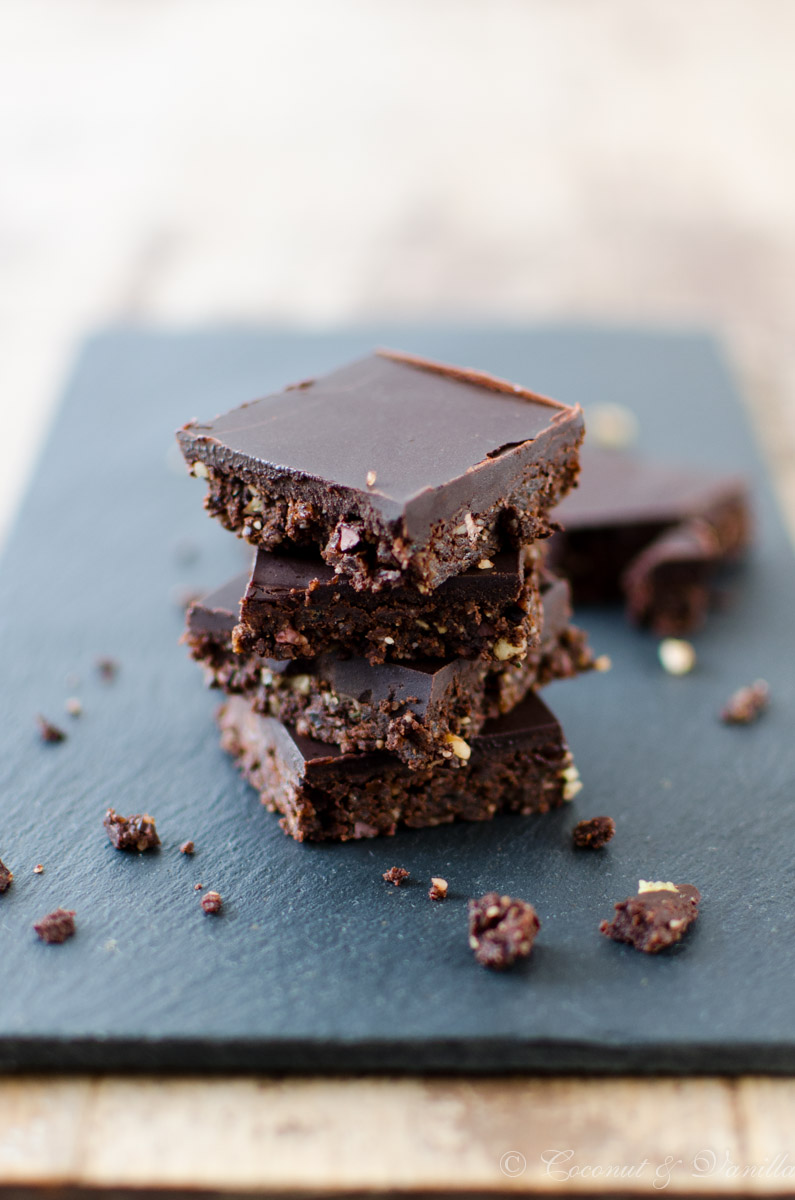 Two years ago: cocktails: rum alexander & jamaican hop
Three years ago: rhubarb crumble with pecan vanilla ice cream
Four years ago: rhubarb streusel tart
raw chocolate brownies
adapted from oh she glows

yields: 20 x 20 cm dish
Ingredients:
80 g walnuts
250 g dried, pitted dates
70 g hemp seeds
55 g cocoa powder
1 tsp vanilla extract
1 pinch of salt
40 g pecans
2 Tbsp cocoa nibs
50 g coconut oil
25 g cocoa powder
40 g maple syrup
1 pinch of salt
Chop the walnuts in a food processor very fine. Add the dates and hemp seeds and chop until thick homogenous clumps have formed. Add the cocoa powder, vanilla extract and salt and stir in until evenly distributed. Add the pecans and cocoa nibs and chop until the nuts are coarsely chopped.
Line a 20 x 20 cm baking dish (In doubt use a smaller dish, otherwise the brownies turn out too thin.) with parchment paper, so it hangs over the rim, so the brownies can easily be removed from the dish. I prefer a squarish springform with a firm bottom.
Spread the dough in the baking dish evenly with your hands and press firmly.
Place for 10 minutes in the freezer (or for 40 minutes in the fridge).
In the meantime melt the coconut oil on low heat. Whisk in the cocoa powder, maple syrup and salt. Pour onto the brownie and freeze for another 20 minutes. Store in the fridge.