Thursday, 5th May 2011
Another rhubarb recipe, yes! Because you have to use rhubarb, as long as you get it.
And this recipe is a hit! The recipe itself doesn't read like one, but as soon as you've taken the first bite you'll be convinced.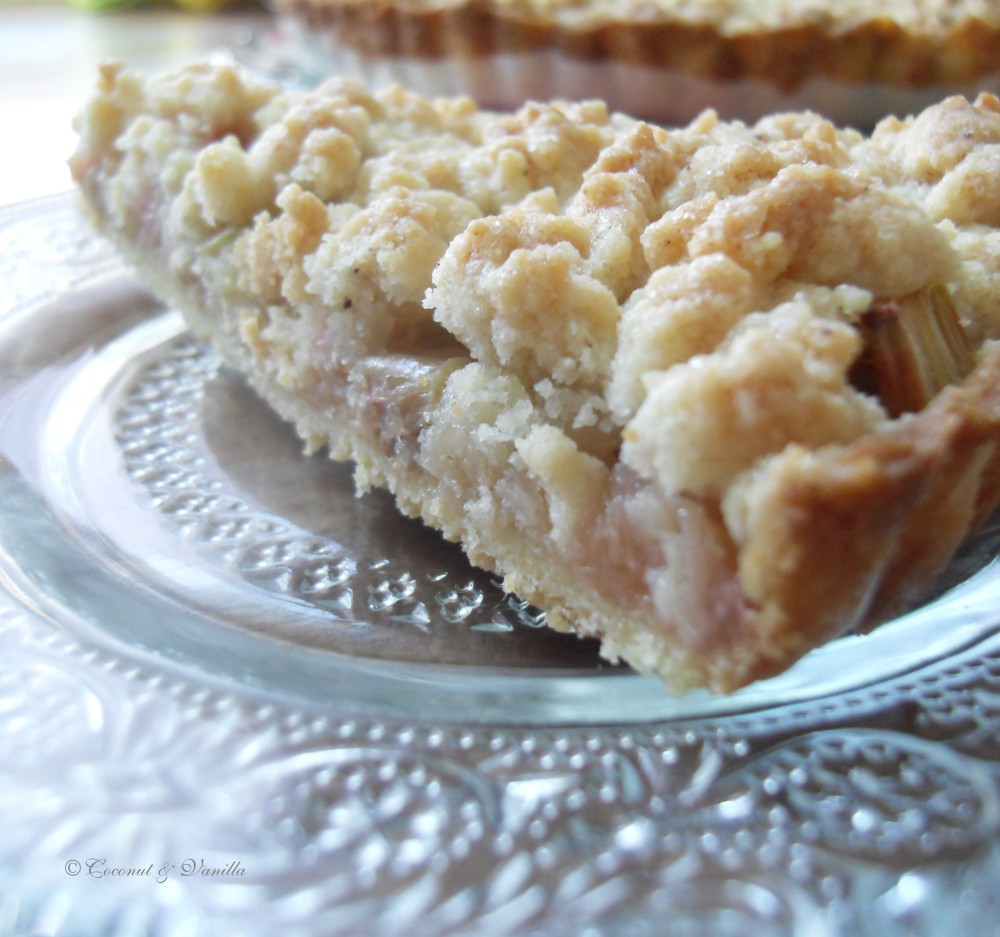 A flaky, buttery crust with tart, mellow rhubarb and all this topped with crispy, spicy streusel! I mean, how should it become even better?
The crust is really thin when rolled out, but don't worry it won't break when baked. I've used a tart pan, which was really fully loaded. But it worked! You can also use a spring-form pan.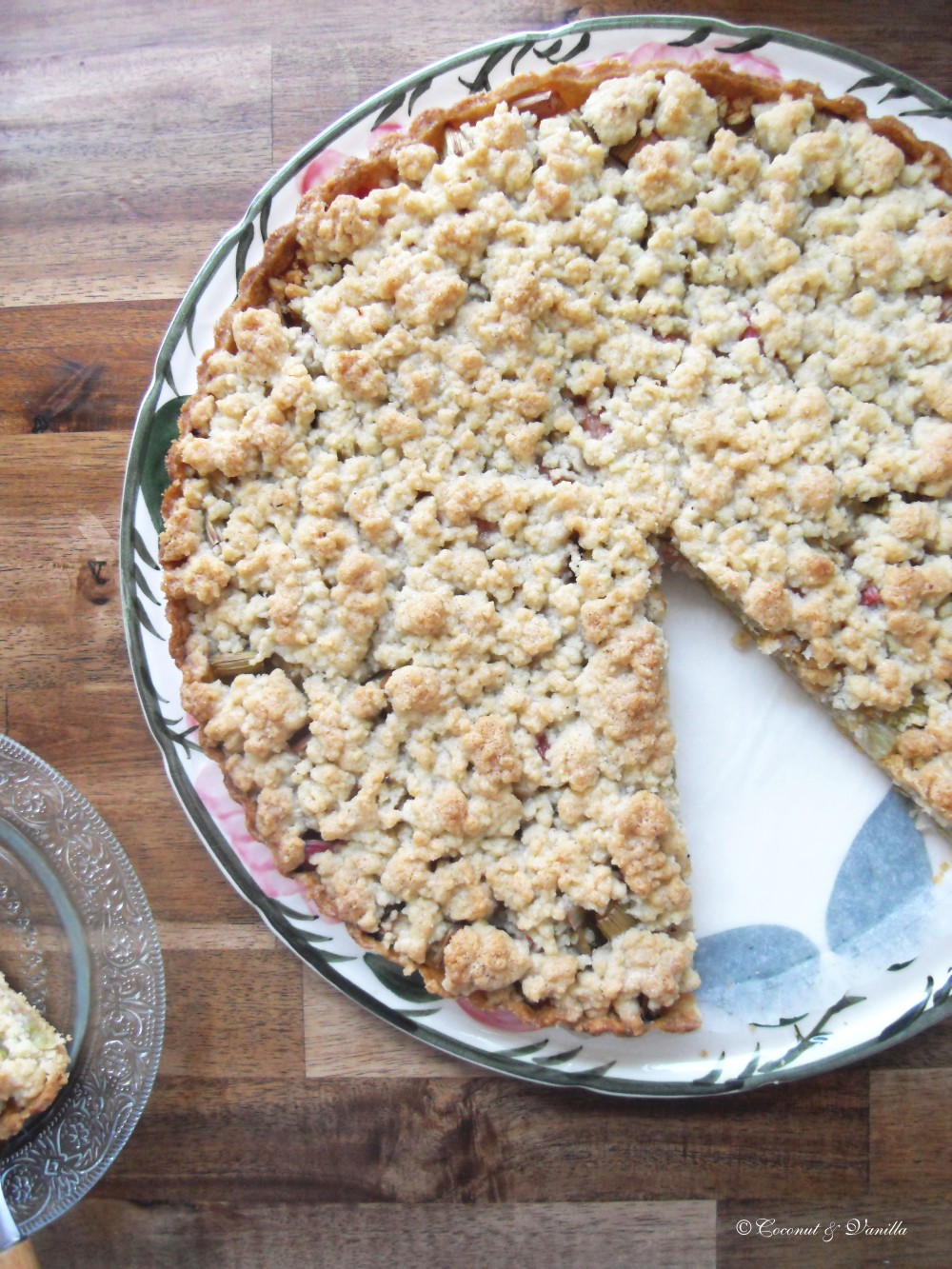 As it is rhubarb season, rhubarb recipes are all over the internet. And so a question arises: Peeling or not? Some peel it all way long, some never. I was not only confused, but I always didn't liked the idea of peeling off the bright red skin of the rhubarb. I mean, that's one of the great characteristics of rhubarb, isn't it? So I searched the internet. Summarized: modern rhubarb varieties have less strings so there is no need to peel. Just chop the ends, and if there are any strings coming off, peel them. So this is my way in the future, forever.
I also heard of some rhubarb varieties, that are red inside, too. It's called strawberry rhubarb and looks really beautiful. Look at that from a post from Nicky. Unfortunately I've never seen it here.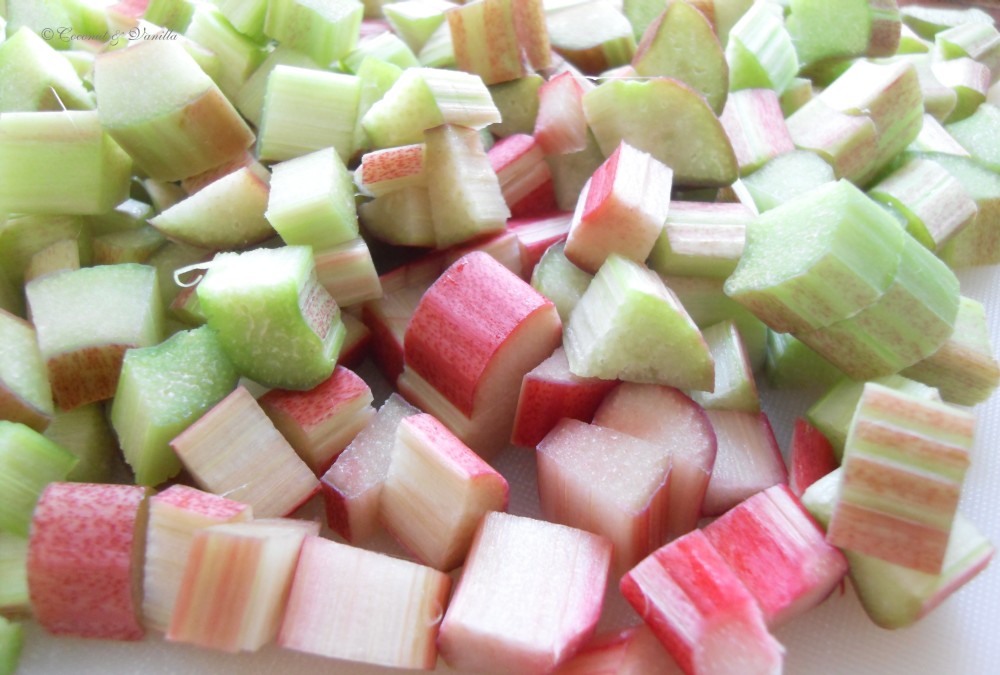 We have been offered a lot rhubarb from a friend, who cannot work it up anymore. So do you have any suggestions, what to do with a lot rhubarb? I knew we could make jam, but I am not such a big fan of (strawberry-) rhubarb jam. So I will be thankful for any tips.
One year ago: Rhubarb-Streusel-Cake
Rhubarb Streusel Tart
yield: one 28 cm tart
Ingredients:
350g flour

210g sugar

1 egg yolk

225g butter, at room temperature

pinch of salt

70g ladyfingers

500g rhubarb

1/4 tsp grated nutmeg

1/4 tsp cinnamon
Knead 150g flour, 50g sugar, the egg yolk, 75g butter and the salt with one tbsp of cold water in a medium bowl, until you have a smooth dough. Shape a flat ball, wrap in plastic wrap and refrigerate it for 30 minutes.
Crush the ladyfingers in a food processor or alternatively in a plastic bag with you rolling pin.
Clean the rhubarb, chop off the ends and chop into 1 cm pieces.
Combine 200g flour and 100g sugar, add nutmeg, cinnamon and 150g butter in pieces. Knead until you have streusel. Store cool.
Preheat the oven to 180°C.
Butter your tart pan (28 cm in diameter). Or line the bottom with parchment paper and only butter the rim, as I did.
Roll out the dough and line the pan with it. Spread the ladyfinger crumbs. Then spread the rhubarb evenly. If your rhubarb is very tart, spread 60g of sugar on it now. I left that out and it was very good like that. Spread the streusel on the rhubarb.
Bake the tart for 45-50 minutes.
Let it cool or enjoy warm with a scoop of ice cream.