Die Zucchinischwemme hat uns nun auch erfasst und wie jedes Jahr bin ich auf der Suche nach leckeren Rezepten um Zucchinis en masse zu verarbeiten. Da wir kein Fan von eingelegten oder angebratenen Zucchini sind, müssen es Rezepte sein, die die Zucchini etwas maskieren ;).
Für Backwaren sind Zucchini eins A geeignet, da sie das Gebäck schön saftig machen und so auch noch einige Tage später verzehrt werden können ohne unter den Händen zu zerbröseln oder man das Gefühl hat in Steine zu beißen.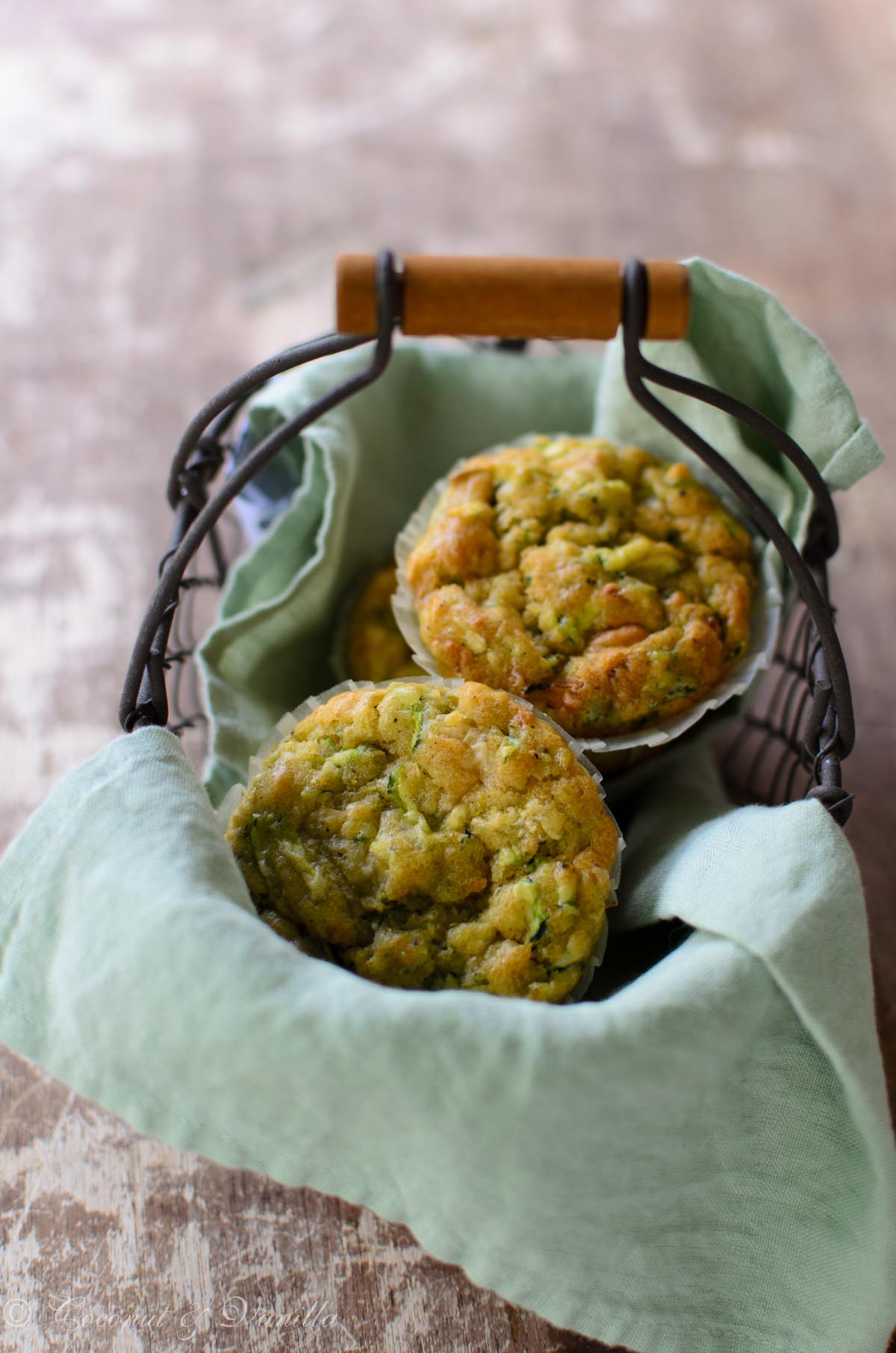 Bei dieser Hitze habe ich wenig Lust aus Süßes und wenn dann wird dieser Bedarf durch Eis gedeckt.
Daher habe ich mich an eine herzhafte Variante der Muffins gewagt.
Der Parmesan kommt richtig schön zur Geltung und Zucchiniraspel und Olivenöl verleihen den Muffins Saftigkeit. Durch die Zugabe der Zucchini kann auf einen Teil des Mehls verzichtet werden, Zucker braucht es bei einer herzhaften Variante ja sowieso nicht und so sind die Muffins schön leicht und haben eine mediterrane Note.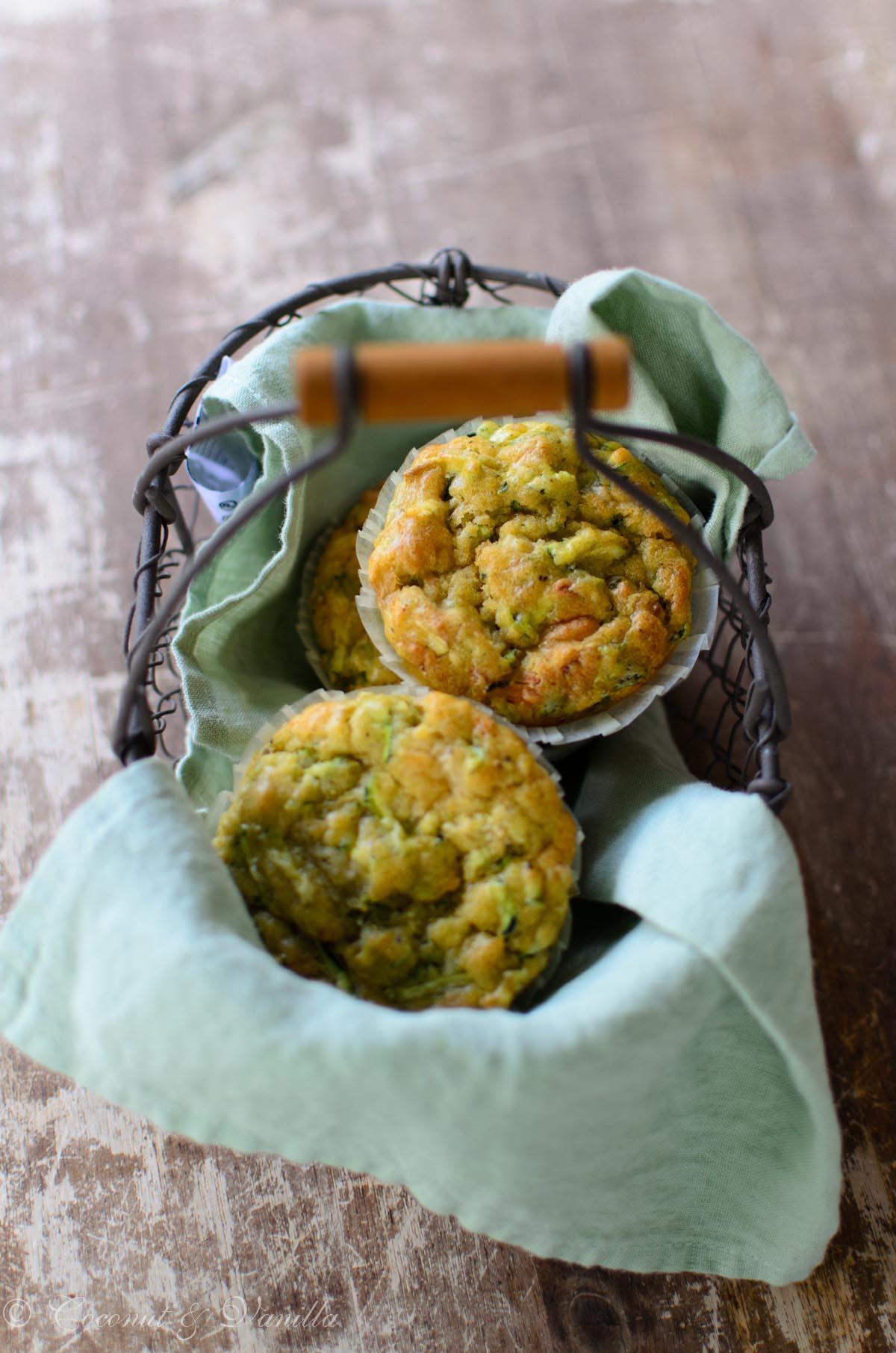 Vor einem Jahr: Rote Beete Gnocchi mit grünen Bohnen in zweifacher Nussbutter
Vor drei Jahren: Indisches Mandelhühnchen
Zucchinimuffins mit Parmesan und Olivenöl
ergibt: 12 Muffins
Zutaten:
1 Knoblauchzehe, fein gehackt
300 – 400 g Zucchini, grob geraspelt
100 g Parmesan, grob geraspelt
3 Eier
100 g Crème fraîche
100 ml Olivenöl
200 g Dinkelmehl (z.B. Type 1050)
15 g Backpulver (1 Päckchen)
1 TL Meersalz oder 1,5 – 2 TL Kräutersalz
Pfeffer
Den Ofen auf 150° C (Umluft; E-Herd: 175° C) vorheizen.
Eier, Crème fraîche und Olivenöl cremig verrühren. Mehl, Backpulver und Salz unterrühren. Kräftig mit Pfeffer würzen. Knoblauch, Zucchini und Parmesan unterheben.
Eine Muffinform mit Papierförmchen bestücken und den Teig auf die Förmchen verteilen. Die Muffins ca. 35 Minuten backen bis sie leicht gebräunt sind.
Alternativ kann der Kuchen auch in einer Kastenform gebacken werden. Dann den Kuchen 50-60 Minuten backen (Stäbchenprobe machen!).
Die Muffins auf einem Kuchengitter auskühlen lassen.
The zucchin glut hit us and like every other year I'm looking out for delicious recipes, that use up many many zucchinis. As we are not a fan of pickled or pan-roasted zucchini, the recipes have to mask the zucchini a bit ;).
Zucchini are great for baked goods, since they make them luscious, so they can still be eaten after days without crumbling under your hands or getting hard like a rock.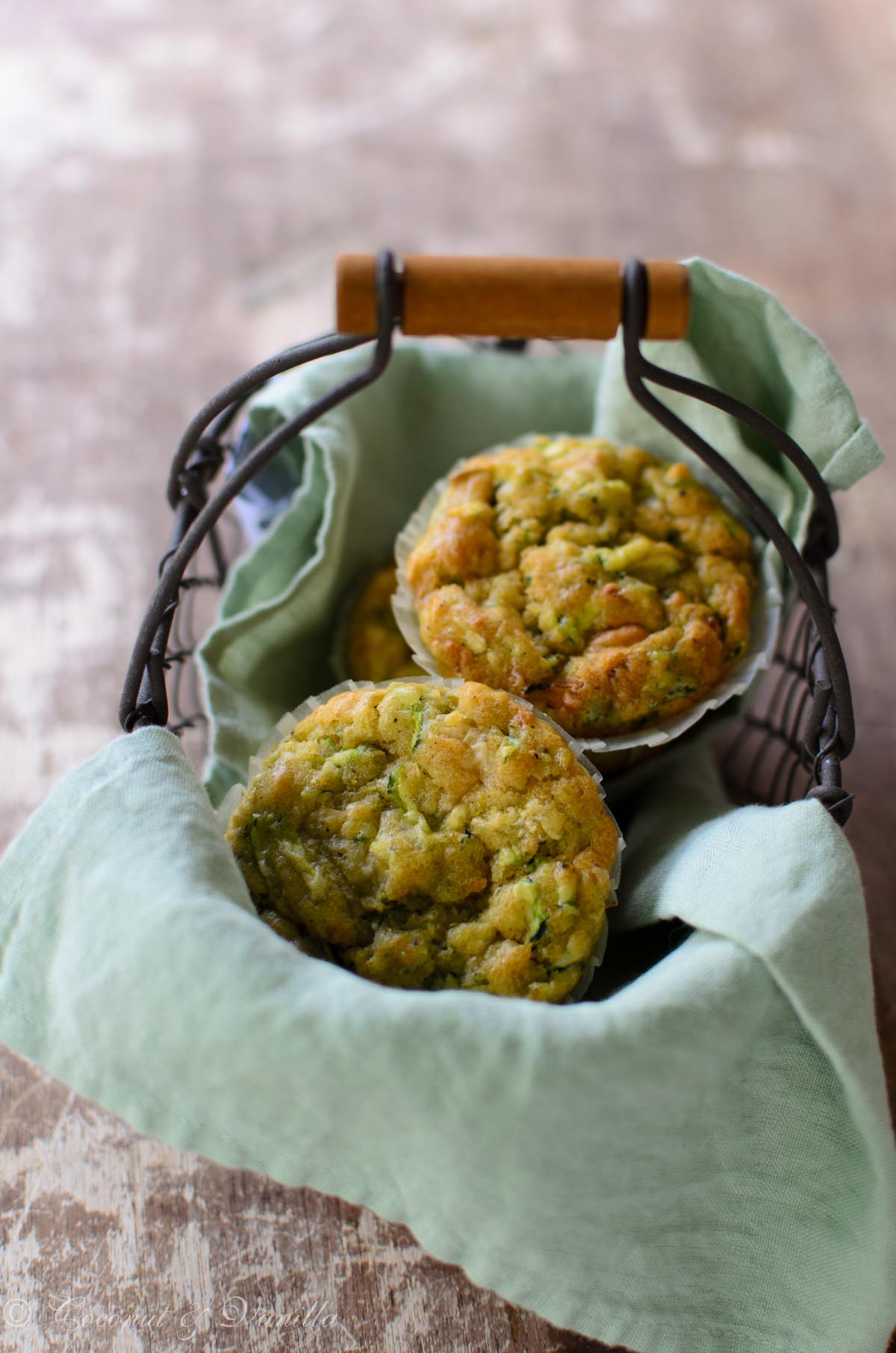 In this heat I'm not keen on sweet things and if, then I'm eating my fair share of ice cream these days.
So I tried a savoury version of muffins and they turned out amazing!
The parmesan shows off great and the grated zucchini and the olive oil make the muffins nicely moist. You need less flour because of the zucchini and sugar isn't needed anyway in a savoury muffin, so this muffins are very light and have a mediterranean touch.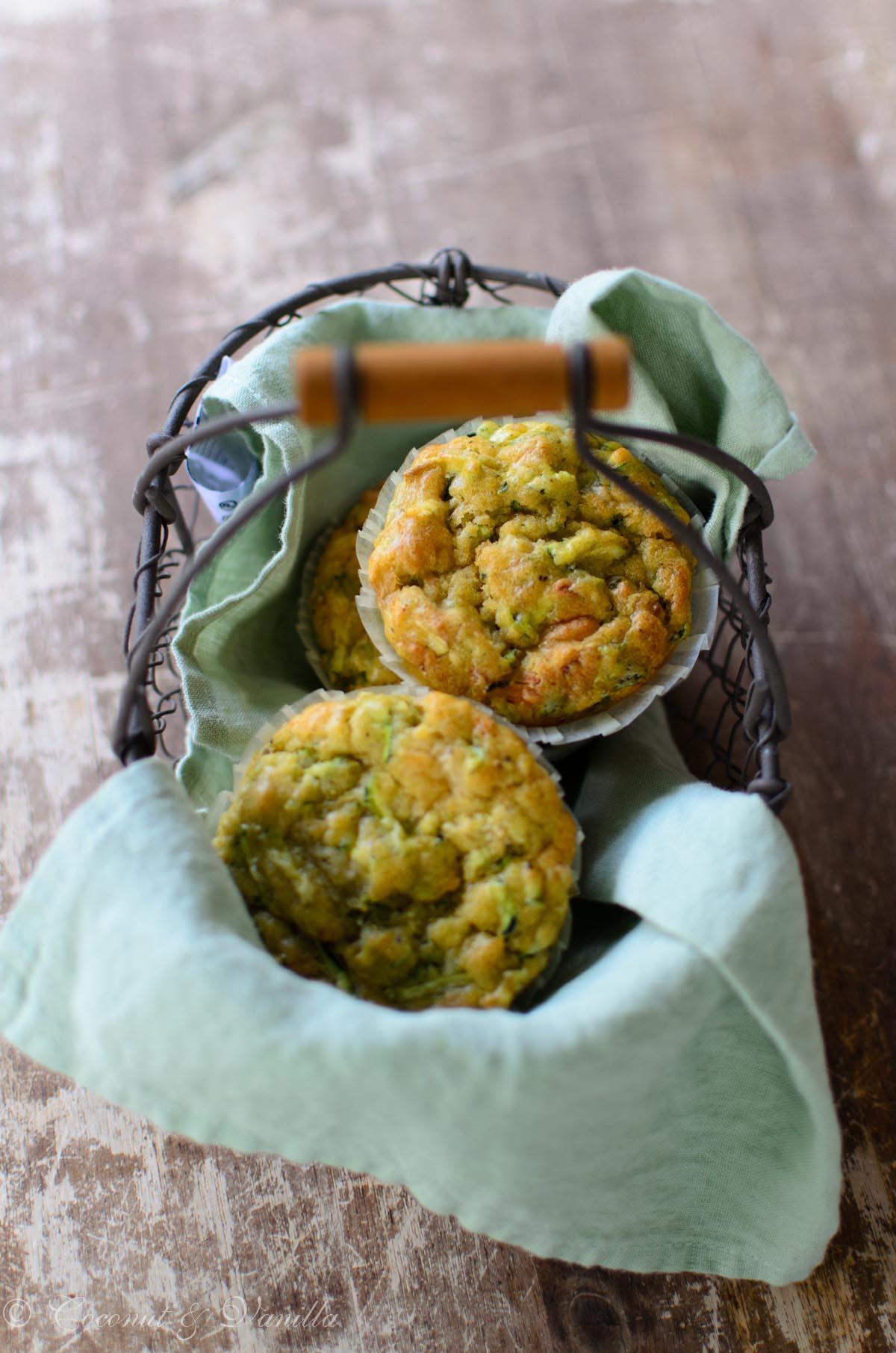 One year ago: beetroot gnocchi with green beans in a twofold brown nut butter
Three years ago: Indian almond chicken
Zucchini Muffins with Parmesan and Olive Oil
yields: 12 muffins
Ingredients:
1 garlic clove, finely chopped
300 – 400 g zucchini, coarsely grated
100 g parmesan, coarsely grated
3 eggs
100 g crème fraîche
100 ml olive oil
200 g spelt flour (type 1050)
15 g baking powder (1 sachet)
1 tsp sea salt or  1,5 – 2 tsp herbed sea salt
pepper
Preheat the oven to 150° C (convection; electro stove: 170° C).
Whisk together eggs, crème fraîche and olive oil. Stir in flour, baking powder and salt. Season generously with pepper. Fold in the garlic, zucchini and parmesan.
Line a muffin tray with paper liners and share the batter amongst them. Bake the muffins for about 35 minutes until lightly golden.
You can also bake the cake in a loaf pan. Just bake the cake for 50-60 minutes (test with a wooden skewer!).
Let the muffins cool on a cake rack.