Sonntag, 27. März 2011
Update: Für das deutsche Rezept nach unten scrollen!
The March 2011 Daring Baker's Challenge was hosted by Ria of Ria's Collection and Jamie of Life's a Feast. Ria and Jamie challenged The Daring Bakers to bake a yeasted Meringue Coffee Cake.
Theses cakes were just gorgeous! We loved them both! The first was gone after one day. We had to bake a second one to get some photos of the product. And of course we loved them so much, we wanted a second one instantly. The original recipe is already for two cakes, but as we are only the two of us, that would have been too much. Also yeasted cakes and breads are the best on the day baked, and still good on their second day, but then they get dry. So it was better to bake a second one, after two days.
I filled the first cake with the filling provided in the recipe: Chopped pecans, semisweet chocolate and the cinnamon-sugar-mixture. That was indeed the best. For the second I used hazelnuts instead of pecans and milk chocolate, but it wasn't as good as the first. But I have to admit, I used a different brand of chocolate, which wasn't the right one for this kind of use. And the pecans were also a lot better than the hazelnuts. But in my opinion, pecans are the best nuts on… well, yes the world. And I recommend to chop the nuts yourself. The pieces are bigger and it just tastes better then. Sorry, it's just like that. And I wouldn't try  using the bought chopped ones. I know it's easier. But trust me here.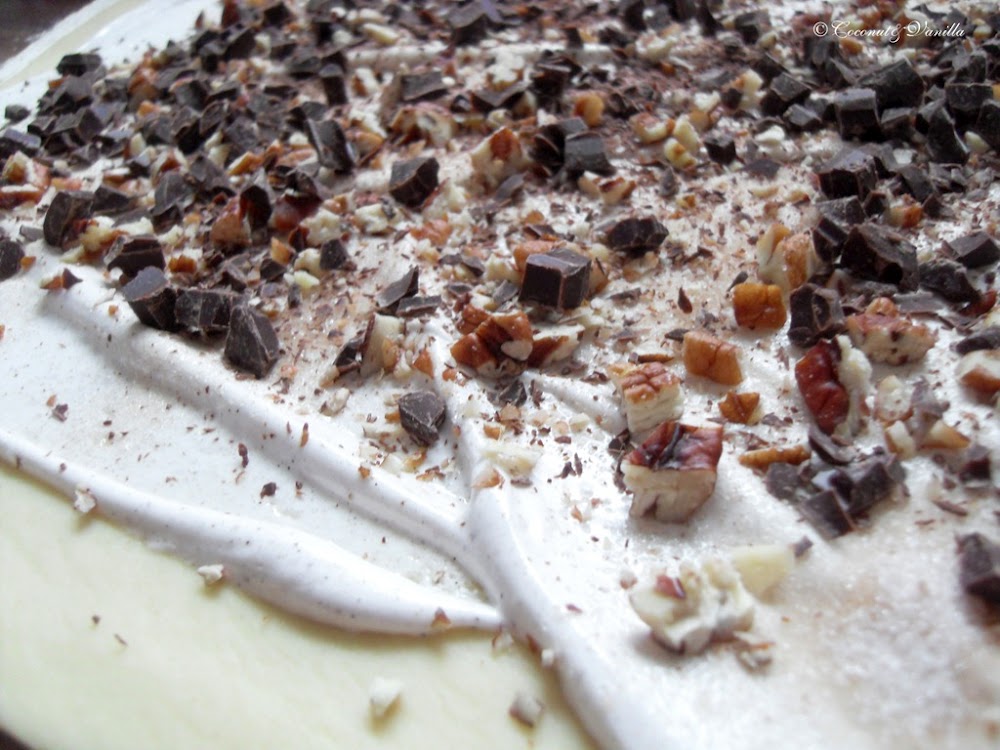 Is also used only one egg white for the meringue for one cake, because some people found two too much. I just can say, that one is enough and didn't miss a second one. Below I give you the recipe, with my personal adjustments already incorporated.
I would really like to try a savory one with cheese and ham or anything. Just wondering, how it works out with the sweet meringue?! Anyone tried this out?
If sweet or savory, this is a perfect comfort treat for any time of the day and I highly recommend to bake this coffee cake. Accompanying this great cake with great comforting music, I recommend you The Shepherd's Dog from Iron and Wine. It's my favourite CD right now, that's rotating upside down in my player these days. Love it!
Thanks for the great challenge!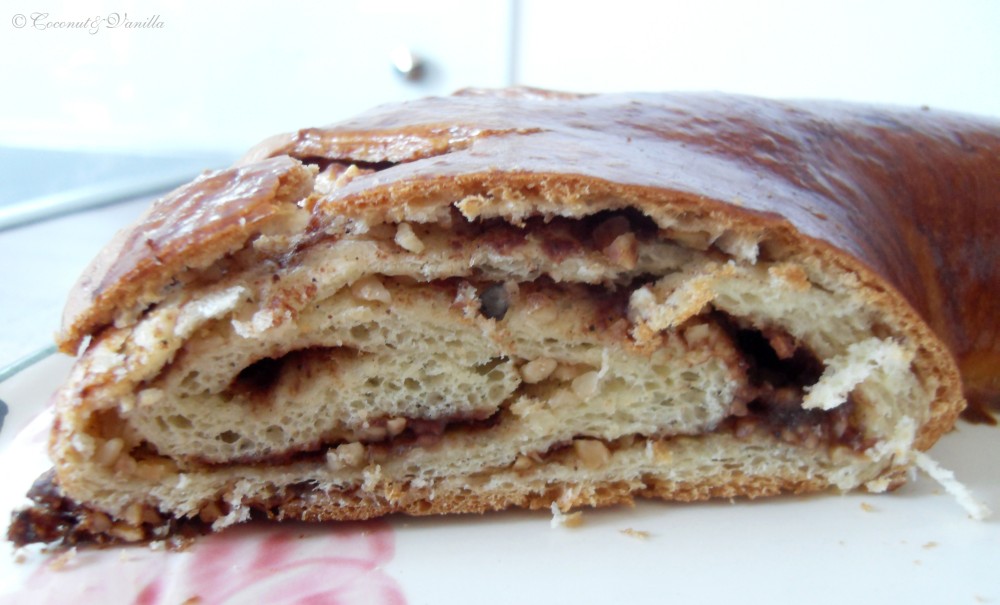 Vor einem Jahr: Schokoladen-Macarons mit Himbeerfüllung
Hefekuchenkranz mit Nuss-Schoko-Meringue-Füllung
ergibt: einen Kranz
Für den Teig:
Zutaten:
300 g Mehl

25 g Zucker

1 Prise Salz

1 1/8  TL Trockenhefe

90 ml Milch

30 ml Wasser

70 g Butter

1 Ei
Die Milch mit der Butter in einer kleinen Kasserole erwärmen, bis die Butter geschmolzen ist. Das Wasser dazugeben. Abkühlen lassen, bis die Mischung lauwarm ist.
230 g Mehl, Salz, Zucker und Hefe mischen. Nach und nach die Milch dazugeben und verkneten. Wenn es ein homogener Teig ist, das restliche Mehl und das Ei dazugeben. Gut verkneten. 2-3 Minuten zusätzlich kneten.
Die Schüssel mit Folie oder einem feuchten Tuch abdecken und 45-60 Minuten gehen lassen, bis der Teig doppelt so groß ist.
Für die Füllung:
Zutaten:
55 g gehackte Pekannüsse

15 g Zucker

1/4 TL Zimt

90 g gehackte Zartbitterschokolade
Den Zucker mit dem Zimt mischen. 
Für den Meringue:
Zutaten:
1 Eiweiß (Eigelb zum Bestreichen des Kuchens verwenden)

1 Prise Salz

1/4 TL gemahlene Vanille

55 g  Zucker
Wenn der Teig gegangen ist, den Meringue machen. Dazu das Eiweiß mit dem Salz steif schlagen. Die Vanille und nach und nach den Zucker dazugeben und weiterschlagen bis das Eiweiß sehr steif ist und glänzt.
Die Arbeitsplatte leicht bemehlen und den Teig auf eine Größe von 50 x 25 cm ausrollen.
Den Meringue gleichmäßig darauf verteilen, aber 3 cm zum Rand hin ausparen. Den Zimtzucker auf den Meringue streuen, dann die Nüsse und dann die Schokolade.
Den Teig von der langen Seite her aufrollen. Die Naht festdrücken. Einen Kreis bildend vorsichtig auf ein Backblech mit Backpapier legen, die Naht sollte unten sein. Die Enden zusammenbringen und zusammendrücken.
Den Kuchen nochmal abdecken und 45-60 Minuten gehen lassen.
Den Ofen auf 180° C vorheizen.
An der Außenseite in 5 cm Abschnitten einschneiden. Die Küchenschere hat dafür gut funktioniert. Keine Angst, man schneidet nicht zu tief in den Kuchen und es läuft auch nicht viel aus.
Das übrige Eigelb mit einem Teelöffel Milch oder Sahne mischen und den Kuchen damit bestreichen,
Den Kuchen 20-25 Minuten backen bis er goldbraun ist.