Sunday, 22nd April 2012
Today I introduce you into the world of homemade extracts. In Germany they are almost not known. Everyone knows them in North America and Great Britain in a large range of flavours. They are used in a lot of recipes, especially in baking recipes.
So far I made three different flavours of extracts: vanilla, lemon and orange. Of course you can buy these or substitute them with vanilla beans, and zest of lemons or oranges. But buying is much more expensive and it's easier just to have a bottle of extract at home, then to have fresh organic lemons or oranges at home. So it's a wise decision to make it yourself.
Great thing is, that the extracts concentrate the aroma many times over. After bringing together the ingredients, you have to wait for 4 weeks for the alcohol to bring out the aroma. Then you have a bottle full of your desired flavour concentrated, which keeps a long time.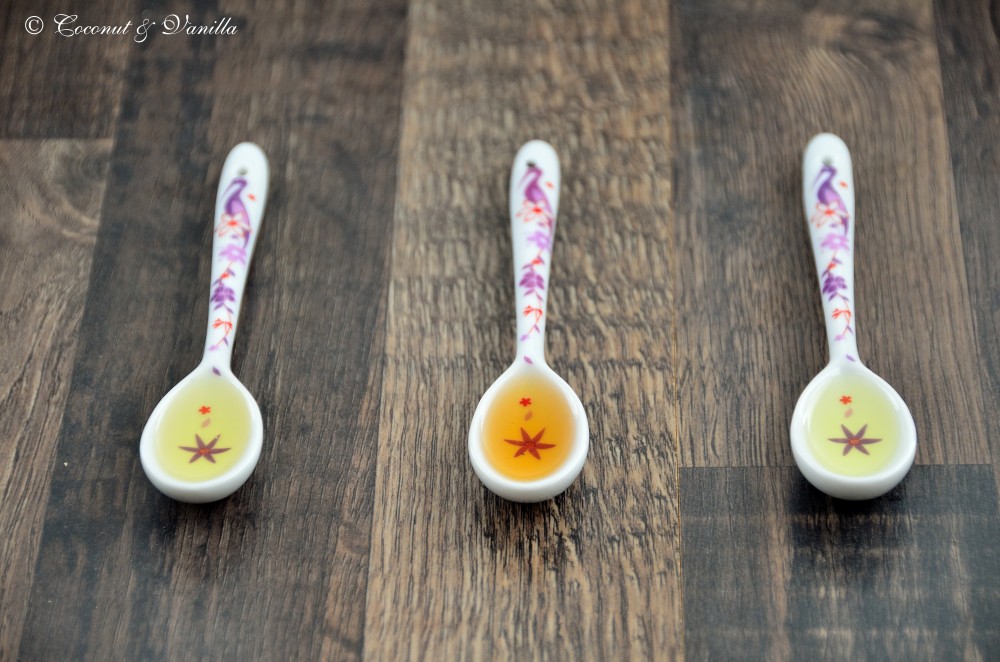 It's a real pleasure to work with the extracts. Ice cream, cakes and mousses are so aromatic, because of adding a splash of concentrated natural aroma.
For producing you only need your desired ingredient, which shall give the flavour, as well as high-proof neutral flavoured alcohol. I use plain schnapps with 38 % vol. If you get some even higher in alcohol content and still neutral in flavour use that one! The result should be even better I heard. But be sure, that it is neutral in flavour, because you want to taste the flavour of your ingredient like vanilla and not the schnapps. The alcohol with higher alcohol content is called rectified alcohol/spirit or neutral alcohol. Unfortuntely I didn't got it here. Nevertheless I'm very satisfied with the result, just with the plain schnapps.
I want to produce some more varieties. Some ideas are already settled in my head. Mint? Nuts would be great, but how? What would you prefer?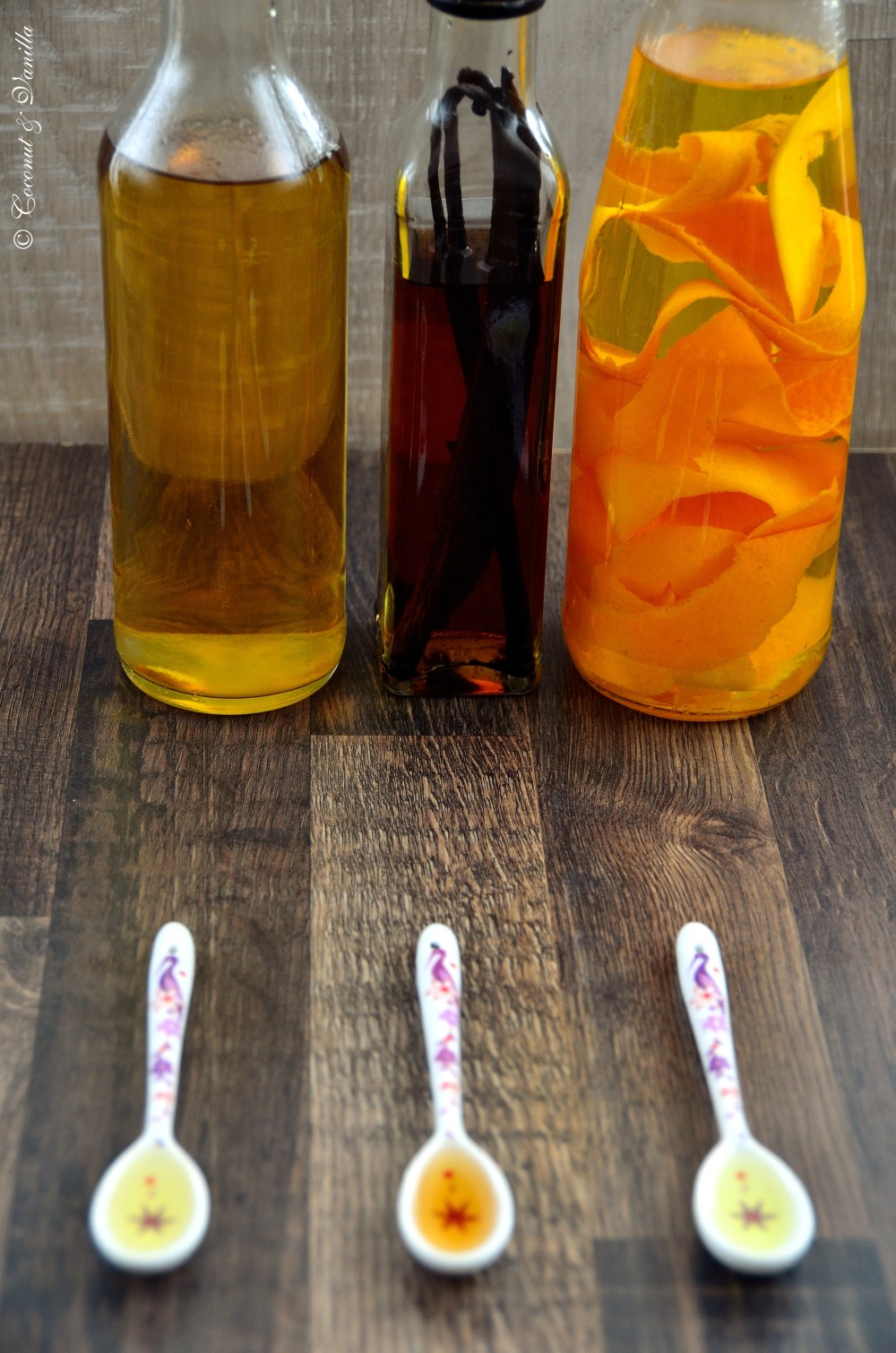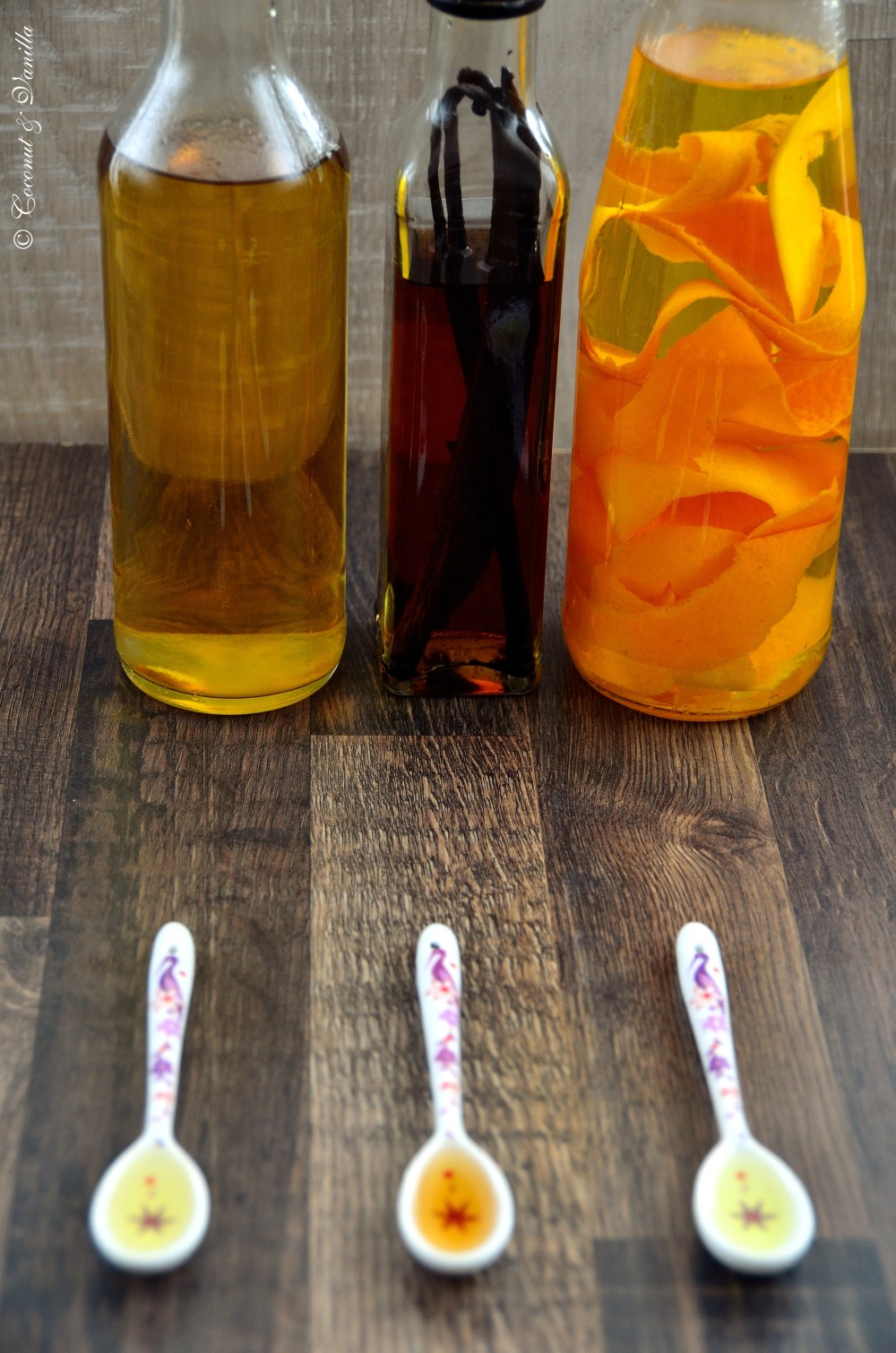 One year ago: Toast Bread
Two years ago: Rhubarb Streusel Cake
Vanilla Extract
yields: 0,25 l
Ingredients:
You need a 250 ml bottle in which the vanilla beans fit.
Sterilize the bottle and the lid.
Place the beans in the bottle and fill with the schnapps.
Let it infuse for 4 weeks. After that the extract is ready to use.
When the bottle is halfway to two thirds empty I fill it up with schnapps again. You don't have to wait again for 4 weeks, because the rest mixes with the schnapps. It's not so aromatic at first as the old extract, but it doesn't take long.
Orange/Lemon Extract
yields: 0,5 l each
Ingredients:
peels of 3 organic oranges/ 4 organic lemons, peeled in long broad pieces with a vegetable peeler

500 ml plain schnapps for each extract
Sterilize a 500 ml bottle with a wide bottle neck and the lid.
Place the orange/lemon peels in the bottle and fill with the schnapps. Let it infuse for at least 4 weeks (8 weeks are better).
Sterilize a normal 500 ml bottle and lid. Strain the extract through a fine mesh strainer, discard the orange /lemon peels and transfer the extract with the help of a funnel to the sterilized bottle.
The peels should be removed, not just because they are used up, but also becauce, when the alcohol doesn't cover them anymore fully, they will begin to mould.