Monday, 26th July 2010
As I'm writing this, I'm looking out the window, watching the rain. And it's nice. Last week was so hot, that we couldn't imagine turning on the oven or making a hot meal. Over the weekend the weather cooled down to about 20°C and rain, now and then.
It's refreshing in another way. And it's comfortable. It's also comfortable to cozy up a bit in between the heat and cook and bake again. It's time for some real comfort food.
This is my ultimate comfort food. I could dig in it, that good it is.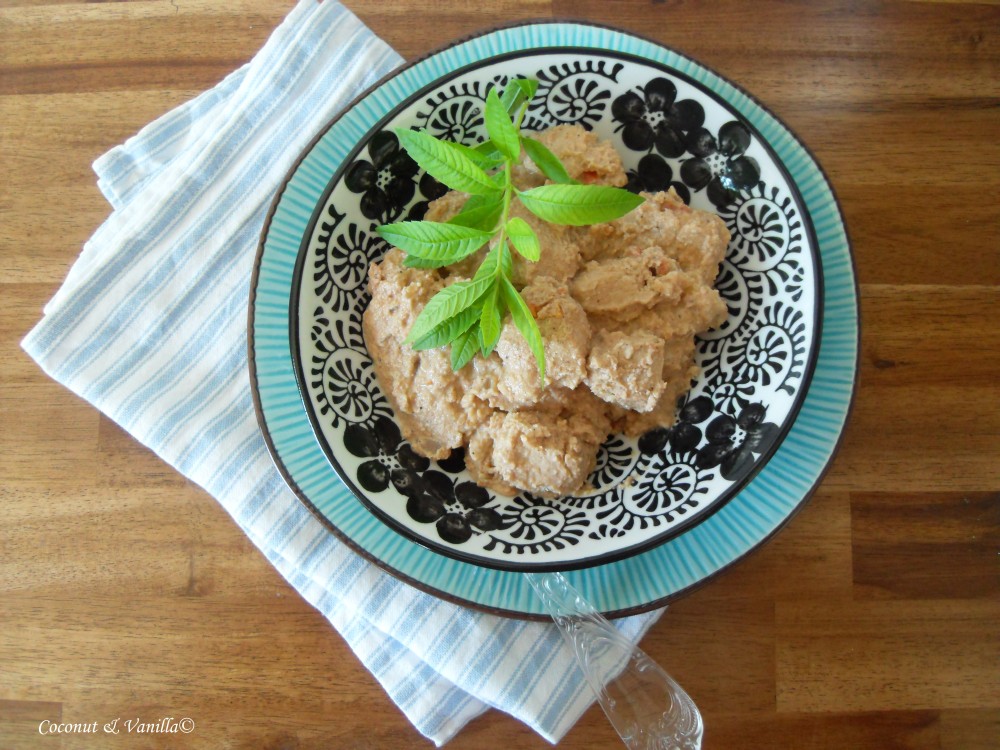 This are chicken pieces, which have marinated at least 6 hours in yoghurt, tomato puree and lots of spices. After that you cook it about 1,5 hours. The chicken will be tender and you have an unbelievable sauce! You can serve it with rice, if you want it easy (cause this meal IS easy). But if you want it be best, make some Batura. It's an indian yeast flat-bread, which is deep-fried. In one of my upcoming posts, I will write about Batura, too. It's so good, I want to dig in that, too.
Now you can imagine, what that meal does to me…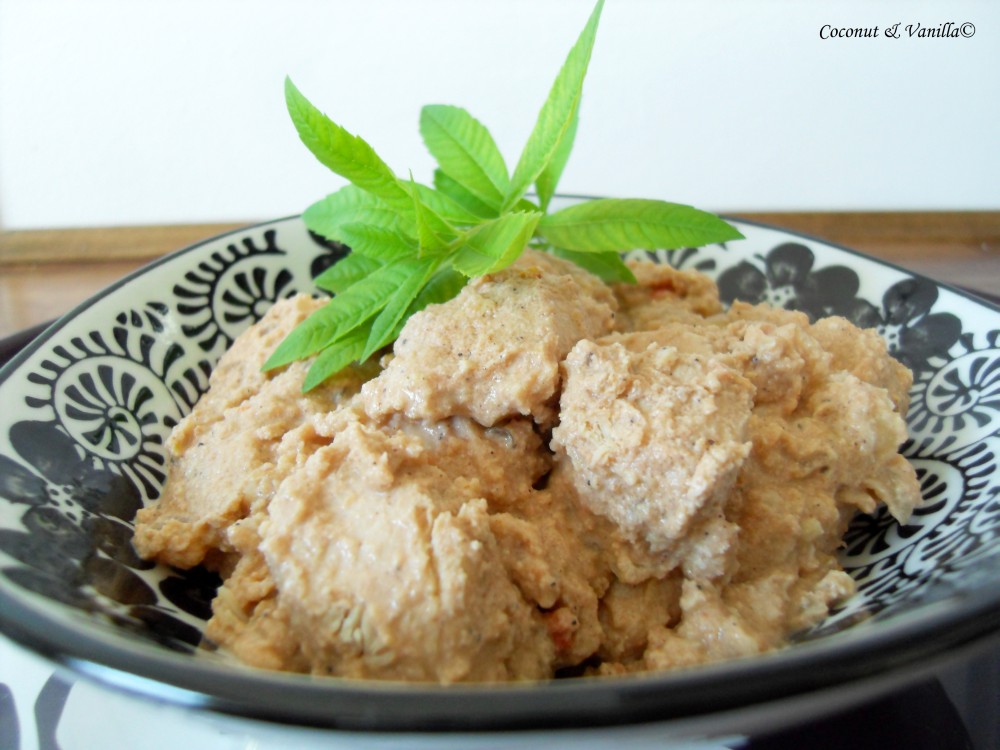 So, hurry up, marinate some chicken, you won't regret it tonight! Oh, and it wouldn't be a fault to make the double amount. It freezes wonderful (and still tastes wonderful after thawing). And another night, when you're too lazy to cook, you already have a dinner.
Indian Almond Chicken
adapted from Indisch kochen by Tanja Dusy
Serves 3-4
4 chicken breasts (skinless)
5 Tbsp ground almonds
3 green cardamom pods
1/2 tsp ground chili
1/2 tsp cinnamon, ground
1/2 tsp clove, ground
1,5 tsp Garam Masala
125 g yoghurt
2 cloves garlic
200g tomato puree
salt
1 onion
ghee or clarified butter
100g cream (or more to your taste)
Cut the chicken breasts into big chunks, about 5 cm. Give the ground almonds into a small bowl and add 6 Tbsp hot water. Whisk. Grind the cardamom pods in a mortar. Stir the almonds with the yoghurt and add the spices. Peel, crush and add the garlic. Stir in the tomato puree and season with 1/2 tsp salt. Mix in the chicken and marinate covered in the fridge for at least 6 hours.
Peel the onion and chop it. Heat the ghee in a large pot. Roast the onion, add the chicken with the marinade, as well as the cream. Stir until bubbling. Let it simmer on low heat for about 1,5 hours. Stir from time to time. In the last 30 minutes remove the lid to thicken the sauce. Maybe you have to adjust the heat at this point.
Serve with rice or batura.