[:de]
Ich suchte nach einem grünen Bohnenrezept und meinem Aufruf bei Twitter folgten einige Empfehlungen. Juliane verwies mich auf ein Blogrezept von ihr, das mich sofort ansprach. Grüne Bohnen mit Pasta, Zitronensauce und Knoblauchbröseln!
Das ganze ist geschwind in einer guten halben Stunde zubereitet und somit perfekt für die schnelle Feierabendküche. Dabei ist es aber ein Gericht das trotzdem viel hermacht!
Man benötigt auch keine speziellen Zutaten was außerordentlich praktisch ist und somit den Gang zum Supermarkt nach Feierabend unnötig macht.
Ich mag grüne Bohnen sehr, finde aber dass sie ein eher unterschätztes Gemüse sind. Sie sind selten der Star in einem Gericht und werden schnell als simple Beilage abgestempelt, gerade wenn es vegetarisch bleiben soll. Da ich unter der Woche so gut wie nie Fleisch zu Hause habe, gibt es eigentlich immer vegetarische Gerichte.
Was sind eure liebsten vollwertigen grüne Bohnen Rezepte?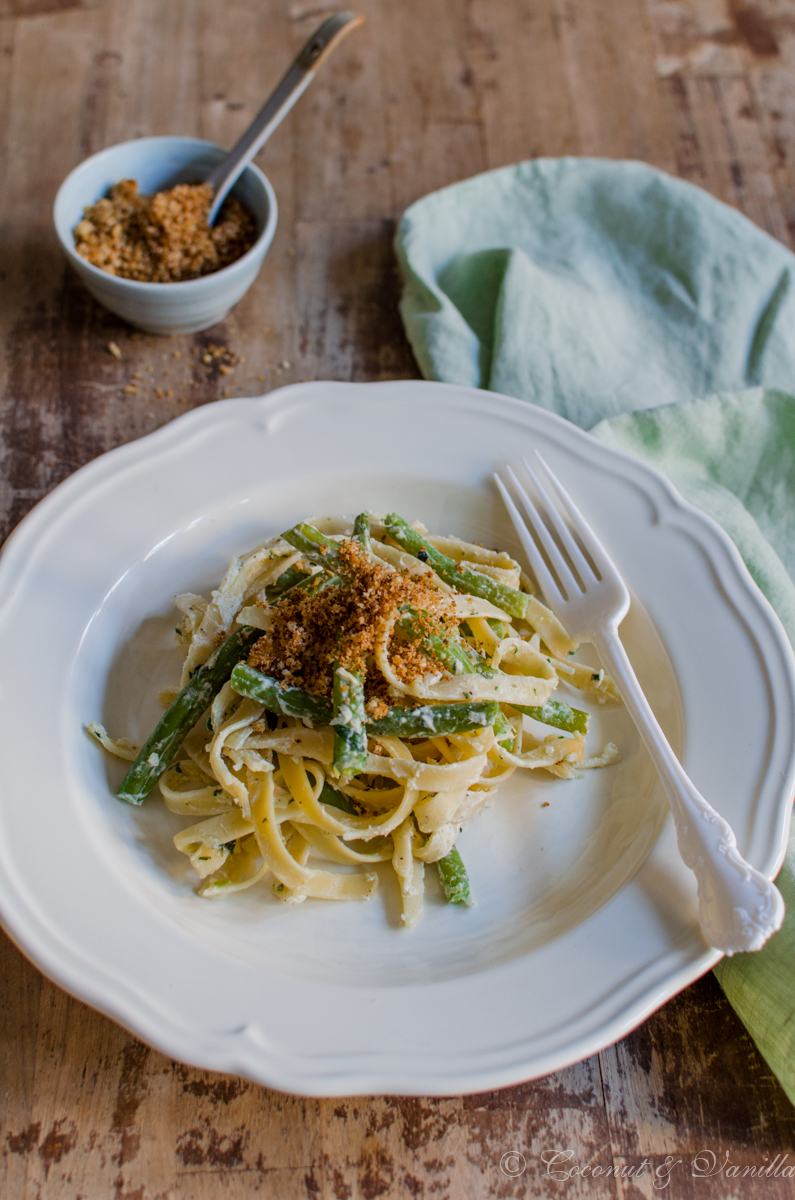 Vor einem Jahr: Möhrengrünpesto mit Kürbiskernen
Vor zwei Jahren: Brombeer-Pfirsich-Crumble [glutenfrei]
Vor vier Jahren: Flammkuchen mit Bergkäse
Vor fünf Jahren: Pfirsich Shortbread
Vor sechs Jahren: Apfeltarte
grüne Bohnen mit Zitronenpasta und Knoblauchbröseln
nach einem Rezept von Schöner Tag noch!
Zutaten:
250 g grüne Bohnen
250 g lange Nudeln
etwa 2 EL Butterschmalz
1 kleine Schalotte, fein gehackt
125 ml Sahne
125 ml Gemüsebrühe
1 EL fein abgeriebene Schale einer Bio-Zitrone
1 EL Zitronensaft
Meersalz
schwarzer Pfeffer, frisch gemahlen
1 kleine Knoblauchzehe, fein gehackt
25 g Semmelbrösel
1 Zweig Minze, Blätter gehackt
1 Zweig französischer Estragon, Blätter gehackt
Einen großen Topf mit Wasser aufkochen.
Die Bohnen waschen und die Enden abschneiden. Sehr lange Bohnen halbieren.
Die Bohnen für 10 Minuten im Wasser kochen. Abschöpfen, kalt abbrausen und abtropfen lassen.
In dem Wasser die Pasta nach Packungsanleitung garen.
Währendessen die Schalottenwürfel in einem kleinen Topf in etwa 1 EL Butterschmalz bei geringer Hitze andünsten. Sind die Würfel weich, Sahne, Gemüsebrühe und Zitronenschale dazugeben und bei kleiner Hitze simmern lassen.
Die Sauce mit dem Zitronensaft, Salz und Pfeffer abschmecken. Bei kleiner Hitze warmhalten.
In einer kleinen Pfanne 1 EL Butterschmalz schmelzen und die Semmelbrösel darin goldbraun anrösten. Dann den Knoblauch dazugeben und 1 Minuten weiterrösten.
Die Pasta abgießen und abtropfen lassen.
Die Pasta mit den Bohnen, der Zitronensauce und den Kräutern vermengen.
Auf Tellern anrichten und mit den Knoblauchbröseln garnieren.
[:en]
I looked for a recipes with green beans and I got some good recommendations on twitter, thank you! Juliane hinted me some blog posts of her, which attracted me immediately. Green beans with pasta, lemon sauce and garlic crumbs!
This dish is whipped up in about half an hour and therefore perfect for a quick after work dinner! Nonetheless the pasta looks just delicious.
It is also very handy that you don't need any special ingredients, so no after work shopping needed!
I do like green beans very much, but I think they are quite underestimated. Seldomely they are the star in a dish, but mostly used as a simple side dish, also in vegetarian meals. As I do not have any meat at home in the week, normally, we mostly eat vegetarian.
What are your favourite wholesome green bean recipes?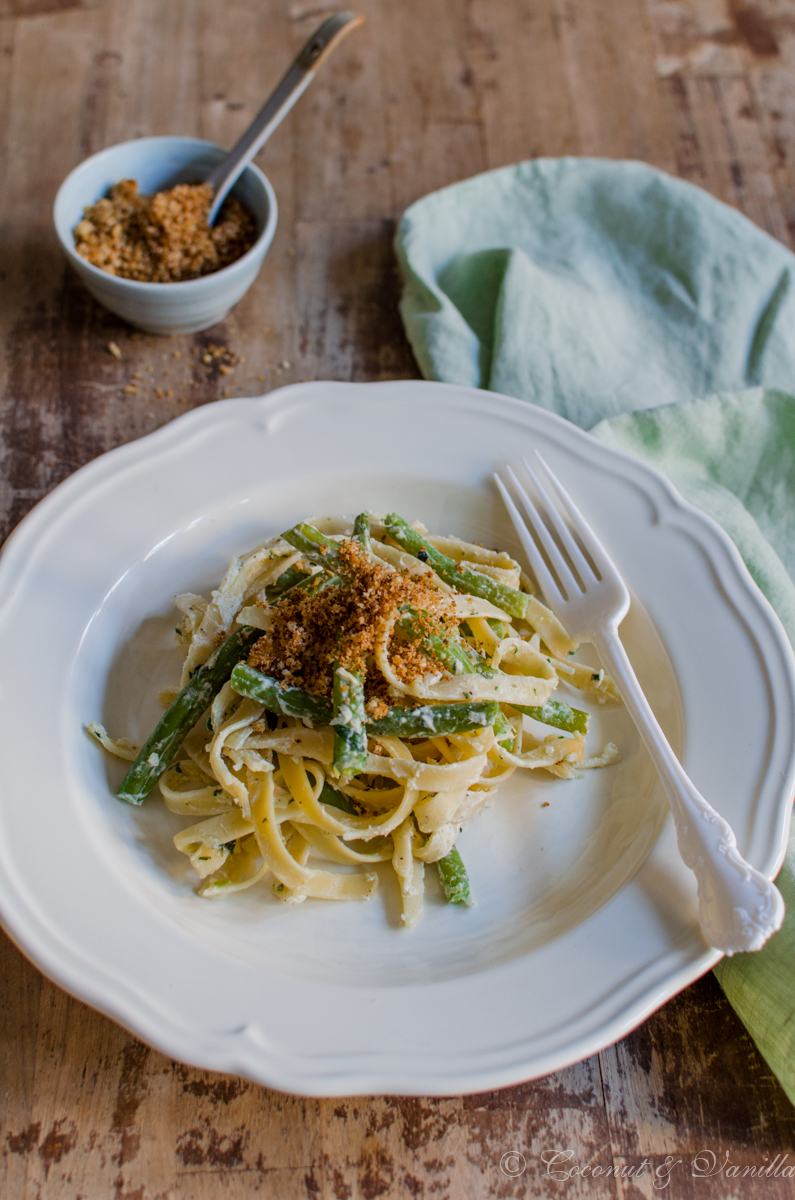 One year ago: carrot top pesto with pumpkin seeds
Two years ago: peach blackberry crumble [gluten-free]
Four years ago: tart flambée
Five years ago: peach shortbread
Six years ago: apple tart
Green Beans on Lemon Pasta with Garlic Crumbs
adapted from Schöner Tag noch!

Ingredients:
250 g green beans
250 g long pasta
about 2 Tbsp clarified butter
1 small shalott, finely diced
125 ml cream
125 ml  vegetable broth
1 Tbsp finely grated zest of an organic lemon
1 Tbsp lemon juice
sea salt
black pepper, freshly ground
1 small garlic clove, finely chopped
25 g bread crumbs
1 sprig mint, leaves chopped
1 sprig tarragon, leaves chopped
Bring a large pot of water to the boil.
Rinse and drain the beans, snip off the ends. Halve long beans.
Cook the beans for 10 minutes (better test inbetween, everybody likes them different). Drain and rinse with cold water.
Cook the pasta according to the package.
In the meanwhile sauté the shalott in a small saucepan in about 1 Tbsp clarified butter on low heat. When the shalott is soft add the cream, broth and lemon zest and let it simmer on low heat.
Season the sauce with lemon juice, salt and pepper and keep it warm on very low heat.
Melt 1 Tbsp clarified butter in a skillet and roast the bread crumbs until golden brown. Add the garlic and roast for another minute.
Drain the pasta.
Mix the pasta with the beans, lemon sauce and the chopped herbs.
Serve on deep dishes and garnish with the garlic crumbs.
Enjoy!
[:]