Seit langer Zeit mache ich nun regelmäßig dieses Knoblauchconfit. Confierter Knoblauch ist perfekt in Gerichten in denen der Knoblauch nicht mehr gegart wird, z.B. in Salaten, Dressings, Aufstrichen, Cremes etc. Der Knoblauch verliert durch das confieren nämlich einen schönen Teil seiner Schärfe und erhält einen runden milden Geschmack. An rohen Knoblauch kann ich so gar nicht ran (ebenso wie an rohe Zwiebeln), denn ich bekomme diesen zwiebeligen Nachgeschmack für mindestens einen ganzen Tag nicht aus meinem Mund. Und deshalb sind der confierte Knoblauch und ich ganz dicke Kumpels, den mit ihm passiert mir das nicht! 
Äußerst praktisch ist es immer ein Glas davon im Kühlschrank zu haben, denn sollte man mal keinen frischen Knoblauch haben, dann hat man immer noch ein wunderbares Back-up! Denn der confierte Knoblauch eignet sich natürlich auch für Gerichte in denen er noch gegart wird, er ist dann eben nicht so dominant. Was wahrscheinlich auch viele von Euch freuen wird!
Um den Knoblauch zu verwenden, zerdrücke ich ihn einfach mit einer kleinen Gabel oder dem Messerrücken. So verteilt er sich schön gleichmäßig im Gericht.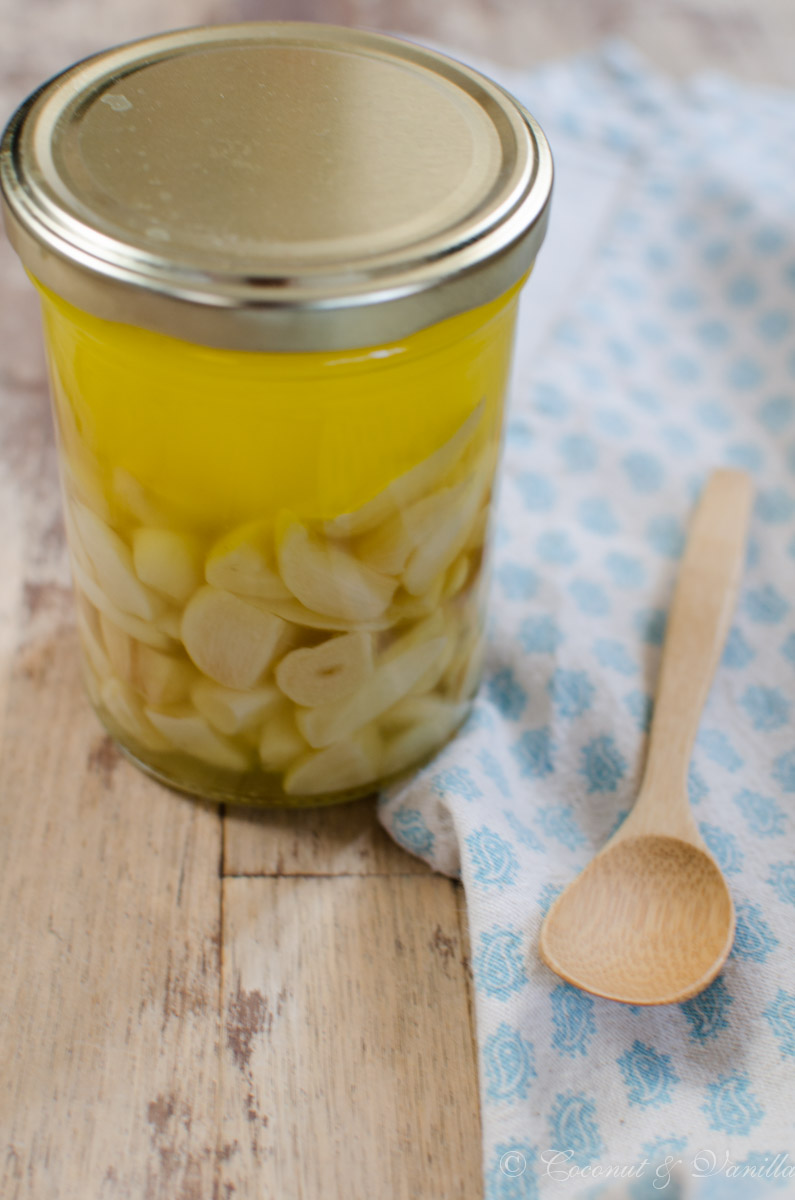 Vor einem Jahr: Pizza Bianca mit Mangold und Ziegenkäse
Vor zwei Jahren: Orangen-Honig-Dressing
Vor drei Jahren: Erdbeertörtchen mit Joghurt-Limetten-Mousse
Vor vier Jahren: Pfirsich Tartelettes 
Knoblauchconfit
nach einem Rezept vom Kleinen Kuriositätenladen
Zutaten:
Knoblauch
Rapsöl/Sonnenblumenöl
Den Knoblauch in Zehen teilen und in kochendem Wasser eine halbe Minute blanchieren. Unter kaltem Wasser abschrecken und schälen. Das holzige Ende dabei abschneiden.
Den Knoblauch mit einem Tuch trocknen. Alle Zehen in einen Topf geben und mit Öl bedecken. Bei kleiner Temperatur 30-45 Minuten garen bis sie weich und etwas gebräunt sind.
Den Knoblauch in ein sauberes Glas geben und mit dem Öl bedecken. Im Kühlschrank aufbewahrt hält es sich einige Monate.
Das überschüssige Öl nach dem Confieren oder nach der Entnahme des Knoblauchs aus dem Glas lässt sich prima zum Braten und Würzen nehmen, denn es ist jetzt quasi Knoblauchöl!
I'm making this garlic confit regularly for a long time now. Garlic confit is just perfect in dishes where you add the garlic normally raw, like salads, dressings, spreads, creams, etc. because the garlic loses some of its sharpness due to the cooking process in oil. Also the garlic gains a mild rich flavour. I can't even stand raw garlic (or even worse raw onions), because I always end up with a dominant aftertaste in my mouth for at least a day. Therefore garlic confit and I are BFF, because something like this would never happen with him!
It's very convenient to store a jar of it in the fridge, since if you may be out of fresh garlic you still have a great back-up! The garlic confit is of course also working in dishes where the garlic used to be cooked, but he won't be that dominant in flavour. Which might also please some of you! 
To use the garlic I mash the clove with a small fork or the back of a knife. Like this the garlic distributes evenly in the dish.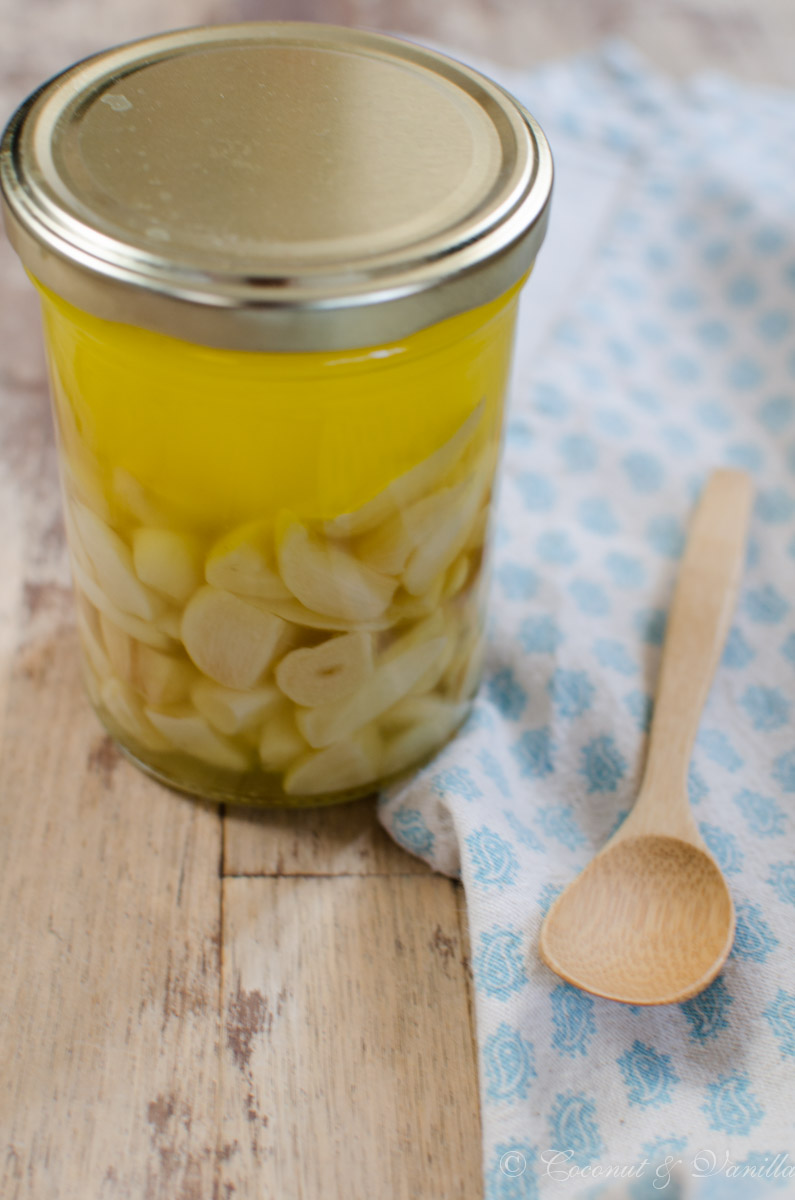 One year ago: pizza bianca with swiss chard and goats cheese
Two years ago: orange honey dressing
Three years ago: strawberry tartlets with yogurt-lime-mousse
Four years ago: peach tartelettes 
Garlic Confit
adapted from Kleiner Kuriositätenladen
Ingredients:
garlic
canola or sunflower oil
Seperate the garlic into cloves and blanch them for half a minute in boiling water. Rinse with cold water and peel the garlic cloves. Snip off the stringy end.
Dry the garlic with a towel. Place them in a saucepan and cover with the oil. Cook at very low heat for 30-45 minutes until they are soft and lightly browned.
Fill the garlic in a clean jar and cover with the oil. Keeps in the fridge for a few months. 
The overleft oil after cooking or what is left in the jar after using the garlic can be used for cooking, roasting or seasoning, since it's perfect garlic oil!