Friday, 9th August 2013
Our field produces a lot of veggies these days. Especially Swiss chard and green beans are big hits and since recently we also have a lot of zucchini, of course! A few days ago I was also able to harvest the first yellow tomatoes!
Swiss chard ist very versatile and can be turned in a lot of great dishes! I already introduced you to two dishes including Swiss chard, but as our Swiss chard keeps constantly growing, if you go on harvesting from the outer to the inner or harvest the larger and thickest ribs, you always have Swiss chard in abundance.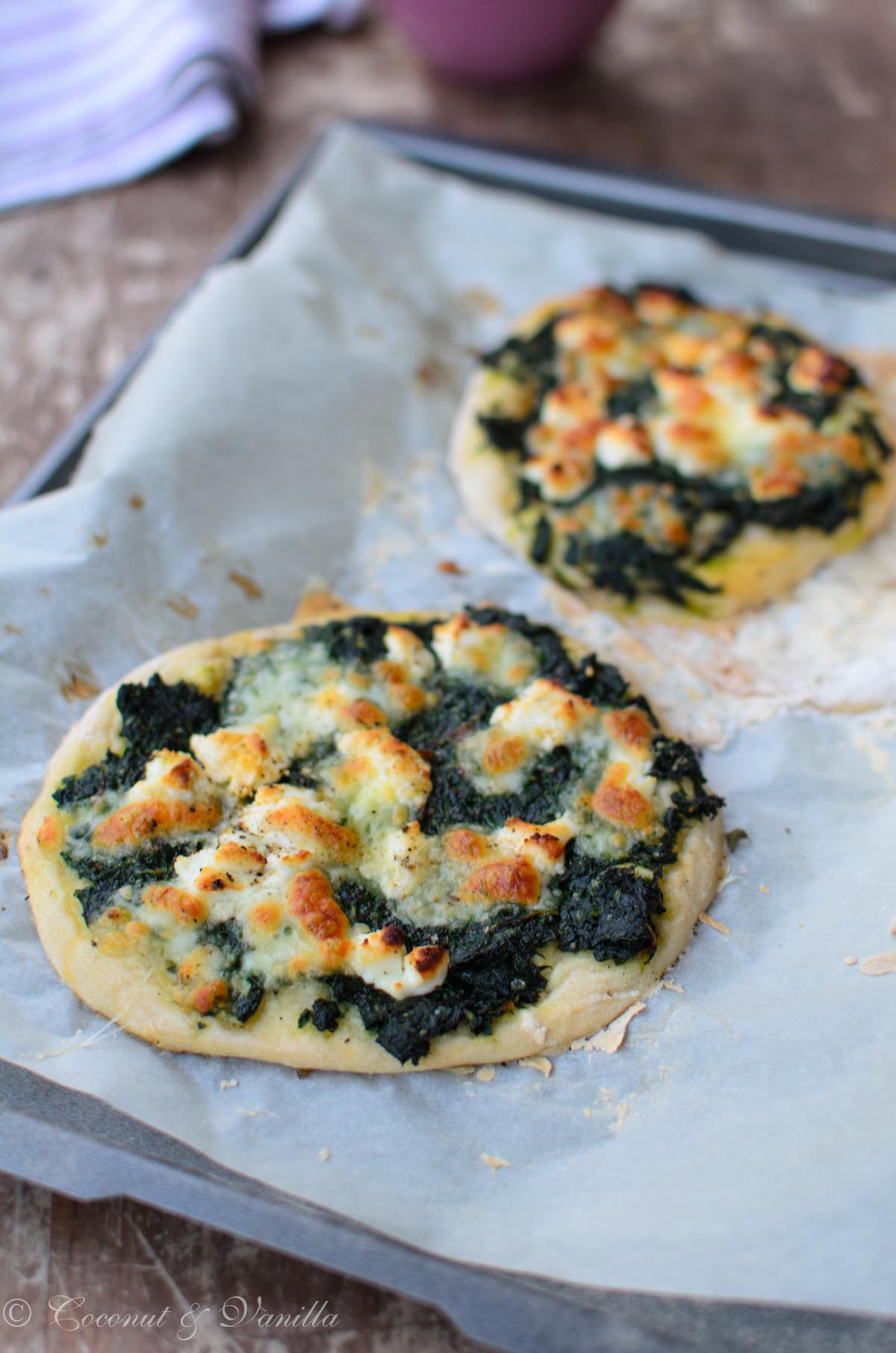 One year ago: orange honey dressing
Two years ago: strawberry tartlets with yogurt lime mousse
Three years ago: peach tartelettes
Pizza Bianca with Swiss Chard and Goats Cheese
adapted from love and olive oil
yields: 4 small pizzas
Ingredients:
250 g wheat flour (type 550)
150 – 175 ml water, lukewarm
1/2 tsp sea salt
1 pinch of brown sugar
1 tsp dry yeast
300 g Swiss chard leaves (use the ribs for something else, you can also freeze them chopped)
2 Tbsp olive oil
1 garlic clove, peeled and finely chopped
sea salt, pepper
butter for the the baking sheets
125 g mozzarella, diced or use the small balls
60 g fresh goats cheese
optional: some chili oil
Dissolve salt, sugar and yeast in 150 ml lukewarm water, add to the flour and knead until you have a smooth dough that doesn't stick to the bowl anymore. Eventually add some more water. Cover with foil and proof for 1 hour.
In the meantime rinse the Swiss chard leaves and cut them coarsely, if they are very large. Cook in boiling salted water for 2 minutes, drain and rinse under cold water. Squeeze the leaves dry with your hands and chop the chard.
Heat the olive oil in a skillet and add the garlic. Sauté for 30 seconds, then add the Swiss chard and sauté for another 1-2 minutes. Season with salt and pepper.
Preheat the oven to 220° C. Butter to baking sheets.
Divide the dough into 4 pieces and roll out thinly. Place 2 pieces on every sheet.
Distribute the chard amongst the pizzas. Rip the small mozzarella balls apart (or use the diced mozzarella) and scatter over the chard. Pluck the goats cheese into pieces and scatter, too.
Sprinkle with some chili oil, if you like.
Turn the oven down to 200° C (convection) and bake the pizzas for about 15 minutes. For 2 persons I bake the sheets one after the other, as you can't eat more than one at the same time ;). With a convection oven it's possible to bake both sheets at a time, but one sheet may be kept 2 minutes longer in the oven to brown evenly.