[:de]Vor kurzem kam Snøfrisk auf mich zu und fragte, ob ich nicht ein Rezept mit Ziegenfrischkäse kreiieren will (Ja, das hier ist Werbung!). Und ob ich wollte! Schließlich bin ich Ziegen(frisch)käse addicted! Habt ihr wahrscheinlich schon mitbekommen, nachdem ich Euch Ziegenkäseeiscreme mit Erdbeer-Swirls, Pizza Bianca mit Mangold und Ziegenkäse, Pasta mit grünem Spargel und Ziegenkäse, Kartoffelterrine mit Ziegenkäse, Basilikum und Pinienkernen und Panini mit karamellisierten Zwiebeln und Ziegenkäse präsentiert habe!
Wahnsinn wie viele Rezepte mit Ziegenkäse es bereits auf meinem Blog gibt, oder?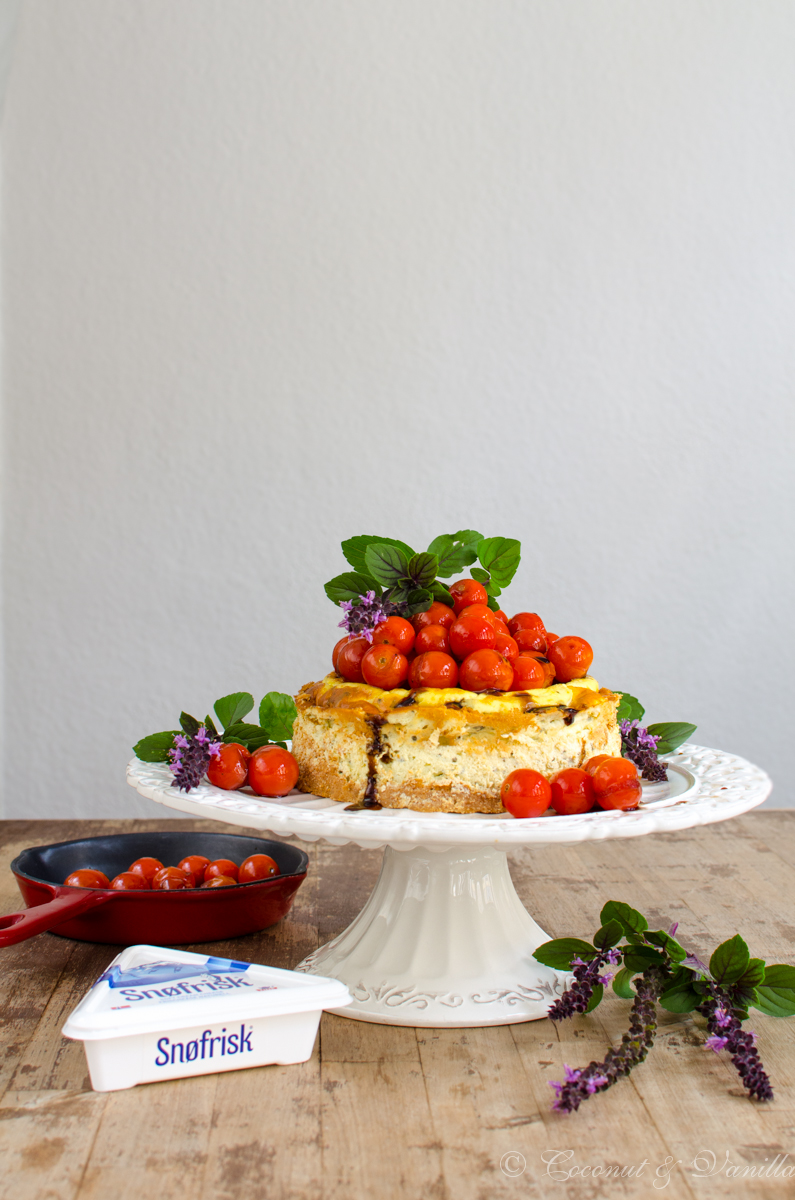 Natürlich wollte ich was ganz besonderes machen. Klar war schon mal, dass ich kein Eis machen wollte, denn schließlich hab ich das schon letztes Jahr gemacht. Schon lange hat mich die Idee eines herzhaften Cheesecakes gereizt. Ich liebe Cheesecake!
Nach etwas Tüfteln war jedenfalls klar, dass es einen herzhaften Cheesecake mit Crackerboden, Basilikum und karamellisierten Kirschtomaten geben wird! Ich bin stolz sagen zu können: es schmeckt so gut wie es klingt!
Bevor ihr jetzt geht, weil ihr denkt, dass das doch viel zu aufwendig ist…STOP! Den Cheesecake kann man prima am Tag vorher machen und der ist so einfach wie ein süßer Cheesecake (also wirklich sehr einfach). Die karamellisierten Kirschtomaten sind dann am nächsten Tag ganz schnell in der Pfanne gemacht!
Nur die Hitze hat mir einen kleinen Strich durch die Rechnung gemacht, denn ich konnte mich partout nicht überwinden bei 35° C den Ofen anzuschmeißen! Deshalb gibt es das Rezept jetzt, wo die Temperaturen wieder gemäßigt sind!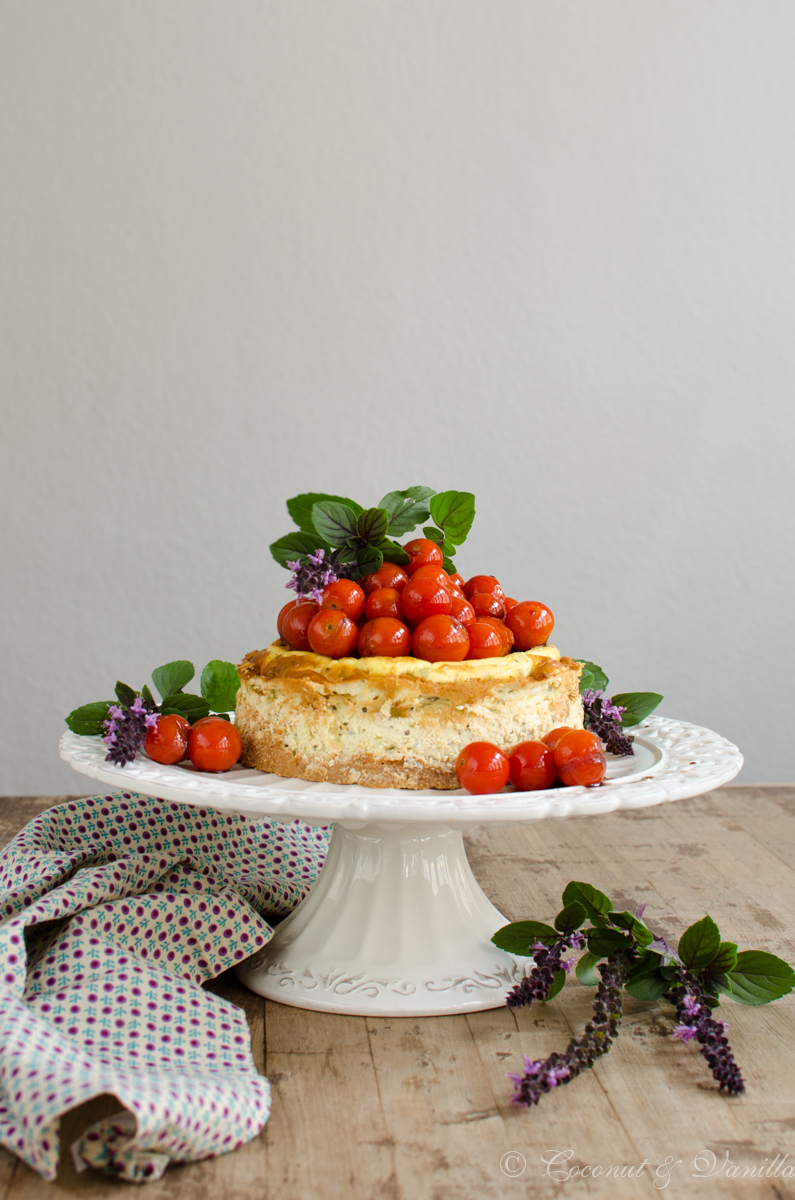 Vor einem Jahr: Ananas-Julep mit Minzzucker
Vor zwei Jahren: Pizza mit Nektarinen, Mozzarella & Balsamicocreme
Vor drei Jahren: Pfirsich-Rosmarin-Granita
Vor vier Jahren: Lila Milchreis
Vor fünf Jahren: Thymian-Haselnuss-Cracker
Vor sechs Jahren: Wachtel kalt und warm
herzhafter Ziegenkäse-Cheesecake mit karamellisierten Balsamico-Tomaten
ergibt: einen kleinen Cheesecake für 4 Personen (Springform 15 – 20 cm, für eine 28 cm Springform die Mengen verdoppeln)
Zutaten:
75 g Cracker (z.B. Ritz oder TUC, aber auch Cracker mit Kräutern oder Chili passen wunderbar oder glutenfreie Cracker)
20 Butter, geschmolzen
1 Handvoll Basilikum, etwa 7 g
300 g Ziegenfrischkäse natur, z.B. von Snøfrisk
300 g Frischkäse (oder ebenfalls Ziegenfrischkäse, falls ihr große Ziegenkäsefans seid!)
3 Eier
schwarzer Pfeffer, frisch gemahlen
Meersalz
2 EL brauner Zucker
1 EL Olivenöl
300 g Kirschtomaten
2 EL Balsamicoessig
Den Ofen auf 160° C Heißluft (oder 180° C Ober-/Unterhitze) vorheizen.
Die Cracker im Blitzhacker zu feinen Krümeln hacken. Mit der geschmolzenen Butter verrühren und in eine Springform geben. Ich habe eine kleine 15 cm Springform verwendet, 18 oder 20 cm gehen aber auch, dann wird der Cheesecake geringfügig niedriger. Mit einem Glas die Krümel zu einem gleichmäßigen Boden zusammendrücken.
Den Boden 10 Minuten vorbacken, dann herausnehmen und abkühlen lassen.
Den Basilikum und Frischkäse in einen großen Blitzhacker oder Foodprocessor geben und laufen lassen bis der Basilikum klein gehackt ist. Nach und nach die Eier unterrühren. Mit reichlich schwarzem Pfeffer und etwas Salz würzen.
Die Masse auf den Boden in die Form geben und im Ofen bei 160° C Heißluft (180° C Ober-/Unterhitze) 60 Minuten backen. Auf einem Gitter auskühlen lassen und dann am besten über Nacht in den Kühlschrank stellen.
10 Minuten vor dem Essen die Tomaten zubereiten und den Cheesecake aus dem Kühlschrank nehmen.
Dazu den braunen Zucker in einer Pfanne bei mittlerer Hitze schmelzen bis er komplett karamellisiert ist. Die Kirschtomaten zugeben und in dem Karamell wälzen, das Olivenöl darübergießen. Die Tomaten heiß werden lassen (1-2 Minuten), dann den Balsamico dazugeben und die Tomaten darin schwenken. Weitere 2-3 Minuten köcheln lassen, bis die ersten Tomaten aufplatzen und der Balsamico eingekocht ist. Mit Pfeffer würzen.
Den kalten Cheesecake mit den warmen Tomaten servieren.
Es ist wunderbar, wenn im Mund die Tomate zerplatzt und das warme Innere herausläuft, dazu ein Stück kalter Cheesecake!
Dieser Post ist in Kooperation mit Snøfrisk entstanden. Rezept, Konzept, Fotos und Meinung sind meine.
[:en]Recently
Snøfrisk
approached me and asked, if I would like to create a recipe with fresh goats cheese (Indeed, this is an advertisment!). Of course, i wanted! I'm (fresh) goats cheese addicted! You might already noticed that, because I blogged
goats cheese ice cream with strawberry swirls
,
pizza bianca with swiss chard and goats cheese
,
pasta with asparagus and fresh goats cheese
,
potato terrine with goats cheese, basil and pine nuts
and
panini with caramelized onions and goats cheese
!
Sheer Madness how many recipe with goats cheese are already on my blog, isn't it?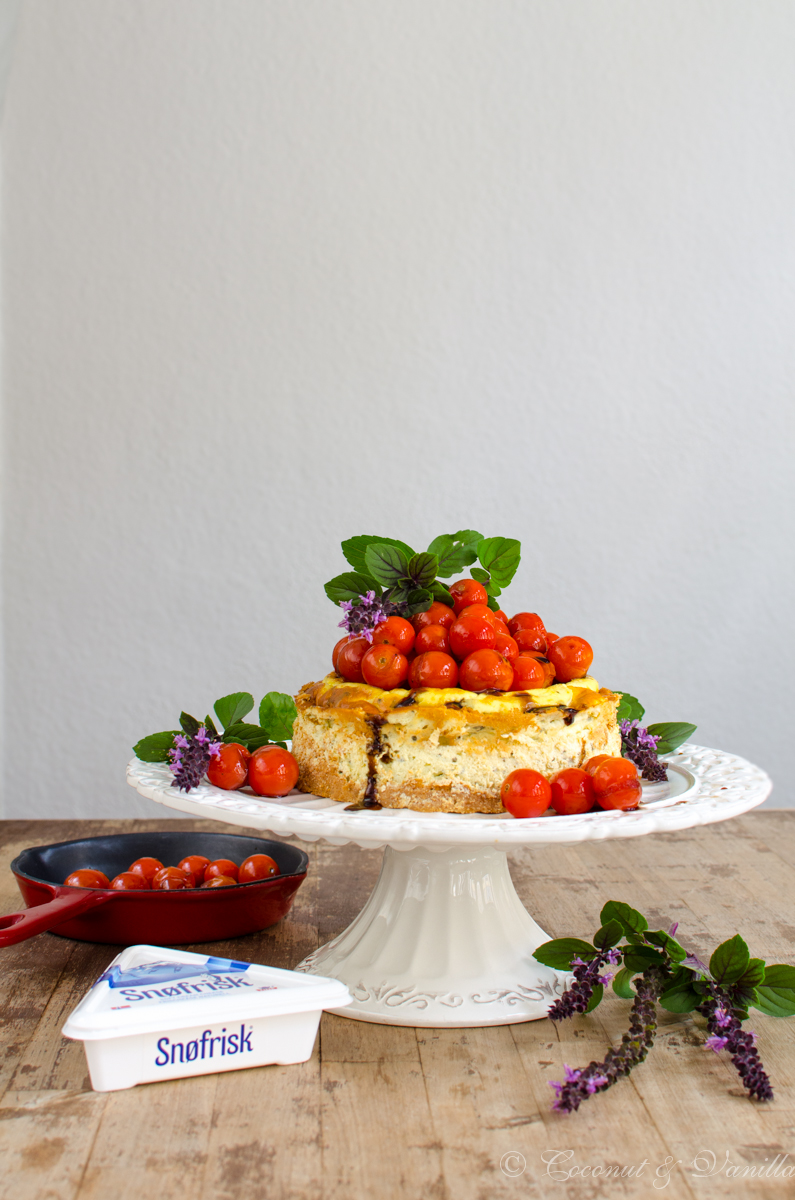 Of course, I didn't wanted to make just something. I didn't wanted to make ice cream, as I already made that last year (and it was phenomenal!) and I was tempted by the idea of a savoury cheesecake! I love cheesecake!
After some puzzeling it was clear that it will make a savory cheesecake with a bottom made of crackers, basil and caramelized cherry tomatoes! And yes, I'm happy to announce it tastes as good as it sounds!
Before you leave now, because you think this is much too elaborate for your routine… STOP! The cheesecake can be made a day in advance and is as a easy as a sweet cheesecake (so really easy) and the caramelized cherry tomatoes are made in a pinch the next day just before serving!
Only the heat wave did upset my plans, because I couldn't bear to turn on the oven at 35° C! But last weekend it finally happened and here it is!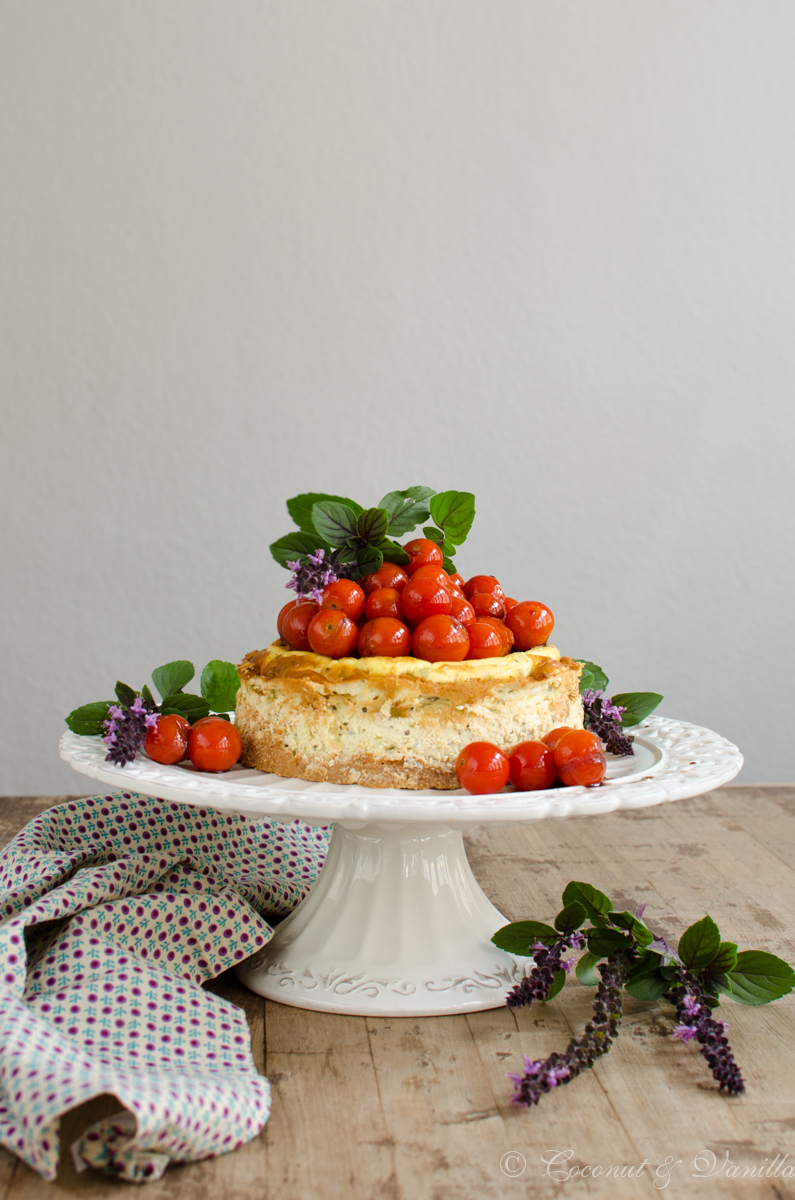 One year ago: pineapple julep with mint sugar
Two years ago: pizza with nectarines, mozzarella and balsamico
Three years ago: peach rosemary granita
Four years ago: purple rice pudding
Five years ago: thyme hazelnut cracker
Six years ago: quail, warm and cold
savoury goats cheesecake with caramelized balsamico tomatoes
yields: one small cheesecake for 4 persons (15 – 20 cm springform, double the amount for a 28 cm springform)
Ingredients:
75 g cracker (i.e. Ritz or TUC, but also cracker with herbs or chili would be suitable)
20 butter, melted
1 handful fresh basil, about 7 g
300 g plain fresh goats cheese, i.e. by Snøfrisk
300 g cream cheese (or more fresh goats cheese, if you're huge goats cheese lovers!)
3 eggs
black pepper, freshly ground
sea salt
2 Tbsp brown sugar
1 Tbsp olive oil
300 g cherry tomatoes
2 Tbsp balsam vinegar
Preheat the oven to 160° C hot air (or 180° C top/bottom heat).
Use a food processor to chop the cracker into fine crumbs. Stir in the melted butter and place in a springform. I used a small 15 cm one, but a 18 or 20 cm also works fine, the cheesecake will only be a bit flatter. Use a jar to press down the crumbs for an even bottom.
Bake the bottom for 10 minutes, place on a rack and let it cool.
Place the basil and the cheese in a food processor and chop until the basil is very fine. Add the egg one by one and scrape the sides every now and then, until you have an even cream. Season with black pepper and salt.
Spread the cream on the prebaked bottom and bake for 60 minutes at 160° C hot air (or 180° C top/bottom heat). Let the cake cool on a wire rack, then place it in the fridge, at best overnight.
10 minutes before you want to eat prepare the tomatoes and remove the cheesecake from the fridge.
Therefore melt the brown sugar in a skillet over medium heat until it is completely caramelized. Add the cherry tomatoes and toss them in the caramel. Pour the olive oil over the tomatoes and sauté the tomatoes until hot (1-2 Minutes). Add the balsamico and cook the tomatoes for another 2-3 minutes, until the first tomatoes begin to burst and the balsamico thickens. Season with black pepper.
Serve the cold cheesecake with the warm tomatoes.
It's mere wonderful, when the tomatoes pop in your mouth and the warm liquid emerges accompanied by a bite of cold cheesecake!
 This post was created in cooperation with Snøfrisk. Recipe, photos, concept and opinion are my own.
 [:]