[:de]
Das Kochbuchjahr 2015 war kein glorreiches. Zwar gab es auch bei mir viele Zugänge, begeistert war ich aber von kaum einem. Und obwohl vegetarische Küche immer mehr zum Standard wird, gibt es keine nennenswerten Neuheiten zu diesem Thema dieses Jahr. Ich habe zwar noch ein paar wenige Bücher im Auge, die interessant sind, aber nicht so interessant, dass ich sie unbedingt haben müsste. Komisch, oder? Für mich gab es auch keinen neuen Trend der in einem Kochbuch wirklich gut umgesetzt wurde. Was haltet ihr vom Kochbuchjahr 2015? Was sind eure liebsten Neuerscheinungen und Must-haves und eure größten Reinfälle?
Ich zeige euch jetzt meine! Los geht's: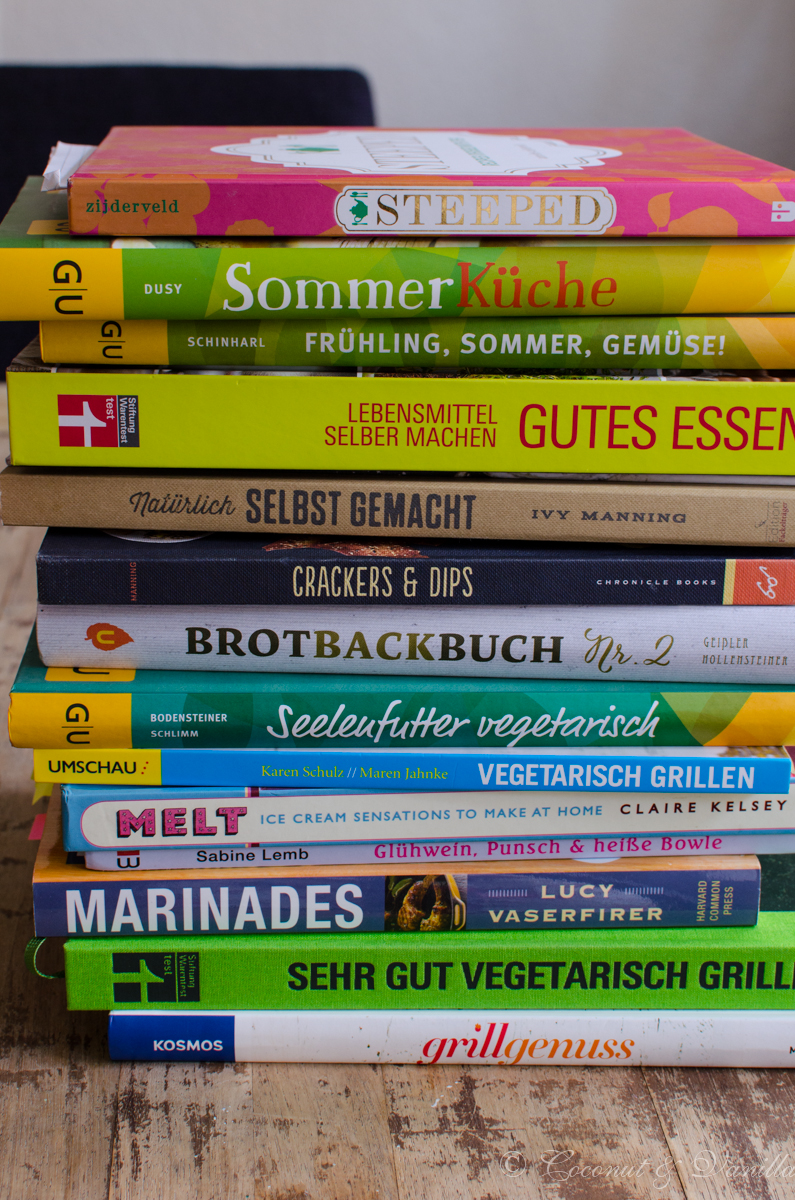 Fäviken von Magnus Nilsson* (Phaidon)
Nachdem ich die Folge über Fäviken bei The Chef's Table gesehen habe war ich außerordentlich fasziniert von dem Konzept. Magnus Nilsson verwendet nur saisonale Produkte aus der Region für sein Sternerestaurant in Mittelschweden. Als ich dann das Buch reduziert gesehen habe, musste ich es sofort haben und es hat mich nicht enttäuscht!
Dieses Buch erzählt die Entwicklung vieler Gerichte aus dem Fäviken, die Herstellung, sowie woher Magnus die Produkte bezieht. Sehr spannend und gespickt mit Bildern der genialen Gerichte!
5 von 5 Sternen
Die neuen Klassiker von Donna Hay* (AT Verlag)
Dieses Buch enthält Klassiker aller Herren Länder im modernen Look! Dieses Buch ist super geeignet für alle neugierigen Kochnovizen, die sich über die Küche Deutschlands hinauskochen wollen. Jedes Rezept ist bebildert, Grundrezepte sogar mit einer Bilderstrecke. Alle Bilder sind natürlich im wunderschönen Donna Hay Look, einige würde ich mir gerne in A2 an die Wand hängen ;). Die neuen Klassiker habe ich bereits hier ausführlich besprochen.
5 von 5 Sternen.
Heute koch ich, morgen brat ich von Stevan Paul* (Hölker)
Ich gebe zu, dass ich mir dieses Buch gekauft habe, weil ich das Thema so märchenhaft schön finde und weil ich Stevan unterstützen möchte. Auch wenn ich es bisher nicht geschafft habe daraus zu kochen, gefallen mir die Rezepte und die Bilder außerordentlich gut. Das Buch lässt in einen tatsächlich in eine märchenhafte Welt eintauchen.
Aufgrund der Optik und der Rezeptimpression vergebe ich 5 von 5 Punkten. Das Buch ist sicherlich nichts für Vegetarier!
Sommerküche von Tanja Dusy* (GU)
Da ich ein großer Fan der Winterküche* und der Gartenküche* bin, habe ich mich sehr auf Sommerküche gefreut. Leider verwandelte sich diese Freude ziemlich rasch in Enttäuschung.
Los geht es schon mit den Rezepten, die Auswahl finde ich einfach nur fad. So viele Standardrezepte die man schon tausendmal gelesen hat. Trotzdem habe ich mir ein paar Sachen ausgesucht und gekocht. Das Ratatouille mit Salzzitrone war in Ordnung, aber ich habe schon ohne Rezept ein schmackhafteres Ratatouille zusammengewürfelt. Ein Freund des inflationären Gebrauchs von Salzzitronen (3 Stück in diesem Rezept) werde ich wohl nie werden, dafür mache ich nicht mal das Rezept verantwortlich. Die Menge finde ich aber schon wagemutig. Der Zucchinipudding wie in Griechenlad war einfach fad. Wollte ich kein zweites Mal essen. Einreihen kann sich da auch die Mangoldpastete mit Schafkäse. Hier wäre wahrscheinlich noch mehr Feta nötig gewesen um irgendeine Würze hineinzubringen und am besten noch andere leckere Zutaten. Zusätzlich war der Yufkateig nach dem Backen unten und an der Seite labberig und nicht schön zu essen. Nein, leider das Buch ist für mich der totale Reinfall.
Ja, die Bilder sind wie immer schön, aber Optik ist nicht alles.
So vergebe ich gnädig 2 von 5 Sternen.
Frühling, Sommer, Gemüse! von Cornelia Schinharl* (GU)

Ähnlich wie bei der Sommerküche gestaltete es sich auch hier. Herbst, Winter, Gemüse!* mochte ich sehr und hatte auf einen würdigen Nachfolger gehofft. Das war wohl nichts!
Rezeptetechnisch finde ich es auch wieder so uninspiriert. Als Liebhaber dicker Bohnen habe ich die marinierten dicken Bohnen (ohne das Schinkenbett) zubereitet. Ok, kann man machen, aber die dicken Bohnen werden von dem Dressing un den wenige anderen Zutaten so erschlagen, dass man sie nicht mehr rausschmeckt. Schade um die leckeren Böhnchen! Die Kohlrabischnitzel mit Frischkäsefüllung waren okay. Nicht mehr, nicht weniger. Aber ist mal was anderes was man mit Kohlrabi machen kann. Ganz furchtbar war hingegen das Schmorgurkengemüse mit den Zanderklößchen! Ich liebe Schmorgurkengemüse sehr, aber dieses hier war nicht gut. Noch schlimmer waren aber die Zanderklößchen, die viel Zeit in Anspruch nehmen, im Geschmack aber nur fettig und ungewürzt schmecken. Der Fisch geht unter. Außerdem muss man bereits beim Garen aufpassen, dass die Nocken nicht auseinanderfallen. Nee, also das geht gar nicht.
Keine Empfehlung von mir hier und 1 von 5 Sternen.
Seelenfutter vegetarisch von Sabine Schlimm* (GU)
Ich habe meiner Mama das "normale" Seelenfutter* geschenkt, das finde ich ganz gut. Beim vegetarischen merkte ich schon, dass ist nicht so universal, leider. Als es es dann als Mängelexemplar für den halben Preis gab, hab ich halt doch zugeschlagen. Leider. Irgendwie sind es für mich nicht so viele Seelenrezepte und wie immer stört mich der Tofu und Seitankram sehr. Beides gehört mich für auf jeden Fall nicht in die Kategorie "Seelenfutter". Hm, ein paar Sachen sind markiert und diesen Winter wird es schon noch ein paar Gelegenheiten geben daraus zu kochen. Bisher kann ich zu der Gelingsicherheit der Rezepte deshalb noch nichts sagen.
3 von 5 Sternen, anhand der Rezepteauswahl bewertet, nicht der Qualität der Rezepte.
Steeped von Annelies Zijderveld* (englisch)
Rezepte mit Tee, eigentlich ein vielversprechendes Thema, denn Tee ist meiner Meinung nach der nächste Trend und die Möglichkeiten sind groß! So war ich gespannt auf dieses Buch.
Schwierig wird es gleich zu Beginn, denn die wenigsten Rezepte weisen Fotos auf. Das Layout ist anstrengend, ich weiß nicht warum, aber es fällt mir schwer, die Rezepte zu lesen. Das Format ist recht klein und die Titel alle in Großbuchstaben geschrieben. Das alles macht es wirklich schwierig für mich in das Buch einzutauchen.
Die Rezepte machen mich kaum an. Manche Sachen sind einfach absurd, wie z.B. dass ich Ziegenfrischkäse zu Perlen rollen soll?! WTF! In einem anderen Rezept wird nach Buddhas Hand verlangt. Vielleicht gibt es das in San Francisco an jeder Ecke, aber sicherlich nicht in ganz USA, geschweige denn sonstwo.
Diese ganzen Punkte haben mich bisher nicht dazu verleitet etwas daraus zu kochen.  Anhand der oben genannten Punkte vergebe ich 2 von 5 Punkten.
Crackers & Dips von Ivy Manning* (englisch)
Hey, ein Buch über Cracker kann man immer mal gebrauchen, oder? Hier ist meiner Meinung nach noch Potential auf dem deutschen Buchmarkt!
Bei ein paar Rezepte braucht man Zutaten wie Zwiebel- und Knoblauchpulver die hierzulande nicht sehr gebräuchlich sind. Trotzdem bleiben noch viele Crackerrezepte von der ganzen Welt die man nachbacken kann. Es ist wirklich eine ordentliche Auswahl dabei, selbst glutenfreie Cracker sind vertreten!
Die Dips hätte es nicht uuunbedingt gebraucht, aber wenn man sich von der Kombi Cracker & Dips loseist, dann sind die Dips auch interessant für Gerichte wie Fondue!
Von mir gibt es 4 von 5 Sternen.
Brotbackbuch Nr. 2 von Lutz Geißler und Björn Hollensteiner* (Ulmer Verlag)
Hm, ja. Also ich mag Nr. 1* lieber ;).
Es ist sicherlich kein schlechtes Buch, aber ich komme mit der Aufmachung nicht so zurecht. Prinzipiell finde ich die Idee okay, ein Rezept mit 4 verschiedenen Abwandlungen zu machen. Oft brauche ich aber diese ganzen Varianten gar nicht. Die Tabellen finde ich nicht hübsch, die Schrift recht klein und mir ist dann zu wenig Erklärungen dabei. Am Ende bin ich ständig am blättern, hin und her schauen und sicher gehen, dass ich auch immer noch bei der gleichen Variante bin. Ist mir einfach zu umständlich.Diese Kritik ist natürlich sehr subjektiv (wie alle meine Rezensionen, haha!) und hat nichts mit den Rezepten an sich zu tun. Daher vergebe ich 4 von 5 Sternen.
New York von Marc Grossman* (Christian Verlag)
Die Kultrezepte ist der Untertitel und das trifft das Buch sehr gut. Tatsächlich enthält das Buch keine hochtrabende Kulinarik, sondern all die Klassiker, die es in New York eben so gibt. Bagel, Donuts, Mac & Cheese,Knish, NY Cheesecake, S'mores, you name it! Die Bilder sind schnell am Tresen gemacht, keine aufwendige Foodfotografie. Für echte New York Liebhaber und alle die es werden wollen ist dieses Buch sicherlich ein guter Einstieg in die hiesigen kulinarischen Gefilde.
Bis bin ich leider nicht dazugekommen etwas aus dem Buch auszuprobieren. Gemarkt sind auf jeden Fall die Bagels, mit diesen steht und fällt meiner Meinung nach ein New York Kochbuch.
4 von 5 Punkten anhand der Optik und des gewissen rauen Fastfood Charmes.
Eis von Elisabeth Johannson* (AT Verlag)
Das Buch liefert einfach unheimlich viel Inspiration und tolle Rezepte. Dazu die tollen Foodphotos und ein praktisches Format. Mir gefällt das Buch sehr und ich nehme es oft zur Hand. Hier könnt ihr meine ausführliche Rezension nachlesen!
4,5 von 5 Sternen.
Melt von Claire Kelsey* (englisch)
Gute Eisbücher gibt es nicht gerade wie Sand am Meer und so bin ich ein leichtes Opfer. Leider ist man bei englischen Büchern oft auf den Überraschungseffekt angewiesen, vor allem wenn man sie gebraucht kauft.
Dieses hier ist eins meiner neuesten Zugänge und das zu einer Jahreszeit die mich nicht nach Eis verlangen lässt. Trotzdem kann ich Euch sagen, dass die Sorten sehr interessant klingen! Lakritzeis z.B.? Woher man die Kamelmilch für das Kamelmilcheis bekommen soll ist mir zwar rätselhaft, aber lustig ist es allemal. Die anderen Rezepte sind dann wieder machbar, wie Fenchel-Orange und Zitrus-Zimt-Brûlée. Das Buch enthält nicht nur Rezepte für Eis, sondern auch für Granita, Eissandwiches, Eisterrinen und mehr! Auf den ersten Blick ein lohnenswertes Eisbuch!
4 von 5 Sternen.
Glühwein, Punsch und heiße Bowle von Sabine Lemb* (Bassermann Verlag)
Naja, das war ein Griff ins Klo. Ich trinke gerne Glühwein und heiße Getränke im Winter, aber dieses Buch liefert keine tolle Ideen. Hier werden einfach nur Alkoholsorten ausgetauscht und dann benennt man den Punsch nach einem anderen Land. Oder Drinks mit Tee und tauscht jedesmal die Teesorte aus. Sehr pfiffig. Nicht. Schade, dass Thema könnte wirklich mal ein gutes Buch gebrauchen (es gibt da schon 1-2 kleine ältere dünne von GU, aber ich brauche mehr 😉 ).
0 von 5 Punkten.
Gutes Essen – Lebensmittel selber machen von Bettina Snowdon und Martin Lagoda* (Stiftung Warentest)
Gutes Essen habe ich bereits rezensiert und den Paneer daraus hergestellt.
Das Buch ist in sechs Kapitel unterteilt und hält sich nicht mit Sinnlosigkeiten und Basics wie z.B. dem Marmelade einkochen auf. Das Buch unterteilt sich in Getreide (Brot, Teigwaren, Seitan), Milch (Sauermilchprodukte, Käse), Soja, Wurst, Fisch und Essig. Alle die gerne mehr Produkte selber herstellen wollen, weil es Spaß macht, weil man weiß was im Produkt ist oder weil man einfach keinen Zugang zu manchen Produkten in der Region hat, dem empfehle ich ganz dicke dieses tolle Buch!
5 von 5 Sternen
Sehr gut vegetarisch grillen von Thorsten Mertz* (Stiftung Warentest)
Grillen finde ich super und ich bin immer auf der Suche nach tollen vegetarischen Rezepten! Das ist gar nicht so einfach und so habe ich mich gefreut, als Stiftung Warentest ein passendes Kochbuch herausbrachte.
So ganz konnte es mich aber nicht überzeugen, da es doch recht viel mit Tofu, Seitan und Co arbeitet. Das ist etwas was ich vermeide, da ich es geschmacklich nicht so mag und ich diese Lebensmittel auch erst gezielt einkaufen müsste. Genau wie Fleisch, was ich also beim vegetarischen Grillen vermeiden möchte.
3,5 von 5 Sternen
Vegetarisch grillen von Karen Schulz, Maren Jahnke* (Umschau Verlag)
Ehrlich gesagt, weiß ich nicht warum ich dieses Buch haben wollte. Vielleicht weil vegetarisch grillen draufstand? Leider ist der Inhalt nicht so vielversprechend. Sehr simple Rezepte und die Foodfotos sind leider auch nicht gerade mundwässernd (Kunstlicht oder zu hartes Sonnenlicht auf allen Bildern macht sich leider nicht so schön). Für vegetarische Grillrezepte fehlt leider immer noch ein gutes Buch in Deutschland. Schade, dieses Buch schließt die Lücke nicht.
2 von 5 Sternen.
Grillgenuss für jede Jahreszeit von Matthias F. Mangold* (Kosmos)
Grillgenuss hab ich gebraucht günstig erstanden. Es stand auf meiner Liste, da ich Grillen mag, Bücher von Kosmos schätze und weil ich es bereits aus der Bücherei ausgeliehen hatte und dabei feststellen konnte, dass es wirklich schöne Rezepte enthält.
Diesen Sommer habe ich nichts daraus gegrillt (sowieso bestand der heiße Sommer gefühlt weniger aus grillen, als aus Grillbüchern kaufen, wenn ich mir meinen Stapel so ansehe ;D ), aber aus der Zeit der Bücherei kann ich sagen, dass es solide gute Rezepte enthält, sogar unterschiedliche je nach Jahreszeit, z.b. die leckeren Satéspieße mit Erdnusssauce und der Bulgursalat mit Kichererbsen.
5 von 5 Sternen.
Reisehunger von Nicole Stich* (GU)
Reisehunger habe ich bereits ausführlich auf dem Blog rezensiert. Es ist ein schönes Buch, das einen in ausgewählte, von Nicky besuchte Länder führt. Aus diesen stellt sie uns ihre liebsten Gerichte vor. Da sind einige tolle Sachen dabei!
4,5 von 5 Sternen.
Sous-Vide & Dampfgaren von Götz Beller und Sandra Eckhardt* (Christian Verlag) 
Ich habe einen Dampfgarer daheim mit dem auch Sous Vide möglich ist. Zwar ist mir bewusst was man alles darin machen kann und wie es geht, aber ich war immer wieder auf der Suche nach Gartabellen, besonders für Fleisch. Nun gab es dieses Büchlein reduziert als Mängelexemplar und ich habe schnell zugegriffen.
Zu Beginn gibt es eine kleine Gartabelle, aber ansonsten gibt es "nur" Rezepte. Ziemlich ausgefallene Rezepte. Gut finde ich dabei, dass viele verschiedene Arten von Fisch, Fleisch und Meeresfrüchten abgedeckt sind und so hat man doch wieder einen Anhaltspunkt was Gartemperatur- und dauer betrifft. Das genügt mir für's erste.
Da ich zu den Rezepten keine Aussage treffen kann, da ich sie nicht gekocht habe, kann ich hier nur nach Äußerlichkeiten bewerten.
3,5 von 5 Sternen, da die Rezepte bzw. Zutaten doch recht ausgefallen sind, sicherlich nichts zu jeden Tag. Für den halben Preis aber vollkommen okay!
Ginger Pig. Natürlich Fleisch von Fran Warde und Tim Wilson* (Dumont)
Ginger Pig ist der Name der Metzgerei von Autor Tim Wilson. In Ginger Pig geht es um Fleisch. Um gutes Fleisch. Wie kommt man dazu, was sind die besten Fleischsorten, wie wird das Tier zerlegt und wofür nimmt man dann die Teile. Das Buch ist also ein Teil Warenkunde und ein Teil Rezepte, nach Jahreszeiten sortiert.
Ein total spannendes Buch, das jeder Fleischliebhaber zu Hause haben sollte! Die Rezepte sind sehr divers, von Hausmannskost, bis modern und aus aller Welt.
Fleisch isst man nicht einfach, dafür ist es viel zu wertvoll! Deshalb ist es gut, wenn man sich damit beschäftigt. Auch wenn man sein Fleisch natürlich nicht von der Ginger Pig Metzgerei beziehen kann um sicher zu sein, dass es gut ist und die Tiere gut gelebt haben, so kann man den Rahmen doch auch auf Deutschland übertragen. Regionale Bio-Bauern gibt es auch bei uns, die es zu unterstützen lohnt!
5 von 5 Sternen.
Natürlich selbst gemacht von Ivy Manning* (Edition Fackelträger)
Noch ein Buch, das auf den Selbstgemacht-Zug mitaufspringt. Mir ist das recht, so lange es taugt! Und dieses ist mit teilweise wirklich ungewöhnlichen Rezepten ausgestattet, so dass es nicht nur Nutelleverschnitte, selbstgemachte Marmelade und Ricotta gibt.
Es gibt auch Srirachasauce (wer einen riesigen Vorrat an Chilis hat!), Tonic Water Sirup (genial!) und Labne.
Man braucht dieses Buch sicherlich nicht unbedingt, denn vieles wiederholt sich natürlich aus bereits gewesenen Selbermach-Büchern. Trotzdem findet man ein paar neue interessante Rezepte, die den Zahn der Zeit treffen.
Daher gibt es von mir 4 von 5 Sternen.
Gemüse kann auch anders von Bettina Matthaei* (GU)
Als ich dieses Buch in den Händen hielt war ich erstmal geflasht. So tolle Bilder! Das Konzept hat mich auch angesprochen, sortiert ist das Buch nämlich nach Gemüsesorten (ich habe da aber das ein oder andere vermisst 😉 ).
Ich habe den Brokkoli-Couscous mit Zitronenjoghurt ausprobiert. Mir war es zu zwiebelig (rohe Zwiebeln finde ich ganz schlimm) und recht trocken. Kann man aber was draus machen. Der India-Erbseneintopf war lecker. Die kanarischen Kartoffeln haben nach dieser Anleitung so nicht funktioniert. Ich habe bereits kanarische Kartoffeln zuvor gemacht, warum es hier nicht geklappt hat weiß ich nicht. Die Kartoffeln waren zwar super salzig, aber die schöne Salzkruste war nicht vorhanden. Die spanische Paprika-Kartoffelpfanne war mir etwas zu trocken und den Geschmack des Paprikapulvers fand ich etwas einseitig. Der rote Bete-Himbeer-Shot war ganz witzig und in kleinen Mengen kann man das gut mal trinken, obwohl man natürlich die rote Bete schon herausschmeckt. Ihr seht ich habe einiges ausprobiert und einiges steht noch auf meiner Liste.
Ich finde es klasse, dass dieses Buch eine Fülle an neuen und innovativen Rezepten bietet, viele spannende Gewürze werden verwendet und das Ganze wird mit wunderschönen Fotos untermalt!
Ich war nicht 100%ig zufrieden mit den Rezepten, aber ich habe schon viel positive Resonanz gehört (meine Mutter findet die Rezepte ganz toll 🙂 ).
4 von 5 Sternen.
Gemüselust von A bis Z von Sophie Dupuis-Gaulier* (EMF)
Das Buch ist nicht sonderlich dick, aber eine kleine nette Ansammlung von interessanten Rezepten. Was ich klasse finde, dass in den Rezepten auch gezielt die Schalen, Stiele und Blätter von Obst und Gemüse verwendet wird, es gibt sogar extra Rezepte nur mit diesen Teilen!
Leider habe ich es auch hier noch nicht geschafft etwas auszuprobieren, aber das Ananas-Carpaccio mit Salz-Karamellbutter und Spekulatius steht ganz oben auf meiner Liste!
Die Fotos sind schön, obwohl man etwas am Kontrast hätte sparen können.
Es gibt 4,5 von 5 Sternen.
The Easy Vegetarian Kitchen von Erin Alderson* (englisch)
Einer meiner Lieblingsblogs ist Naturally Ella von Erin Alderson. Sie hat viele tolle vegetarische Gerichte auf ihrem Blog und so war ich überzeugt, dass ein vegetarisches Kochbuch super sein muss. Das buch enthält die Kapitel Frühstück, Mittagessen, kleine Gerichte, Abendessen und Desserts. Ich mag, dass sie zu jedem Rezept 4 jahreszeitliche Variationen anbietet. Andererseits ist das auch die Crux an diesem Buch, denn es gibt nicht viele verschiedene Gerichte. Etwa 10 Gerichte pro Kategorie, die dann variiert werden. Mag man schon ein paar Sachen nicht (ich bin z.B. kein großer Fan von jeglicher Art von Stir-Frys, auch Eiergerichte sind eher schwierig), so fallen viele Sachen weg. Leider finde ich einige Rezepte zu aufwendig. Klar, das Buch verspricht einfache Rezepte und nicht kurze, aber für mich geht das Hand in Hand. Da passen Potstickers, Ravioli und Lasagne nicht hinein. Es sind teilweise ganz nette Sachen drin, aber ich vermisse die Vielfältigkeit und tollen Ideen aus dem Blog.
Ich vergebe 3 von 5 Sternen.
Meine Gemüseküche für Herbst und Winter von Meret Bissegger* (AT Verlag)
Ich habe mich sehr gefreut auf ein weiteres Buch mit Herbst und Wintergemüse! Leider hielt die Begeisterung nicht lange an. Ich konnte mich schon gar nicht ins Buch einfinden. Alles war so 80er-Jahre Style Rohkost-/Vollwertküche: die Bilder und die Rezepte. Meret Bissegger beleuchtet verschiedene biologische Anbauweisen und Bauern, die Gemüsespezialitäten in der Schweiz produzieren. Auch Lebensmittel von Slow Food oder der Arche werden beleuchtet. Eigentlich eine gute Sache, aber mir ist das ganze zu religiös aufgemacht. In Rezepten finde sich dann eben spezielle Slow Food Produkte, die eine extra Recherche erfordern, wenn ich sie nicht kenne.
Die Rezepte sind mir zu einfach und unspektakulär oder viel zu aufwendig für den Alltag. Oder alternativ zu aufwendig und wenig spektakulär für einen besonderen Anlass.
Das Buch ist übrigens nicht vegetarisch gehalten, auch wenn das der Titel vermuten lässt!
Ich weiß ehrlich keinen guten Grund dieses Buch weiterzuempfehlen und so bekommt es auch von mir nur 1 von 5 Sternen.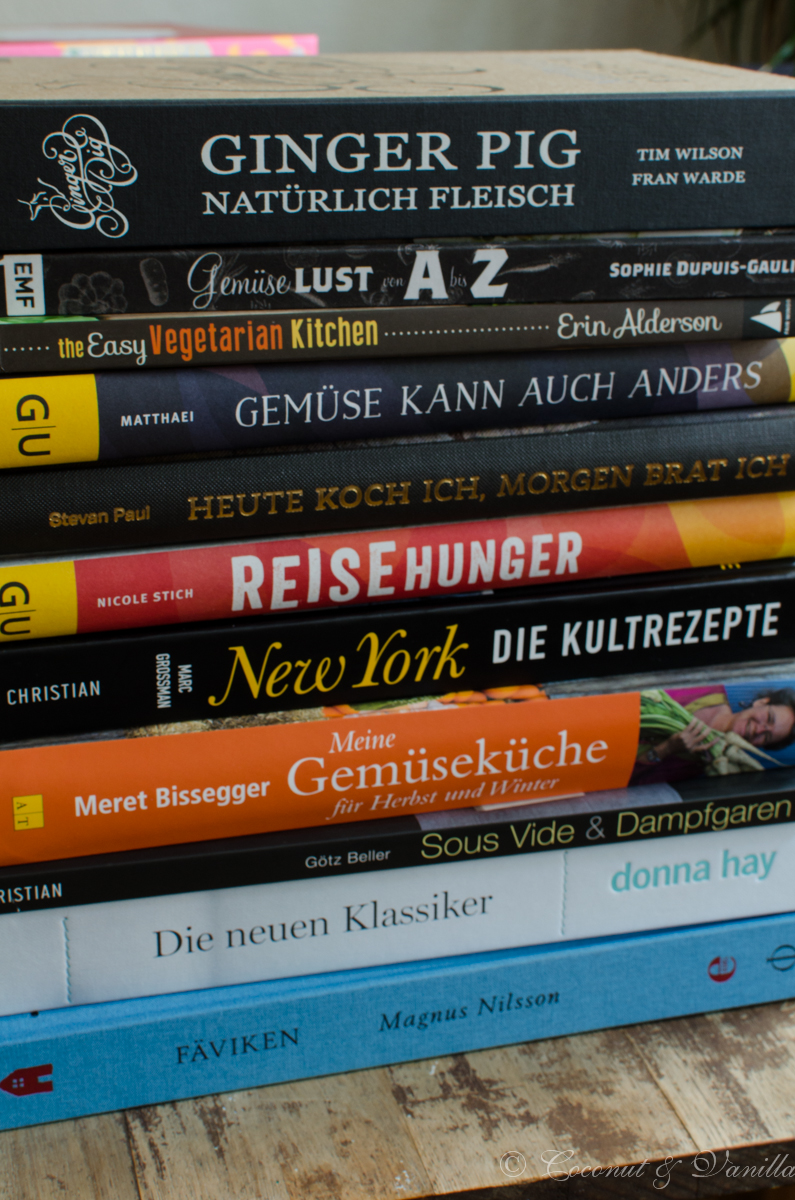 *Werbung, Affiliatelink (sprich, wenn ihr über diesen Link etwas bei Amazon kauft verdiene ich dabei wieder eine kleine Provision, die ich in den Erhalt des Blogs stecke)
[:en]This post is only available in German, currently.[:]