Friday, 4th January 2013
Coming back from the Christmas break I wish you health, a lot of joy, success with your projects and of course a lot of great meals this year!
These delicious sandwiches already fit in the last category. I adapted the recipe from Smitten Kitchen's new cookbook, it was love at first bite! As a devoted fan of Deb's blog this book convinced me truly and I already made some scrumptious food from its recipes.
Those panini are super easy and very good! If you aren't a lover of goats cheese like me, you can also take a good mountains cheese (like Fontina) or an Appenzeller. But in my opinion the goats cheese works very well with the caramelized onions. In those onions I could take a bathe, btw and it's no shame to make the doubled amount. It keeps fresh in the fridge for a few days and after the first of these sandwiches, you will certainly want to have another one ;).
The sandwiches are made in a whiff and the onions for the filling are a no-brainer, too. Another easy and quick dinner for your repertoire!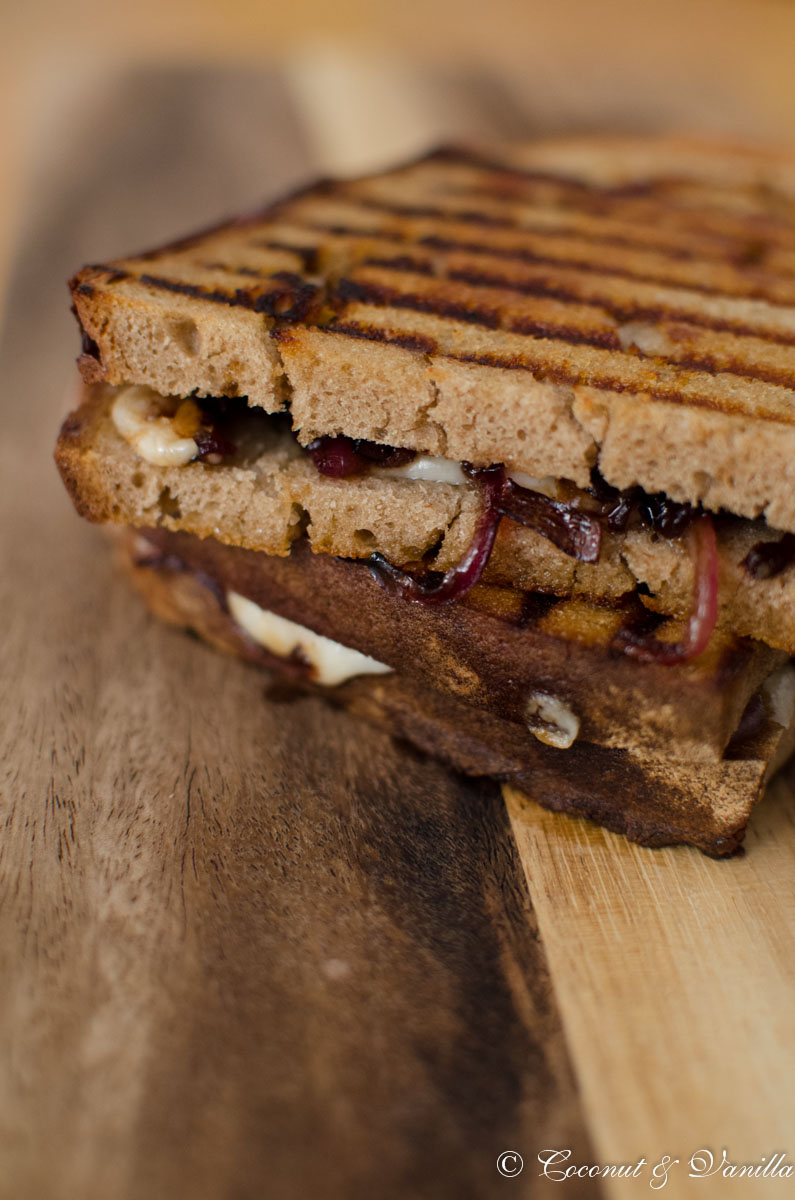 Two years ago: Quiche with peas, bacon and mozzarella
Three years ago: Homemade Granola
Panini with caramelized onions and goats cheese
adapted from Smitten Kitchen Cookbook  by Deb Perelman
yields: 2 sandwiches
Ingredients:
1 large red onion, peeled
1 Tbsp olive oil
1 Tbsp clarified butter or butter
1 tsp brown sugar
1/4 tsp fine sea salt
1 Tbsp balsamic vinegar
freshly ground pepper
2 large slices bread (preferably sourdough bread without seeds), halved
butter
100 g grated goats cheese, or Appenzeller or some mountains cheese
Halve the onion and slice it thinly.
Heat the olive oil and clarified butter in a large skillet over medium-high heat. Sauté the onions for 5 minutes, then sprinkle with the salt and sugar. Lower the heat to medium-low. Sauté for another 10 minutes, stirring every now and then. Add the balsamic vinegar and cook for another minute until it has reduced. Season with a bit of pepper.
Butter one side of the bread slices. Place the buttered side of two bread halves downwards, spread the onions on it, then the cheese. Place the other slices with the buttered side facing up on top of the cheese.
A griddle pan makes beautiful , but a normal skillet works as well. Heat the griddle pan (or skillet) on middle heat and place the sandwiches inside. Place another heavy skillet or a heavy saucepan onto the sandwiches and bake for 3-5 minutes, until crispy and deep golden brown. Turn the sandwiches and bake another 3-5 minutes.
Every type of salad works great with the panini!