Friday, 23rd August 2013
This pizza is THE summer dish for me!
Maybe it sounds weird to put fruit on pizza (pineapple's not counting), this combination of nectarines, mozzarella, reduced balsamico and fresh basil and mint is oh so delicious and pairs up perfectly! For all of you pizza lovers – as we are, too – it's a must!
So go ahead, buy the last nectarines of the season (peaches would work too, but the nectarines have the better texture here) and make this easy peasy pizza! The weekend promises to be hot!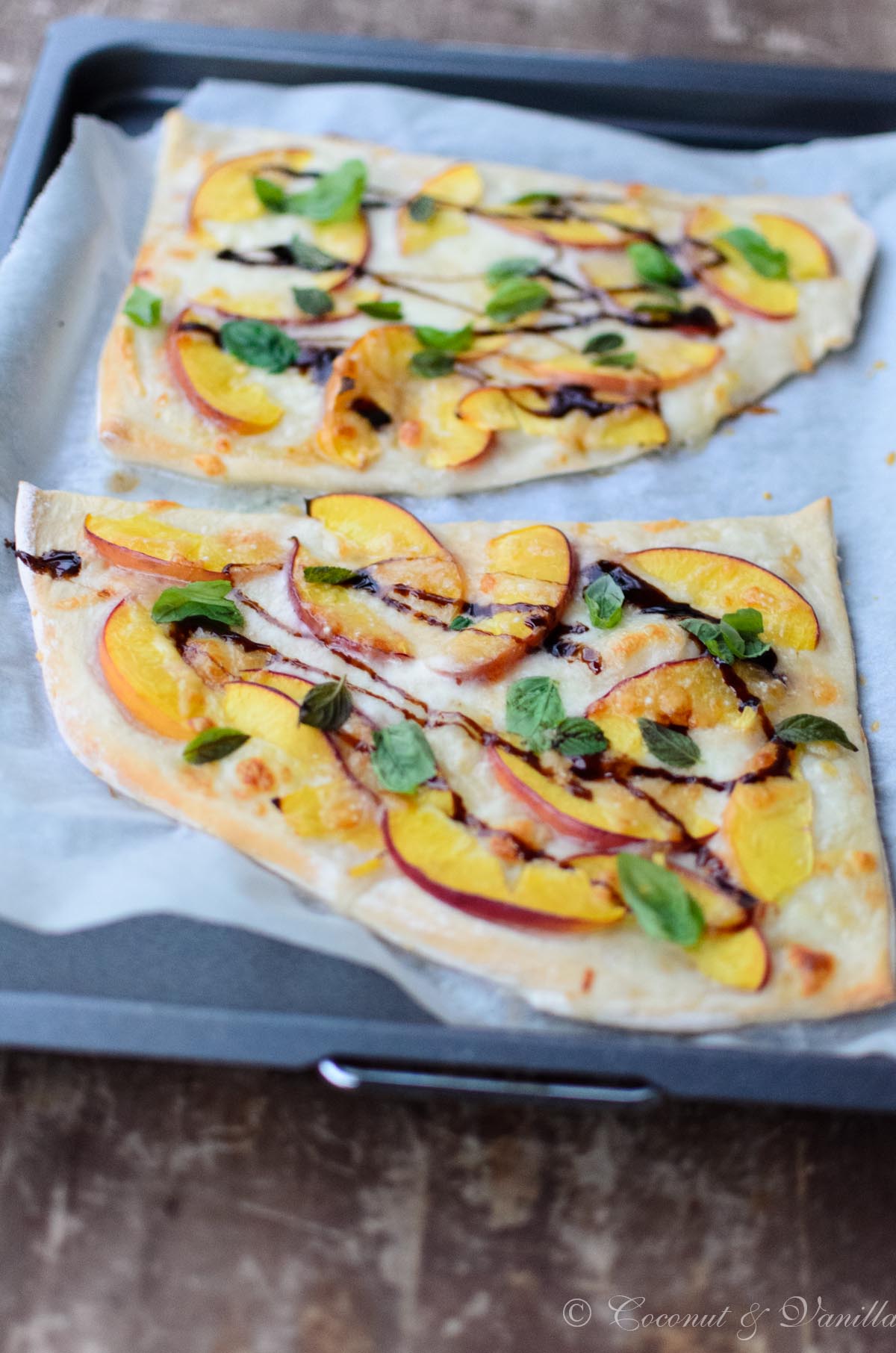 One year ago: peach rosemary granita
Two years ago: purple rice pudding
Three years ago: thyme and hazelnut cracker
Four years ago: quail cold and warm
Pizza with Nectarines, Mozzarella & reduced Balsamico
yields: 2 small pizzas
Ingredients:
For the dough:
150 g all purpose flour
about. 90 ml water, lukewarm
sea salt
1 pinch of brown sugar
3/4 tsp instant dry yeast
The topping:
125 g mozzarella, small balls or plucked into pieces
1 nectarine
a bit of parmesan, coarsely grated (~10 g)
reduced balsamico
fresh basil and mint leaves
Add the flour to a bowl. Dissolve the yeast with the sugar and a pinch of salt in the lukewarm water. Add the water bit by bit to the flour while kneading (stand mixer or by hand), until the dough is smooth and silky and doesn't stick to the bowl anymore. Cover with plastic foil and proof for 1 hour.
Halve the nectarine and slice thinly.
Preheat the oven to 220° C (fan 200° C).
Divide the dough into halves and roll out thinly. Place on a baking sheet lined with parchement paper.
Scatter the dough with the mozzarella first, then place the nectarines onto it. Sprinkle with a bit of parmesan.
Bake for 8-10 minutes.
Garnish with some reduced balsamico and fresh mint and basil leaves.
Serve immediately!