Wednesday, 4th June 2014
This pasta with green asparagus, fresh goats cheese and lemon is my favourite dish these days! It's prepared super quick and I'm a sucker for asparagus and goats cheese! The combination of both is divine in any way! Buy asparagus as long as it is still in season, in that case you'll always have an emergency dinner at home!
Besides green asparagus I'm a lover of goats cheese! It's a delicacy no matter if hard or creamy (although I can't stand soft cheese in general) and it should be a staple in my fridge all the time. I am delighted that it is possible to make so many great dishes with fresh goats cheese. I already have another post in queue, which awaits with a sweet surprise!
But I don't want to hold you back from dinner, since the aim was to make it quick ;).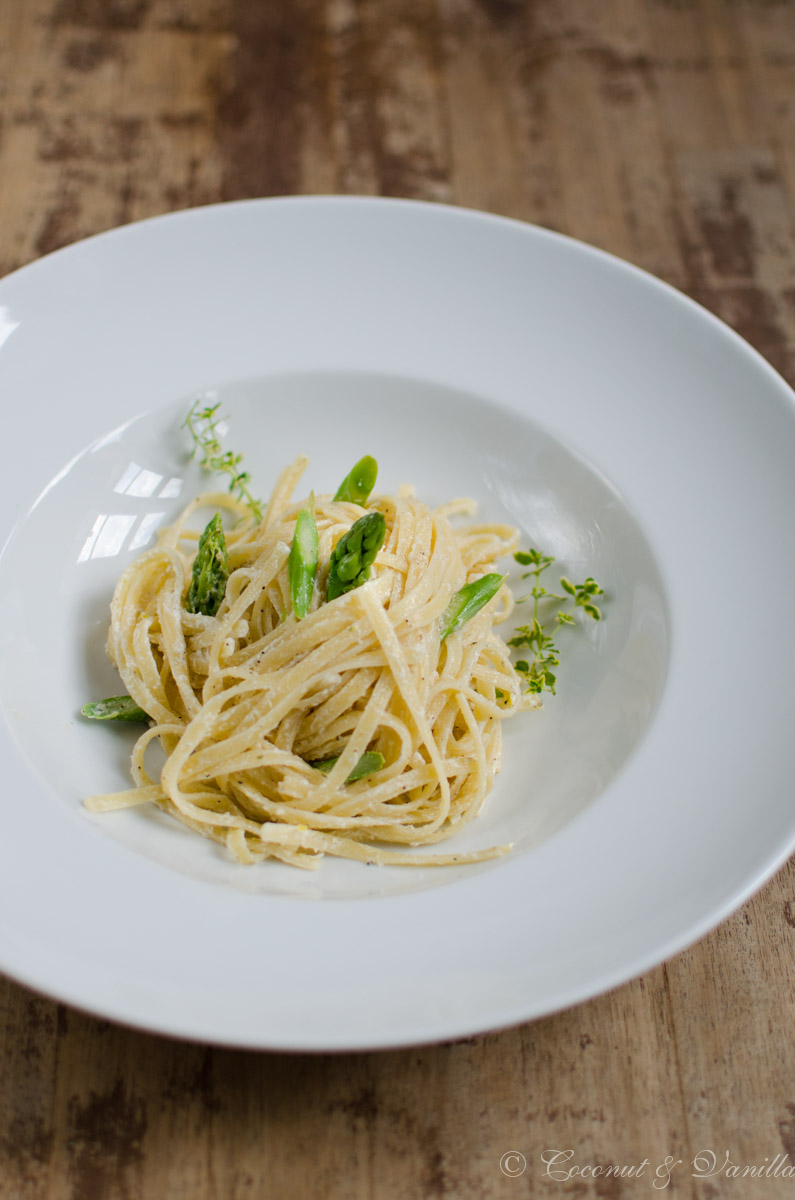 One year ago: beef broth
Twp years ago: elderflower jelly
Three years ago: strawberry liqour, basil olive oil, elderflower vinegar
Four years ago: lemon rosemary cookies 
Pasta with Asparagus and fresh Goats Cheese

adapted from Smitten Kitchen

yields: 4 portions
Ingredients:
500 g green asparagus, rinsed
500 g long pasta (best bavette or fettuccine)
salt
100 g fresh goats cheese
50 ml olive oil
1 organic lemon, juice and zest
pepper
Snap off the asparagus ends (I store them in the freezer and use them later for making vegetable broth). Cut the asparagus in slanted thick slices.
Cook the pasta in boiling salted water. 2 minutes before the pasta is al dente add the asparagus and cook it with the pasta. Drain in a strainer, reserve a small bowl of pasta water.
Put the pasta and asparagus back in the pot and crumble the goats cheese upon it. Add olive oil, lemon juice and lemon zest and stir until combined. Add pasta water until you get a creamy sauce. Season with salt and pepper and serve immediately.