Tuesday, 25th August 2015
Recently Snøfrisk approached me and asked, if I would like to create a recipe with fresh goats cheese (Indeed, this is an advertisment!). Of course, i wanted! I'm (fresh) goats cheese addicted! You might already noticed that, because I blogged goats cheese ice cream with strawberry swirls, pizza bianca with swiss chard and goats cheese, pasta with asparagus and fresh goats cheese, potato terrine with goats cheese, basil and pine nuts and panini with caramelized onions and goats cheese!
Sheer Madness how many recipe with goats cheese are already on my blog, isn't it?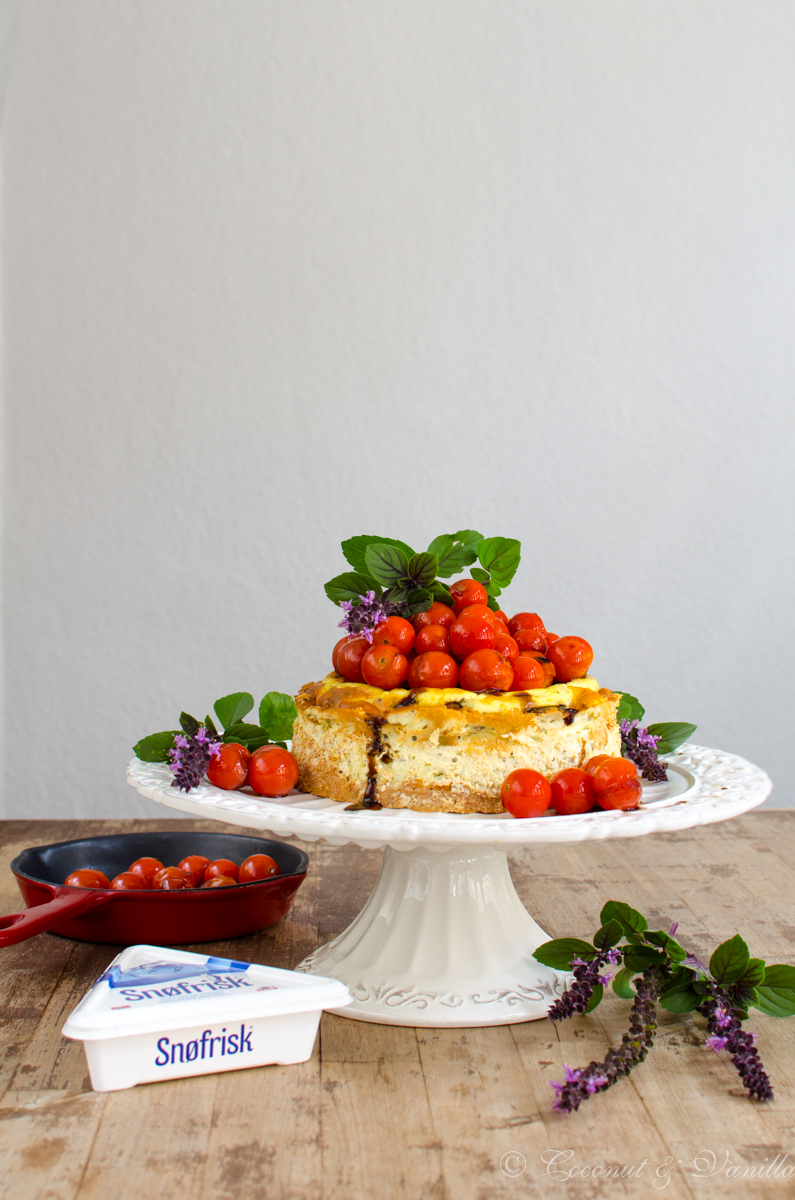 Of course, I didn't wanted to make just something. I didn't wanted to make ice cream, as I already made that last year (and it was phenomenal!) and I was tempted by the idea of a savoury cheesecake! I love cheesecake!
After some puzzeling it was clear that it will make a savory cheesecake with a bottom made of crackers, basil and caramelized cherry tomatoes! And yes, I'm happy to announce it tastes as good as it sounds!
Before you leave now, because you think this is much too elaborate for your routine… STOP! The cheesecake can be made a day in advance and is as a easy as a sweet cheesecake (so really easy) and the caramelized cherry tomatoes are made in a pinch the next day just before serving!
Only the heat wave did upset my plans, because I couldn't bear to turn on the oven at 35° C! But last weekend it finally happened and here it is!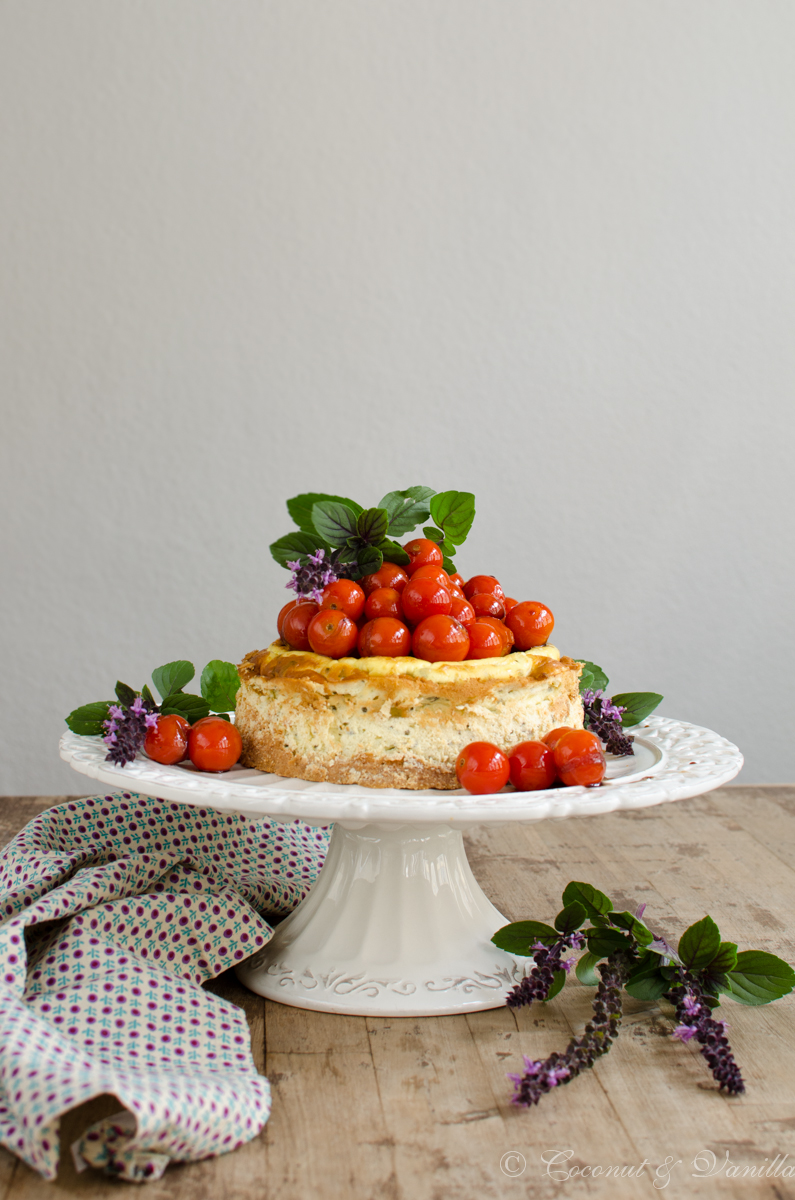 One year ago: pineapple julep with mint sugar
Two years ago: pizza with nectarines, mozzarella and balsamico
Three years ago: peach rosemary granita
Four years ago: purple rice pudding
Five years ago: thyme hazelnut cracker
Six years ago: quail, warm and cold
savoury goats cheesecake with caramelized balsamico tomatoes
yields: one small cheesecake for 4 persons (15 – 20 cm springform, double the amount for a 28 cm springform)
Ingredients:
75 g cracker (i.e. Ritz or TUC, but also cracker with herbs or chili would be suitable)
20 butter, melted
1 handful fresh basil, about 7 g
300 g plain fresh goats cheese, i.e. by Snøfrisk
300 g cream cheese (or more fresh goats cheese, if you're huge goats cheese lovers!)
3 eggs
black pepper, freshly ground
sea salt
2 Tbsp brown sugar
1 Tbsp olive oil
300 g cherry tomatoes
2 Tbsp balsam vinegar
Preheat the oven to 160° C hot air (or 180° C top/bottom heat).
Use a food processor to chop the cracker into fine crumbs. Stir in the melted butter and place in a springform. I used a small 15 cm one, but a 18 or 20 cm also works fine, the cheesecake will only be a bit flatter. Use a jar to press down the crumbs for an even bottom.
Bake the bottom for 10 minutes, place on a rack and let it cool.
Place the basil and the cheese in a food processor and chop until the basil is very fine. Add the egg one by one and scrape the sides every now and then, until you have an even cream. Season with black pepper and salt.
Spread the cream on the prebaked bottom and bake for 60 minutes at 160° C hot air (or 180° C top/bottom heat). Let the cake cool on a wire rack, then place it in the fridge, at best overnight.
10 minutes before you want to eat prepare the tomatoes and remove the cheesecake from the fridge.
Therefore melt the brown sugar in a skillet over medium heat until it is completely caramelized. Add the cherry tomatoes and toss them in the caramel. Pour the olive oil over the tomatoes and sauté the tomatoes until hot (1-2 Minutes). Add the balsamico and cook the tomatoes for another 2-3 minutes, until the first tomatoes begin to burst and the balsamico thickens. Season with black pepper.
Serve the cold cheesecake with the warm tomatoes.
It's mere wonderful, when the tomatoes pop in your mouth and the warm liquid emerges accompanied by a bite of cold cheesecake!
 This post was created in cooperation with Snøfrisk. Recipe, photos, concept and opinion are my own.