Thursday, 18th December 2014
Today I provide you another kind of Christmas cookie: gingerbread cookies with red currant jelly! I already loved gingerbread, but I didn't knew it filled with jelly. But the combination is a great match! But I'm a sucker for jam filled cookies anyway ;).
The gingerbread cookies are spiced really well and you will notice the pepper in the gingerbread (in German these cookies are called "pepper cake")! First the cookies are sweet, then you taste the spice of the pepper and then the fruity jam and again cookie sweetness. So very good!
You don't have to cut out such elaborate cookies like me, use your favourite cookie cutter and glue two cookies together with jam and you're done!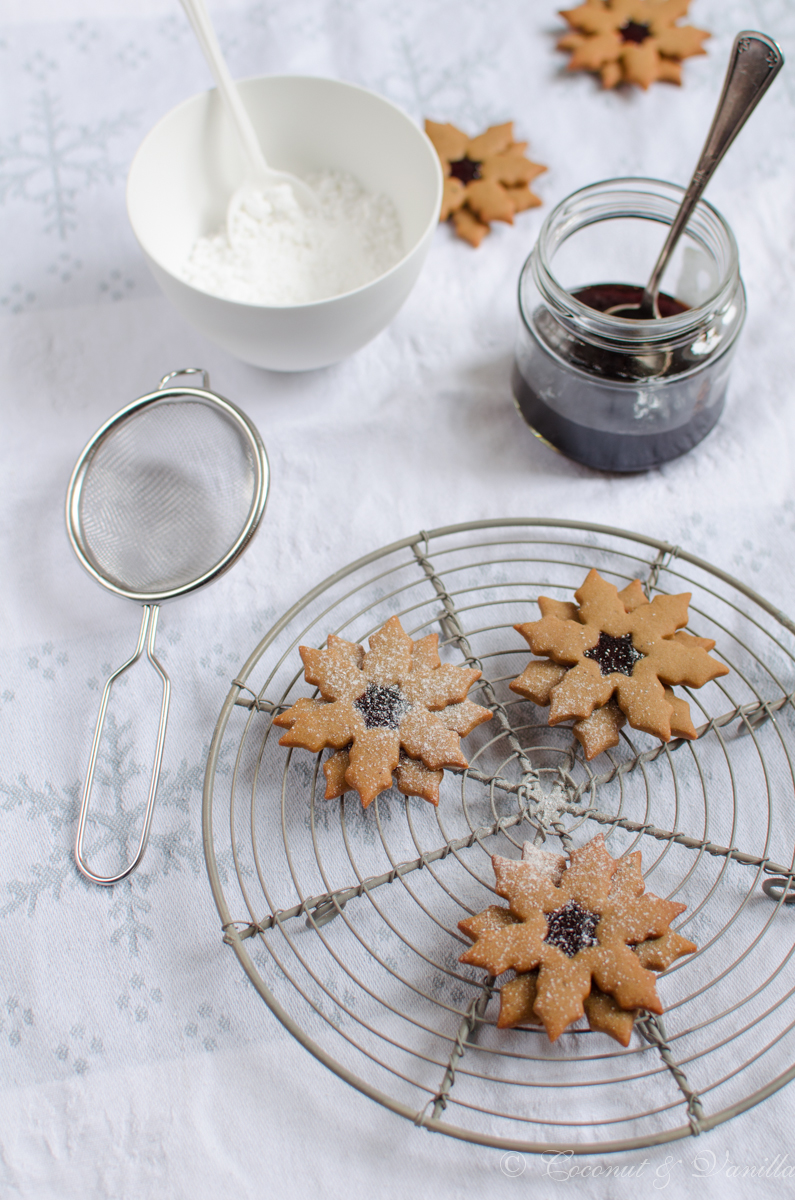 Two years ago: wild boar with rose hip sauce
Three years ago: chocolate cookies with fleur de sel
Four years ago: eggnog and gingerbread
Gingerbread Cookies with Red Currant Jelly
adapted from essen und trinken
Ingredients:
125 g honey
40 g brown sugar
100 g butter
2 tsp gingerbread spice
1 pinch of freshly ground black pepper
275 g wheat flour
1 pinch of ammonium bicarbonate (hartshorn)
1/4 tsp pottasium carbonate
200 g red currant jelly
In a saucepan heat the honey, sugar, butter, gingerbread spice and pepper until the sugar has dissolved. Fill in a mixing bowl and let it cool to lukewarm (the sugar shouldn't crystallize again).
Whisk the ammonium bicarbonate and the potassium carbonate in 4 Tbsp of water until dissolved. Knead with the flour into the honey mixture. Wrap the dough in foil and refridgerate over night.
Preheat the oven to 180° C (top/bottom heat) and line 2 – 3 bakings sheets with baking paper.
Roll out the dough in portions and cut out with cookie cutters. Be aware, that you need enough cookies with the same shape, because two cookies each are glued together with jelly afterwards.
Place the cookies onto the baking sheets and bake for 8 – 9 minutes on the third level.
Let the cookies cool out completely.
Warm the jelly in a small saucepan and stir until smooth. Place a drop of jelly on a cookie and cover with another cookie. The amount of jelly for the cookies can vary, if you are using different sized cookies. Let the cookies cool, then store them in cookie tins.