Rhabarbergelee war im letzten Jahr eine echte Neuentdeckung für mich und ist seit dem nicht mehr aus meinem Konfitürenvorrat wegzudenken. Ich bevorzuge meistens Marmelade, die den Hauptgeschmack der Frucht hervorbringt und nicht noch mit 5 anderen Obstsorten und Zutaten vermischt wird. Ich möchte jede Zutat schmecken und zuordnen können. Daher kann ich mit einer 4-Beeren-Marmelade absolut nichts anfangen. Selten gibt es Kombinationen die mich überzeugen. 
Ein Gelee aus Rhabarber hab ich bis zum letzten Jahr noch nicht nirgends entdecken können. Normalerweise kennt man den Rhabarber nur in Kombination, meist mit Erdbeere. Das ist aber nicht mein Ding. Entweder oder ;). Dieses Gelee aber bringt den Rhabarbergeschmack richtig schön heraus und so kann man den Rhabarber das ganze Jahr genießen!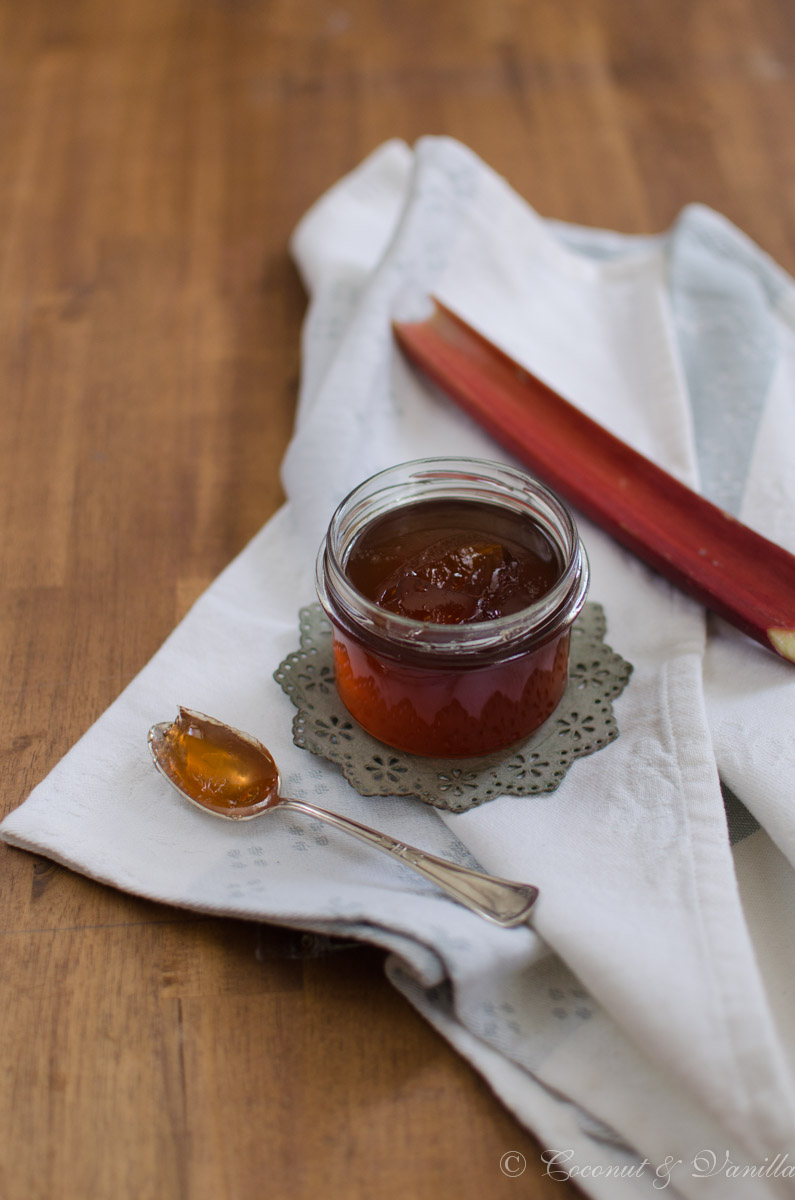 Vor einem Jahr: saftige Hefewaffeln
Vor zwei Jahren: Rhabarbersirup
Vor drei Jahren: Rhabarber-Streusel-Tarte 
Rhabarbergelee
nach einem Rezept aus Food in Jars von Marissa McClellan
ergibt etwa 1,2-1,5 l
Zutaten:
700 g Rhabarber, gewaschen und in Stücke geschnitten (nicht schälen!)
700 ml Wasser
500 g Gelierzucker 2:1 (Ich verwende 2:1 Bio-Gelierzucker von Alnatura, der funktioniert sehr gut und kommt ohne Konservierungsstoffe aus. Den Gelierzucker gibt es auch bei dm.), das Gelee wird so nicht ganz so fest, wer es fester mag erhöht die Gelierzuckermenge laut Packungsangabe
Rhabarber und Wasser in einen großen Topf geben und aufkochen. Bei kleiner Hitze 25 Minuten simmern lassen. Ein großes feines Sieb über eine große Schüssel hängen und mit einem Mulltuch auslegen. Den ausgekochten Rhabarber hineingeben und 30 Minuten abtropfen lassen. Gegen Ende kann man das Mulltuch zusammenbinden und über der Schüssel aufhängen. So entweicht noch mehr Saft aus dem Rhabarber. Den Rhabarber nicht ausdrücken, denn sonst wird das Gelee trüb!
Den Saft abwiegen. Ich habe knapp 800 ml Rhabarberwasser erhalten. Ansonsten die Gelierzuckermenge an die Saftmenge laut Packungsangabe anpassen. Ich habe bewusst weniger Zucker genommen, damit das Gelee nicht zu fest wird (ansonsten kann man es bald schneiden 😉 ).
Sterilisierte Gläser und Deckel vorbereiten. Einen Unterteller in den Gefrierschrank legen.
Rhabarbersaft mit Gelierzucker in den Topf geben und aufkochen. 3 Minuten sprudeln kochen lassen.
Den Unterteller aus dem Gefrierschrank nehmen und eine Gelierprobe machen. Dafür einen Tropfen Gelee auf den Teller geben, wird das Gelee nach kürzester Zeit fest bzw. fängt an zu gelieren, ist die Gelierprobe gelungen (sollte die Gelierprobe nicht gelingen, einfach noch weiter kochen, bis die Gelierprobe positiv ist). Den Topf vom Herd nehmen und das Gelee mit Hilfe eines Weithalstrichters in die Gläser füllen. Der Rand der Gläser muss sauber sein, damit sie richtig schließen! Die Gläser mit den Deckeln verschließen und abkühlen lassen. 
Rhubarb jelly was a true discovery for me last year and since then I cannot imagine my jam pantry without it. I prefer mostly jams, which feature the main flavour of the fruit and not ones that are mixed with five other fruits and ingredients. I want to taste every ingredients and assign it properly. Therefore I do not favour four-berry-jams and stuff like that. Rarely there is a combination that convinces me truly. 
I couldn't find rhubarb jelly anywhere before last year. Normally I only know rhubarb in combination with other fruits, mostly strawberries. But that's not my thing. I choose the one or the other. But this jelly features the rhubarb flavour really well and so you can enjoy rhubarb all year long!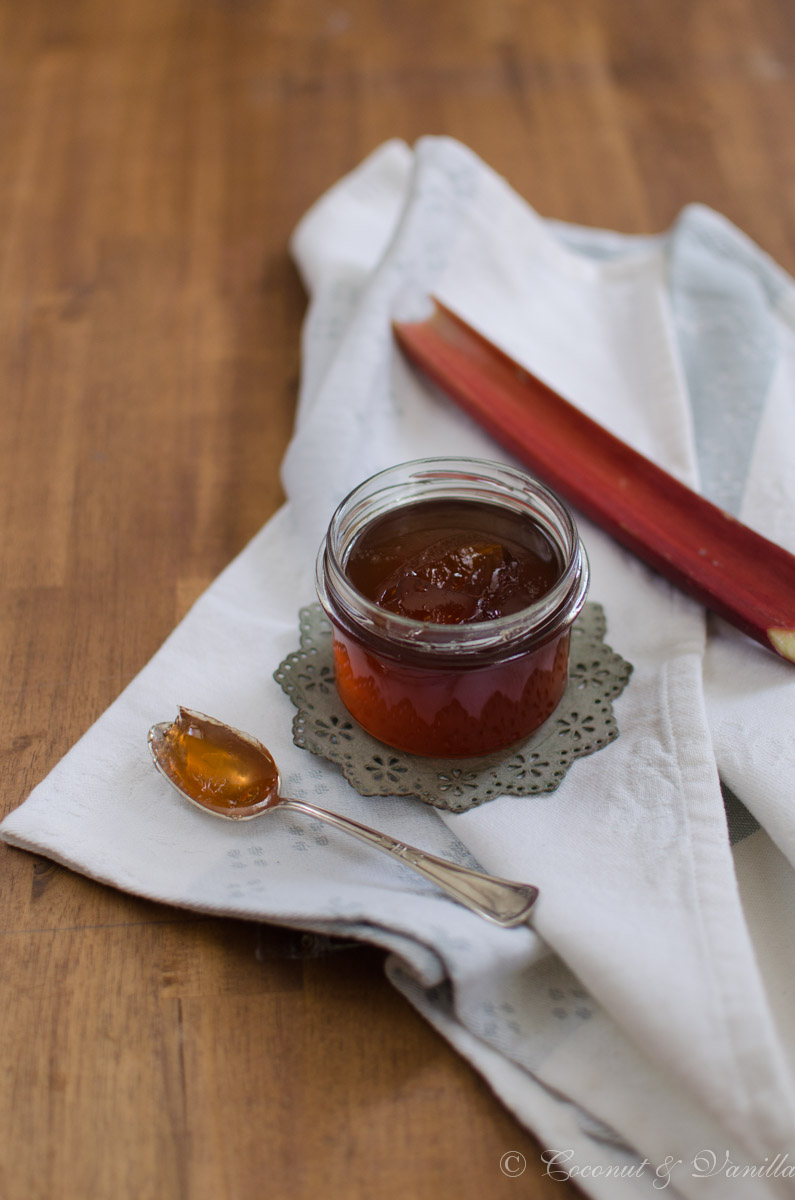 One year ago: luscious yeast waffles

Two years ago: rhubarb syrup
Three years ago: rhubarb steusel tart 
Rhubarb Jelly
adapted from Food in Jars by Marissa McClellan
yields about 1,2-1,5 l
Ingredients:
700 g rhubarb, rinsed and chopped (not peeled!)
700 ml water
500 g jam sugar 2:1 or 500 g sugar and 50 g powdered pectin (if using pectin you may need to cook the jelly longer, for about 20 minutes)
Add rhubarb and water to a large pot and bring to the boil. Let it simmer on low heat for 25 minutes. Place a large mesh strainer over a large bowl and line it with a cheesecloth. Pour in the rhubarb and let it drain for 30 minutes. In the end you can tie the cheesecloth with a string and hang it over the bowl, so more juice can be released from the rhubarb. Do not squeeze the rhubarb, as the jelly will get cloudy!
Weigh the juice. I had about 800 ml rhubarb water. Otherwise adjust the amount of jam sugar according to your amount of juice and the instructions on the packaging. Intentionally I chose to use less jam sugar, since I don't want to have that much gelatinized jelly (sometimes you can slice the jelly 😉 ).
Prepare sterilized jars and lids. Place a small plate in the freezer.
Bring the rhubarb juice with the jam sugar to the boil and cook for 3 minutes. 
Remove the plate from the freezer and test for a set. Therefore add a drop of jelly on the freezed plate and wait for some seconds. If the jelly begings to gelatinize, the test is positive (otherwise cook further until the test works). Remove the pot from the stove and fill the jars with the jelly. A jam funnel is very helpful therefore, because the rim needs to be clean so the jars seal properly. Seal the jars with the lids and let the jelly cool.