Die kalte Jahreszeit ist die Zeit der Zitrusfrüchte. Auch wenn bei uns keine Zitrusfrüchte wachsen, so ist das gemäßigte Klima in dieser Jahreszeit in Süditalien, -spanien oder Mallorca genau richtig. Der Körper sehnt sich nach Vitaminen, Farben und Früchten und die wunderbare Welt der Zitrusfrüchte kann sie nun stillen. Wir bestellen gerne die Früchte von Fet a Soller aus Mallorca. Die Saftorangen sind ein Traum! Der Saft ist super lecker und macht richtig fit! Besonders toll sind die Avocados! Ich liebe Avocados und ich habe nur wenige Male so gute gegessen wie diese von Fet a Soller! Und aus den Zitronen mache ich dann Zitronengelee!
Früher gab es von Mövenpick ein Zitronengelee das ich mochte, aber es gibt natürlich nichts besseres, als das was man mag selbst zu machen! Marmelade kaufe ich sowieso schon lange nicht mehr, denn die Herstellung ist zu einfach. So auch beim Zitronengelee!
Es ist etwas leichter, wenn man einen elektrischen Entsafter oder einen entsprechenenden Aufsatz für die Küchenmaschine hat (vielleicht hat ja auch einer eurer Freunde einen elektrischen Entsafter den ihr euch mal ausleihen könnt?). Falls ihr aber einmal den Orangen von Fet a Soller verfallen seid, braucht ihr wahrscheinlich sowieso einen Entsafter, denn den ganzen Saft händisch auszudrücken macht keinen Spaß ;).Für einmal im Jahr Zitronengelee geht aber natürlich auch eine manuelle Zitruspresse.
Ich mische immer noch etwas fein geriebene Zitronenschale in den Saft, aber wer das nicht mag lässt es einfach weg. Bitte nehmt 1:1 Zucker oder entsprechende Geliermittel! Ich habe es schon mit weniger versucht, aber Zitronen sind halt nun mal so sauer, dass kann man dann kaum mehr essen.
Demnächst verrate ich Euch dann noch was ich mit den übrig gebliebenen Zitronenschalen machen könnt!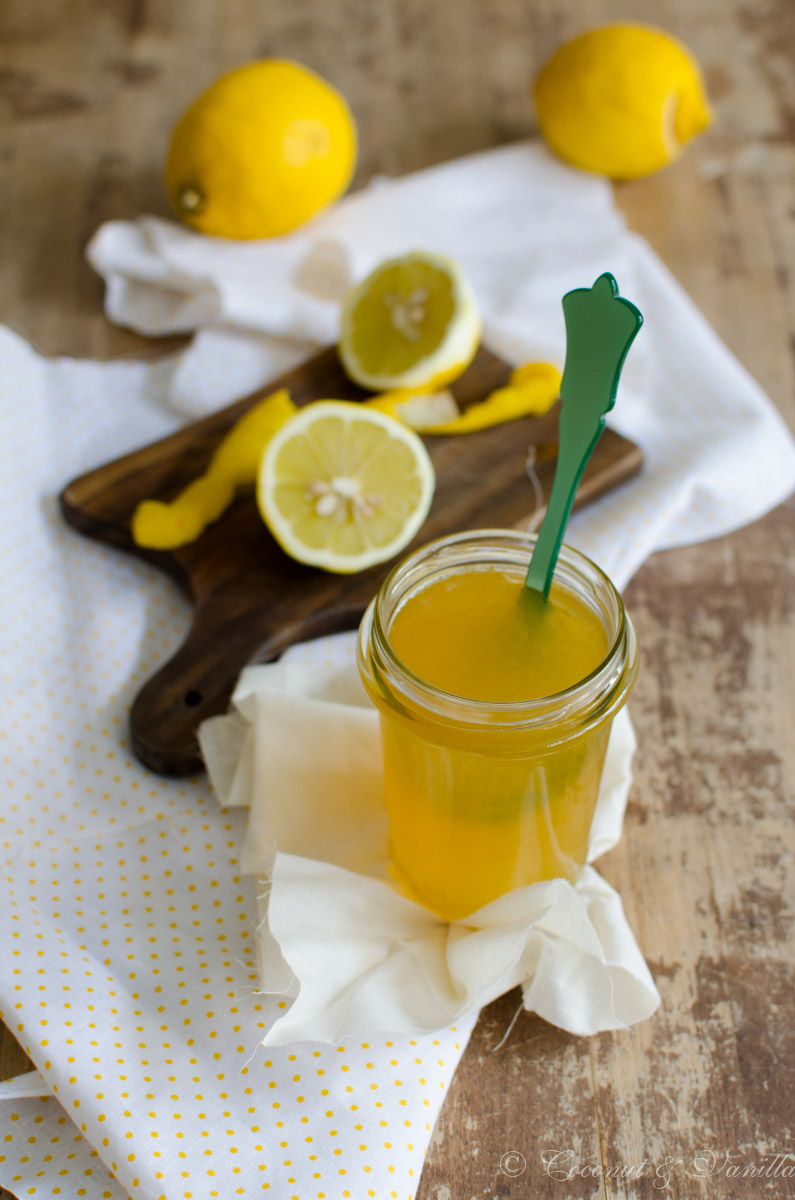 Vor einem Jahr: Bärlauchpesto
Vor zwei Jahren: Brunnenkressesuppe
Vor drei Jahren: Donauwellen Cupcakes
Vor vier Jahren: Hefekuchenkranz mit Nuss-Schoko-Meringue-Füllung
Zitronengelee
ergibt: 6 Gläser
Zutaten:
1 l Zitronensaft aus etwa 3 – 4 kg Zitronen
optional: fein geriebene Zitronenschale von etwa 6 Zitronen
1 kg Gelierzucker 1:1
Gläser und Deckel sterilisieren. Einen Unterteller in den Gefrierschrank stellen.
Zitronensaft, Zitronenschale und Gelierzucker in einen großen Topf geben. Alles aufkochen und 3 Minuten sprudelnd kochen lassen. Den Teller aus dem Gefrierschrank nehmen und einen Tropfen Gelee daraufgeben. Wird das Gelee innerhalb kurzer Zeit (etwa 1 Minute) fest, es geliert also, dann ist das Gelee fertig. Sollte es noch nicht fest werden, einfach noch etwas weiterkochen und die Gelierprobe wiederholen.
Mit Hilfe eines Weithalstrichters und einer Suppenkelle das Gelee in die Gläser füllen und fest verschließen. Dabei darauf achten, dass die Gläserränder sauber sind! Das Gelee abkühlen lassen, dabei entsteht ein Vakuum und der Deckel zieht sich nach innen. Sollte dies nicht geschehen, die entsprechenden Gläser in den Kühlschrank stellen und als erstes verbrauchen. Das nächste Mal die Gläser austauschen, wahrscheinlich sind diese nicht mehr dicht.
Es ist nicht nötig die Deckel umzudrehen um ein Vakuum zu erzeugen.
Das Gelee hält sich mindestens 1 Jahr, in meiner Erfahrung aber auch weit darüber hinaus.
Der Verweis auf Fet a Soller ist nicht gesponsert, ich bin einfach 100%ig überzeugt von deren Produkten und kann sie deshalb guten Gewissens weiterempfehlen!
The cold season is the time of citrus fruit. Although citrus are not growing here, the moderate climate in this time is just perfect for them in south Italy, Spain or Mallorca. The body is longing for vitamines, colour and fruits and the wonderful world of citrus can only sooth it. We like to order our fruit from Fet a Soller from Mallorca. The juice oranges are dreamy! The juice is so delicious and makes you fit at once! I especially adore the avocados! I love avocados and there were only very few occations that I had some that exceptional good than those from Fet a Soller! And the lemons are made for lemon jelly!
There was a time when I ate a bought lemon jelly by Mövenpick which I liked. But there's nothing better to make things you like yourself! I'm not buying any jam at all since years, the production is too easy. And so is lemon jelly!
It's a bit easier when you owe an electric juicer of an attachement for your food processor (or maybe someone of your friends owes an electric juicer which you can borrow for a day?). But if you are addicted to oranges from Fet a Soller you will need an electric juicer, because juicing that much by hand is no fun ;). But for lemon jelly one time a year a simple juicer is enough.
I also like to add some finely grated lemon peel to the jelly, but you can also omit that, if you are not a fan. Please use the same amount of sugar as juice and the adequate amount of pectin! I tried with less, but as lemons are that acid, you couldn't almost eat it.
Soon I will also reveal what you can do with the leftover lemon peels!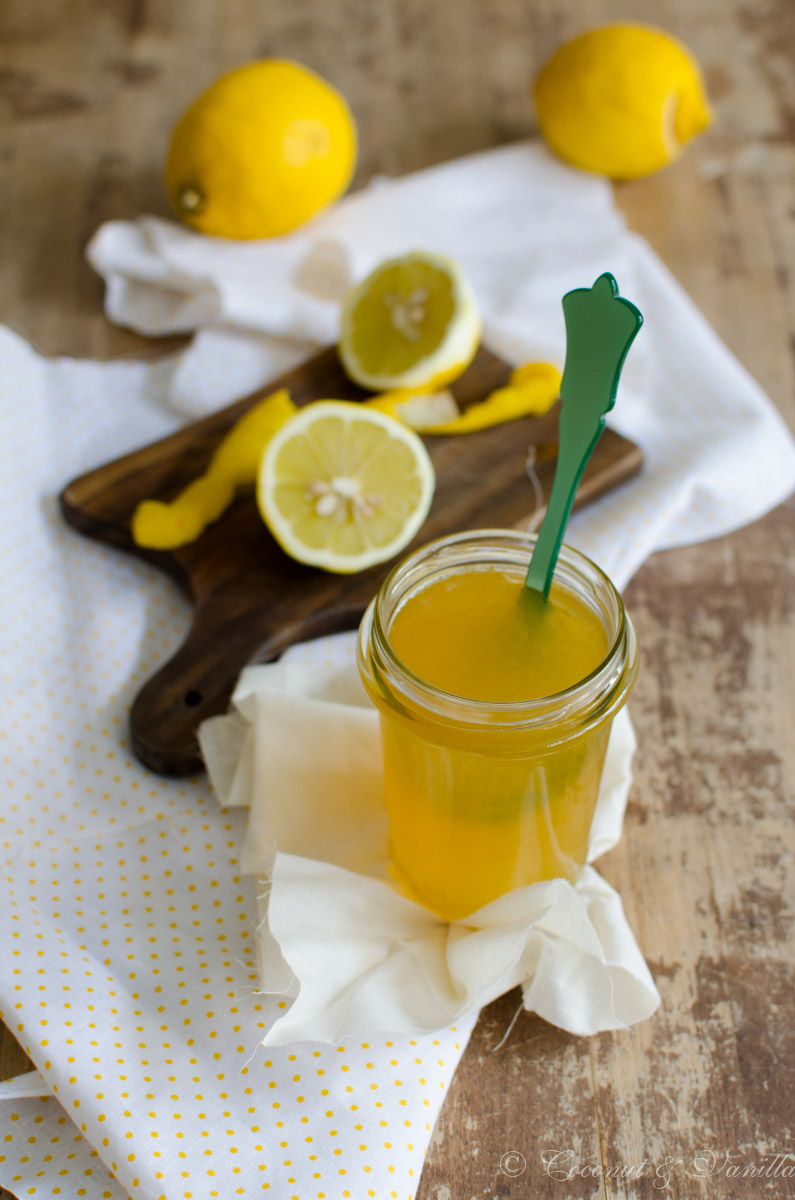 One year ago: wild garlic pesto
Two years ago: watercress soup
Three years ago: donauwellen cupcakes
Four years ago: yeasted meringue coffee cake
Lemon Jelly

yields: 6 small jars
Ingredients:
1 l lemon juice from approximately 3 – 4 kg lemons 
optional: finely grated lemon peel from about 6 lemons
1 kg jelly sugar (means that there's already pectin included), or 1 kg sugar and the adequate amount of pectin, depending what the manufacturer instructions say
Sterilize the jars and lids. Place a small plate in the freezer.
Add lemon juice, peel and sugar (and pectin, if using) into a large pot. Bring to a boil and let it boil for 3 minutes, while stirring. Add a drop of liquid on the frozen plate. If the liquid becomes jelly in a very short time (under 1 minute), it gelatinzes and the jelly is done. If it doesn't gelatinize, cook a bit more and repeat the gelatinization test.
Use a wide funnel and a ladle to fill the jars with jelly and close them tight. Pay attention that the rims are clean! Let the jelly cool completely. A vacuum will build up and the lids will pull inwards. If that doesn't work place those jars into the fridge and use them first. Next time change the lids, probably they are not closing thightly anymore.
There is no need to turn the jars to conceive a vacuum.
The jelly is at least good for one year, in my experience a lot longer.
 This post is not sponsored by fet a soller! I'm just totally convinced by their products, so I can wholeheartly recommend them to you!