Friday, 14th February 2014
Normally I don't like that full chocolate cookies. But this recipe just intrigued me and since then I made these double chocolate chip cookies a lot! So it's really time that I share them with you!
These cookies are just right: crisp from the outside, slightly soft inside. They are full of chocolate, but they are not on the heavy side, although they are doubled in chocolate with cocoa powder (i use the fair and organic) and chocolate chips. I already tried some combinations, but I like pure dark chocolate the most. Whole milk and also the combination of both isn't right for me here. But in the end that's up to you!
The cookies get a special kick by adding 1 teaspoon fleur de sel (and I also think that is what's making them lighter and more digestible). The salt brings balance. I think chocolate and salt are just going perfectly well together (as well as caramel and salt).
This is my to-go-recipe if I'm craving chocolate and cookies. Apart from that this classic always works: chocolate chip cookies (the best!).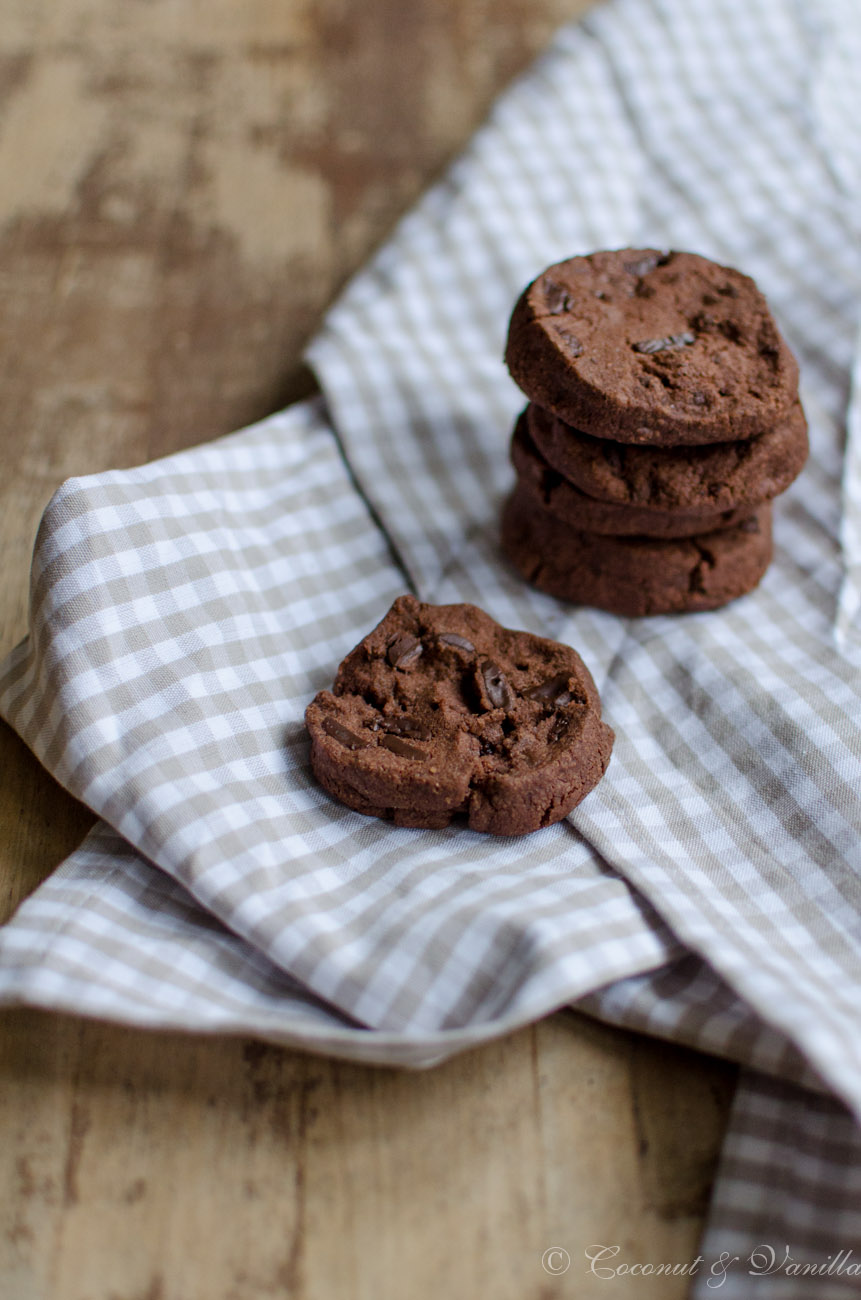 One year ago: red thai curry paste
Two years ago: hazelnut bread
Three years ago: pizza with fennel and onions
Four years ago: puff pastry tart with root vegetables 
Double Chocolate Chip Cookies
adapted from Fool for Food
yields: about 30 cookies
Ingredients:
175 g flour
30 g cocoa powder
5 g baking soda
150 g butter, at room temperature
60 g brown sugar
60 sugar
50 gowdered sugar
1 tsp fleur del sel (or 1/4 tsp fine sea salt)
1 tsp vanilla extract (or seeds of 1 vanilla pod)
150 g dark chocolate (I like using 100 g chocolate chips and 50 g mini chocolate chips, but it also works with a standard bar of chocolate), chopped
Whisk together flour, cocoa and baking soda.
Beat the butter with the sugar, salt and vanilla extract shortly. Then add the chocolate. Beat in the flour mixture until well distributed.
Roll the dough into a log with about 6 cm in diameter and wrap in plastic foil. Refridgerate best over night or at least for 2 hours. 
If you only use one baking sheet preheat the oven to top/bottom heat and 180° C. If you use two sheets preheat the oven with fan and 160° C.
Line the baking sheets with parchement paper and cut the log into 1 – 1,5 cm slices using a sharp knife. Place them on the sheets leaving some space inbetween them.
Bake the cookies for 10 minutes. Then they are perfect for me! Which means they are not dry, but crunchy on the outside, but slightly soft in the middle. 
Let the cookies cool out. They will be too soft when they are hot, but have the right texture when cooled! 
Store in metal tins.