Ich benutze zum Braten und Kochen hauptsächlich Butterschmalz. Schon meine Oma gab mir den guten Rat, nur mit Butterschmalz zu kochen. Und sie hat richtig gut gekocht, sie wusste wovon sie redet! Ich liebe den Geschmack von Butter, ohne dass die Butter anbrennt.
Das Braten mit Butterschmalz finde ich besser als mit Sonnenblumen- oder Olivenöl. Nicht nur vom Handling, sondern auch vom Geschmack! Klar gibt Gerichte da passt das Butterschmalz nicht so gut, dann nehme ich neutrales Sonnenblumenöl oder für mediterrane Gerichte auch mal Olivenöl. Aber für Schnitzel, Bratkartoffeln, Braten und Co gibt es nichts besseres wie Butterschmalz!
Lange Zeit habe ich Butterschmalz gekauft, seit einiger Zeit mache ich es aber regelmäßig selbst, da es kinderleicht ist und man auch günstig Bio-Butterschmalz herstellen kann, was ich genial finde.
Dafür braucht ihr nur etwas Zeit, Geduld und ein feines Mulltuch (alternativ ein sauberes Geschirrtuch, ohne Weichspüler gewaschen!)!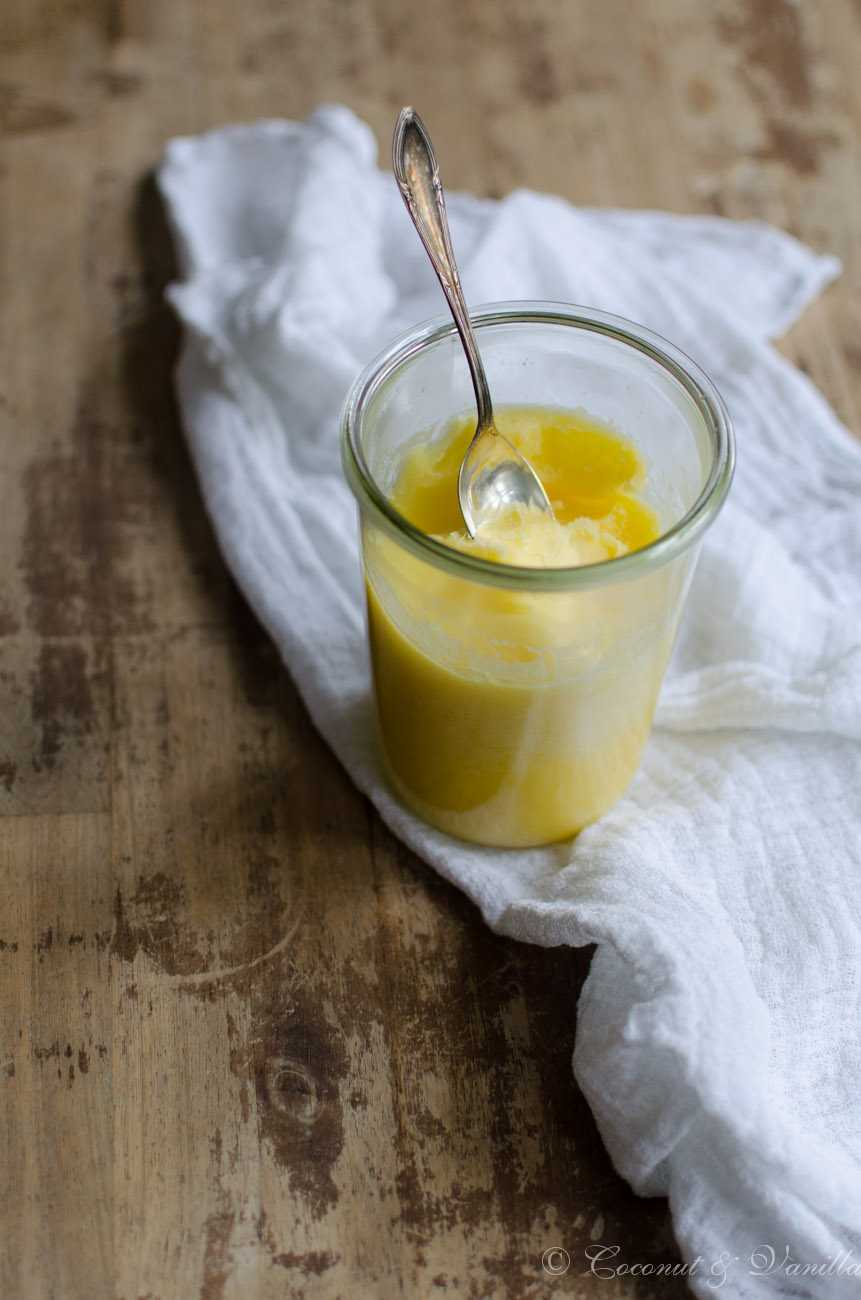 Vor einem Jahr: rote Thai-Currypaste
Vor zwei Jahren: Frischkäsebällchen mit Kräutern und Walnüssen
Vor drei Jahren: Apfelgalette
Vor vier Jahren: Blätterteigtarte mit Wurzelgemüse 
Butterschmalz selbstgemacht
nach Alles hausgemacht und Kleiner Kuriositätenladen
ergibt: etwa 600 g Butterschmalz
Zutaten:
Die Butter in einem weiten Topf bei kleiner Hitze schmelzen lassen. Wenn die Butter geschmolzen ist, die Hitze etwas erhöhen, so dass die Butter leicht köchelt. Es bildet sich Schaum auf der Oberfläche, Wasser verdunstet (es spritzt und zischelt) und das Milcheiweiß setzt sich am Boden ab.
Den Schaum immer wieder abschöpfen und köcheln bis es nicht mehr zischt. Die Butter soll nicht braun werden dabei und idealerweise sollten die sich absetzenden Eiweißpartikel auch nicht bräunen, denn dann ist die Temperatur zu hoch. Aus eigener Erfahrung weiß ich, dass das nicht immer einfach ist bei einem Ceranfeld. Ich finde es nicht schlimm, wenn die sich absetzenden Partikel braun sind, ich filtere sich nachher sowieso ab. Die Butter sollte allerdings nicht braun werden, ansonsten habt ihr aber köstliche Nussbutter gewonnen, die natürlich trotzdem verwendet werden kann, sie hat einfach nur einen anderen Geschmack!
Über ein sauberes Glas ein feines Sieb hängen und mit einem feinen Passiertuch auslegen (alternativ ein sauberes Geschirrtuch) und durchseihen. Das Butterschmalz auskühlen lassen und dann im Kühlschrank fest werden lassen. 
Im verschlossenen Glas (damit das Schmalz keine Fremdgerüche annimmt) hält es sich im Kühlschrank mehrere Monate.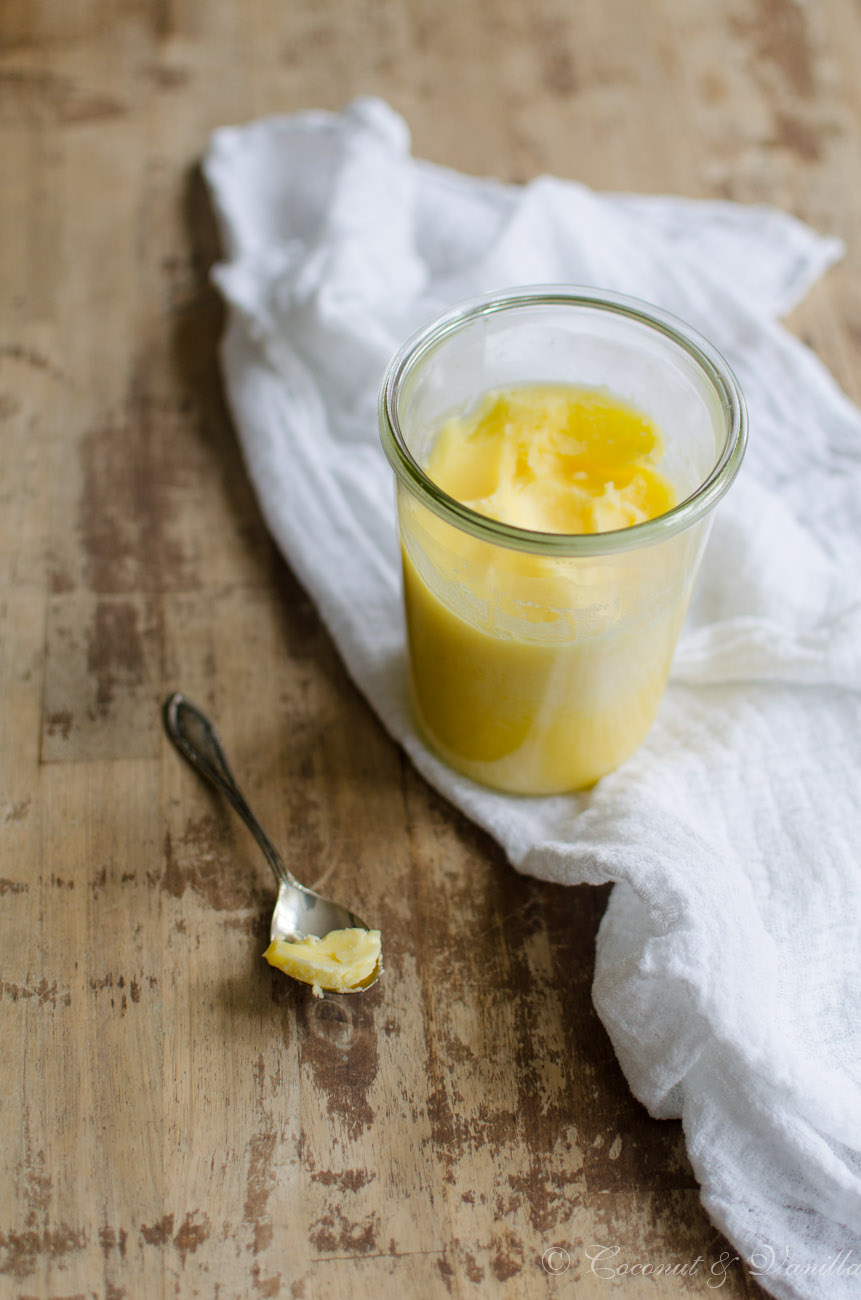 Mostly I use clarified butter for cooking and roasting. My grandmother gave me the good advice to use only clarified butter for cooking. And she cooked really great, she knew what she was talking of! I also love the taste of butter without burning it.
I like cooking with clarified butter much better than with sunflower or olive oil. Not just because I think it's easier to use, but also the great taste! Of course, not every dish works well with clarified butter, then I use sunflower oil or for mediterranean dishes I use olive oil. But there's nothing better for schnitzel, roast potatoes, roasts and so on!
For a long time I bought the clarified butter, but for a year or two I'm making my own regularly. It's so easy and you can make organic clarified butter quite cheap, which is just awesome!
Therefore you only need a bit of time, patience and a fine cheesecloth (otherwise use a clean dish towel, which you didn't wash with fabric softener!)!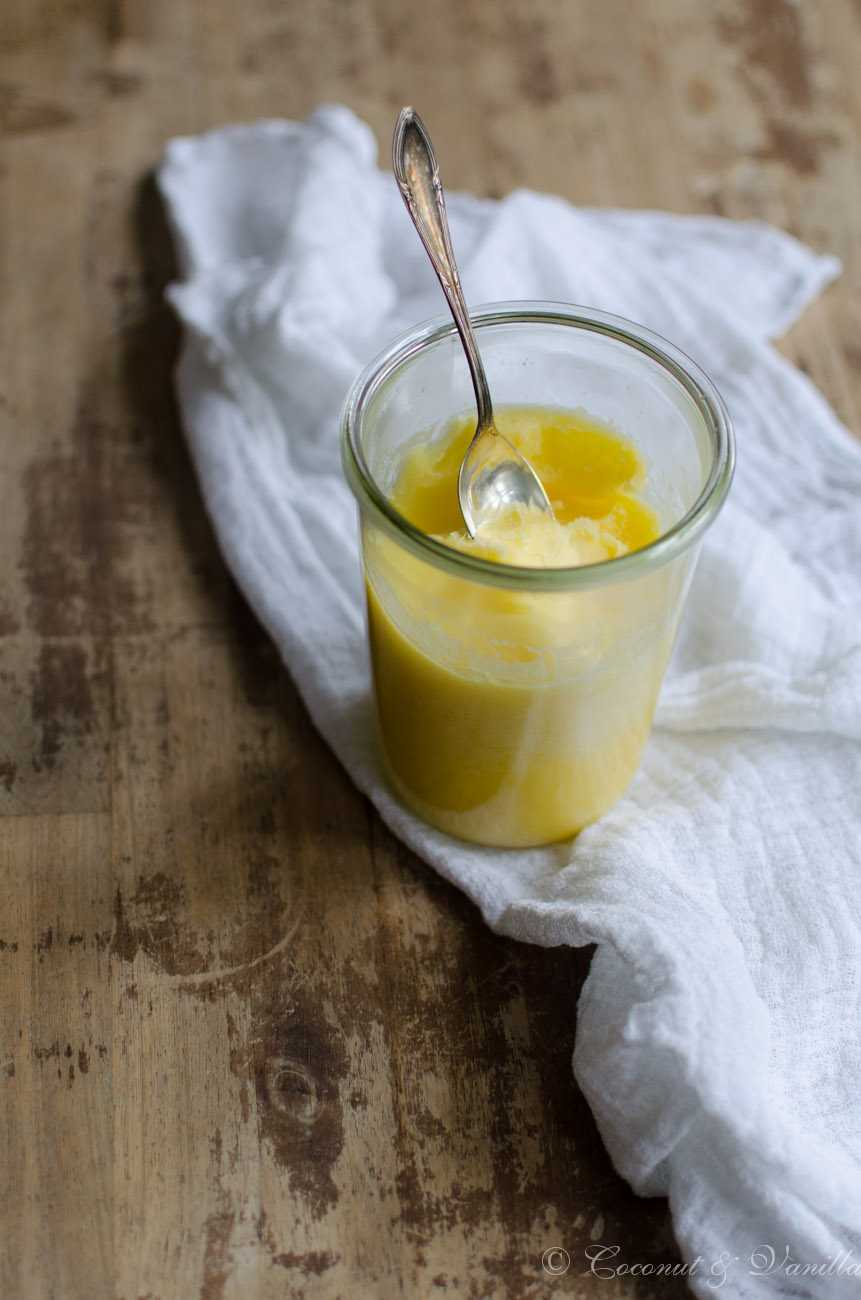 One year ago: red thai curry paste
Two years ago: cream cheese balls with herbs and walnuts
Three years ago: apple galette
Four years ago: puff pastry tart with root vegetables 
Homemade clarified butter
adapted from Alles hausgemacht and Kleiner Kuriositätenladen
yields: about 600 g clarified butter
Ingredients:
Melt the butter in a wide saucepan on small heat. When the butter has melted, turn up the heat a bit so the butter is simmering. Froth will form on the surface, water is evaporating (it's splashing and sizzling) and the milk proteins will set on the bottom.
Remove the froth from time to time with a slotted spoon and simmer until it's not sizzling anymore. The butter shouldn't brown and the milk proteins on the bottom shouldn't brown, too, because then the temperature is set to high! From my personal experience I know that it's not always easy with a ceramic glass stove. I do not bother, if the milk proteins brown a bit, since I'll filter the butter anyway in the end. But the butter shouldn't brown, otherwise you'll end up with some delicious brown butter, which you can of course use, too! It just tastes different.
Place a fine mesh strainer over a clean jar and line it with a fine cheesecloth (or use a clean dish towel which hasn't been washed with fabric softener). Strain the clarified butter and let it cool out. Refridgerate it so it solidifies.
The clarified butter keeps up for a few months in a closed jar (so it doesn't take on foreign odours) in the fridge.