[:de]
In letzter Zeit backe ich gerne Brötchen mit Übernachtgare im Kühlschrank, so dass wir am Wochenende frische Brötchen haben. Die hiesigen Bäckerbrötchen hat man irgendwann einfach über und sind dazu noch relativ teuer, wenn man mal was anderes möchte.
Diese rustikalen Brötchen sind gehaltvoll und trotzdem locker. Mit einem Anteil Roggenmehl sind sie schön herzhaft und wenn sie dann im Ofen aufreißen sehen sie einfach nur schön aus! So wie ein Brötchen eben auszusehen hat.
Ich backe die Brötchen nicht auf dem Pizzastein, sondern auf einem Patisserieblech, das ist ein beschichtetes gelochtes Blech. Aber ein normales Blech geht ganz genauso gut. Dann aber Backpapier verwenden.
Das Rezept habe ich aus dem Brotbackbuch Nr. 1*. Lutz gibt gerne sehr kleine Mengen an und so soll man hier 8 Brötchen formen. Mir sind die zu klein, ich mag nicht so kleine Brötchen. 6 Stück finde ich ideal, wenn ich sie für Sandwiches verwenden möchte forme ich nur 4 Stück. Beim zylindrischen Formen muss man darauf achten, dass sie nicht zu lang werden, sonst werden die Brötchen etwas zu dünn.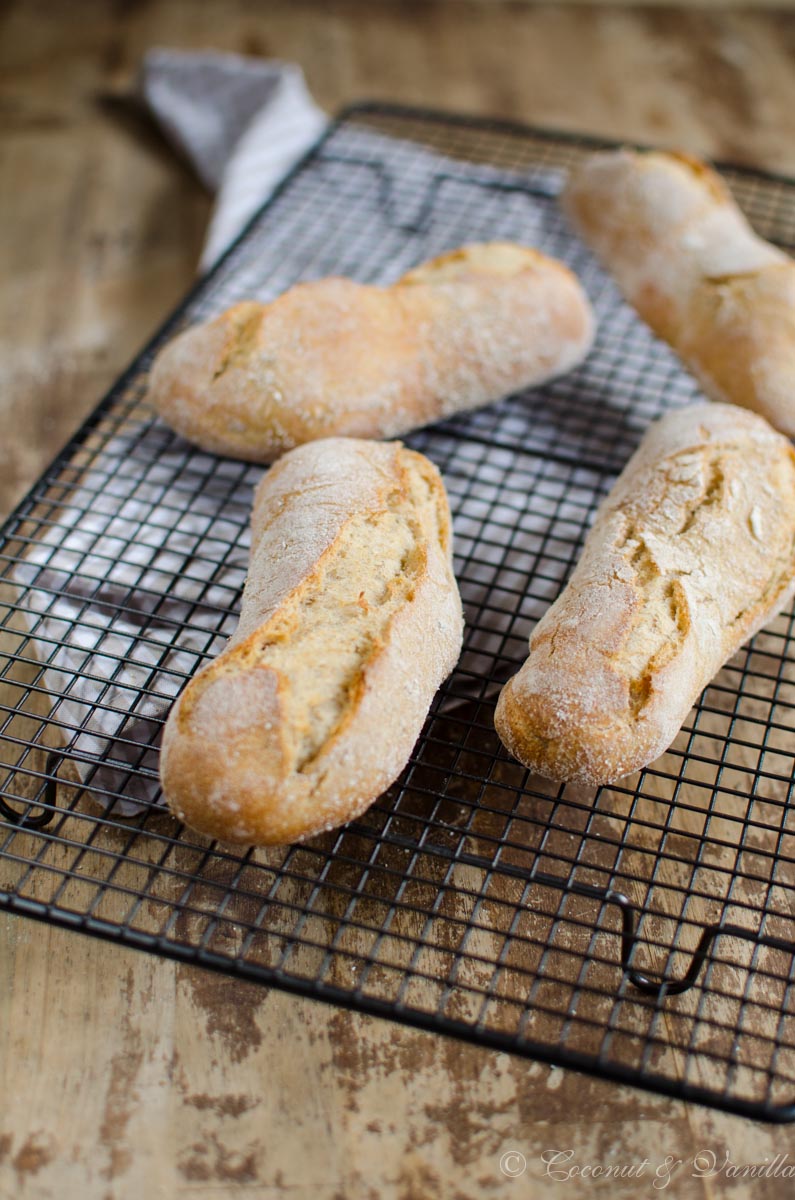 Vor einem Jahr: Ziegenkäseeiscreme mit Erdbeerswirls
Vor zwei Jahren: Mangold-Haselnuss-Pesto
Vor drei Jahren: Eiskaffeeeis
Vor vier Jahren: Heidelbeer-Zitronen-Tarte
Vor fünf Jahren: Meloneneis
Rustikale Brötchen
nach einem Rezept aus Das Brotbackbuch Nr. 1* von Lutz Geißler
ergibt: 6 normale oder 4 große Brötchen
Zutaten:
180 g Weizenmehl Type 550
100 g Hartweizengrieß
110 g Roggenmehl Type 1150
150 g Wasser
150 g Milch
4 g frische Hefe
8 g Salz
8 g Olivenöl
Roggenvollkornmehl zum Wälzen
Alles Zutaten miteinander verkneten. 10 Minuten auf kleinster Stufe und 5 Minuten auf der zweitkleinsten Stufe. Der Teig löst sich fast vollständig von der Schüssel und klebt etwas.
Mit einer Plastikhaube abdecken und 12 Stunden im Kühlschrank gehen lassen (Übernachtgare).
Am nächsten Tag den Teig auf eine bemehlte Fläche geben und in 6 oder 4 Teiglinge teilen (nach Gewicht). Die Teiglinge zu Zylindern aufrollen. Dabei darauf achten, dass die Brötchen nicht zu lang und dünn werden. Schaut euch dazu dieses Video von Lutz an, falls ihr nicht wisst wie es am besten geht.
Die Teiglinge mit Schluss nach unten auf ein Bäckerleinen (oder Backpapier) legen und abgedeckt bei 22° C 45 Minuten stehen lassen.
Tipp: Ich benutze dafür die Gärfunktion meines Dampfbackofens. Diese ist auf 40° C voreingestellt. Da das zu heiß ist (immer!) heize ich kurz vor, stelle den Ofen aus und lasse einen großen Teil des Dampfes und etwas Hitze ab. Dann stelle ich das Blech hinein und lasse die Brötchen gehen. So brauche ich keine Haube, da die Teiglinge nicht austrocknen.
Den Ofen auf 230° C vorheizen. Ich benutze dafür Heißluft.
Die Teiglinge auf ein (Patisserie) Blech mit Backpapier mit dem Schluss nach oben legen.
Das Blech in den Ofen schieben und 2 Eiswürfel auf den Boden werfen um Schwaden zu erzeugen.
Die Ofentür nach 10 Minuten weit öffnen um den Schwaden abzulassen und die Temperatur auf 200° C senken. Weitere 5 Minuten backen, dann die Tür einen Spalt öffnen und weitere 5 Minuten backen (Sollten die Brötchen zu dunkel werden vorher aus dem Ofen nehmen!). Wenn der Ofen einen Türschalter hat, der das Gebläse ausstellt sobald die Tür einen Spalt geöffnet ist, einfach auf Ober-/Unterhitze umschalten.
Die Brötchen dem Ofen entnehmen und vollständig auf einem Gitter auszukühlen lassen.
*Werbung, Affiliatelink (sprich, wenn ihr über diesen Link etwas bei Amazon kauft verdiene ich dabei wieder eine kleine Provision, die ich in den Erhalt des Blogs stecke)

[:en]
Recently I like to bake rolls with a cold overnight proofing in the fridge, so that we have fresh rolls on the weekend. The rolls from the bakery are always the same so we yearned for something else and also baking your own rolls is much cheaper, especially if you like some fancier rolls.
These rustic rolls are substantial, but still fluffy. With a part rye flour they are perfect and when they tear up in the oven they are just beautiful to look at! Like a roll has to look.
I do  not bake the rolls on the pizza stone, but on a patisserie tray, which is non stick and full of holes. But a normal baking tray is also working, of course. But then use baking paper.
The recipe is from Brotbackbuch Nr. 1*.Lutz likes smaller rolls of 8. I don't like small rolls, so in my opinion 6 pieces are perfect, but if I want to use them for sandwiches I make just 4 of them. When rolling them in cylindric shape, make sure you don't roll them too long, otherwise they will be a bit too slim.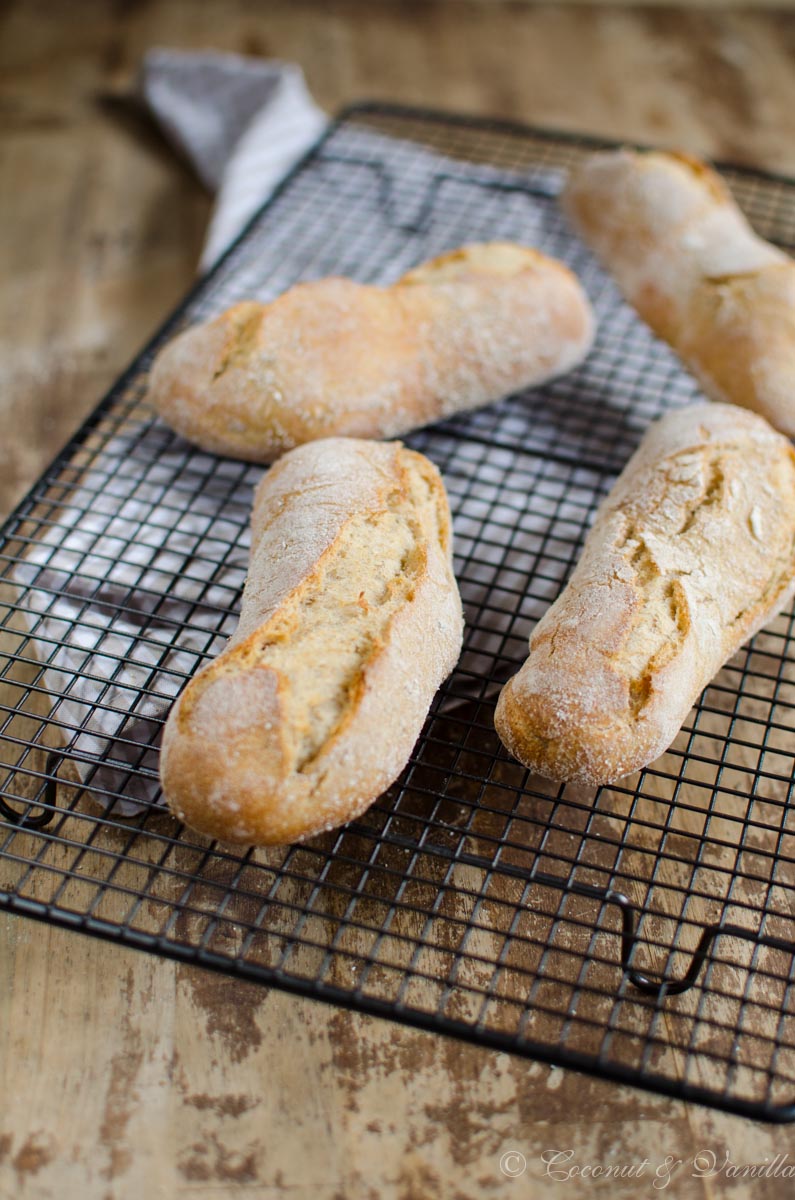 One year ago: goats cheese ice cream with strawberry swirls
Two years ago: swiss chard pesto
Three years ago: iced coffee ice cream
Four years ago: blueberry lemon tart
Five years ago: melon ice cream
Rustic Rolls

adapted from Brotbackbuch Nr. 1* by Lutz Geißler
yields: 6 normal sized rolls or 4 large rolls
Ingredients:
180 g all-purpose wheat flour (type 550)
100 g durum wheat semolina
110 g medium rye flour (type 1150)
150 g water
150 g milk
4 g fresh yeast
8 g salt
8 g olive oil
whole rye flour for tossing
Knead all ingredients in a stand mixer for 10 minutes on lowest level and 5 minutes on the second lowest level. The dough is a bit sticky and almost pulls away completely from the bowl.
Cover with plastic foil and let it rest for 12 hours in the fridge (overnight).
On the next day place the dough on a floured surface and divide the dough into 6 or 4 pieces (weigh it). Roll it into cylindric shapes. Be careful that the rolls won't get too long and thin. Look at this video by Lutz, if you don't know how to do it.
Place the rolls with the seamside down on a bakers linen (or baking paper) and let it rest for 45 minutes at 22° C.
Tip: I like to use the dough proofing function of my steamer, which is 40° C by default. That is (always!) too hot! So I preheat shortly, switch off the oven, open it and let escape most of the steam and the heat. Then I insert the baking tray and let the rolls proof. Therefore I don't need any plastic foil, because the rolls won't dry out.
Preheat the oven to 230° C (I prefer hot air).
Place the rolls seamside up on a (patisserie) tray with baking paper and insert the tray in the oven. Toss two ice cubes on the oven bottom to create steam.
After 10 minutes open the door widely to remove the steam and dial down the temperature to 200° C. Bake for another 5 minutes, then open the door ajar and bake for another 10 minutes. If the rolls are too dark before that, remove them from the oven early!
Take the rolls out of the oven and let them cool completely on a wire rack.
* Amazon affiliate link (If you buy something after clicking on this link on amazon, I earn a small amount of money, which I reinvest in this blog. Thank you!)
[:]