[:de]Es ist wieder Zeit für eines meiner Lieblingsgemüse: dicke Bohnen! Letztes Jahr hatte ich Euch ja bereits eine leckere schnelle Pasta mit dicken Bohnen vorgestellt, heute habe ich eine tolle Tarte mit Feta und den dicken Böhnchen!
Ich habe zwar das Pech keinen Garten mehr zu haben und die Bohnen selbst anzubauen, glücklicherweise gibt es aber einen Bauern auf dem Wochenmarkt der diese Rarität frisch verkauft. Ich benutze hier auf keinen Fall getrocknete dicke Bohnen!
Dicke Bohnen machen etwas mehr Arbeit als andere Bohnen, da man sie erst palen, kochen und dann nochmals von der hellgrünen Hülle befreien muss. Aber das ist der cremige, buttrige Geschmack der Bohnenkerne allemal wert!
In dieser Tarte machen sie sich mit dem Feta besonders gut. Ein herrliches leichtes vegetarisches Sommergericht!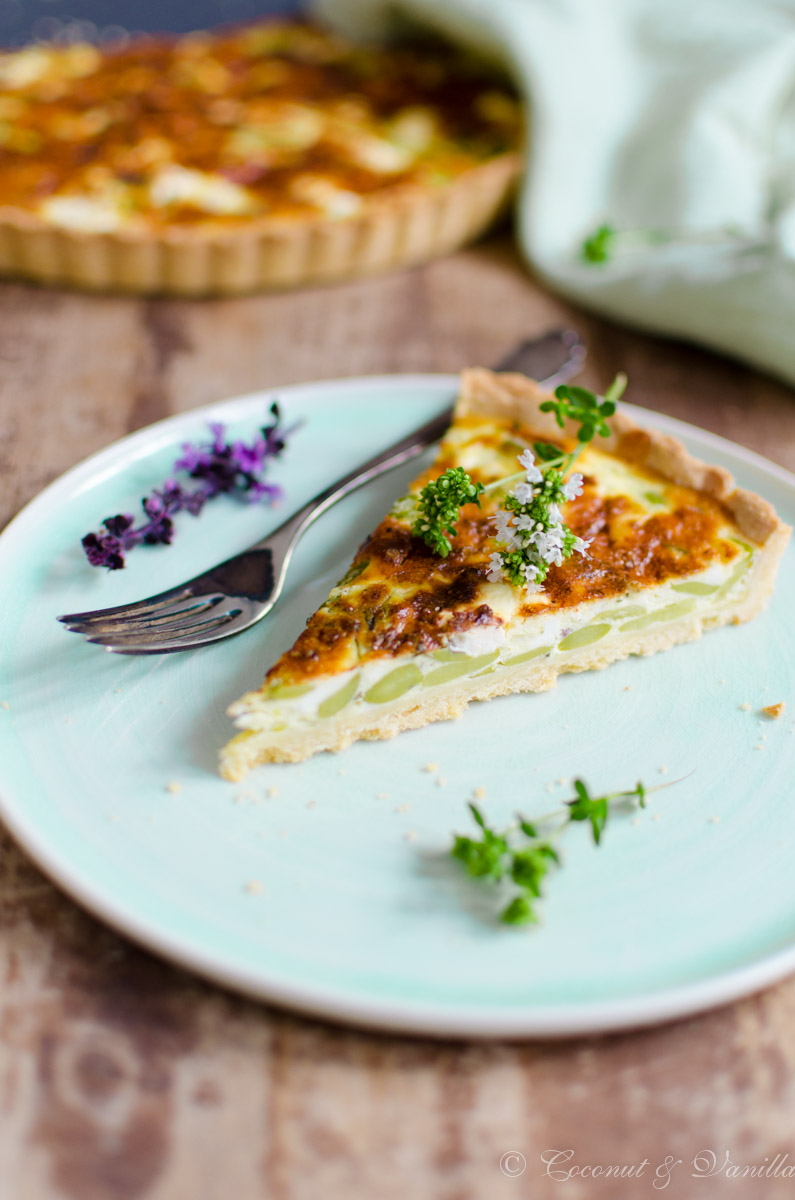 Vor einem Jahr: Ziegenkäseeiscreme mit Erdbeer-Swirls
Vor zwei Jahren: Honig-Erdnuss-Eiscreme mit dunklen Schokostückchen
Vor drei Jahren: Milchreis mit Erdbeer-Limetten-Zitronengras-Kompott
Vor fünf Jahren: Erdbeer-Melonen-Süppchen
Dicke Bohnen und Feta Tarte
ergibt: eine Tarte mit 28 cm Durchmesser (ich bevorzuge die Tarteformen mit emailliertem herausnehmbarem Boden*, auf dem man auch schneiden kann)
Zutaten:
250 g Weizenmehl Type 405
125 g Butter
Meersalz
1 Ei
350 g dicke Bohnen, gepalt und geschält (von etwa 2 kg Bohnenschoten)
1 Zwiebel, fein gewürfelt
2 Knoblauchzehen, fein gehackt
2 Eier
200 g Crème fraîche
1 Schluck Bio-Sahne
20 Blätter Minze, zerrupft
100 g Feta aus Schafs-/Ziegenmilch
schwarzer Pfeffer, frisch gemahlen
Wenn die Butter noch sehr kalt ist, kann man sie am besten auf einer groben Reibe reiben, so kann man sie sofort weiterverarbeiten. Butter mit Raumtemperatur klein würfeln.
Die Butter mit dem Mehl und einer großen Prise Salz in der Küchenmaschine verarbeiten bis die Butter sich in kleinen Flocken verteilt hat. Das Ei zugeben und rühren bis sich ein glatter Teig bildet.
Den Teig etwas größer als eine 28 cm Tarteform ausrollen und die Tarteform damit auslegen. Die Ränder abknipsen. Den Boden mehrmals mit einer Gabel einstechen. Den Boden im Kühlschrank 30 Minuten ruhen lassen. Teigreste aufbewahren, falls der Teig beim Backen Risse bekommt.
In der Zwischenzeit die Bohnen palen.
Wasser in einem Topf zum Kochen bringen, salzen und die Bohnenkerne 7 Minuten kochen. Abgießen und abschrecken. Die Bohnenkerne aus der Hülle holen. Die entsprechende Menge Bohnen abwiegen (auf ein bisschen mehr oder weniger kommt es hier nicht an).
Den Tarteboden mit Backpapier und Gewichten bei 180° C Heißluft für 25 Minuten blindbacken. Dann die Gewichte und das Papier entfernen und weitere 10 Minuten backen.
Wenn der Tarteboden irgendwo gebrochen ist kann man ihn nun mit den Teigresten reparieren.
Die Zwiebel in einer kleinen Pfanne (oder dem Topf der dicken Bohnen) in etwas Butterschmalz bei mittlerer Hitze andünsten bis sie weich sind. Dann den Knoblauch zugeben und 1 Minuten mitdünsten.
Die Eier mit der Crème fraîche und einem Schluck Sahne verquirlen.
Die Zwiebeln auf dem Tarteboden verteilen, dann die dicken Bohnen und die Minze. Den Feta auf den dicken Boden zerkrümeln. Mit Salz und Pfeffer würzen. Die Eiermischung auf der Tarte verteilen.
Bei 150° C Heißluft 40 – 50 Minuten backen bis die Oberfläche leicht gebräunt ist.
Die Tarte sofort servieren.
*Werbung, Affiliatelink (sprich, wenn ihr über diesen Link etwas bei Amazon kauft verdiene ich dabei wieder eine kleine Provision, die ich in den Erhalt des Blogs stecke)
[:en]It's again time for one of my favourite vegetables: fava beans! Last year I already introduced you to fava beans with a quick pasta dish, today I have a wonderful tart with feta and the favas!
Unfortunately I don't have a garden anymore and so I cannot grow the beans myself, but luckily there's a farmer on the market who sells this rarety. I do not use dried beans here!
Fava beans make more work than others beans, because you need to shuck them first, cook them and then shell them again. But the creamy buttery taste is totally worth it!
In this tart they are a perfect pair with the salty creamy feta. A light and delicious summer dish!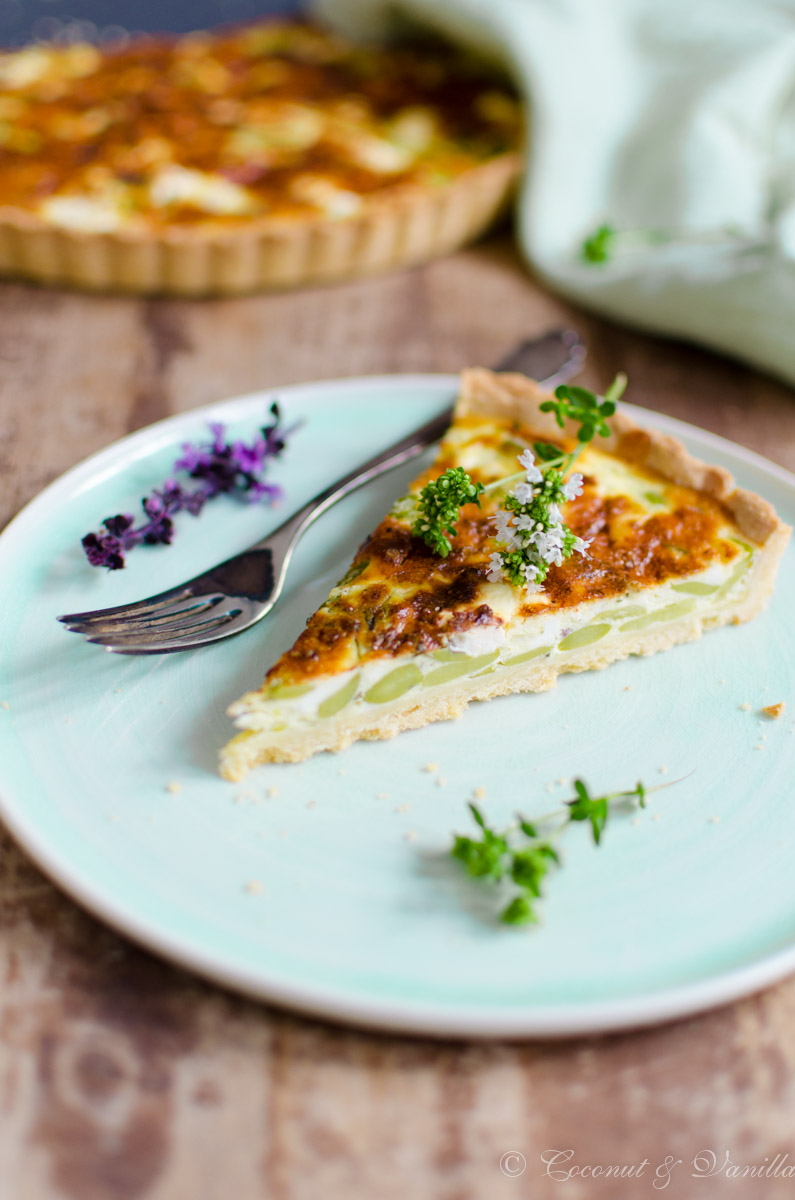 On year ago: goats cheese ice cream with strawberry swirls
Two years ago: honeyed peanut ice cream with dark chocolate chips
Three years ago: rice pudding with strawberries stewed in lemongrass and lime
Five years ago: strawberry melon soup
Fava Beans and Feta Tart
yields: one 28 cm tart (I prefer the tart pans with a removable bottom, which is enamelled)
Ingredients:
250 g plain wheat flour (type 405)
125 g butter
sea salt
1 egg
350 g fava beans, shelled (from about 2 kg beans)
1 onion, finely chopped
2 garlic cloves, finely chopped
2 eggs
200 g crème fraîche
1 slug of organic cream
20 leaves mint, torn
100 g feta from sheeps or goats milk
black pepper, freshly ground
If the butter is quite cold, it's most convenient to grate it coarsely. The grated butter can be used in an instant. Cube butter at room temperature.
Use a stand mixer to work the butter into the flour and salt. Add the egg and knead into a smooth dough.
Roll out the dough a bit larger than a 28 cm tart pan and line the pan with the dough. Cut off the rim and prick the dough several times with a fork. Let the dough rest for 30 minutes in the fridge. Keep leftover dough to patch holes after baking.
In the meantime shuck the beans.
Bring a pot of water to boil, salt it and cook the beans for 7 minutes. Drain and rinse with cold water. Shell the beans. Weigh the needed amount of beans (a bit more or less isn't important here).
Line the tart bottom with baking paper and fill it with weights. Bake for 25 minutes at 180° C. Remove the weights and the paper and bake for another 10 minutes.
If the tart shell is broken anywhere you can now patch it with the leftover dough.
Sauté the onions in a small pan (or the pot you used for the beans) in a bit of clarified butter at medium heat until they are soft. Add the garlic and sauté for another minute.
Whisk the eggs with the crème fraîche and a slug of cream.
Sprinkle the tart bottom with the onions, the beans and the mint. Crumble the feta on top. Season with salt and pepper. Pour the egg mixture evenly on top.
Bake the tart for 40 – 50 minutes at 150° C until the top is lightly browned.
Serve right away!
[:]