[:de]
Ylva von Der Klang von Zuckerwatte verrät Euch heute nicht nur ein Rezept für dieses wunderschöne (und sicherlich auch köstliche) Kartoffelbrot, sondern auch wie ihr euren eigenen Sauerteigstarter selbst ziehen könnt! Genial, oder?
Mit Ylva verbindet mich nicht nur die Liebe zum Essen, sondern auch die Liebe zu (Fantasy) Büchern und Computer- und Konsolenspielen. Wir haben uns schon Care Pakete geschickt und sie hat mich letztes Jahr in Reutlingen beim Foodbloggercamp (ihr sehr schon, dass ist voll mit tollen Leuten!) bei sich zu Hause aufgenommen, als ich noch ein Last Minute Ticket bekommen habe! Ihr liebevollen und tiefgründigen Texte auf ihrem Blog lese ich genauso gerne wie ihre vielen interessanten japanischen Rezepte! Liebsten Dank, dass du heute bei mir zu Gast bist, Ylva!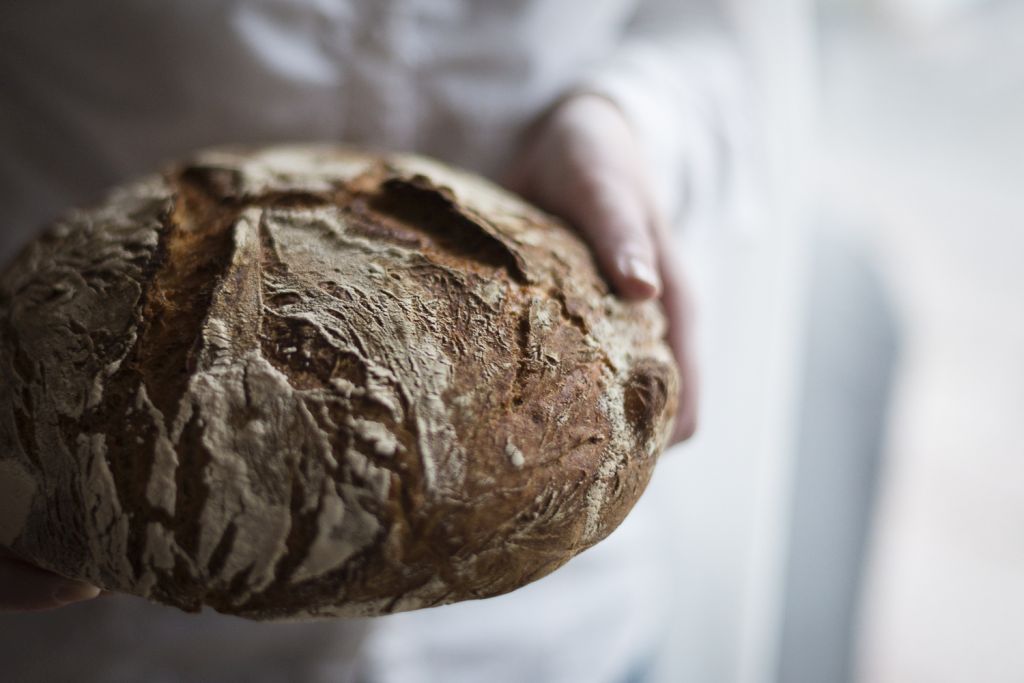 Es gibt nur wenige Dinge, die so essenziell sind, wie ein Laib gutes Brot. Mein letztes, selbst gebackenes Brot aus eigenem Sauerteig ist schon viel zu lange her. Das Schicksal, oder was auch immer, kam mir immer wieder in die Quere und vernichtete nach und nach meine liebevollst aufgezogenen Sauerteige im Kühlschrank und somit war vor kurzem klar: Ein neuer Sauerteig musste her. Und somit Zeit. Doch die Sache mit der Zeit ist tatsächlich manchmal etwas seltsam, nicht wahr?
Dennoch. Selbst gebackenes Brot ist eine Freude, die man nur schwer beschreiben kann und somit war eines schönen Wintertages endlich mein neues Anstellgut fertig und bereit für neues Brot. Sein Name ist Eren… schauen wir, was aus ihm wird und hoffen, dass er uns lange erhalten bleibt.
Das Brot, welches wir heute für Lena backen, ist ein mildes mit einem hohen Weizenanteil und der Zugabe von gekochten Kartoffeln, die das Brot herrlich saftig machen und ihm damit eine (theoretisch) lange Lebenszeit geben. Die Kruste ist nicht zu dick und nicht zu dünn und die Krume wunderbar weich, fluffig und feinporig.
Ein perfekter Begleiter für Käse und eine gute, zünftige Brotzeit.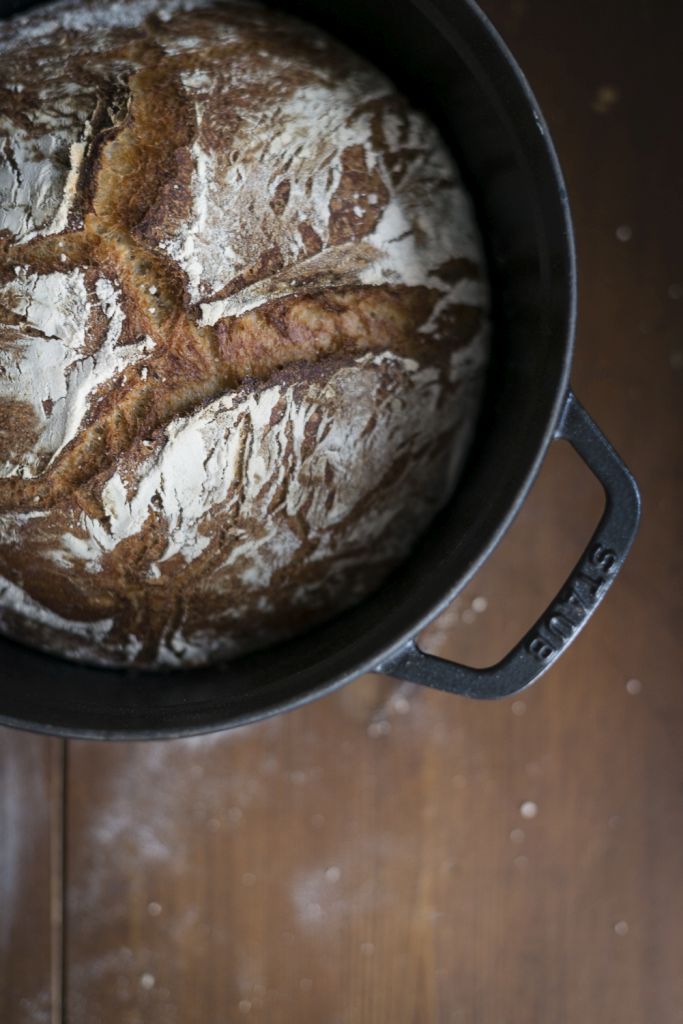 Kartoffelbrot aus dem Topf
Zutaten für 1 Laib
Für den Sauerteig:
10 g Anstellgut vom Sauerteig*
100 ml Wasser
100 g Roggenmehl
Für den Hauptteig:
2 faustgroße Pellkartoffeln vom Vortag, komplett ausgekühlt (ca. 200-250 g ohne Schale)
400 g Weizenmehl 1050
100 g Dinkelmehl 630
8 g Frischhefe
275 ml Wasser
1 EL Backmalz oder flüssigen Honig
14 g Salz
Die Zutaten für den Sauerteig mischen und für 20-24 Stunden abgedeckt bei Raumtemperatur reifen lassen.
Am nächsten Tag die Kartoffeln pellen und gründlich zerdrücken. Mit dem übrigen Mehl, dem Wasser, der Hefe und dem Malz zum Sauerteig in die Schüssel geben und unter der Küchenmaschine 5 Minuten lang kneten. Dann das Salz hinzu geben und eitere 5 Minuten kneten lassen. Wem der Teig zu flüssig erscheint kann mit dem Salz noch einen großzügigen EL Mehl in die Schüssel geben, der Teig ist aber sehr weich und wird beim Backen im Topf ohnehin gestützt.
90 Minuten in der abgedeckten Schüssel ruhen lassen, dabei jeweils nach 30 Minuten einmal rings zur Mitte hin kneten bzw. falten. Damit man es später beim Umfüllen einfacher hat den Teig nun kurz aus der Schüssel holen und rings herum kräftig mit Mehl einstauben. Zurück in die Schüssel legen. Abgedeckt weitere 60-90 Minuten ruhen lassen.
30 Minuten vor Ende der letzten Ruhepause einen gusseisernen Topf samt Deckel in den Ofen stellen und diesen auf 250°C Ober- und Unterhitze vorheizen. Den Teig in den heißen Topf geben (diesen vorher eventuell etwas mit Mehl einstauben), den Deckel auflegen und 30 Minuten bei 250°C backen. Danach den Ofen auf 200°C herunter schalten und das Brot weitere 30 Minuten backen. Für eine schönere Kruste den Deckel 15 Minuten vor Ende der Backzeit abnehmen. Das Brot aus dem Topf stürzen und auf einem Kuchengitter auskühlen lassen.
Zeitstrahl zur Planung des Backtages
Tag 1, abends: 1 Tag vor dem Backtag
Den Sauerteig ansetzen und abgedeckt ruhen lassen.
Tag 2, nachmittags bis abends: Backtag!
Den Hauptteig kneten, verarbeiten und backen.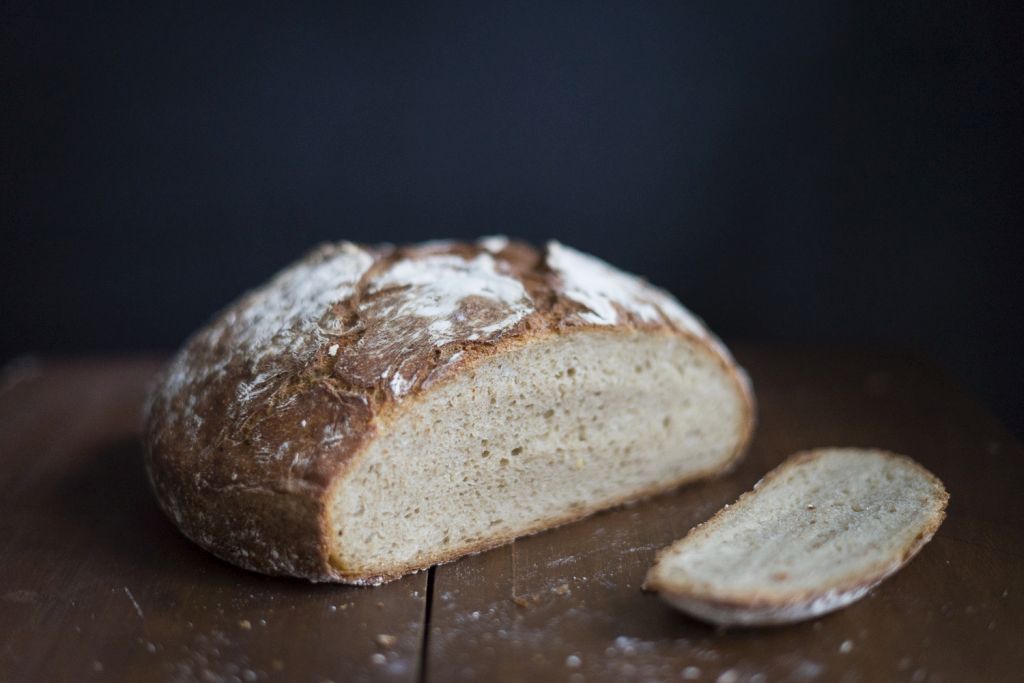 *Um selbst eigenes Anstellgut zuzubereiten benötigt man nur Wasser, Roggenmehl und ein paar Tage hintereinander, an denen man zu ungefähr der gleichen Tageszeit am gleichen Ort ist. Zudem noch ein luftdicht verschließbares Glas und einen Platz im Kühlschrank, in dem dieses Glas von nun an wohnen darf. Eventuell auch noch einen Namen, aber ohne geht's natürlich auch.
Tag 1: 10 g Roggenmehl mit 20 ml Wasser verrühren, luftdicht abdecken, für 1 Tag ruhen lassen.
Tag 2: 10 g Roggenmehl mit 20 ml Wasser hinzugeben, luftdicht abdecken, für 1 Tag ruhen lassen.
Tag 3: 10 g Roggenmehl mit 20 ml Wasser hinzugeben, luftdicht abdecken, für 1 Tag ruhen lassen.
Tag 4: 10 g Roggenmehl mit 20 ml Wasser hinzugeben, luftdicht abdecken, für 1 Tag ruhen lassen.
Tag 5: 10 g Roggenmehl hinzugeben, luftdicht abdecken, für 1 Tag ruhen lassen.
Tag 6: Herzlichen Glückwunsch: Das neue Anstellgut ist fertig! Das verschlossene Glas in den Kühlschrank stellen und das Anstellgut zum Backen verwenden. Zum Beispiel wie im folgenden Rezept.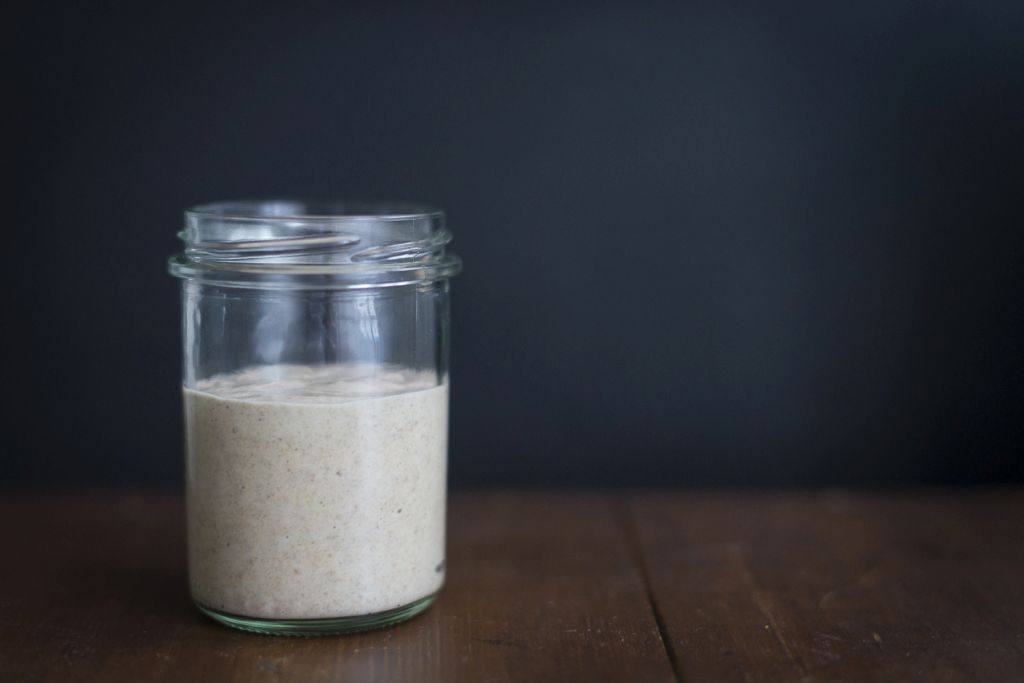 [:en]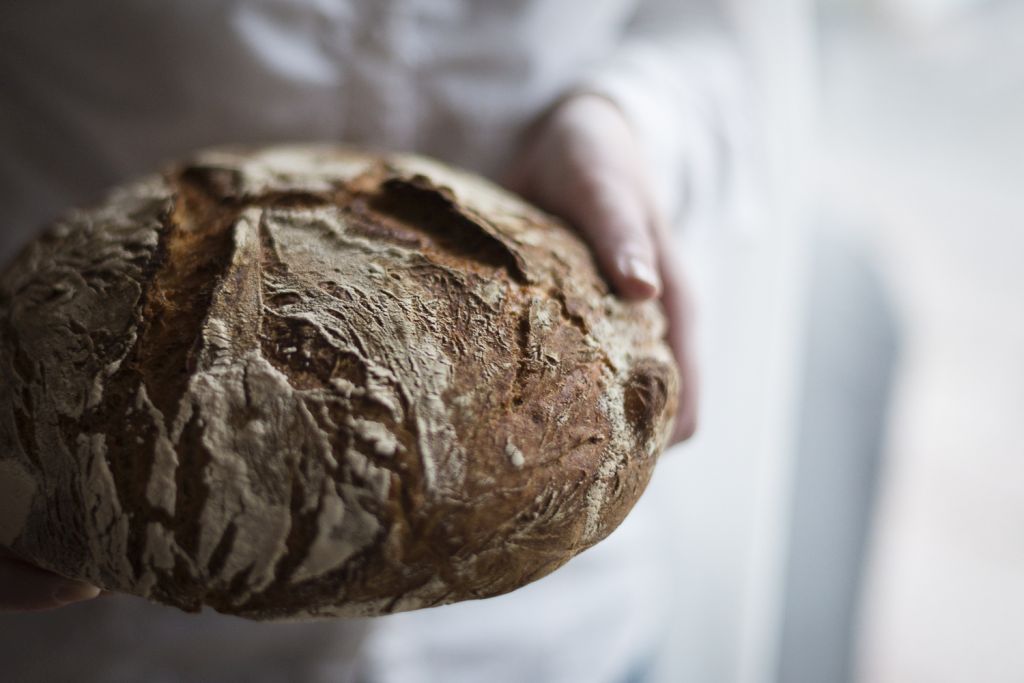 There are only a few things that are as essential as a loaf of bread. For me the last home baked bread, made with my own sourdough, is already too long ago. Fate seemed to be against me, killing first not only my first rye sourdough, but also its successors, and soon after that the wheat starter followed as well. So yes. I needed fresh dough. Because self-made bread is a delight that can hardly be explained.
And so one beautiful day my new sourdough starter was finished, and ready to be to a good use. His name is Eren… let's see how this one will turn out. My fingers are crossed!
The bread that we are baking for Lena today is a mild one with mainly wheat. The adding of potatoes gives the bread a wonderful juiciness that helps making it stay fresh longer. The crust is not too thick and not to thin and the crumb is amazingly soft and fine pored. A perfect companion for cheese and a new favourite.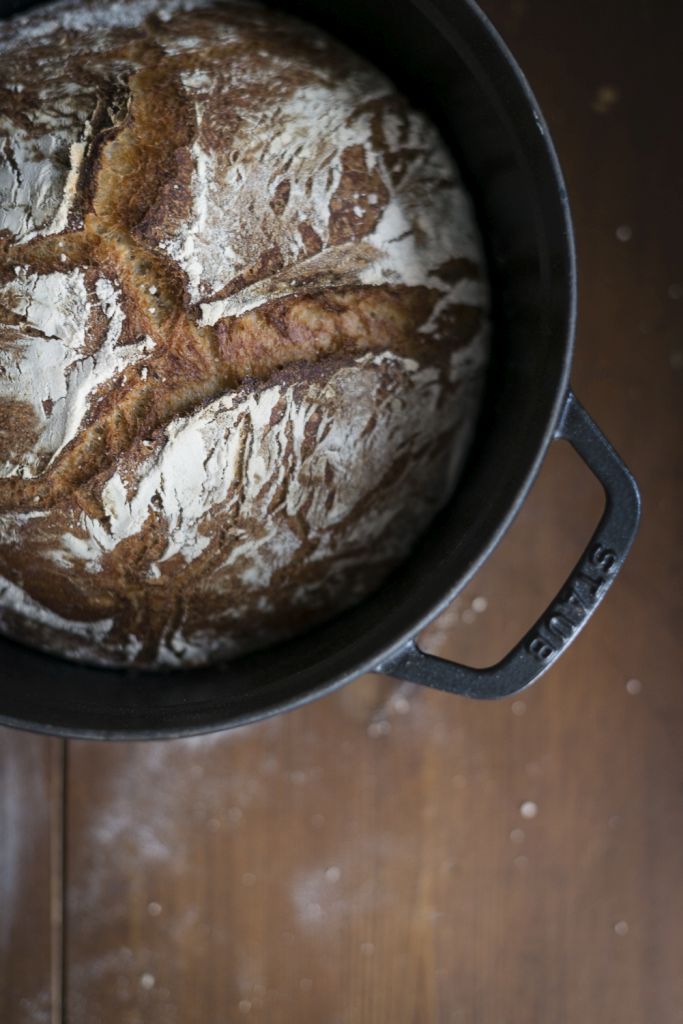 Sourdough bread with potatoes, baked in a pot
Ingredients for 1 loaf
For the sourdough:
10 g sourdough starter*
100 ml water
100 g rye flour
For the main dough:
2 fist-sized potatoes, cooked on the previous day and completely cooled (about 200-250 g without skin)
400 g wheat flour 1050
100 g spelt flour 630
8 g fresh yeast
275 ml water
1 tbsp honey
14 g salt
Mix the ingredients for the sourdough in a bowl, cover it with a lid or cling foil and let it rest for 20-24 hours at room temperature.
On the next day peel the potatoes and mash them thoroughly. Add the remaining flour, the water, the yeast and the honey and mix it with the kitchen machine for 5 minutes on the lowest setting. Add the salt and mix another 5 minutes. The dough is very soft and will be steadied by the pot during baking anyway. But if it seems to be too runny add 1-2 tablespoons of additional flour with the salt.
Cover the bowl again and let the dough rest for 90 minutes, whilst folding or rather kneading it once to the middle of the bowl after 30, 60 and again 90 minutes. Now get the dough out of the bowl and roll it around in 1-2 additional tablespoons of wheat flour so it it covered generously and put the flour dusted dough back into the bowl. Cover it again and let it rest for 60 to 90 minutes once more.
30 minutes before the resting time is up put an iron cast pot including the lid into the oven and preheat it to 250°C.
Get the pot (caution: very hot!) out of the oven and cautiously let the dough drop into it. Cover the pot again with the lid and bake the bread for 30 minutes at 250°C. After that time switch down the temperature to 200°C and bake the bread for another 30 minutes. For a nicer crust remove the lid during the last 15 minutes of baking. Turn the bread out of the pot and let it cool down on a cooling rack.
Time bar
Day 1, evening: 1 day before baking
Preparing the sourdough and letting it rest for 1 day.
Day 2, afternoon and evening: baking day!
Making the main dough and baking.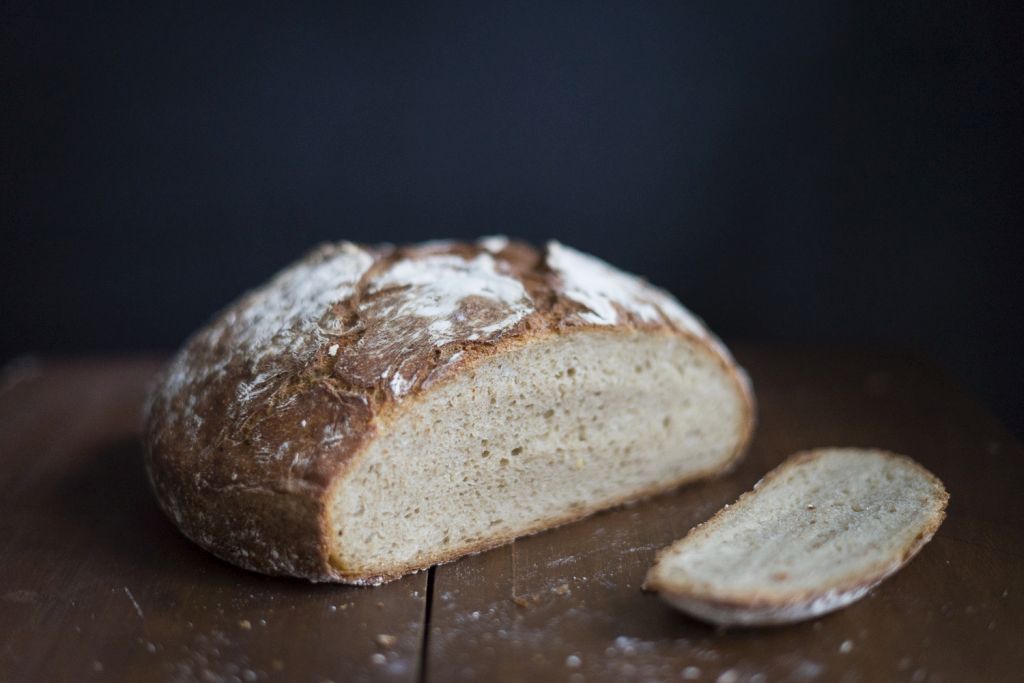 *Making your own sourdough starter
To make yourself your own sourdough starter you only need water, rye flour and a few days in a row in which you will be at the same place at the same time of the day. And an airtight jar, alongside a small place in your fridge for that exact jar. Maybe even a name for your new baby, but that is not too necessary.
Day 1: Mix 10 g rye flour with 20 ml water, cover it airtight and let it rest for roughly 1 day.
Day 2: Add 10 g rye flour and 20 ml water, mix it, cover it airtight and let it rest for roughly 1 day.
Day 3: Add 10 g rye flour and 20 ml water, mix it, cover it airtight and let it rest for roughly 1 day.
Day 4: Add 10 g rye flour and 20 ml water, mix it, cover it airtight and let it rest for roughly 1 day.
Day 5: Add 10 g rye flour, cover it airtight and let it rest for roughly 1 day.
Day 6: Congratulations! You just made your first sourdough starter! Put it into the fridge and use it for baking. For example as followed.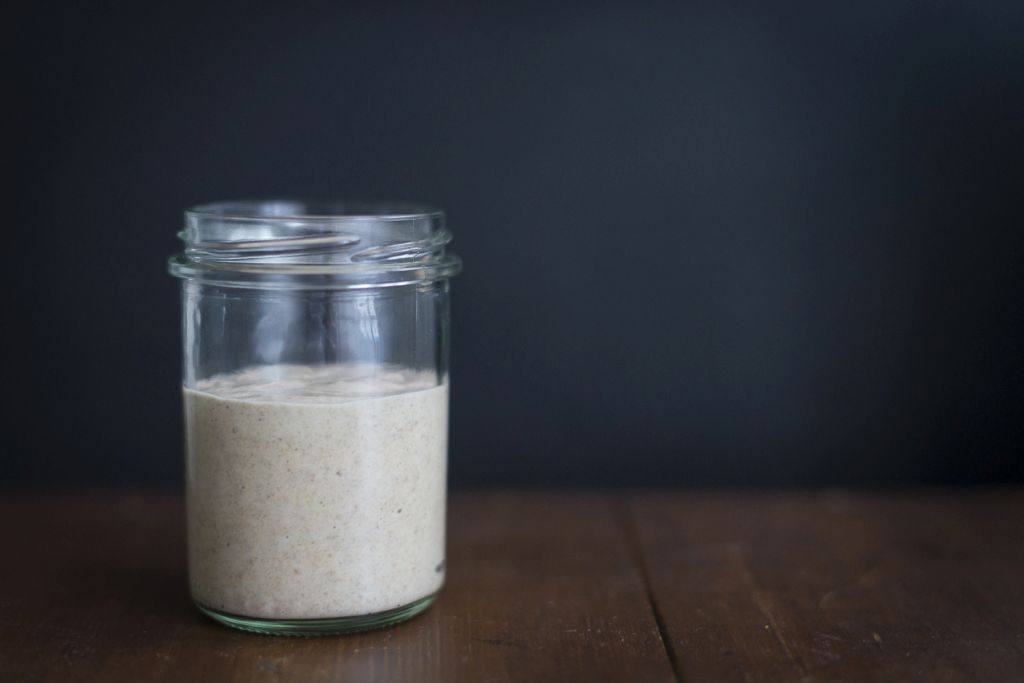 [:]