Endlich ist wieder Rhabarberzeit! Und nachdem ich als erstes wieder meinen heißgeliebten Rhabarbercrumble mit dem ersten Rhabarber gemacht habe, wollte ich doch mal wieder was neues ausprobieren. Aber so einfach ist das gar nicht! Irgendwie war alles schon mal da oder am Ende sind die Rezepte sich alle irgendwie ähnlich und ich hatte doch auch schon Tarte, Kuchen und Muffins auf dem Blog. Da kam mir der Link der Saveur zu ihren besten Rhabarberrezepten gerade recht.
Ein Rhabarberkuchen Upside Down, also unten nach oben? Ich dachte erst an Tarte Tatin, am Ende war es aber tatsächlich eher ein Kuchen. Obwohl ich etwas ganz anderes erwartet hatte, hat mich der umgedrehte Kuchen gleich überzeugt. Nicht nur, dass er hässlich schön ist, nein er ist einfach lecker! Hier überzeugt die Einfachheit im Geschmack. Kein Firlefanz benötigt dieser Kuchen um zu glänzen!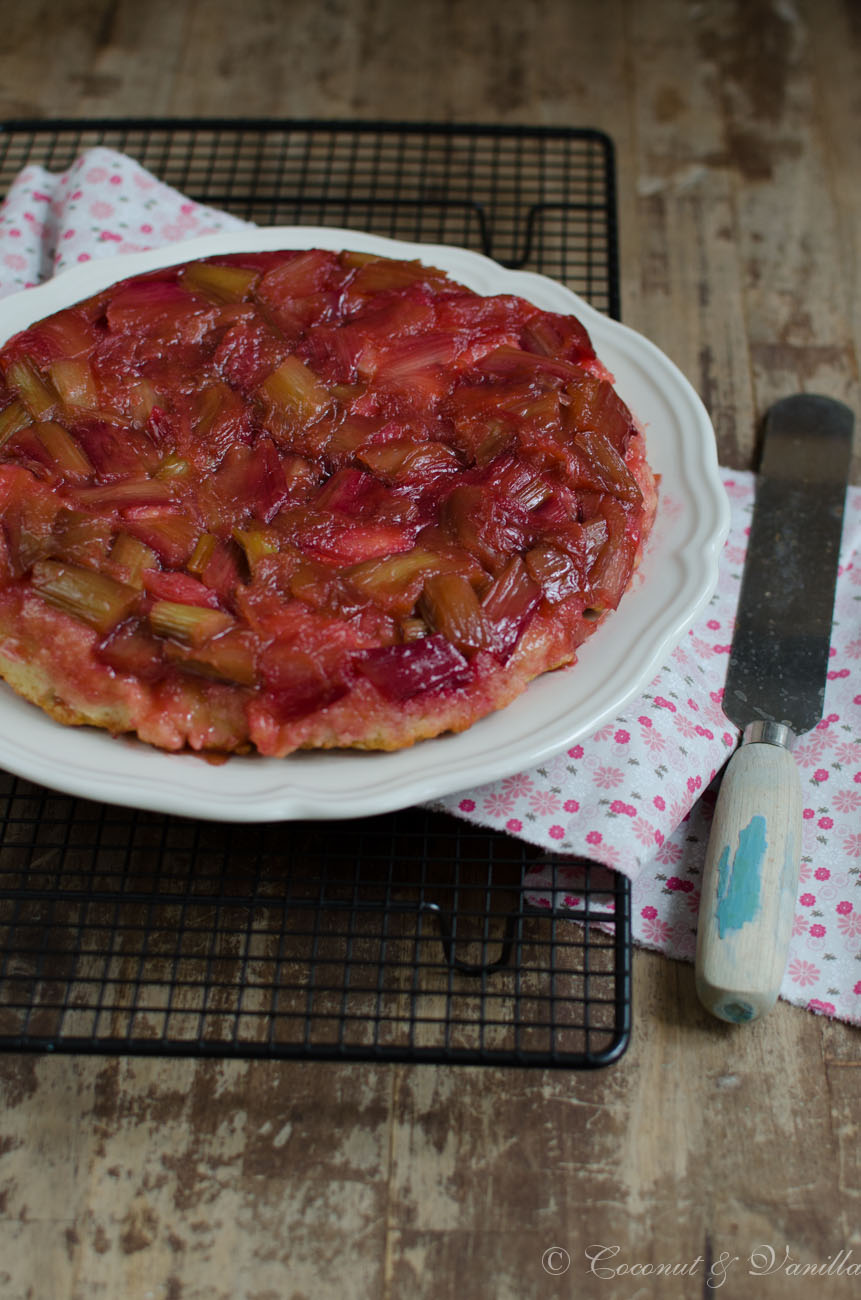 Aber der Tarte Tatin Gedanke mit Rhabarber hat sich in meinem Gedächtnis festgehaftet! Da geht doch noch was dieses Jahr! 
Bisher war ich kein großer Tarte Tatin Fan. Nie klappte das gescheit mit dem Karamell oder dem Teig oder dem Stürzen oder allem zusammen. Aber hey, alle paar Jahre mache ich immer wieder einen Versuch und warum nicht dieses Jahr?!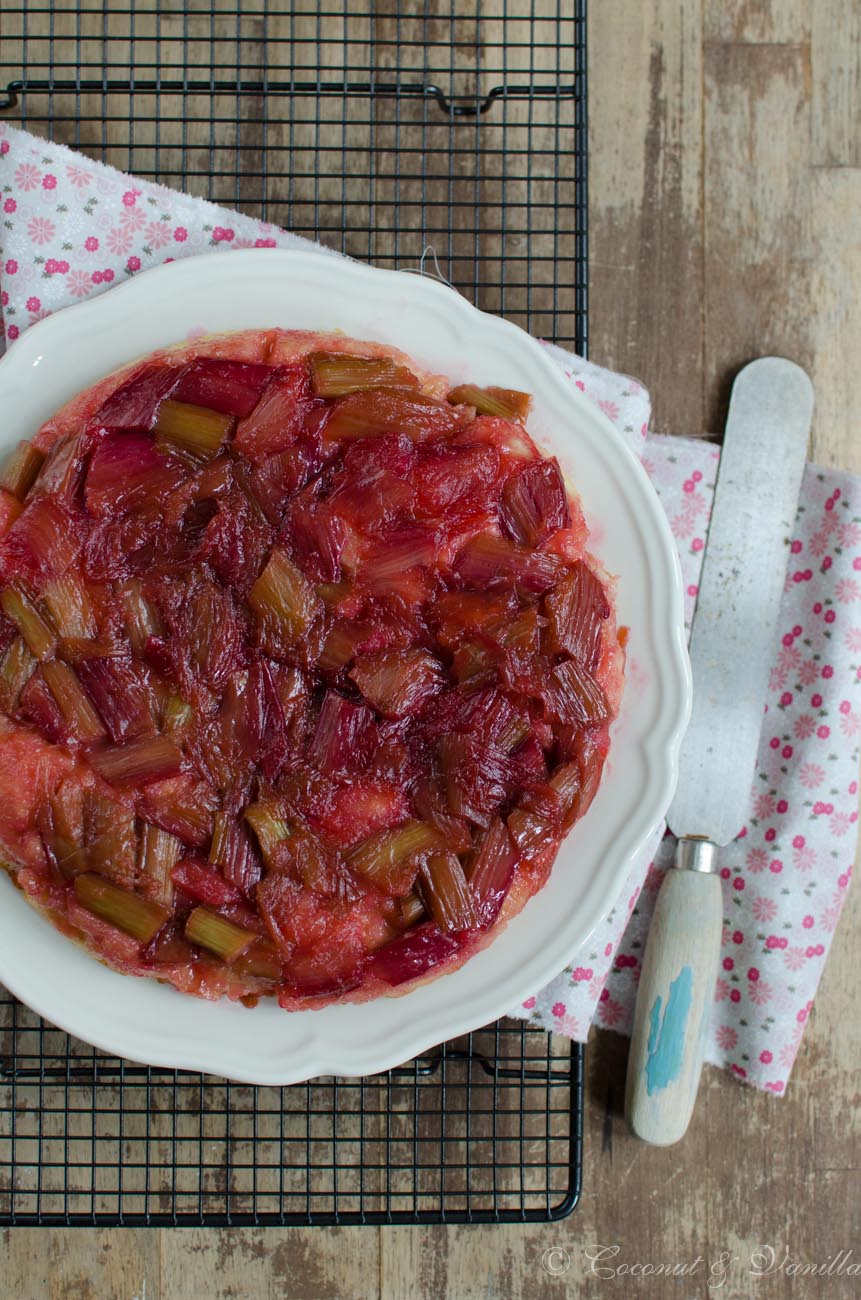 Vor einem Jahr: Bärlauch-Tomaten-Tarte
Vor zwei Jahren: Extrakte: Vanille, Zitrone, Orange
Vor drei Jahren: Toastbrot
Vor vier Jahren: Rhabarber-Streusel-Kuchen 
Rhabarber Upside Down Kuchen
nach einem Rezept von Saveur
Zutaten:
350 g Rhabarber, geputzt und in 3 cm lange Stücke geschnitten
100 g + 100 g Zucker
55 g + 85 g kalte Butter
1 EL Zitronensaft
1 TL Vanilleextrakt
Salz
280 g Mehl
1 TL Backpulver
50 ml Milch
2 Eier
Den Rhabarber mit 100 g Zucker, 55 g Butter, Zitronensaft, Vanilleextrakt und einer Prise Salz in einer ofenfesten Pfanne (kein Kunststoffgriff!) mit 24 cm Durchmesser bei mittlerer Hitze zum Kochen bringen. Kochen bis der Rhabarber zart ist, etwa 10 Minuten. Es macht nichts, wenn dabei viel Flüssigkeit entsteht.
Den Ofen auf 190° C Ober-/Unterhitze vorheizen.
Mehl, 100 g Zucker, Backpulver und eine Prise Salz mischen. 85 g Butter klein gewürfelt dazugeben. In der Küchenmaschine verarbeiten. Milch mit den Eiern verquirlen und zu dem Teig geben. Verkneten bis ein etwas klebriger Teig entsteht. Den Teig mit feuchten Händen zu einem Kreis formen, der genau in die Pfanne passt. Es macht nichts, wenn das nicht besonders schön aussieht oder ein Löchlein hat. Den Teig auf das Rhabarberkompott legen. 
Die Pfanne in den Ofen schieben und 35-40 Minuten backen bis der Teig schön goldbraun ist. Die Pfanne aus dem Ofen nehmen (Vorsicht sehr heiß! Immer Topfhandschuhe verwenden!) und auf einem Kuchengitter 5-10 Minuten abkühlen lassen. Dann mithilfe von Topfhandschuhen einen großen Teller auf die Pfanne legen und in einem Schwung wenden, so dass der Teig unten ist und der Rhabarber oben. Übrige Rhabarberstücke auf den Kuchen legen. Warm genießen (am besten mit Eiscreme!)!
Finally it's rhubarb time again! First thing I made with the first rhubarb was my beloved rhubarb crumble, but then I wanted to make something new and different. But that's not so easy! Everything was already known to me and the recipes were all so similar! And I already had tart, cake and muffins with rhubarb on the blog. So Saveurs link to its best rhubarb recipes just came right!
A rhubarb cake upside down? Tarte tatin first came up in my mind, but in the end it was real cake! Although I expected something totally different I was very pleased with the result. Not only that the cake is so ugly beautiful, it's very scrumptious. This cake doesn't need any fuzz to shine!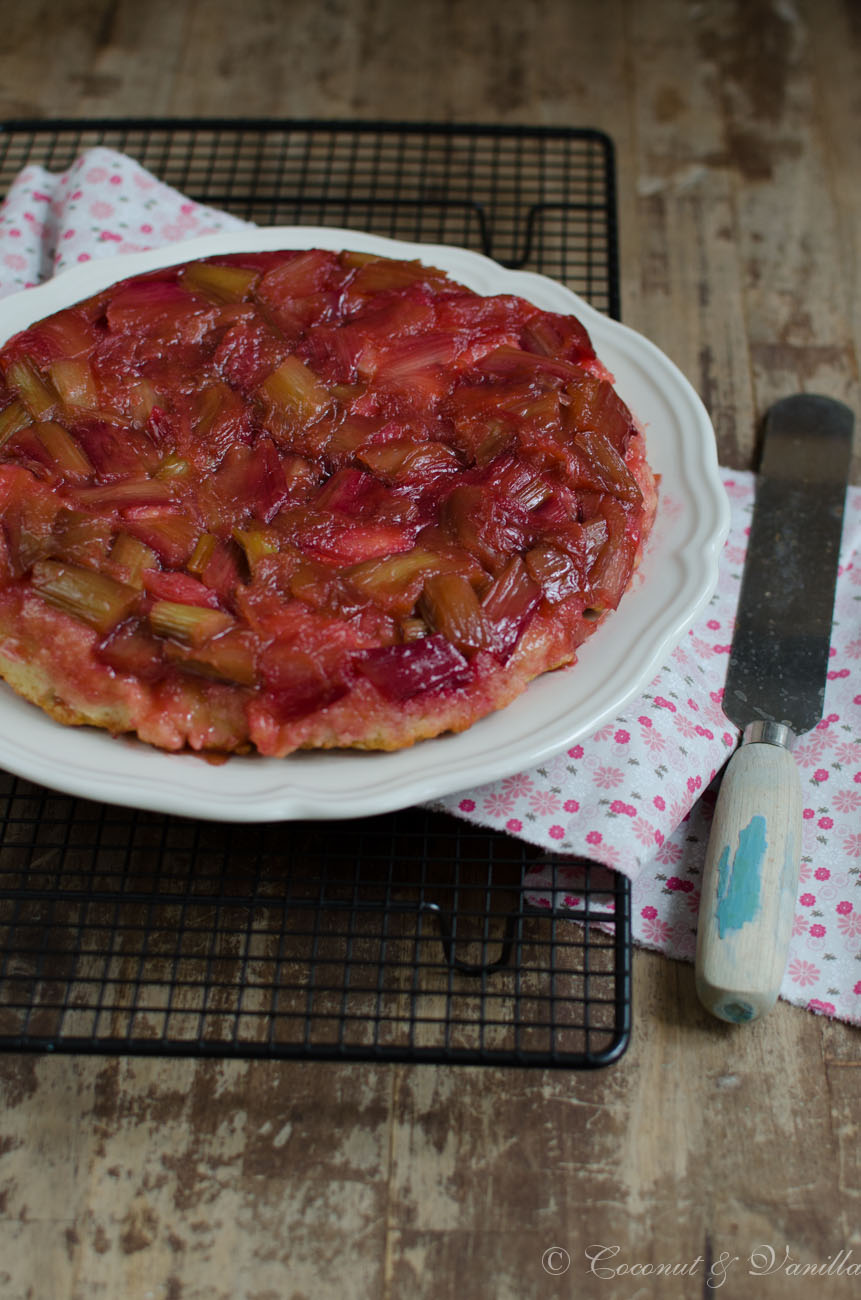 But the tarte tatin thought is stuck in my mind now! I need to give it a shot!
Until now I wasn't a big tarte tatin fan. I hadn't much luck with it, because sometimes the caramel didn't work properly, or the dough or flipping the tarte or all together. Mostly it was a disaster! But hey, every couple of years I try again and why not this year?!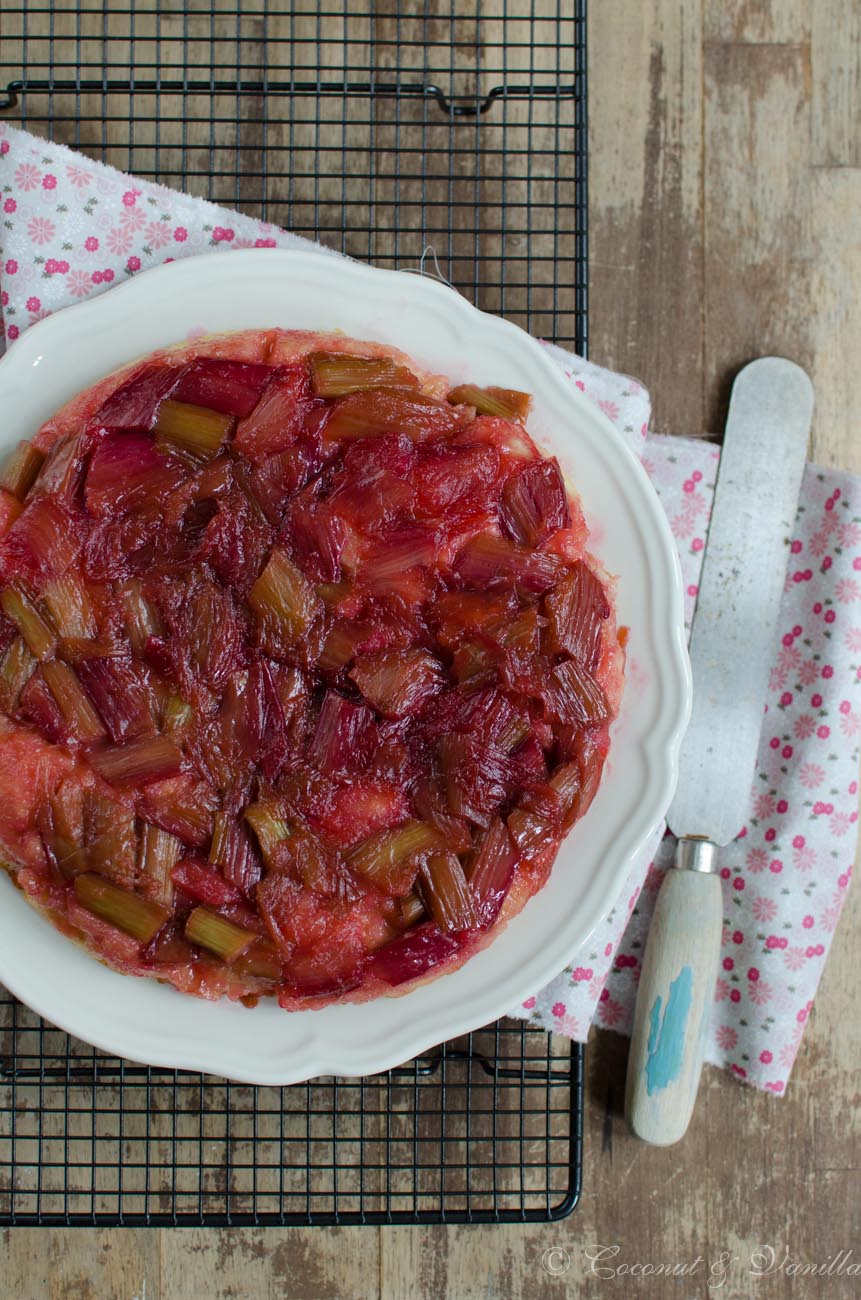 One year ago: wild garlic and tomato tart
Two years ago: extracts: vanilla, lemon, orange
Three years ago: toast bread
Four years ago: rhubarb streusel cake 
Rhubarb Cake Upside Down
adapted from Saveur
Ingredients:
350 g rhubarb, trimmed and cut into 3 cm pieces
100 g + 100 g sugar
55 g + 85 g cold butter
1 Tbsp lemon juice
1 tsp vanilla extract
salt
280 g flour
1 tsp baking powder
50 ml whole milk
2 eggs
Heat the rhubarb with 100 g sugar, 55 g butter, lemon juice, vanilla extract and a pinch of salt in a oven-proof skillet (cast iron for example; no plastic handle!) with 24 cm in diameter on middle heat. Cook until the rhubarb is tender, about 10 minutes. It's ok, if there's a lot of juice in the pan.
Preheat the oven to 190° C top/bottom heat.
Whisk flour, 100 g sugar, baking powder and a pinch of salt, add 85 g cubed butter. Knead in the stand mixer or use or fingers. Whisk milk and eggs together and add to the dough and knead until you have a slightly sticky dough. Use your wet hands to form a circle which fits the pan exactly (or almost exactly). It doesn't matter, if the dough doesn't look like a beauty or has a little hole. Place the dough onto the rhubarb.
Place the skillet in the oven and bake for 35-40 minutes until the dough is golden brown and cooked through. Remove the skillet from the oven (Caution! Very hot, always use oven mitts!) and let cool on a rack for 5-10 minutes. Place a large plate on the skillet and using oven mitts invert the skillet quickly, so the rhubarb is upside, the dough underneath. Place leftover rhubarb pieces on the cake, no one will notice. Enjoy warm (best with a scoop of ice cream!)!