Kürzlich fragte Ricarda von 23 qm Stil auf Facebook welche Küchenwaage wir empfehlen könnten, sie suche eine neue. Ich habe ihr sofort meine empfohlen und dann dachte ich mir, dass Euch das ja genauso interessieren könnte. Schließlich ist es nicht so einfach die richtige Küchenwaage zu finden, ich spreche aus eigener Erfahrung. Vor der Soehnle Page Profi segneten bereits eine Salter das Zeitliche und von einer ADE war ich so genervt, dass ich sie ausrangiert habe. 
Meine Mutter hat noch so eine richtig alte analoge Küchenwaage, die noch super funktioniert. Gut sie hat ihre kleinen Tücken, aber eigentlich eine tolle Sache, so lange man nicht kleine Mengen genau abwiegen möchte (Hefe, Salz, etc.). Sonst gibt es natürlich keinen Grund so ein altes Schätzchen auszurangieren. 
Ich habe es aber geschafft in 5 Jahren 2 Waagen zu verschleißen. Eine ging kaputt und eigentlich war ich zufrieden das gleich Modell gab es aber nicht mehr. Die zweite von ADE hat mich aufgeregt, weil ständig die Batterie leer war. Die Waage hatte nämlich eine Zeitanzeige, die die ganze Zeit lief (fand ich anfangs toll und meine Waage davor hatte das auch, aber da gab es nie Probleme), aber das schluckte so viel Strom, dass ich ständig neue teuere Batterien kaufen musste und das neuerliche einstellen der Waage war auch nervig.
Solche Erfahrungen machen es nicht gerade einfacher eine neue gute Küchenwaage zu finden, dafür kann ich jetzt aus voller Überzeugung sagen, dass die Page Profi von Soehnle klasse ist und ich sie uneingeschränkt empfehlen kann!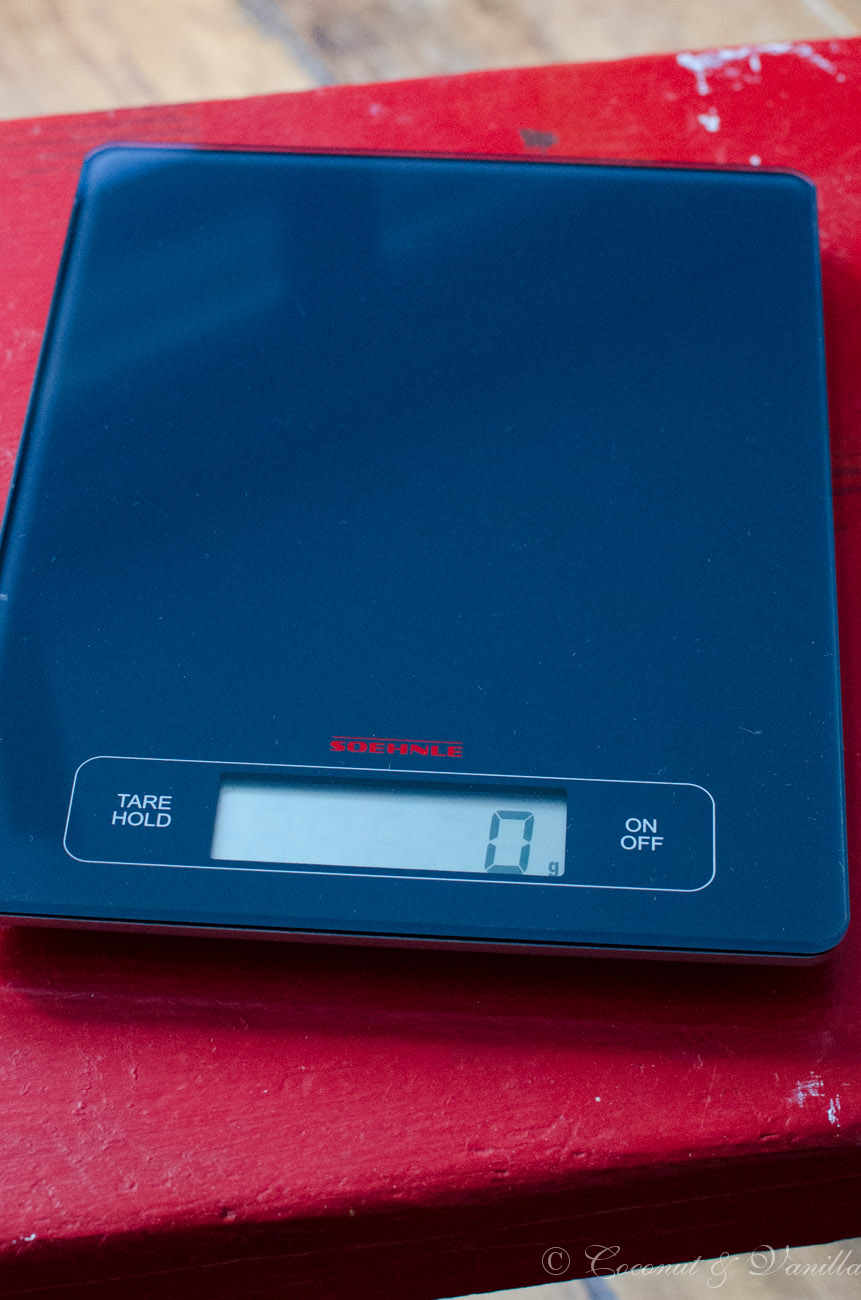 Warum:
schlankes Design –> die Waage kann man immer irgendwo dazwischen schieben und nimmt wenig Platz weg
trotzdem ist die Standfläche groß, sprich man kann auch gut größere Sachen wiegen, da sie gleichmäßig aufliegen
die Waage kann kleinste Mengen wiegen, aber auch große Mengen bis zu 15 kg! Ich kann also auch einen Bräter oder Topf draufstellen und noch ordentlich reinwiegen, ohne dass die Waage an ihre Grenzen stößt. Das ist mir früher hin und wieder passiert, mit der neuen Waage nicht mehr.
leicht zu reinigen
Batterie hält ewig
Waage benötigt nur einfach AAA-Batterien, keine lästigen Knopfzellen
es gibt die Möglichkeit die Hold Taste zu aktivieren, dann kann man etwas wiegen, was so sperrig ist, dass es das Display verdeckt, dann entfernt man den Gegenstand und kann das Gewicht ablesen (ist tatsächlich ab und zu sehr praktisch)
die Waage schaltet sich nicht schon nach ein paar Sekunden aus, man hat wirklich Zeit! Wenn also mein Zucker leer ist und ich erst ein neues Päckchen aus dem Vorratsschrank hole, dann ist die Waage noch an und zeigt mir das vorherige Gewicht an! Das hat mich bei meiner alten Waage echt genervt, dass sie sich so schnell ausgeschaltet hat.
schaltet schnell ein, schnelles Tara
schickes zeitloses Design
Ich kann mir keine bessere Waage mehr vorstellen und solltet ihr auch auf der Suche sein nach einer guten Waage, dann lege ich Euch die Soehnle Page Profi ans Herz!
Dieser Beitrag spiegelt meine eigene Meinung wieder und wurde in keinerlei Weise gesponsert!
Recently Ricarda from 23 qm Stil asked on Facebook which kitchen scale we could recommend, she was looking for a new one. In an instant I recommended here mine and I thought that this might also be interesting for you. After all it is not easy finding the right kitchen scale, I can speak from my own experience. Before my Soehnle Page Profi a Salter bit the dust and I threw out an ADE, because it was so annoying.
My mother still owns a 30 year old analogue kitchen scale, which works just fine. Ok, it has it little pitfalls, but it's good until you don't want to weigh small amounts like yeast, salt etc. Otherwise there is no reason to discard such an old goodie.
But I managed it to wear out two scales in 5 years. One was broken. I would have bought it again, but the model wasn't available anymore. The second one from ADE really annoyed me, because the batteries were permanently low. The scale had a time display which was constantly on. I first loved this feature, but it consumed that much energy, I constantly had to buy expensive batteries  (btw. the first scale had this feature, too, but never a problem with the battery) and the anew setting of the scale every time was very annoying, too.
Such experiences don't make it easy finding a new kitchen scale. But I can now tell you from the bottom of my heart, that the Page Profi by Soehnle is the best and I can recommend it unconditionally.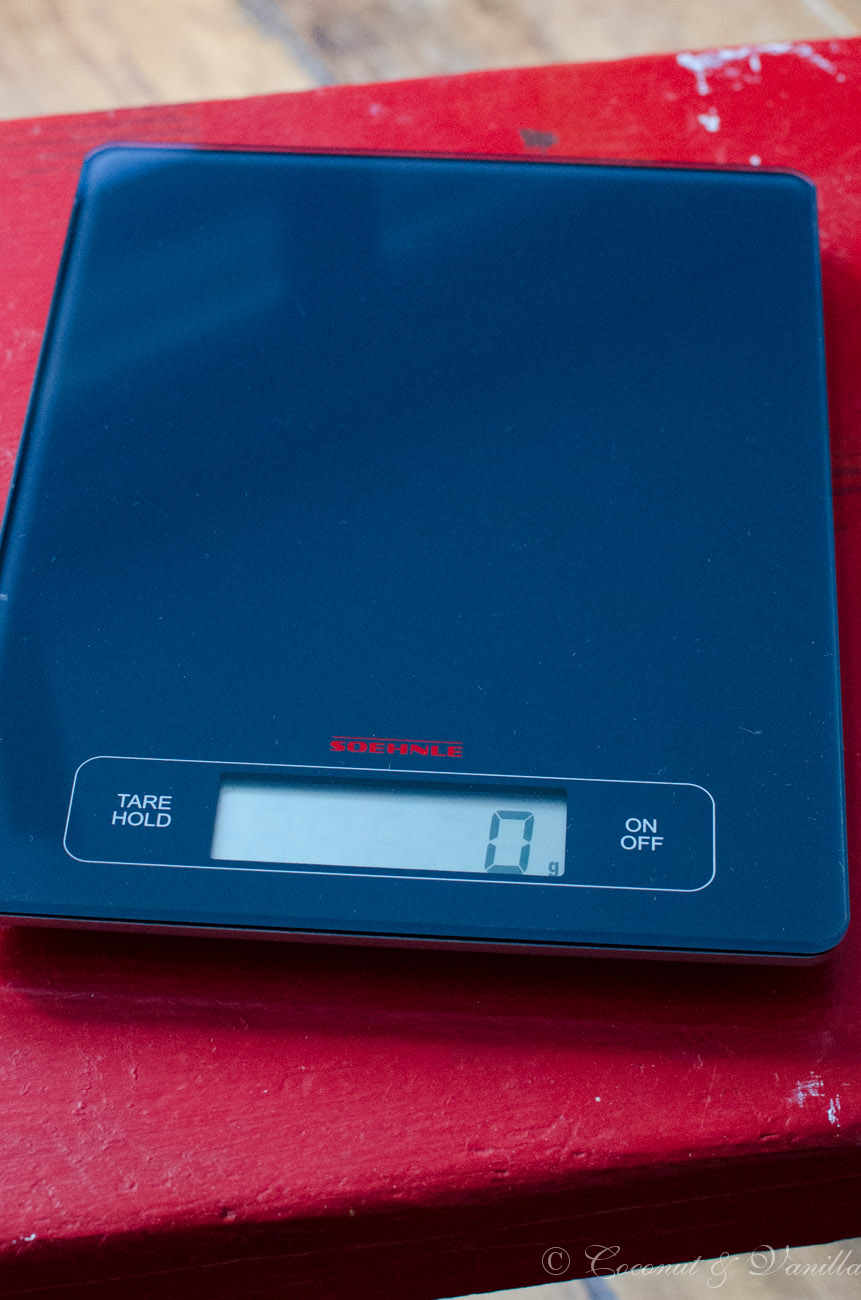 Why:
slim design: it's possible to place the scale somewhere in between and it needs only very little space
nonetheless the stand space is very large. It's possible to weigh larger stuff, because it can rest flat
the scale can weigh small amounts, but also large amounts up to 15 kg! So it's possible to place a large dutch oven or saucepan on it and add ingredients without the scale deactivating itself. That happened to me from time to time with my old scales, now not anymore.
easy to clean
battery endures forever (almost 😉 )
it only needs simple AAA batteries, no annoying button cells
the scale offers the possibility to use the hold button to weigh stuff which is so large you cannot read the display and after removing it you can read the weight on the display (from time to time that's very handy!)
the scale doesn't turn off quickly, you have a lot of time! So if your sugar bin is empty and you go fetch yourself a new packet from the pantry, the scale is still on and displays the weight! 
switches on quickly, quick tara
chic timeless design
I can't imagine a better kitchen scale anymore and if you are looking for a good one, I entrust the Soehnle Page Profi to you!
This article reflects my own opinion and isn't sponsored in any way!