Wednesday, 12th August 2015
This zucchini salad with sheeps cheese, roasted almond flakes, lemon zest and mint is my discovery of the summer! I like zucchini a lot, but you have to prepare it properly. Roasting zucchini can make things worse. For this salad the zucchini are raw and peeled in long stripes. All ingredients convey a great freshness! The salad is just perfect for hot days and grilling!
I took the recipe again from Harry Easwoods book A Salad for All Seasons*, which offers so many wonderful filling salad creations! Still a straight recommendation from me!
I recommend to use a mild sheeps cheese for the salad, not a salty feta! Mild manouri or fresh goats cheese is also be a delicious option.
I made this salad three times in two weeks, so I finally have to share the recipe!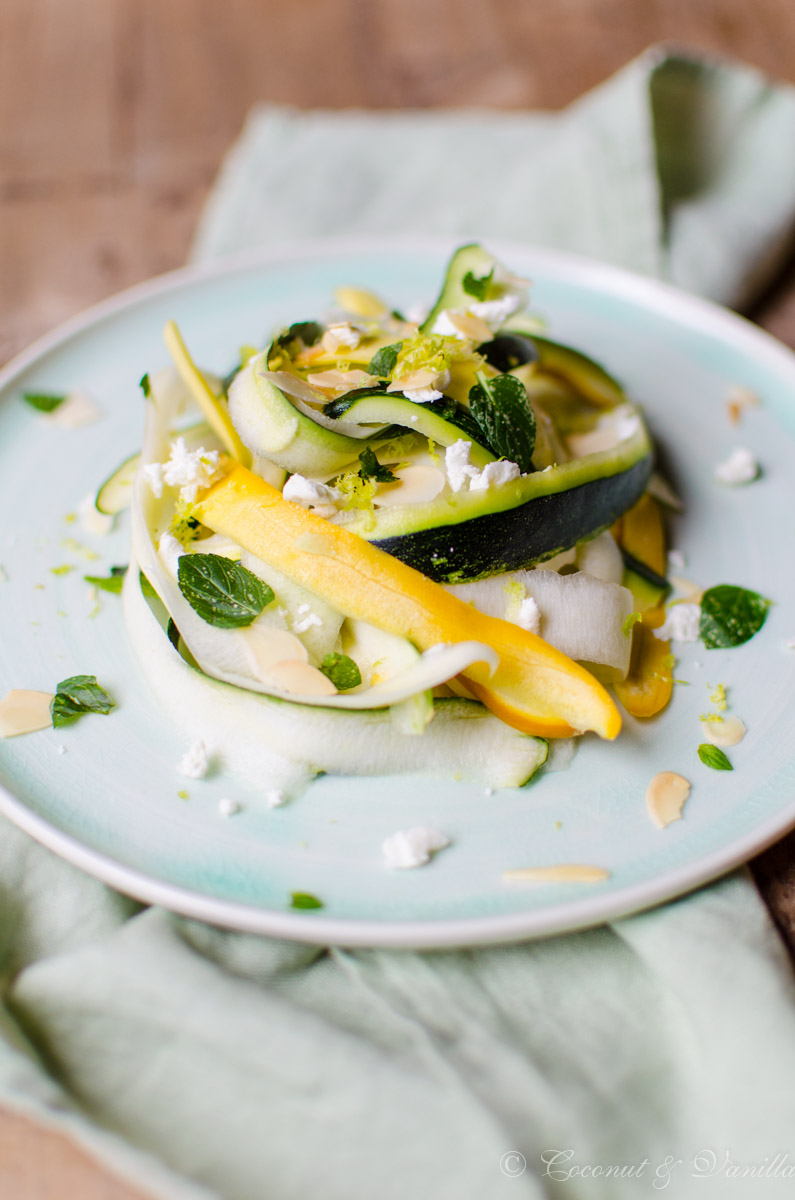 One year ago: garlic confit
Two years ago: pizza bianca with swiss chard and goats cheese
Three years ago: homemade tomato ketchup
Four years ago: strawberry tartlets with yogurt lime mousse
Five years ago: the best chocolate chip cookies
Zucchini Salad with Sheeps Cheese, Almonds and Mint
adapted from A Salad for All Seasons* by Harry Eastwood
for 4 persons
Ingriedents:
4 medium zucchini (most beautiful: yellow and green ones mixed)
juice and zest of 1 small organic lemon
2 Tbsp olive oil
30 g almond flakes
100 g mild sheeps cheese, manouri or fresh goats cheese
15 large mint leaves
sea salt
black pepper, freshly ground
Wash the zucchini and cut of the ends. Peel the zucchini lenghtwise in strips, turning the zucchini all the way and stop when you see the kernels. Discard the inner part.
Roast the almond flakes in a dry skillet at medium heat.
Spread the zucchini strips on a large platter. Tear long strips in the middle, otherwise they are too long for eating easily.
Use a jar with a lid to shake the lemon juice with the olive oil. Combine the dressing and the zucchini with you hands and season with salt and pepper (if you use quite salty cheese, skip the salt or just salt a tiny bit).
Crumble the sheeps cheese and spread over the zucchini, as well as the almond flakes.
Tear the mint leaves and sprinkle on the salad.
Serve!
* Amazon affiliate link (If you buy something after clicking on this link on amazon, I earn a small amount of money, which I reinvest in this blog. Thank you!)