Tuesday, 5th August 2014
I'm making this garlic confit regularly for a long time now. Garlic confit is just perfect in dishes where you add the garlic normally raw, like salads, dressings, spreads, creams, etc. because the garlic loses some of its sharpness due to the cooking process in oil. Also the garlic gains a mild rich flavour. I can't even stand raw garlic (or even worse raw onions), because I always end up with a dominant aftertaste in my mouth for at least a day. Therefore garlic confit and I are BFF, because something like this would never happen with him!
It's very convenient to store a jar of it in the fridge, since if you may be out of fresh garlic you still have a great back-up! The garlic confit is of course also working in dishes where the garlic used to be cooked, but he won't be that dominant in flavour. Which might also please some of you! 
To use the garlic I mash the clove with a small fork or the back of a knife. Like this the garlic distributes evenly in the dish.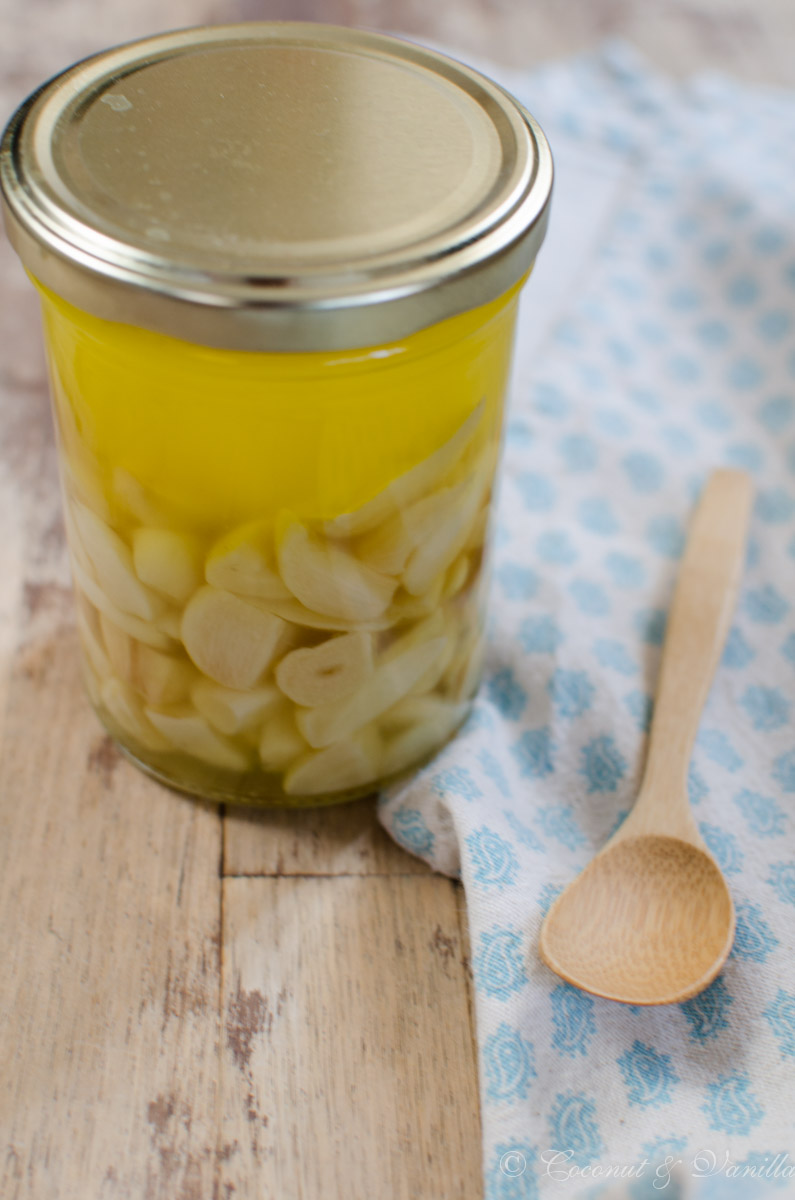 One year ago: pizza bianca with swiss chard and goats cheese
Two years ago: orange honey dressing
Three years ago: strawberry tartlets with yogurt-lime-mousse
Four years ago: peach tartelettes 
Garlic Confit
adapted from Kleiner Kuriositätenladen
Ingredients:
garlic
canola or sunflower oil
Seperate the garlic into cloves and blanch them for half a minute in boiling water. Rinse with cold water and peel the garlic cloves. Snip off the stringy end.
Dry the garlic with a towel. Place them in a saucepan and cover with the oil. Cook at very low heat for 30-45 minutes until they are soft and lightly browned.
Fill the garlic in a clean jar and cover with the oil. Keeps in the fridge for a few months. 
The overleft oil after cooking or what is left in the jar after using the garlic can be used for cooking, roasting or seasoning, since it's perfect garlic oil!