[:de]Dieser Zucchinsalat mit Schafskäse, gerösteten gehobelten Mandeln, Zitronenschale und Minze ist meine Neuentdeckung des Sommers! Ich mag Zucchini sehr, aber es kommt auf die Zubereitung an. Durch Braten kann man Zucchini wirklich versauen. Hier bleibt die Zucchini roh und wird mit einem Sparschäler in dünne Streifen gehobelt. Alle Zutaten des Salats verbreiten eine wunderbare Frische und so ist der Salat perfekt für heiße Tage und zum Grillen!
Das Rezept habe ich mal wieder aus meinem heißgeliebten Buch A Salad for All Seasons* von Harry Eastwood, das immer wieder mit tollen sättigenden Salatkreationen aufwartet! Immer noch eine astreine Empfehung von mir!
Für den Salat empfehle ich einen milden Schafskäse zu verwenden, keinen salzigen Feta! Alternativ schmeckt auch der milde Manouri wunderbar dazu, auch wenn ich den Schafskäse von einer kleinen lokalen Käserei am passendesten finde.
Dreimal gab es den Salat jetzt innerhalb von 2 Wochen, da kann ich ihn Euch natürlich nicht länger vorenthalten!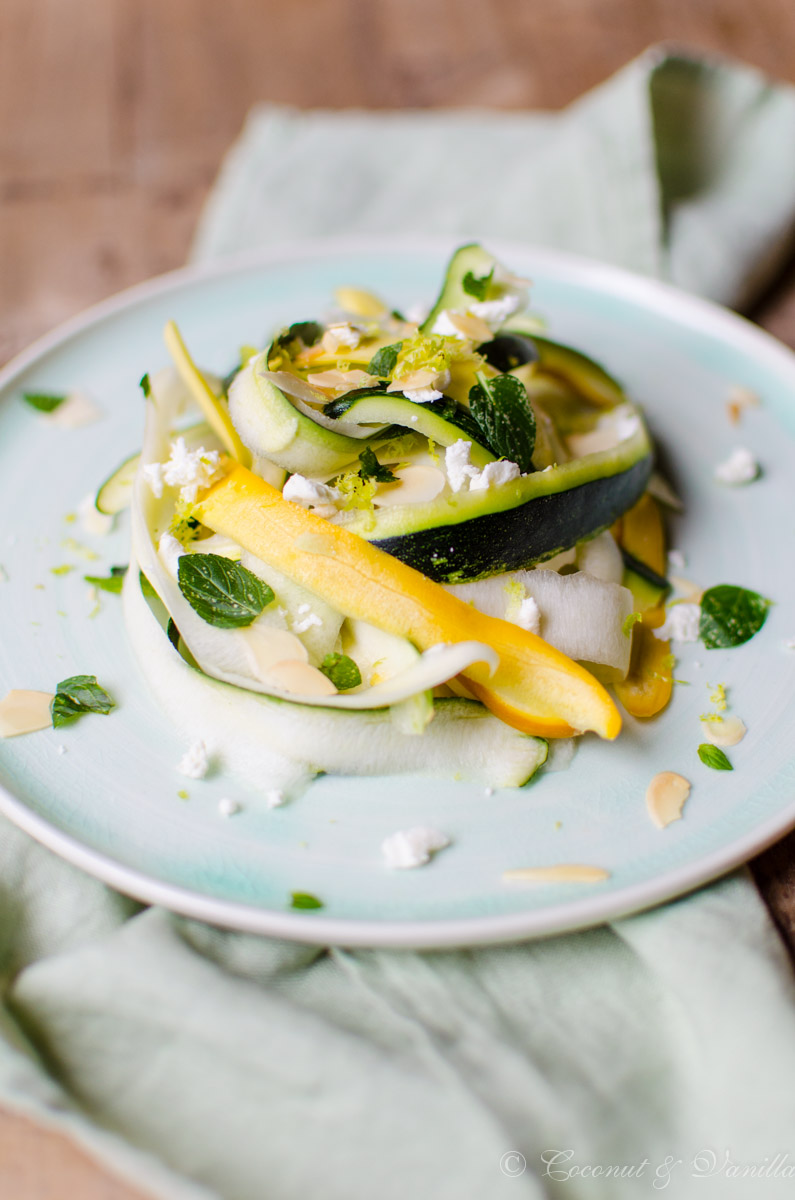 Vor einem Jahr: confierter Knoblauch
Vor zwei Jahren: Pizza Bianca mit Mangold und Ziegenkäse
Vor drei Jahren: Tomatenketchup
Vor vier Jahren: Erdbeertörtchen mit Joghurt-Limetten-Mousse
Vor fünf Jahren: Die besten Chocolate Chip Cookies
Zucchinisalat mit Schafskäse, Mandeln und Minze
aus A Salad for All Seasons* von Harry Eastwood
für 4 Personen
Zutaten:
4 mittlere Zucchini (am schönsten: gelbe und grüne gemischt)
Schale und Saft von einer kleinen Bio-Zitrone
2 EL Olivenöl
30 g gehobelte Mandeln
100 g milder Schafskäse oder Manouri oder Ziegenfrischkäse
15 große Blätter Minze
Meersalz
schwarzer Pfeffer, frisch gemahlen
Die Zucchini waschen und die Enden abschneiden. Mit einem Sparschäler längs Streifen abhobeln. Dabei die Zucchini immer wieder drehen und aufhören, wenn die Kerne erscheinen. Diesen Teil wegwerfen.
Die Mandeln in einer Pfanne anrösten.
Die Zucchini auf einer großen Platte verteilen. Die Streifen mit den Fingern in der Mitte zerteilen, sie sind sonst zu lange um sie problemlos zu essen.
Den Zitronensaft mit dem Olivenöl in ein Schraubglas geben und schütteln. Mit den Zucchinistreifen vermengen und mit Salz und Pfeffer würzen (bei salzigem Käse kein oder sehr wenig Salz zugeben!).
Den Schafskäse zerkrümeln und über den Zucchini verteilen.
Die Zucchini mit den gehobelten Mandeln bestreuen.
Die Minze zerrupfen und über den Salat streuen.
Sofort servieren!
*Werbung, Affiliatelink (sprich, wenn ihr über diesen Link etwas bei Amazon kauft verdiene ich dabei wieder eine kleine Provision, die ich in den Erhalt des Blogs stecke)
[:en]This zucchini salad with sheeps cheese, roasted almond flakes, lemon zest and mint is my discovery of the summer! I like zucchini a lot, but you have to prepare it properly. Roasting zucchini can make things worse. For this salad the zucchini are raw and peeled in long stripes. All ingredients convey a great freshness! The salad is just perfect for hot days and grilling!
I took the recipe again from Harry Easwoods book A Salad for All Seasons*, which offers so many wonderful filling salad creations! Still a straight recommendation from me!
I recommend to use a mild sheeps cheese for the salad, not a salty feta! Mild manouri or fresh goats cheese is also be a delicious option.
I made this salad three times in two weeks, so I finally have to share the recipe!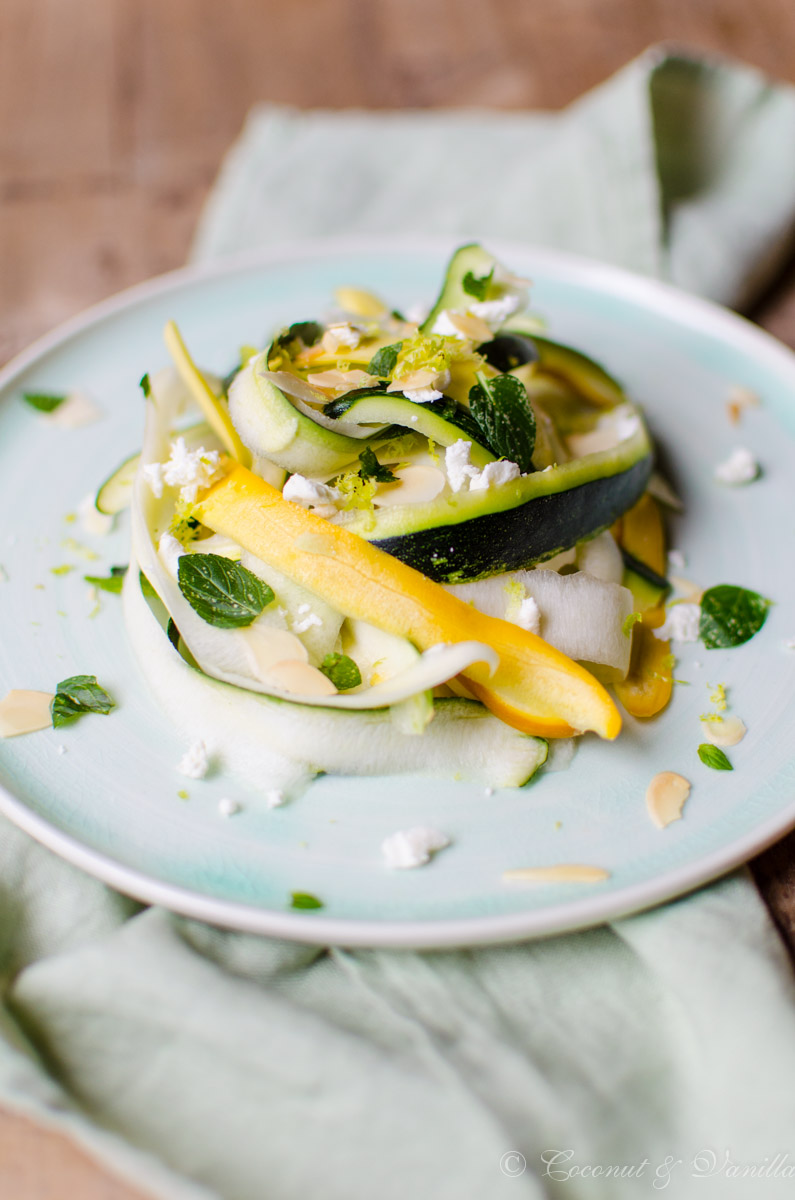 One year ago: garlic confit
Two years ago: pizza bianca with swiss chard and goats cheese
Three years ago: homemade tomato ketchup
Four years ago: strawberry tartlets with yogurt lime mousse
Five years ago: the best chocolate chip cookies
Zucchini Salad with Sheeps Cheese, Almonds and Mint
adapted from A Salad for All Seasons* by Harry Eastwood
for 4 persons
Ingriedents:
4 medium zucchini (most beautiful: yellow and green ones mixed)
juice and zest of 1 small organic lemon
2 Tbsp olive oil
30 g almond flakes
100 g mild sheeps cheese, manouri or fresh goats cheese
15 large mint leaves
sea salt
black pepper, freshly ground
Wash the zucchini and cut of the ends. Peel the zucchini lenghtwise in strips, turning the zucchini all the way and stop when you see the kernels. Discard the inner part.
Roast the almond flakes in a dry skillet at medium heat.
Spread the zucchini strips on a large platter. Tear long strips in the middle, otherwise they are too long for eating easily.
Use a jar with a lid to shake the lemon juice with the olive oil. Combine the dressing and the zucchini with you hands and season with salt and pepper (if you use quite salty cheese, skip the salt or just salt a tiny bit).
Crumble the sheeps cheese and spread over the zucchini, as well as the almond flakes.
Tear the mint leaves and sprinkle on the salad.
Serve!
* Amazon affiliate link (If you buy something after clicking on this link on amazon, I earn a small amount of money, which I reinvest in this blog. Thank you!)[:]