Dieses Risotto mit schwarzem Reis aus der Poebene und Mönchsbart (barba di frate) kommt mit einer vollen Ladung italienischer Zutaten aus und man könnte es so sicherlich auch auf einigen italienischen Speisekarten finden. Ich habe mich einfach inspirieren lassen von dem was zu Hause war!
Den schwarzen Reis habe ich ihn in einem riesigen Feinkostladen namens Eataly gekauft. Eataly kennt vielleicht der ein oder andere aus dem New York oder London Urlaub. Inzwischen gibt es auch den ein oder anderen Laden in Italien, wie z.B. in Mailand oder Florenz. Lustigerweise gibt es seit kurzem eine Filiale im beschaulichen Forli. Das hat wohl selbst einige Einheimische überrascht.
Der Laden ist auf 5 Etagen vollgestopft mit italienischen Köstlichkeiten von kleineren Produzenten. Manches eher teuer, anderes wiederum ist gemäßigt (jedenfalls für deutsche Augen 😉 ). Es lohnt sich jedenfalls hier Reis, Oliven und Fisch zu kaufen. Auch die Pasta ist interessant, wenn auch nicht günstig. Auch eine große Weinauswahl gibt es und wir haben auch eine gute Beratung bekommen, sogar in sehr gutem Englisch (ja, das ist eine Besonderheit!). Leider konnte man den Wein aber nicht verkosten, was natürlich schade ist.
Übrigens kann man dort auch essen. Es gibt 2 Lokale und eine Weinbar, sowie eine Eiscremestation. Das Essen ist okay (wobei das an den Nachbartischen nicht so toll aussah), aber man bekommt wirklich besseres woanders (jedenfalls in Forli) zu einem kleineren Preis. Sicherlich ist es mal besonders in einem "Supermarkt" zu speisen, aber es ist dann auch recht laut und man fühlt sich teilweise wie auf dem Präsentierteller.
Den Mönchsbart habe ich wieder im Supermarkt entdeckt. Da es bei uns so etwas nicht zu kaufen gibt, musste ich ihn natürlich sofort mitnehmen. Er macht sich nicht nur gut in langer Pasta, sondern auch in diesem Risotto.
Piazza Aurelio Saffi, 45
47121 Forlì FC
So – Do: 10 – 22.30h
Fr – Sa: 10 – 23h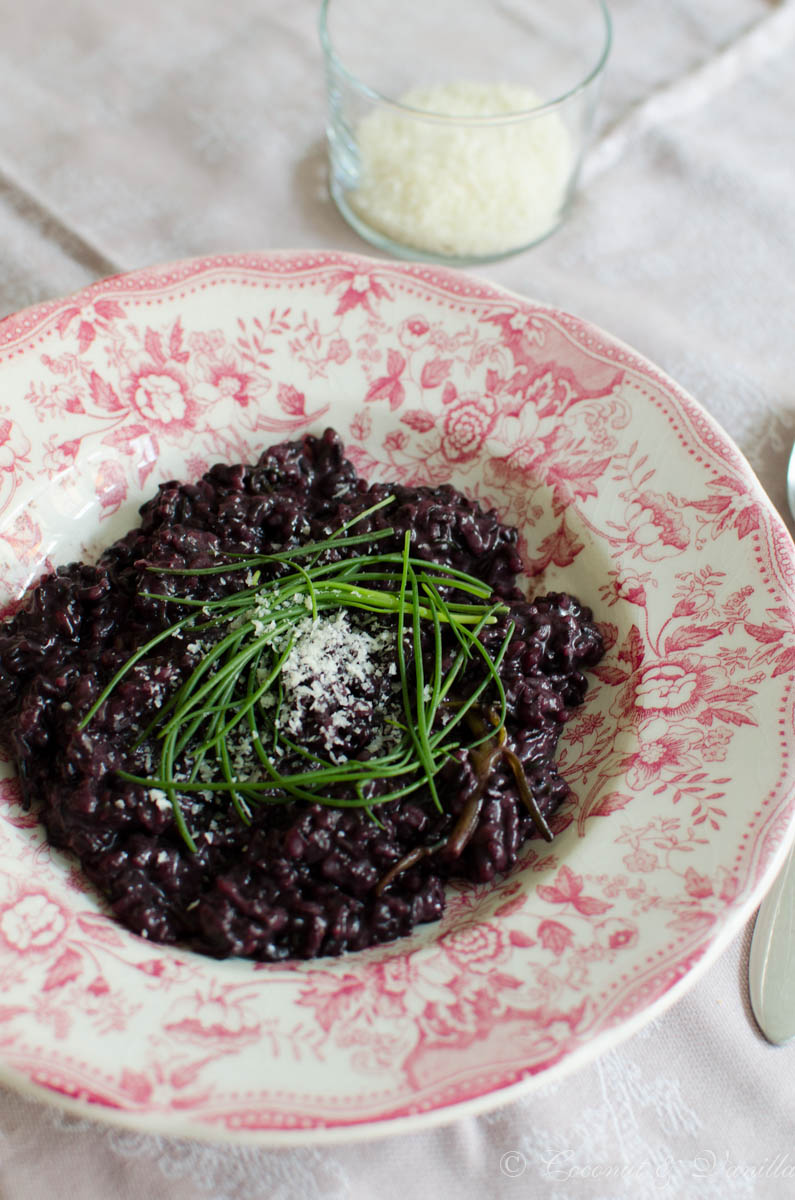 Vor zwei Jahren: Bärlauch-Tomaten-Tarte
Vor drei Jahren: Orangettes
Vor vier Jahren: French Toast oder Arme Ritter
Vor fünf Jahren: Rhabarber-Streusel-Kuchen
schwarzes Risotto de Venere mit Mönchsbart
Zutaten:
1 Schalotte oder kleine Zwiebel
250 g schwarzer Reis aus dem Piemont (riso di venere) (alternativ normaler Risottoreis)
100 ml trockener Weißwein
1l Gemüsebrühe oder Hühnerbrühe (vorzugsweise selbstgemacht)
1/2 Bund Mönchsbart
25 g Butter
50 g Parmesan, frisch gerieben
Meersalz
schwarzer Pfeffer, frisch gemahlen
Die Schalotte schälen und fein würfeln.
Etwas Butterschmalz in einem Topf bei mittlerer Hitze schmelzen. Die Schalotte darin goldgelb andünsten. Den Risottoreis dazugeben. Mit anschwitzen. Mit dem Weißwein ablöschen.
Den Weißwein einkochen lassen, dabei immer wieder rühren, damit der Reis nicht am Topfboden anklebt. Wenn der Wein eingekocht ist, etwas Brühe dazugeben und unter Rühren einkochen lassen. Weiter so vorgehen bis der Reis al dente ist. Er sollte also noch etwas Biss im Kern haben.
In der Zwischenzeit die Wurzeln vom Mönchsbart abschneiden, waschen und trocken schleudern. Den Mönchsbart in etwa 7 cm lange Stücke schneiden.
Wenn der Reis gar ist, den Mönchsbart unterziehen. Ebenso die Butter und den Parmesan unterrühren. Vom Herd nehmen, den Deckel auflegen und 2 Minuten ruhen lassen.
Mit Salz und Pfeffer abschmecken und servieren.
This risotto with black rice from the po valley and saltwort (barba di frate) is full of Italian ingredients and flavours and you might as well find it on an Italian menu. I just got inspirated from what I had at home at that moment!
The black rice is also perfect for other rice dishes. I picked it up in a deli named Eataly. You already might know Eataly from New York or London. Lately they've also opened some shops in Italy, like Milan or Florence. Funnily they've opened also a branch in the town of Forli. Probably this also surprised some of the residents there.
The shop has 5 floors full of Italian delicacies from small producers. Some stuff is expensive, other is quite cheap (at least for my German mind 😉 ). It's worth to buy rice, olives and fish here. Pasta is also very interesting, but not on the cheap side. They also have a large offer of Italian wines and we also enjoyed a good advice in proper English there (yes, that's something special in Forli!). Unfortunately it is not possible to try the wine there.
If you like you can also have dinner or lunch there. They have two restaurants, a wine bar and an ice cream parlour. The food is ok (although the food on the neighboured table didn't look so nice), but you can eat much better elsewhere (at least in Forli) for a smaller price. Sure it's something special to dine in a deli, but it also very loud and you feel like being on show.
The saltwort on the other hand I bought in the supermarket. As I cannot find saltwort at home I had to buy it there! It's not only great in this risotto, but also perfect with long pasta!
Piazza Aurelio Saffi, 45
47121 Forlì FC
Sun – Thu: 10 – 22.30h
Fri – Sat: 10 – 23h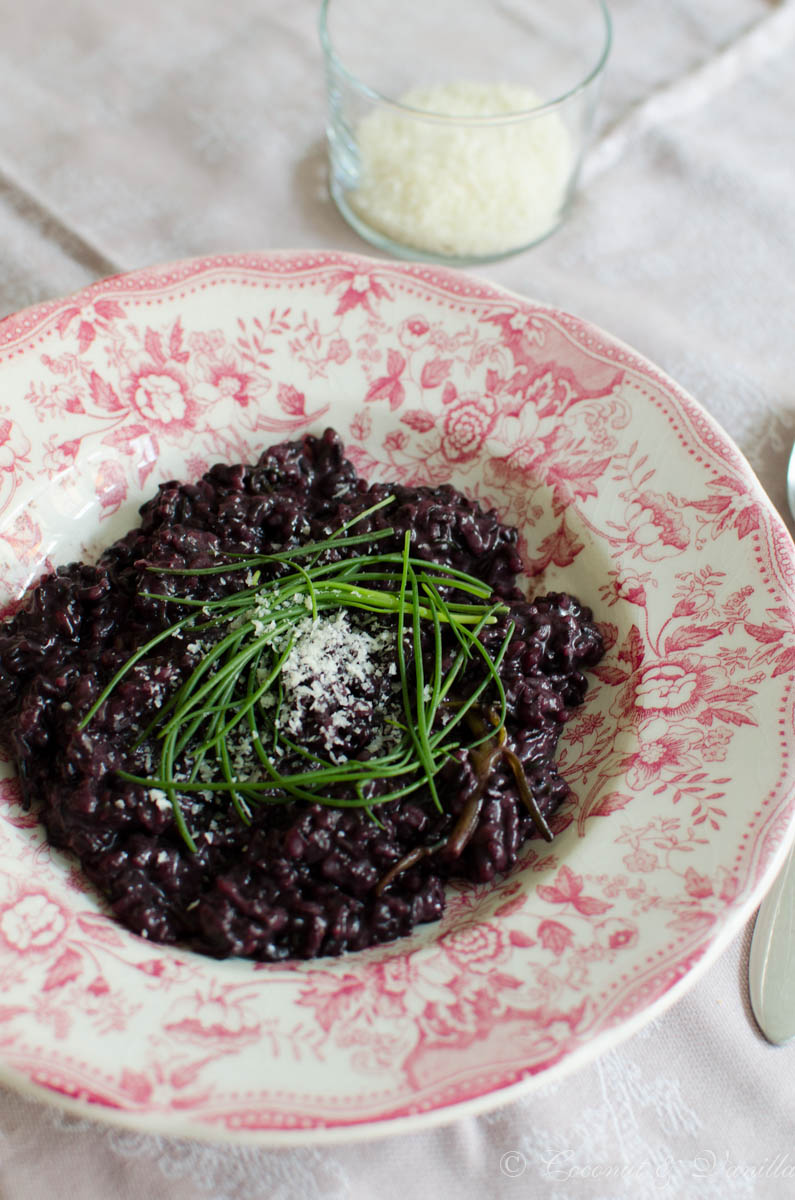 Two years ago: wild garlic and tomato tart
Three years ago: orangettes
Four years ago: french toast
Five years ago: rhubarb streusel cake
black risotto with saltwort

Ingredients:
1 shalott or very small onion
250 g black rice from the Piedmont (or normal risotto rice)
100 ml dry white wine
1l vegetable broth or chicken stock (preferably homemade)
1/2 bunch of saltwort
25 g butter
50 g parmesan, freshly grated
sea salt
black pepper, freshly ground
Peel and dice the shalott finely.
Melt the clarified butter in a saucepan on medium heat. Sauté the shalott in it until golden. Add the rice and sauté for another minute or two. Add the white wine.
Cook until the wine has evaporated, whilst stirring every now and then to prevent the rice from sticking to the bottom of the pot. Then add the stock, a cup when the previous cup has evaporated whilst stirring and cooking. Continue until the rice is al dente.
Die Schalotte schälen und fein würfeln.
In the meantime chop off the roots from the saltwort, rinse it and spin it dry. Cut in pieces (about 7 cm long).
When the rice is cooked al dente stir in the saltwort, as well as the butter and parmesan. Remove from the heat. Close with a lid and let it rest for 2 minutes.
Season with salt and pepper. Serve right away.