Wednesday, 25th February 2015
Last year I made a batch of barbecue sauce with peaches. Unfortunately I couldn't manage it with the peaches last summer and so in autumn the barbecue sauce in stock looked very meager.
Then in November I was invited to a whisky event and after that I was able to experiment with the smoky Single Malt Whisky Ardmore. And nothing fit better than to refine my barbecue sauce with that whisky and to get that typical smoky flavour. Also mangoes were in season and so I bought a bunch of ripe aromatic fruits and created this excellent fruity and smoky mango barbecue sauce with whisky!
Honestly I didn't bother much about whisky until then. I was on vacation in Scotland and visited the famous Glenfiddich Destillery, but after that I rather discovered my passion for good whisky liquor than for whisky.
Together with few other bloggers I was invited by Ketchum Pleon to savour whisky and I had a really good time! We compared Ardmore whisky with Auchentoshan whisky. It was very fascinating to see the huge differences and how good the smokiness of the smoking process can be tasted. I cannot say that malt whiskys are my favourite spirits now, but I can defintely recommend Ardmore as a single malt for novices. My discovery was rather the opposition ;).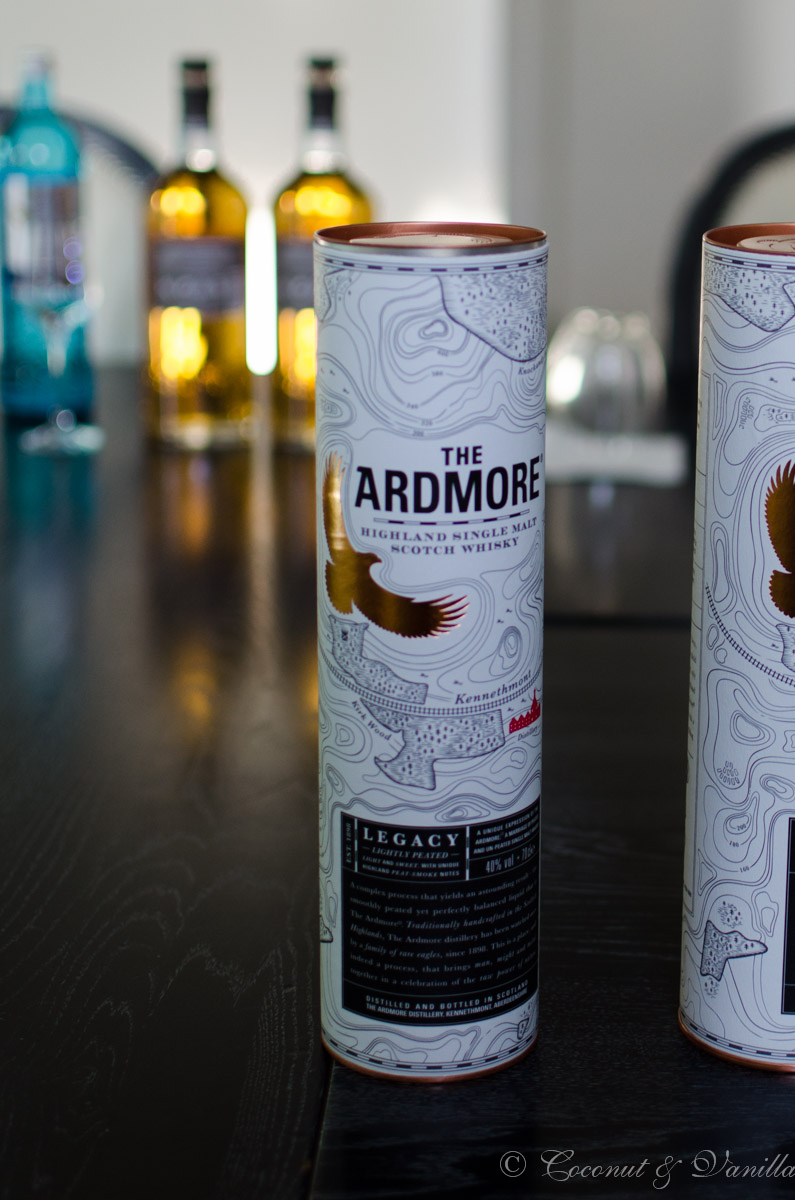 There's more behind a good spirit and it's not just about drinking, when consuming alcohol. Such a tasting reveals new insights and is very interesting and fascinating. I had a lot of fun and I'm thankful for having the opportunity!
I don't need to tell most of you what to do with this fantastic bbq sauce, right? But let me tell you, that if you are making a burger and combining the sauce with the caramelized onions and some other awesome ingredients, you'll be able to make an overly exciting burger! Recipes will follow! But now I'll give you some time to make these two ingredients for a burger. The burger is put together then in no time!
One year ago: homemade clarified butter
Three years ago: cream cheese balls with herbs and walnuts
Smoky Mango-Whisky-Barbecuesauce
yields: about 750 ml
Ingredients:
4 ripe mangoes (in summer you can choose ripe peaches instead perfectly!)
60 ml lemon juice
2 Tbsp clarified butter
3 red onions, peeled and finely diced
2 garlic cloves, finely diced
200 g muscovado sugar
250 ml cider vinegar (or white wine vinegar)
125 ml Single Malt Whisky (like Ardmore)
125 ml worcestershire sauce
60 g concentrated tomato puree
1 tsp fresh ginger, finely chopped or grated
1 pinch of chili powder
1/2 tsp salt
Sterilize bottles and lids (either in the oven or in a water bath). I prefer using 250 ml bottles, since they have just the right size for the sauce.
Peel the mangos and slice off the flesh. Dice it and mix with the lemon juice.
Heat the clarified butter in a deep frying pan or a pot and sauté the onions until they are mellow and golden brown. Add the garlic and cook for another minute. Add the mango, sugar, vinegar and whisky and bring to a boil while stirring. Turn down the heat and simmer for about 30 minutes.
Puree the mango sauce with an immersion blender very finely.
Add worcestershire sauce, tomato puree, ginger and chili to the sauce and bring to a boil. Reduce the heat and simmer for 10 minutes until the sauce is thick. Season with salt.
Fill the sauce into the bottles and seal with the lids.
If you want to be save process the jars in a boiling water bath. Therefore place the bottles in a pot (lined with a grid or a kitchen cloth) with water and cover them. Bring to a boil and cook for 15 minutes. Remove from the water and let cool completely.
In my experience the sauce is good for up to one year without processing it, but if you want to give it away it's better to be save than sorry.
At least good for 1 year.