Friday, 24th February 2012
One of the first thoughts I had, when we where back home after our vacation was: " what is a good gift for our neighbours for sitting our apartment and caring for our plants for 6 weeks". Something home made of course. Since I'm in possession of
Nicole Stich's
fabulous book
Geschenkideen aus der Küche
(yet, only in German) this question is much more easy to answer. So after a brief look into the book it was clear: cookies (but the highly recommended ones from the NY Times), chocolate granola, home made ciabatta and these cream cheese balls.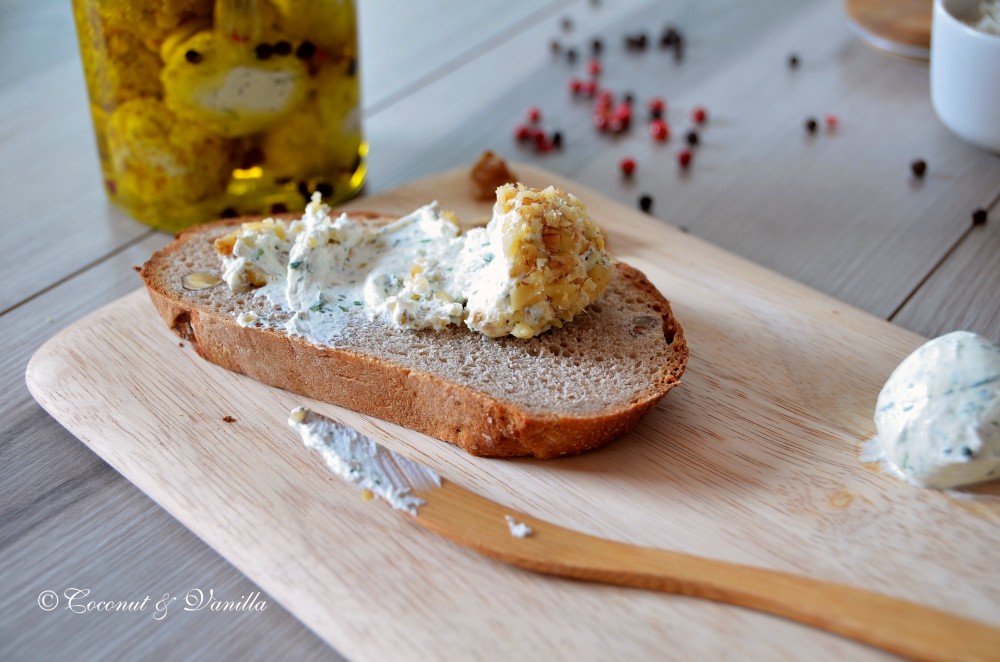 These cream cheese balls are very delicate, especially after mixing in some (frozen) herbs and rolling them in chopped walnuts. Like this, they are a real delight. The cream cheese balls are made of Greek or Turkish yogurt containing 10 % fat, which is drained. The whole process takes some time, but is very easy. The drained yogurt can be mixed with everything you desire, such as herbs and spices and they can be rolled in seeds, chopped nuts or even chopped dried fruit. This way you get individual cream cheese balls, that are perfect as a gift or will impress your friends at your next brunch.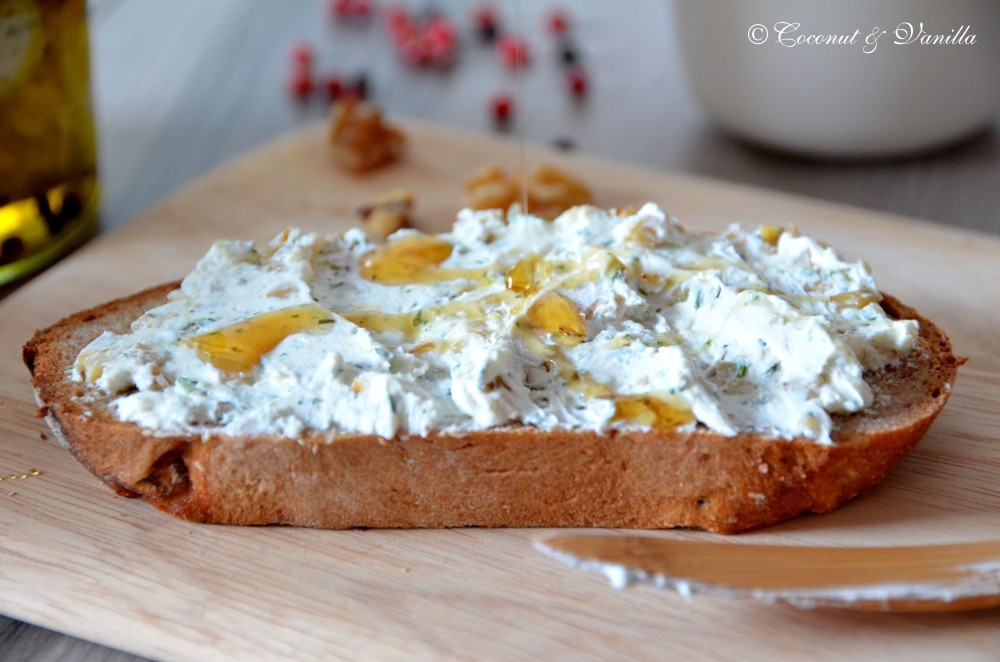 Cream Cheese Balls with Herbs and Walnuts
yields one glass with 500 ml and 10-12 cheese balls
notice: it takes 1-2 days to drain the yogurt
Ingredients:
400 g Greek/Turkish yogurt 10 % fat

1/2 tsp fine sea salt

1-2 Tbsp finely chopped mixed herbs (I used frozen, of course fresh are better if available): use the herbs you prefer, mixed or not and adjust the amount to your likings

about 70 g chopped walnuts or other nuts, seeds or dried fruits

2-3 garlic cloves

3/4 tsp black peppercorns

1/4 tsp rose peppercorns

olive oil for preserving
Mix the yogurt with the salt. Line a fine sieve with a cheese cloth or a paper towel. Hang it over a bowl and give the yogurt onto the cloth and smooth it out. Put it in the fridge for 1-2 days for draining. In the end it's possible to drain it even more by pressing the cheese cloth with the yogurt. The recipe says the yogurt should weigh only the half by the end. That didn't happen as I made it, but it worked out nonetheless.
In a bowl fold the herbs and/or the spices in the  cream cheese. With lightly oiled hands (otherwise the cheese will just stick to your hands) form about walnut sized balls. Put them on a platter and chill them again for two hours so they become firm.
Peel and the slice the garlic in thinly.
Roll the cream cheese balls in the chopped walnuts.
Fill a bit of olive oil in the glass. Add some of the cheese balls carefully, as well as some of the garlic and the peppercorns, then again oil and cheese balls and so on. In the end everything should be covered with olive oil.
The cream cheese balls can be stored for up to two weeks in the refrigerator.