Vorletztes Jahr hatte ich eine wundervolle Barbecuesauce mit Pfirsichen eingemacht. Leider habe ich es letzten Sommer mit den Pfirsichen nicht auf die Reihe bekommen und so sahen die Barbecuesaucen-Vorräte im Herbst ganz mager aus.
Dann war ich im November auf ein tolles Whiskyevent eingeladen und in Folge dessen habe ich mit rauchigem Ardmore-Whisky experimentiert. Und nichts passte auf Anhieb besser, als meine Barbecuesauce damit zu verfeinern um damit das typisch rauchige Aroma zu erzielen. Da auch noch Mangosaison war und es ganz wunderbare reife aromatische Früchte zu kaufen gab, habe ich zugeschlagen und diese exzellente fruchtige, rauchige Mango-Barbecuesauce mit Whisky kreiert!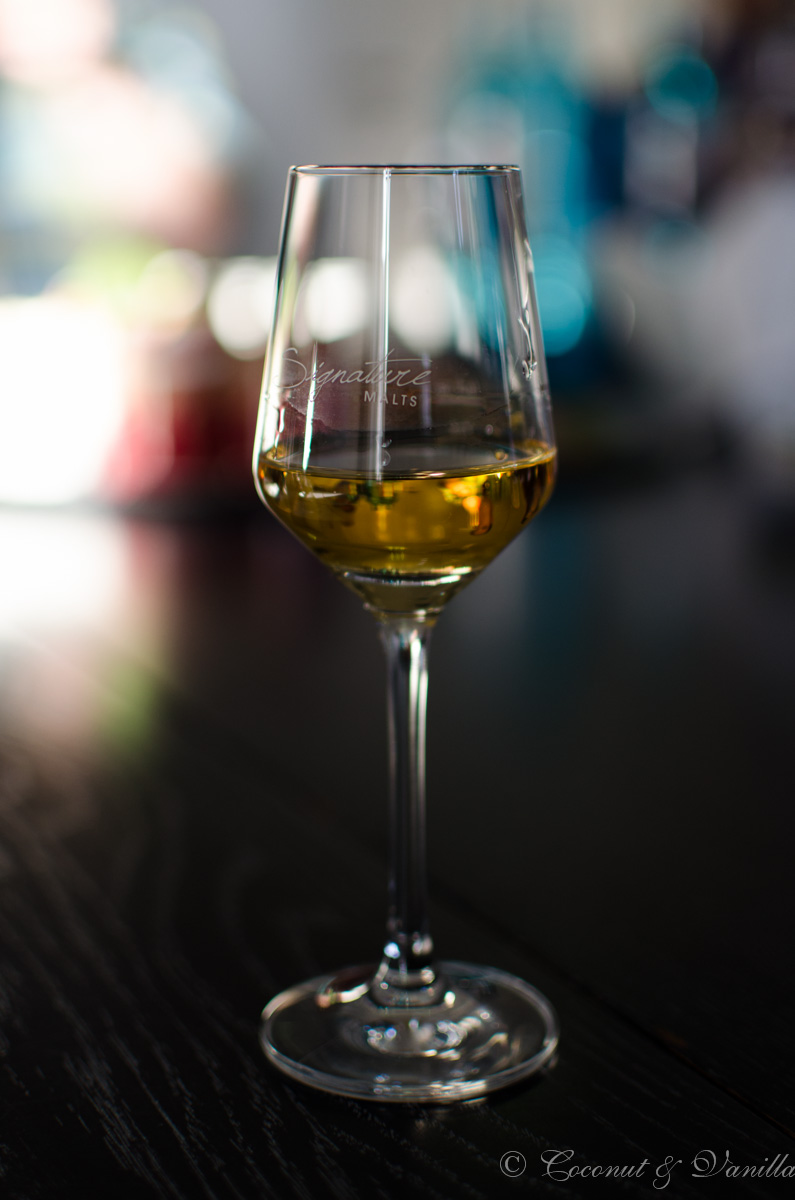 Ich habe mich bisher kaum mit Whisky beschäftigt. Ich war zwar im Schottland Urlaub in der Glenfiddich Destillery, aber danach habe ich eher meine Leidenschaft für guten Whiskylikör entdeckt als für Whisky.
Mit einer Handvoll Bloggern wurde ich von Ketchum Pleon eingeladen um Ardmore Whisky im Vergleich zum Auchentoshan Whisky zu verkosten. Es war sehr spannend zu sehen wie groß die Unterschiede sind und wie gut das Rauchige des Räucherns herauskommt. Ich kann zwar nun nicht behaupten das Malt Whiskys zu meinen neuen Lieblingsspirituosen gehören, jedoch kann ich den Ardmore definitv als "Einsteiger" Single Malt empfehlen. Meine Neuentdeckung für mich war eher die Gegenverkostung ;).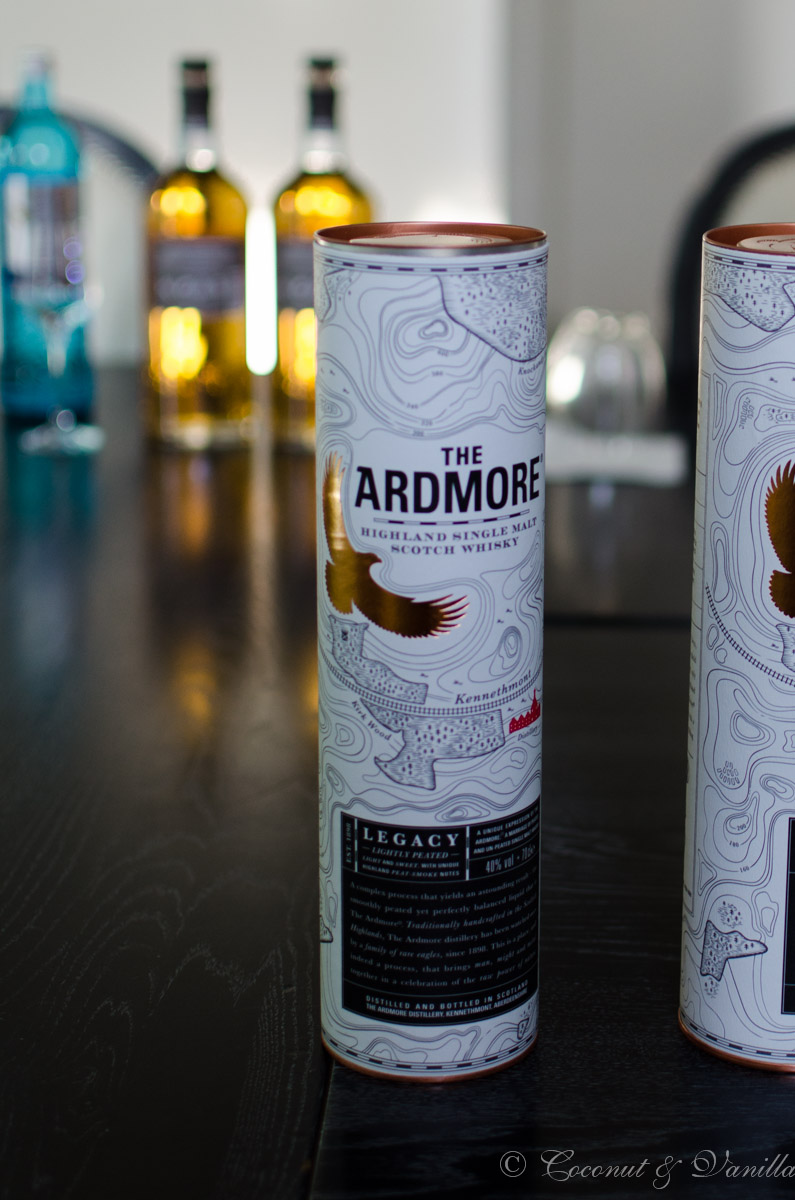 Es steckt sehr viel mehr hinter guten Spirituosen und es geht nicht einfach nur um's "Saufen". So ein Tasting bringt ganz neue Einblicke und ist wirklich interessant und spannend. Mir hat es großen Spaß gemacht und ich bedanke mich für die Einladung und das toll organisierte Event!
Den meisten von Euch werde ich sicherlich nicht mehr erzählen müssen was man mit dieser Barbecuesauce alles anstellen kann. Lasst Euch aber gesagt sein, dass kombiniert mit dem karamellisierten Zwiebelrelish und noch ein paar grandiosen Zutaten ein ganz außergewöhnlicher und verdammter guter Burger bauen lässt! Das Rezept wird folgen! Nun lasse ich Euch erstmal Zeit die beiden Grundzutaten für den Burger nachzukochen. Anschließend ist der Burger nämlich ruckzuck zusammengebaut!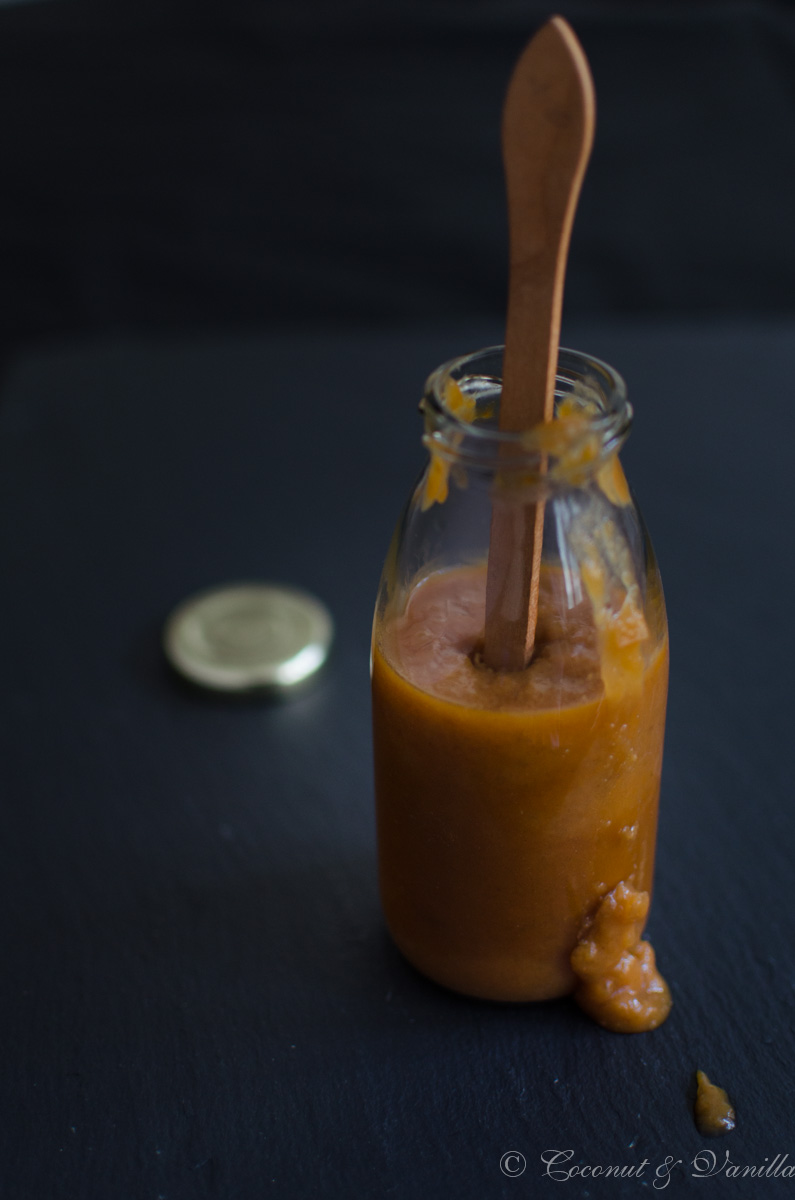 Vor einem Jahr: Butterschmalz selbstgemacht
Vor drei Jahren: Frischkäsebällchen mit Kräutern und Walnüssen
Rauchige Mango-Whisky-Barbecuesauce
ergibt: etwa 750 ml
Zutaten:
4 reife Mangos (im Sommer passen reife aromatische Pfirsiche auch ganz hervorragend in diese Sauce!)
60 ml Zitronensaft
2 EL Butterschmalz
3 rote Zwiebeln, geschält und fein gewürfelt
2 Knoblauchzehen, fein gehackt
200 g brauner Zucker (Muscovado)
250 ml Cideressig (oder Weißweinessig)
125 ml Single Malt Whisky (z.B. Ardmore)
125 ml Worcestershiresauce
60 g Tomatenmark
1 TL Ingwer, fein gehackt oder gerieben
1 Msp Chilipulver
1/2 TL Salz
Flaschen und Deckel sterilisieren (entweder im Ofen oder im Wasserbad). Ich bevorzuge 250 ml Fläschchen, das ist genau die richtige Größe für die Sauce.
Die Mangos mit einem Sparschäler schälen. Das Fruchtfleisch vom Kern schneiden und würfeln. Mangofleisch und Zitronensaft vermengen.
In einer unbeschichteten tiefen Pfanne oder einem Topf das Butterschmalz bei mittlerer Hitze schmelzen und die Zwiebel darin andünsten bis sie weich und goldgelb ist. Den Knoblauch dazugeben und 1 Minute mitdünsten. Mango, Zucker, Essig und Whisky dazugeben. Unter rühren zum Kochen bringen, dann die Hitze runterdrehen und 30 Minuten köcheln lassen.
Die Mangosauce mit einem Stabmixer gründlich pürieren.
Worcestershiresauce, Tomatenmark, Ingwer und Chili zur Sauce geben und aufkochen. Die Hitze reduzieren und etwa 10 Minuten kochen bis die Sauce dickflüssig ist. Mit Salz würzen.
Die heiße Sauce mit Hilfe eines Trichters in die Flaschen füllen und verschließen.
Wer auf Nummer sicher gehen will kann die Flaschen nun noch einmachen. Dafür die Flaschen in einem Topf (mit Gitter oder Küchentuch auf dem Topfboden) mit Wasser bedecken und zum Kochen bringen. 15 Minuten köcheln lassen. Aus dem Wasserbad nehmen und abkühlen lassen.
Ich habe die Erfahrung gemacht, dass die Sauce auch ohne Einmachen ein Jahr hält, aber wer die Sauce verschenkt sollte besser Vorsicht als Nachsicht walten lassen.
Mindestens 1 Jahr haltbar.
Last year I made a batch of barbecue sauce with peaches. Unfortunately I couldn't manage it with the peaches last summer and so in autumn the barbecue sauce in stock looked very meager.
Then in November I was invited to a whisky event and after that I was able to experiment with the smoky Single Malt Whisky Ardmore. And nothing fit better than to refine my barbecue sauce with that whisky and to get that typical smoky flavour. Also mangoes were in season and so I bought a bunch of ripe aromatic fruits and created this excellent fruity and smoky mango barbecue sauce with whisky!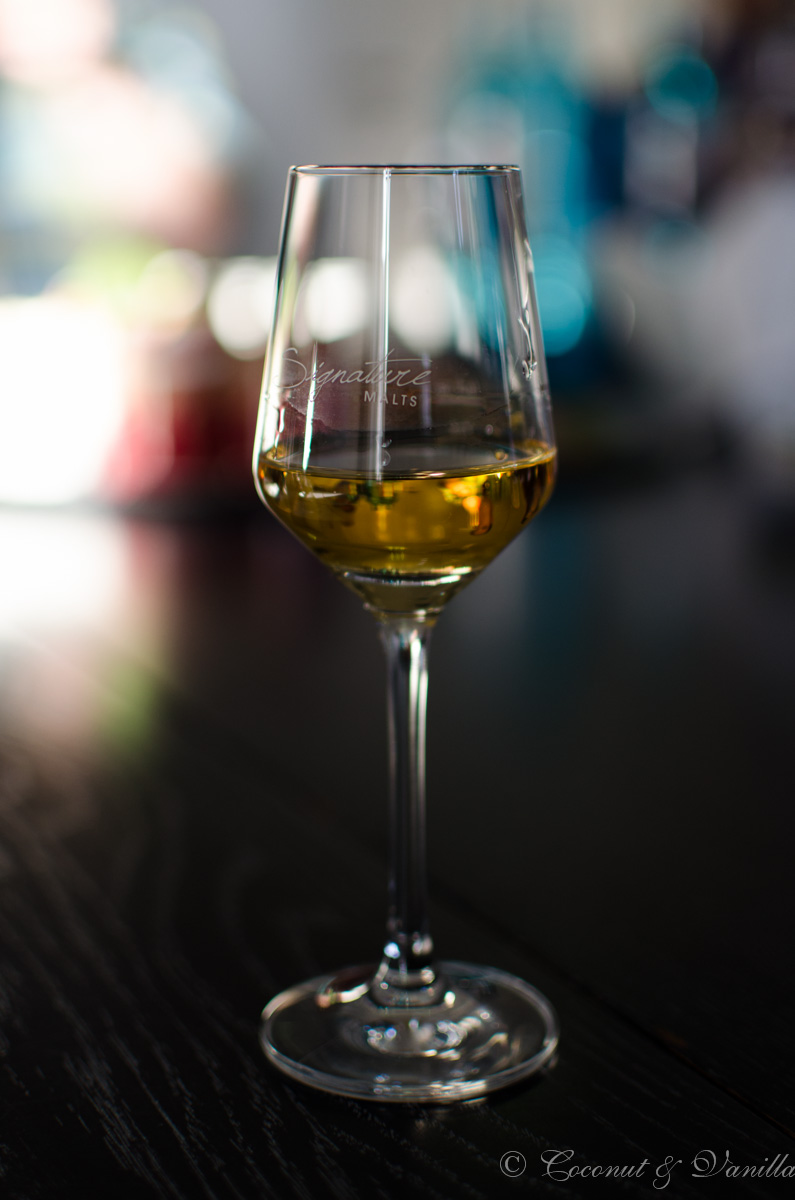 Honestly I didn't bother much about whisky until then. I was on vacation in Scotland and visited the famous Glenfiddich Destillery, but after that I rather discovered my passion for good whisky liquor than for whisky.
Together with few other bloggers I was invited by Ketchum Pleon to savour whisky and I had a really good time! We compared Ardmore whisky with Auchentoshan whisky. It was very fascinating to see the huge differences and how good the smokiness of the smoking process can be tasted. I cannot say that malt whiskys are my favourite spirits now, but I can defintely recommend Ardmore as a single malt for novices. My discovery was rather the opposition ;).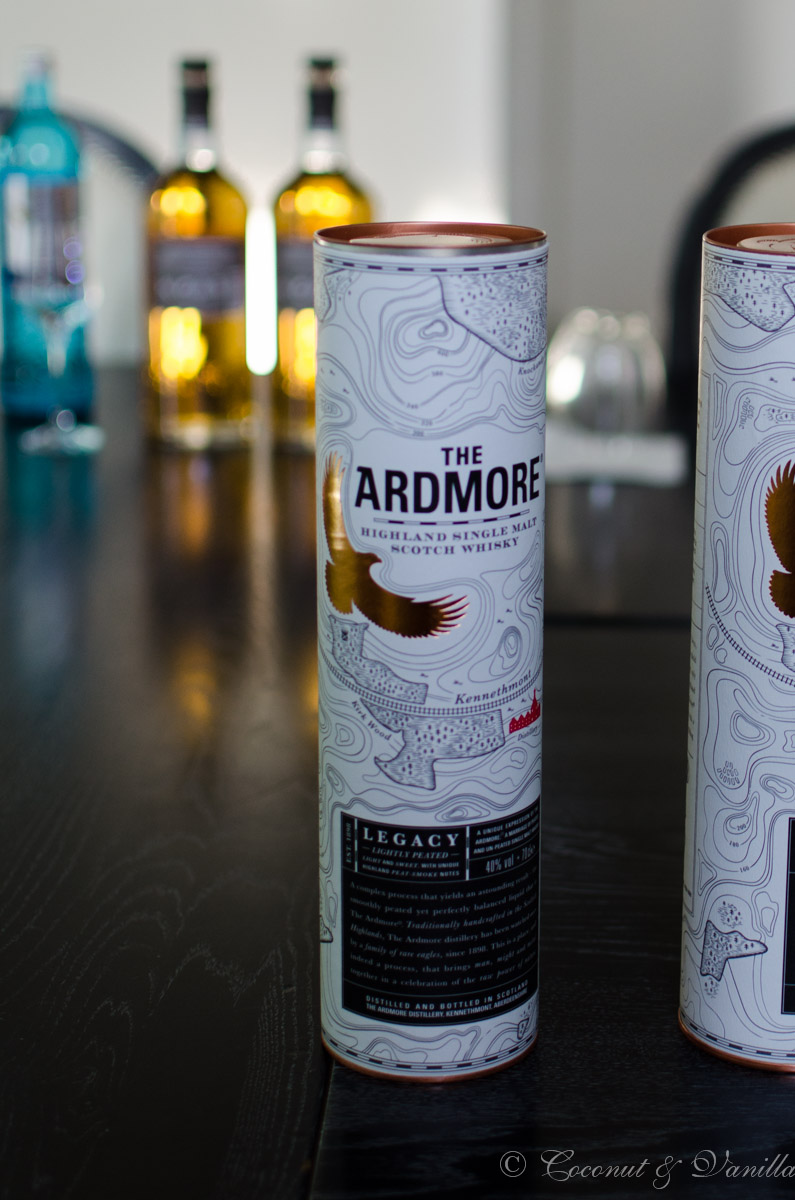 There's more behind a good spirit and it's not just about drinking, when consuming alcohol. Such a tasting reveals new insights and is very interesting and fascinating. I had a lot of fun and I'm thankful for having the opportunity!
I don't need to tell most of you what to do with this fantastic bbq sauce, right? But let me tell you, that if you are making a burger and combining the sauce with the caramelized onions and some other awesome ingredients, you'll be able to make an overly exciting burger! Recipes will follow! But now I'll give you some time to make these two ingredients for a burger. The burger is put together then in no time!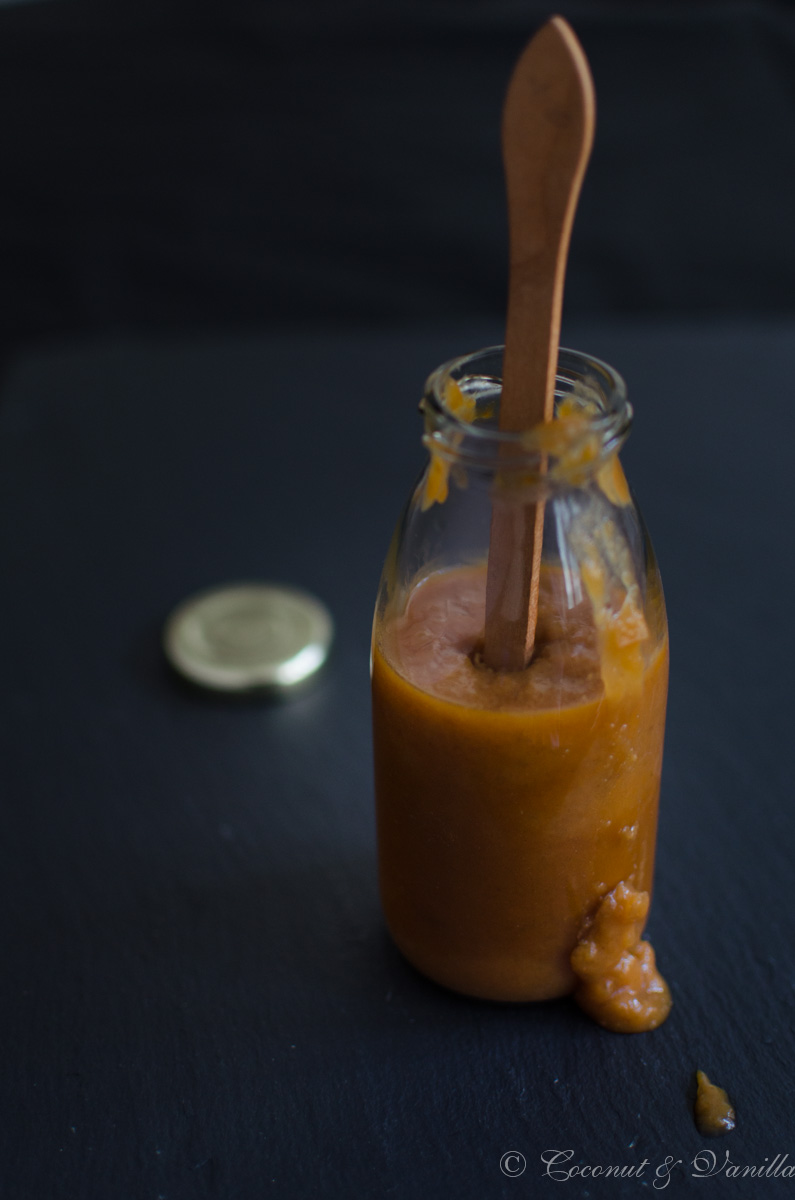 One year ago: homemade clarified butter
Three years ago: cream cheese balls with herbs and walnuts
Smoky Mango-Whisky-Barbecuesauce
yields: about 750 ml
Ingredients:
4 ripe mangoes (in summer you can choose ripe peaches instead perfectly!)
60 ml lemon juice
2 Tbsp clarified butter
3 red onions, peeled and finely diced
2 garlic cloves, finely diced
200 g muscovado sugar
250 ml cider vinegar (or white wine vinegar)
125 ml Single Malt Whisky (like Ardmore)
125 ml worcestershire sauce
60 g concentrated tomato puree
1 tsp fresh ginger, finely chopped or grated
1 pinch of chili powder
1/2 tsp salt
Sterilize bottles and lids (either in the oven or in a water bath). I prefer using 250 ml bottles, since they have just the right size for the sauce.
Peel the mangos and slice off the flesh. Dice it and mix with the lemon juice.
Heat the clarified butter in a deep frying pan or a pot and sauté the onions until they are mellow and golden brown. Add the garlic and cook for another minute. Add the mango, sugar, vinegar and whisky and bring to a boil while stirring. Turn down the heat and simmer for about 30 minutes.
Puree the mango sauce with an immersion blender very finely.
Add worcestershire sauce, tomato puree, ginger and chili to the sauce and bring to a boil. Reduce the heat and simmer for 10 minutes until the sauce is thick. Season with salt.
Fill the sauce into the bottles and seal with the lids.
If you want to be save process the jars in a boiling water bath. Therefore place the bottles in a pot (lined with a grid or a kitchen cloth) with water and cover them. Bring to a boil and cook for 15 minutes. Remove from the water and let cool completely.
In my experience the sauce is good for up to one year without processing it, but if you want to give it away it's better to be save than sorry.
At least good for 1 year.