Saturday, 8th November 2014
You have some carrots left from making the awesome carrot top pesto? Then this is the right dish to use them: oat porridge with carrots, coconut and orange!
At the weekends I love to have a rich and cosy breakfast. But I'm really bad in deciding what to make. Rolls with a large range of toppings, waffles, pancakes, crepes or another totally different breakfast creation?
This time I made porridge again! After you read about the so very good amarant porrdige with caramelized bananas and pecans you might have realized that I like porridge, if it is really good made. This time with oats.
When making porridge I find it important to make it somehow special. In this case with grated carrots, coconut chips, orange peel and some warming winter spices. Otherwise it's quite boring. Great about porridge is also that it cooks itself and you don't need to prepare much. Breakfast for lazy people ;).
If you need to stay gluten-free it doesn't mean you need to quit oats. There are gluten-free oats available! As oats are normally gluten-free, but are normally spoiled with gluten while processed by other grains, these companies produce their oats completely separate from their other grains. Look out online or in your whole foods market.
I would imagine the porridge tastes also great with almond milk or of course oat milk ;). Therefore a vegan alternative is easy to make, too!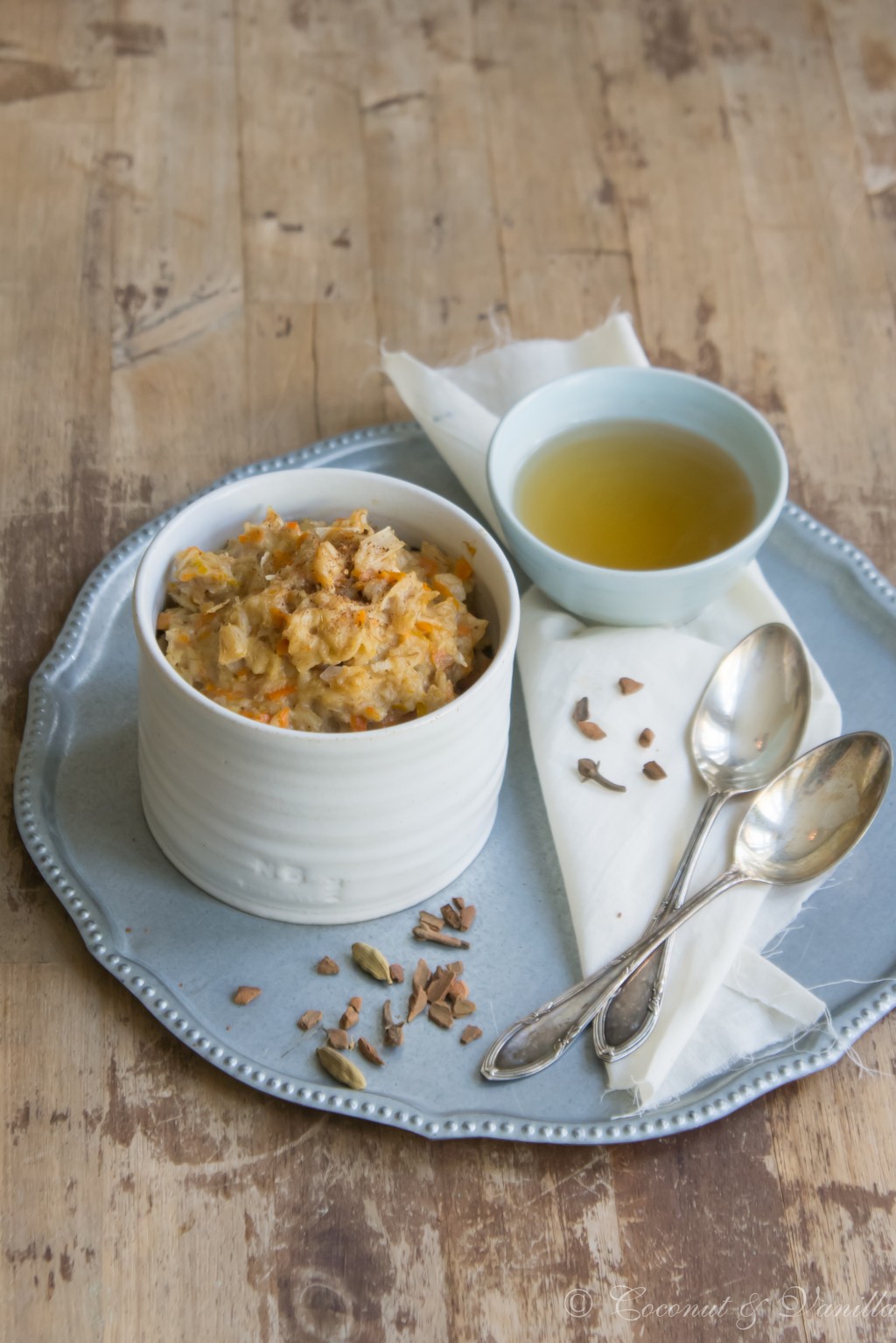 Two years ago: potato terrine with goats cheese, basil and pine nuts
Three years ago:  red cabbage with orange & gorgonzola
Four years ago: flan tart
Oat Porridge with Carrots, Coconut and Orange
adapted from Whole-Grain Mornings by Megan Gordon
yields: 3 – 4 portions
Ingredients:
500 ml whole milk
500 ml water
2 carrots, grated
200 g steel-cut oats
3 Tbsp brown sugar
3/4 tsp cinnamon
1/4 tsp ginger
1/4 tsp nutmeg
1 Prise sea salt
50 g coconut chips, roasted
1 Tbsp orange peel, finely grated
1 tsp orange extract
Boil milk and water. Add oats, carrots, sugar, spices and salt and bring again to a boil. Decrease to small heat and let it simmer for 25 minutes with lid on the skew.
Stir in the coconut chips, orange peel and orange extract. Serve immediately!