Morgens geht der Tag los mit einer Tasse Chaitee. Zuhause muss es ein offener Tee sein. Erst kürzlich habe ich einen ganz tollen Bio-Chaitee entdeckt, der kostet zwar fast doppelt so viel wie der konventionelle, enthält dafür aber keine Aromen und schmeckt wirklich sensationell! Auf der Arbeit greife ich dann doch zum Beuteltee, dabei mag ich den Chaitee von Yogi und den von Alnatura am liebsten (ich steh auf die philosophischen Sprüche auf den Teebeutelanhängern beim Yogitee 😉 ). Hier ist Bio wirklich Trumpf, denn die anderen schmecken nur künstlich. Und da Chai auch in anderen Sachen soo lecker schmeckt, habe ich jetzt eine eigene Gewürzmischung hergestellt. Ich mag diesen wohlig-warmen würzigen Geschmack so sehr!
Die Gewürzmischung eignet sich übrigens bestens als kulinarisches Geschenk zu Weihnachten! Kleine Gläschen mit Chaigewürz, daran einen Anhänger was man alles tolles damit verfeinern kann oder ein Rezept anhängen, fertig!
Ich verwende für diesen Zweck eine Gewürzmühle bzw. einen Aufsatz zum Gewürze "mahlen" (die Maschine zerkleinert die Gewürze tatsächlich mit einem Messer anstatt mit einem Mahlwerk, das Teil heißt trotzdem Gewürzmühle) meiner Kenwood Küchenmaschine (leider gibt es dieses Modell nicht mehr, aber ähnliche). Das ist wirklich unglaublich praktisch und hat sich auch schon bei einigen indischen Gerichten gelohnt. Wer so ein Multifunktionstalent nicht zu Hause hat, der kann auch eine kleine Gewürzmühle oder eine Kaffeemühle verwenden. Dann aber darauf achten, dass keine Geschmacksstoffe vom vorherigen Mahlgut übertragen werden können.
Ein Trick hierzu: Einfach ein Esslöffel Reis vorher mahlen, der neutralisiert die Geschmacksstoffe weitestgehend und "reinigt" so die Mühle.
Ansonsten benötigt ihr keine besonderen Zutaten, achtet nur darauf, dass ihr echte Ceylon-Zimtstangen verwendet, diese sind hochwertiger als die Cassia-Zimtstangen und enthalten weniger Cumarin. Ceylon-Zimtstangen bestehen aus dünnen Zimtrindenblättern die mehrfach gerollt und gewickelt sind, sie bestehen also aus vielen dünnen Schichten. Cassia-Zimtstangen hingegen sind dick und werden nur einmal gerollt. 
Ich verwende die Gewürzmischung (noch) nicht für Tee, sondern ab sofort für alles andere, dass ich mit diesem Gewürz verfeinern möchte. Und da fallen mir schon ganz viele tolle Sachen ein! Ihr dürft gespannt sein was ich Euch alles in den kommenden Wochen präsentieren werde! Es lohnt sich!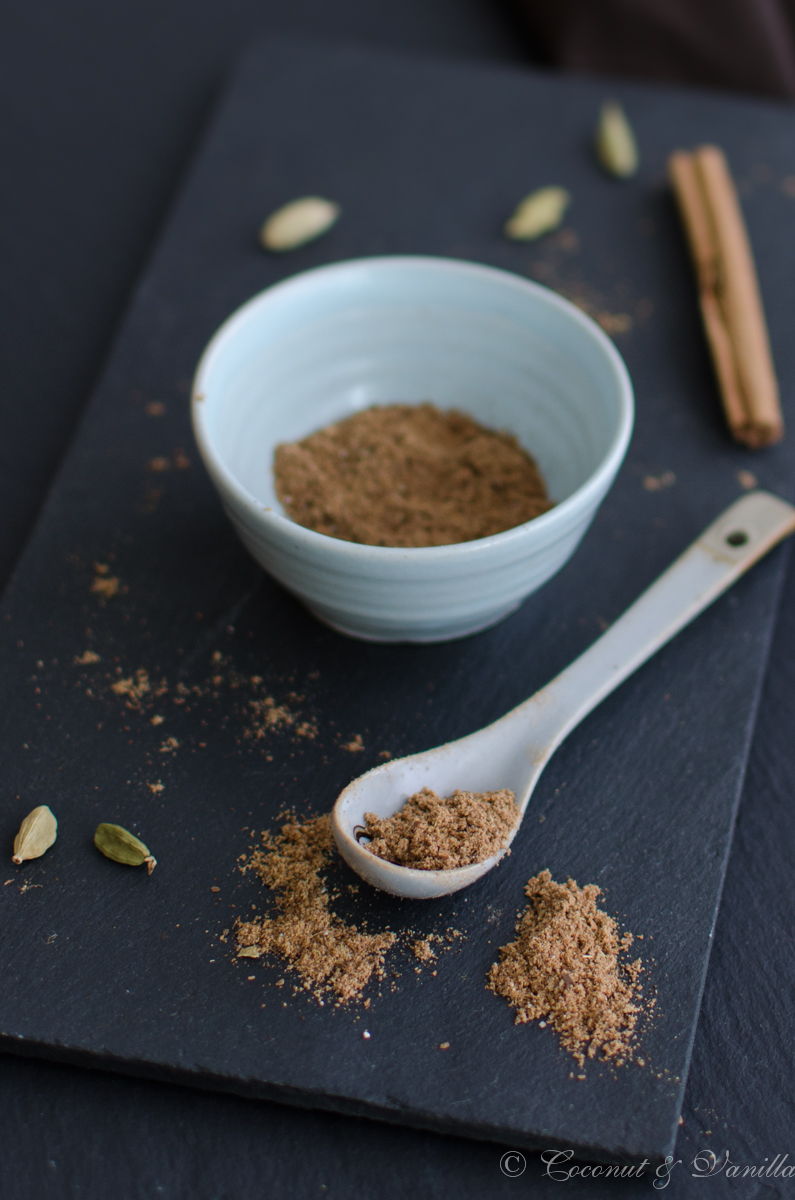 Vor zwei Jahren: Chocolate Chip Cookies mit Pistazien, dunkler Schokolade und Rauchsalz
Vor drei Jahren: Orangen-Rotkohl mit Gorgonzola
Vor vier Jahren: Flan Tarte
Chaigewürz
Zutaten:
1 Ceylon-Zimtstange
1,5 TL gemahlener Ingwer
3 schwarze Pfefferkörner
12 Nelken
4 grüne Kardamomkapseln
Alle Zutaten in eine Gewürzmühle (oder Kaffeemühle) geben und zerkleinern bzw. mahlen bis eine feine Gewürzmischung entsteht. In ein Gläschen abfüllen. 
Mornings begin with a cup of chai tea. At home loose tea. Just recently I discovered the perfect organic chai tea, which costs twice as much as the normal one, but therefore there are no flavours in it and it taste sensationell! At work I use tea bags, I prefer the chai by Yogi and Alnatura. Here organic is a must, since others only taste gruesome artifical. As chai tastes so yummy in all kind of dishes and drinks, I made my own spice mixture! I love the warming spicy taste so much!
Therefore I use a spice mill attached to my kenwood food processor. This is so handy and I already used it for spice mixtures for different indian dishes. If you don't own a fancy machine like that you can also use a small spice grinder or coffee mill. Just make sure that no flavours are transferred from the previous milled food.
Here's my trick to avoid that: Grind one tablespoon of plain rice beforehand. It neutralizes the flavours mostly and "cleans" your mill/grinder. 
You don't need any special spices, just make sure you use real ceylon cinnamon sticks. Those are from high quality in contrast to cassia cinnamon sticks and contain less cumarin. Ceylon cinnamon sticks are made from thin cinnamon rind and are rolled many times, so they consist of many thin layers. Cassia cinnamon sticks on the other side are made of thick rind and only rolled once!
I use the chai spice mixture not for my tea (yet), but for everything else, that I will spice up! I'm already thinking of so many possibilities. Stay and tuned for what I'll present the next weeks! It will be totally worth it!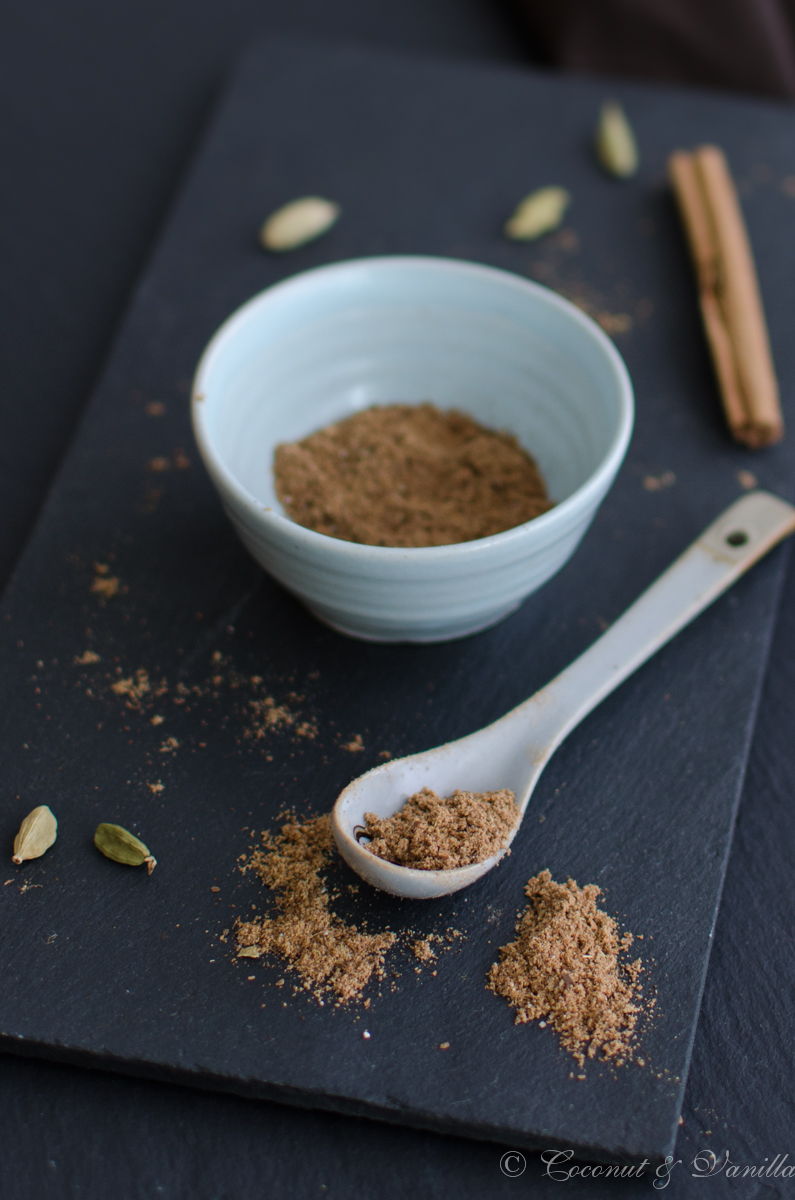 Two years ago: chocolate chip cookies with pistachios, dark chocolate and smoked sea salt
Three years ago: red cabbage with orange and gorgonzola
Four years ago: flan tart
Chai Spice
Ingredients:
1 ceylon cinnamon stick
1,5 tsp ground ginger
3 black peppercorns
12 cloves
4 green cardamom pods
Place all ingredients in a spice mill (or coffee mill) and ground until you hve a fine spice mixture. Keep in a jar.