Thursday, 20th March 2014
Before you close the blog, because of the word "porridge": take a moment, because this one is really delicious and has nothing in common with oat porridge! And who can say no to caramelized bananas and roasted pecans? You see? No one! And if you dislike bananas and/or pecans you can also use some other fruit and/or nuts you like. It's just a suggestion (admittetely a very good one!)! 
All of you who have to avoid gluten can enjoy this scrumptious and filling breakfast, too, because it's totally gluten-free! Amaranth makes it possible!
What is amaranth, by the way? Amaranth is a pseudo cereal (so not a real cereal and therefore gluten-free) and belongs to the amaranth family.  Amaranth contains a lot of iron, magnesium and calcium and is also a great source for proteins. It was already cultivated 9000 years ago in Mexico and was the main dietary staple for the aztecs, mayas and incas besides corn and quinoa.
I like the slightly nutty flavour and the funny spherical texture. Although I couldn't make friends with amaranth as a side dish (it's too mushy for me, but I want to try it with the rice cooker soon), I think it's just right as a breakfast porridge. The amaranth porridge fills your stomach without making you too full, which I don't like about oats. With in maple syrup, cinnamon and hazelnut oil caramelized banana slices and my favourite nuts it's the perfect breakfast!
You can also make the amaranth on a weekday morning and cook it while you are preparing yourself in the bathroom. Roasting nuts and caramelizing the banana only needs a few minutes afterwards! This porridge is my safety net, when I have no more bread at home and I'm too lazy to go to the bakery!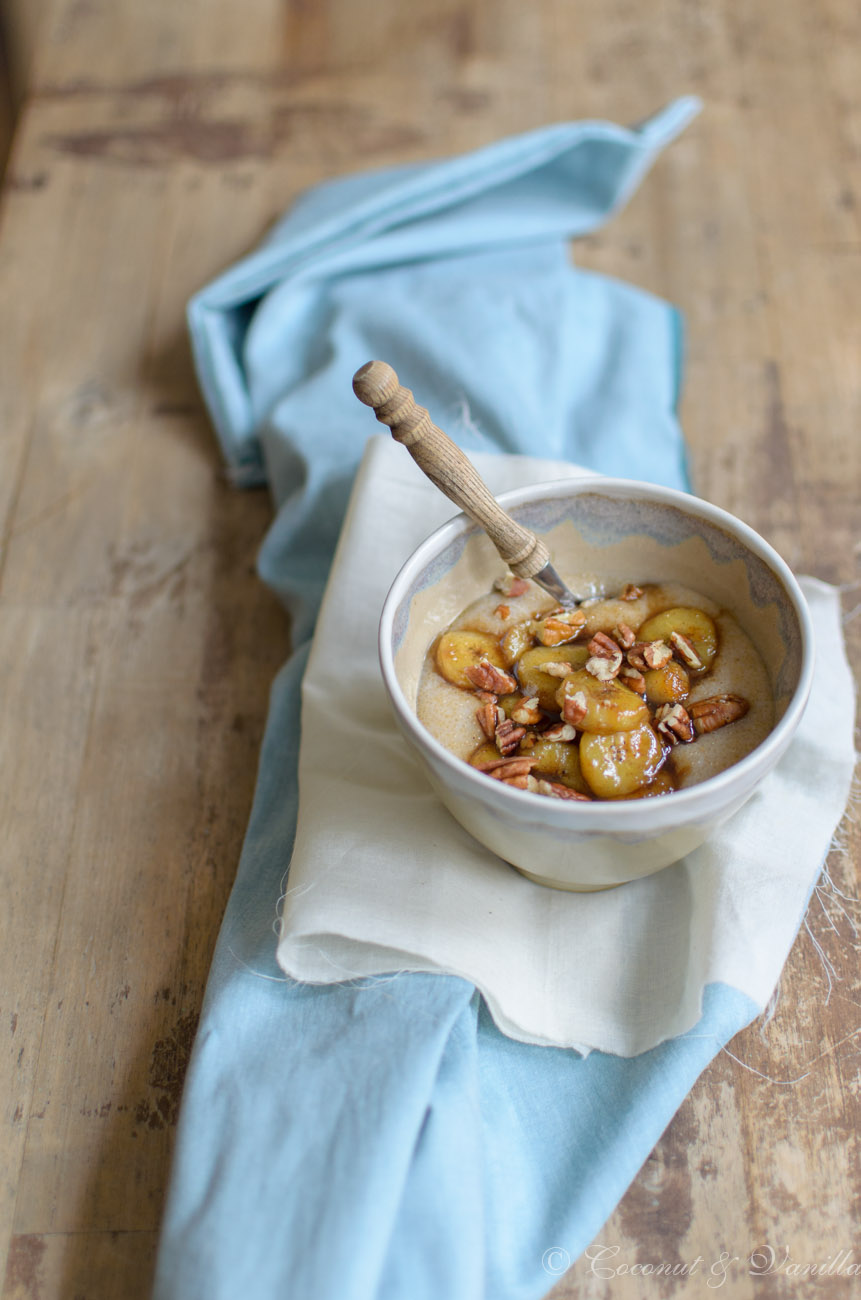 One year ago: red thai curry
Two years ago: orange polenta cake (gluten-free)
Three years ago: meat loaf à la Jamie
Four years ago: tofuballs mit tomato sauce 
Amaranth Porridge with caramelized Bananas and Pecans
tipp: Soak the amarant in water over night if possible!
yields: 1 portion
adapted from Naturally Ella
Ingredients:
150 g amaranth
300 ml water
1 pinch of salt
1 small handful of pecans
1 Tbsp hazelnut oil (or walnut oil or neutral sunflower oil) 
2 Tbsp maple syrup
1/2 tsp cinnamon
1 banana
whole milk
Soak the amaranth in water over night if possible. If you've forgotten that, rinse the amaranth thouroughly in a fine mesh strainer and let it drain.
Combine the amaranth, water and salt in a saucepan and bring to the boil. Let it simmer for 15 minutes at low heat. Remove from the heat and let it steep for another 10 minutes.
In the meantime slice the banana and chop the pecans coarsely. Roast the nuts in a skillet. Remove them from the skillet and add hazelnut oil, maple syrup and the cinnamon to it. Heat it on medium to low heat. Add the banana slices and cook until the banana is tender and caramelized.
Thin the porridge to your desired texture with whole milk. Top with the banana slices, nuts and the remaining syrup from the skillet. 
Tastes best when everything is stirred together!