Friday, 20th September 2013
This recipe is placed with the elobarate recipes in the book and that just hold me back a bit. But that's totally unfair, since the recipe is made in no time at all. Moreover, if you make it with some of my adjustments.
The recipe suggests to use homemade ladyfingers, but I didn't had any intentions to make my own. Luckily I had some bought ones at home. The suggested crumbles are also not necessary at all, which shortens the preparation time a lot! Basically I'm always pro streusel, but this might be the only occasion I'm saying thery are super redundant. The raspberry tiramisu is a bummer by itself and because of this I give you the recipe this time (adjusted of course)!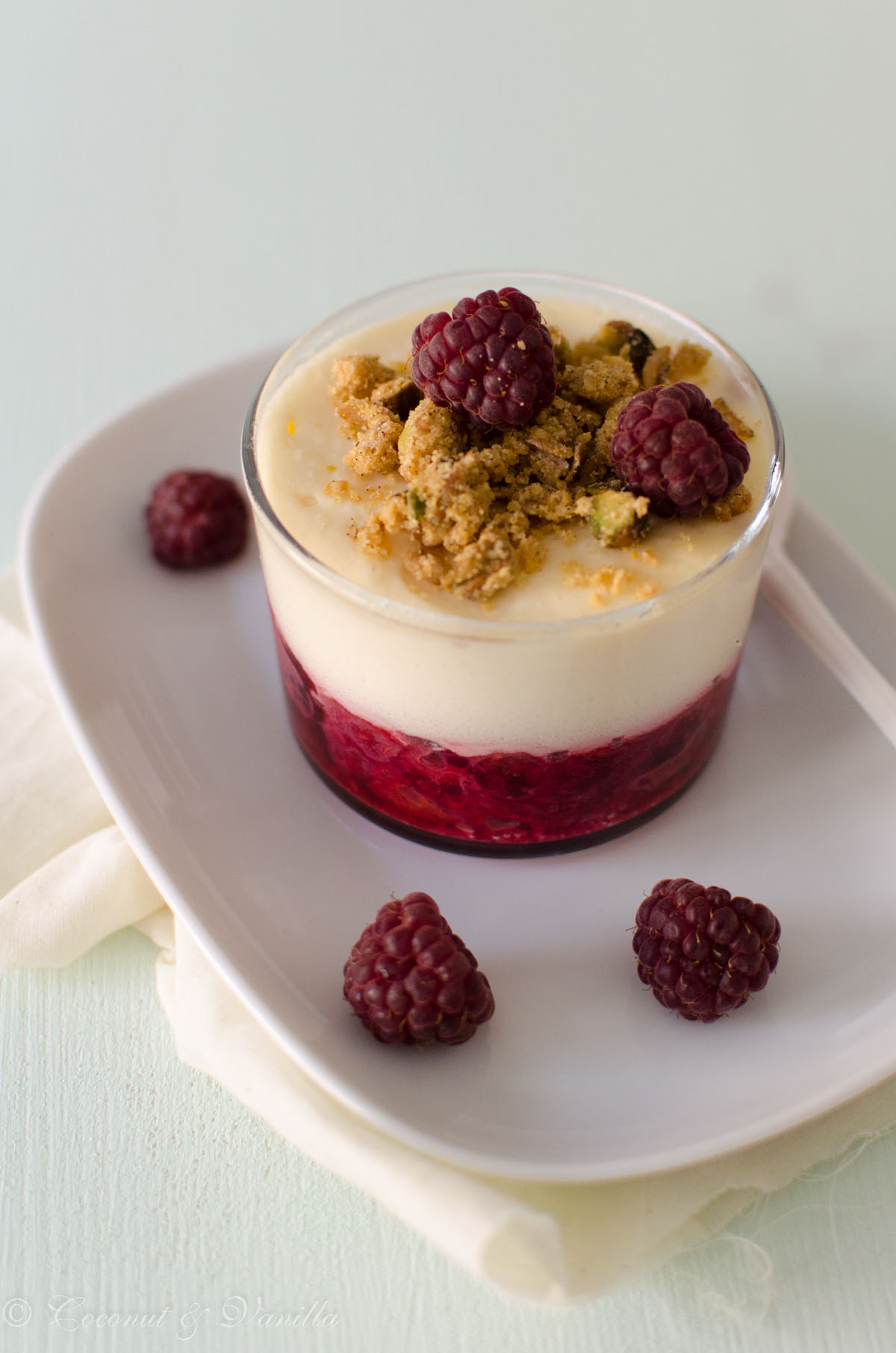 One year ago: blackberry cake with cinnamon streusel
Two years ago: vanilla pear tart
Four years ago: thin and crispy pecan cookies
Raspberry Tiramisu

adapted from La Tartine Gourmande by Béatrice Peltre
yields: 4 small glasses
Ingredients:
350 g raspberries
3 Tbsp + 4 Tbsp brown sugar or blond cane sugar
1 tsp corn starch
1 tsp lime juice
250 g mascarpone
2 large fresh eggs, seperated
1 tsp vanilla extrakt
1 pinch of salt
6-8 ladyfingers (works also with gluten-free ones)
For the raspberry sauce: Heat 200 g raspberries with 3 Tbsp sugar in a small saucepan and bring to a simmer while mashing the berries with a fork. Stir in the cornstarch and simmer until the sauce thickens a bit. Remove from the heat and add the lime juice. Let the sauce cool down, then fold in the rest of the raspberries.
For the mascarpone cream: Beat the mascarpone with the egg yolks, 4 Tbsp sugar and the vanilla extract until you have a smooth cream. Beat the egg whites with a pinch of salt until they form soft peaks. Fold into the cream.
Coarsely crumble the ladyfingers and cover the bottom of 4 glasses. Layer the sauce onto the crumbles and cover with the mascarpone cream. Refridgerate for a few hours or overnight, so the ladyfingers can absorb the sauce properly.