Dieses Rezept steht im Buch bei den eher aufwändigeren Rezepten und hat mich daher bisher auch ein wenig vom Nachmachen abgeschreckt. Völlig zu unrecht, das Rezept ist ein fixes. Vor allem, wenn man es ein wenig anpasst so wie ich.
Nervt das eigentlich auch noch jemanden, dass die Amis Rezepte oft so ausführlich schreiben, dass man denkt das Rezept dauert Stunden und man hat schon keine Lust mehr? Ich hab so ein Backbuch, dass deswegen von mir nicht benutzt wird.
Das Rezept schlägt selbstgebackene Löffelbiskuits vor, aber dazu hatte ich keine Lust. Die Streusel braucht man im übrigen auch überhaupt nicht, was die Zubereitungszeit nochmal erheblich verkürzt! Prinzipiell bin ich ich ja immer Pro-Streusel, aber dieses eine Mal sind sie echt überflüssig. Das Himbeertiramisu ist einfach so schon der Knaller und deswegen gibt es diesmal auch das Rezept dazu (natürlich das angepasste)!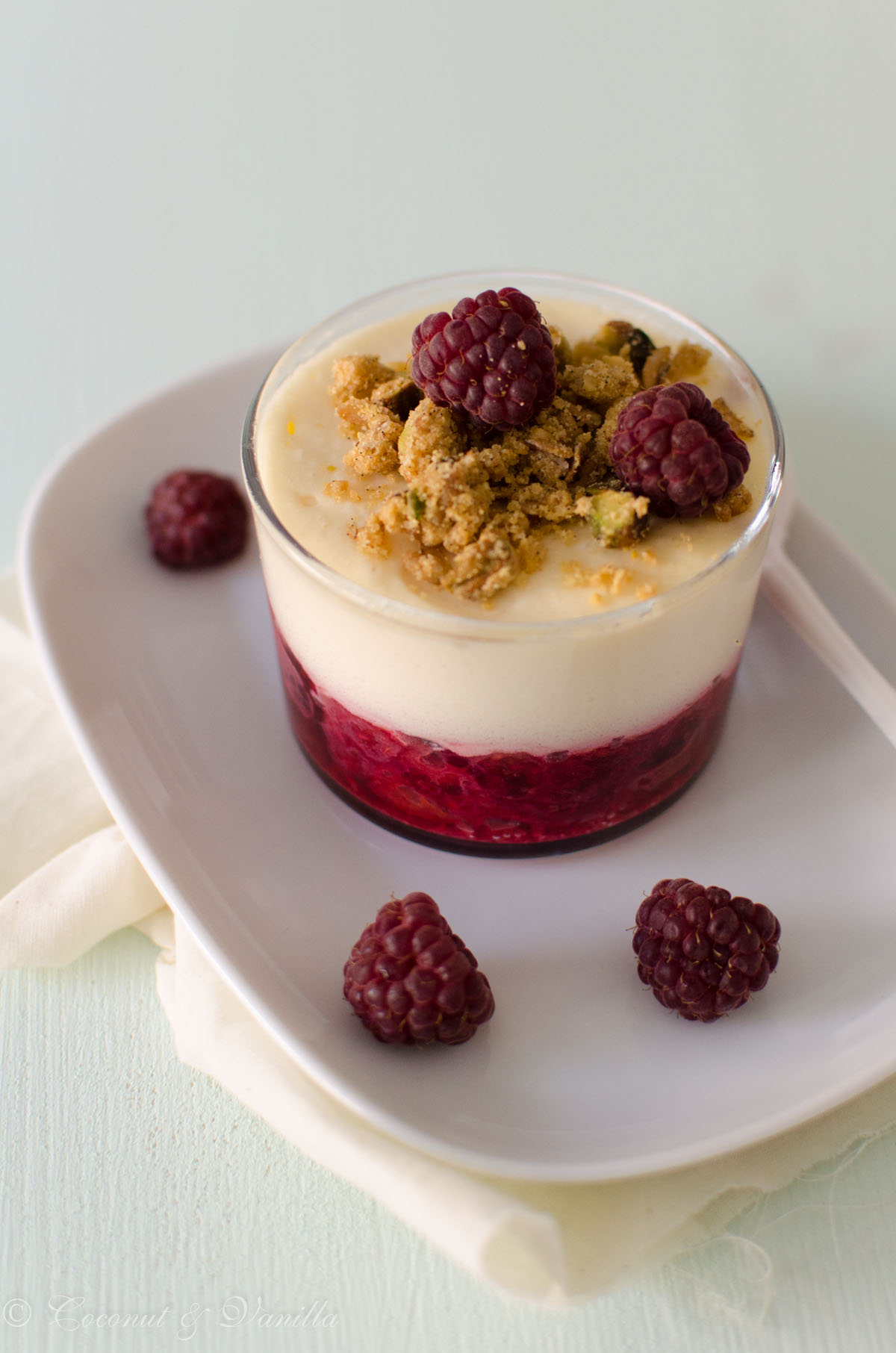 Vor einem Jahr: Brombeerkuchen mit Zimtstreusel
Vor zwei Jahren: Birnen-Vanille-Tarte
Vor drei Jahren: knusprig, dünne Pekannusskekse
Himbeertiramisu
nach einem Rezept aus La Tartine Gourmande von Béatrice Peltre
ergibt: 4 Gläschen
Zutaten:
350 g Himbeeren
3 EL + 4 EL brauner Zucker
1 TL Speisestärke
1 TL Limettensaft
250 g Mascarpone
2 große frische Eier, getrennt
1 TL Vanilleextrakt
1 Prise Salz
6-8 Löffelbiskuits (funktioniert auch mit glutenfreien)
Für die Himbeersauce 200 g Himbeeren mit 3 EL Zucker in einen kleinen Topf geben und erhitzen, dabei die Himbeeren mit einer Gabel zermatschen während die Früchte warm und weich werden. Wenn die Sauce köchelt die Speisestärke dazugeben, unterrühren und simmern lassen bis die Sauce leicht andickt. Vom Herd nehmen und den Limettensaft unterrühren. Die Sauce abkühlen lassen, dann die restlichen Himbeeren unterheben.
Für die Mascarponecreme die Mascarpone mit den Eigelben, 4 EL Zucker und dem Vanilleextrakt verschlagen bis eine glatte Creme entsteht. Die Eiweiße mit einer Prise Salz steif schlagen und unter die Mascarponecreme heben.
Die Löffelbiskuits grob zerkrümeln und den Boden von vier kleinen Gläschen damit bedecken. Die Himbeersauce auf den Krümeln verteilen und mit der Mascarponecreme bedecken. Das Tiramisu für einige Stunden oder über Nacht kühlen, damit die Kekse die Sauce gut aufnehmen.
This recipe is placed with the elobarate recipes in the book and that just hold me back a bit. But that's totally unfair, since the recipe is made in no time at all. Moreover, if you make it with some of my adjustments.
The recipe suggests to use homemade ladyfingers, but I didn't had any intentions to make my own. Luckily I had some bought ones at home. The suggested crumbles are also not necessary at all, which shortens the preparation time a lot! Basically I'm always pro streusel, but this might be the only occasion I'm saying thery are super redundant. The raspberry tiramisu is a bummer by itself and because of this I give you the recipe this time (adjusted of course)!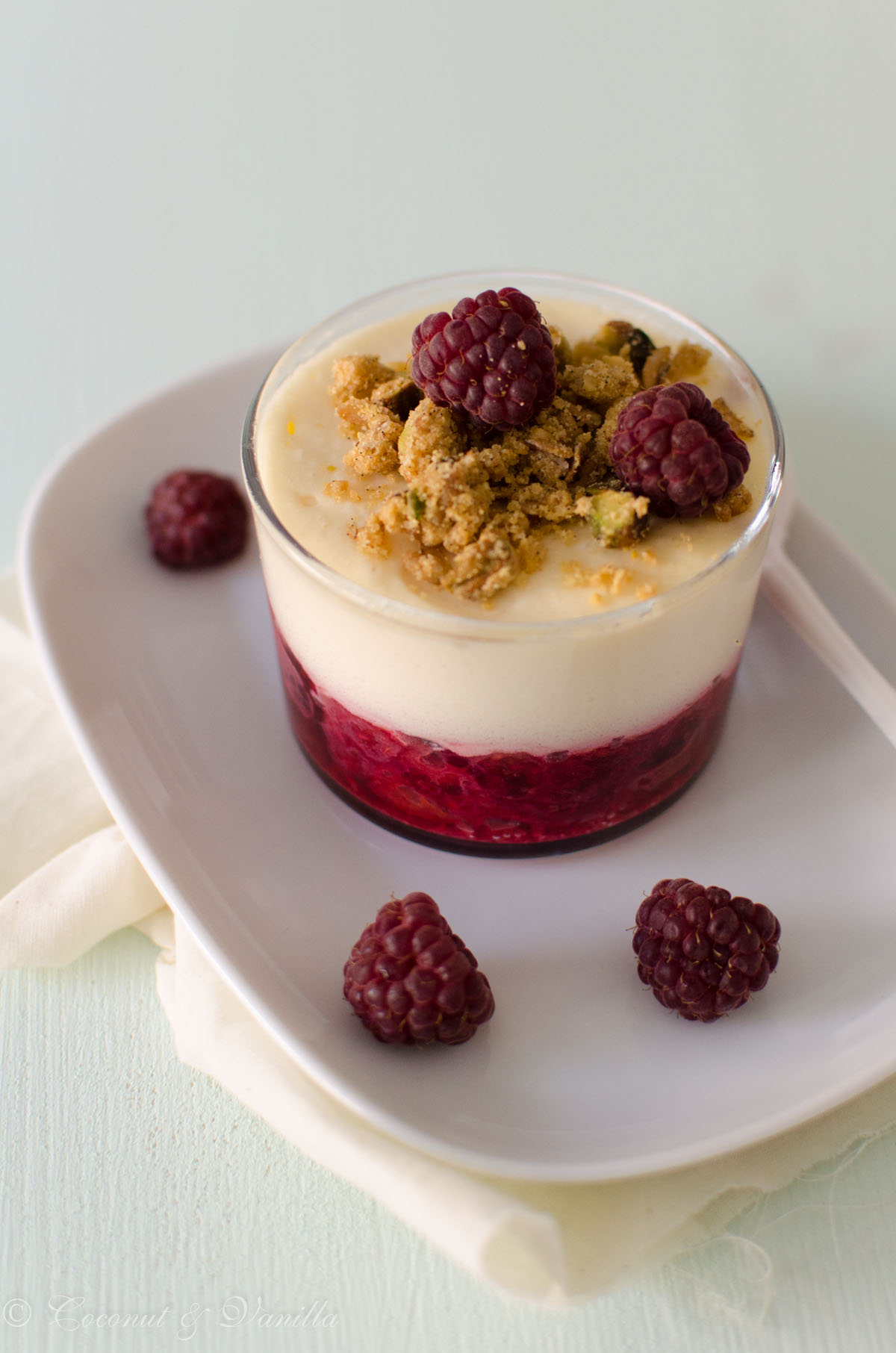 One year ago: blackberry cake with cinnamon streusel
Two years ago: vanilla pear tart
Four years ago: thin and crispy pecan cookies
Raspberry Tiramisu

adapted from La Tartine Gourmande by Béatrice Peltre
yields: 4 small glasses
Ingredients:
350 g raspberries
3 Tbsp + 4 Tbsp brown sugar or blond cane sugar
1 tsp corn starch
1 tsp lime juice
250 g mascarpone
2 large fresh eggs, seperated
1 tsp vanilla extrakt
1 pinch of salt
6-8 ladyfingers (works also with gluten-free ones)
For the raspberry sauce: Heat 200 g raspberries with 3 Tbsp sugar in a small saucepan and bring to a simmer while mashing the berries with a fork. Stir in the cornstarch and simmer until the sauce thickens a bit. Remove from the heat and add the lime juice. Let the sauce cool down, then fold in the rest of the raspberries.
For the mascarpone cream: Beat the mascarpone with the egg yolks, 4 Tbsp sugar and the vanilla extract until you have a smooth cream. Beat the egg whites with a pinch of salt until they form soft peaks. Fold into the cream.
Coarsely crumble the ladyfingers and cover the bottom of 4 glasses. Layer the sauce onto the crumbles and cover with the mascarpone cream. Refridgerate for a few hours or overnight, so the ladyfingers can absorb the sauce properly.