Friday, 21st September 2012
Hand on heart, we made this incredible cake 4 times this summer, in words: four! This is a record in our household (at least this year), because I tend to try new cakes every time. Many of you know this common problem. But I just can't pass blackberries (as well as raspberries), when I see them, since their season is so short. So every time I ask myself then, what cake to bake? The answer was often: this cake recently was so delicious. Yes, every time!
The cake turns out wonderful mellow and fluffy, because of the addition of sour cream. Topped with cinnamon streusel, what do you want more?! Our farmers market still has some late blackberries, so there's still the possibility to bake this cake this year. Otherwise, you just have to mark it for next year.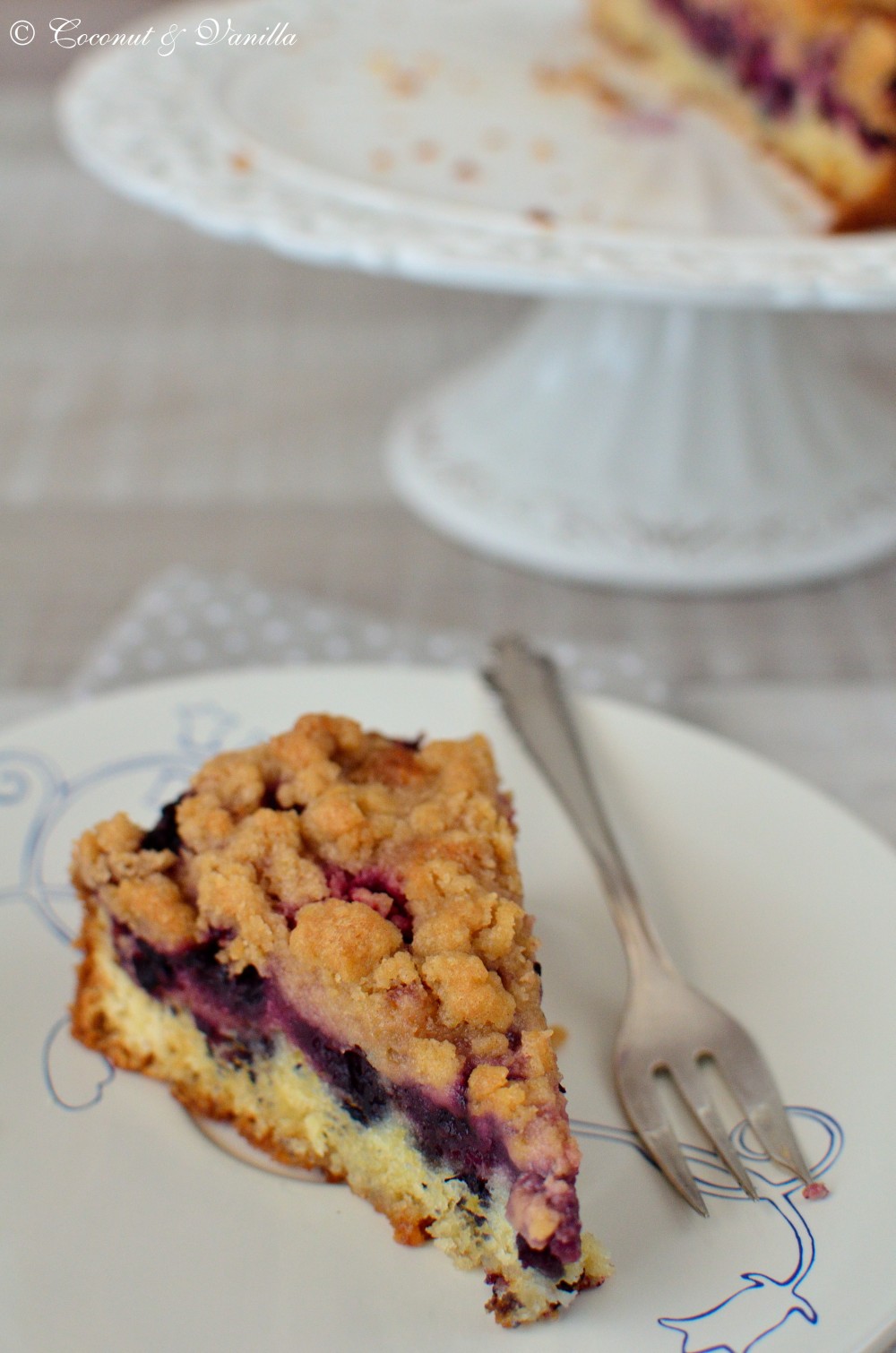 One year ago: Vanilla-Pear-Tart
Two years ago: gluten-free Donuts
Three years ago: crispy, thin Pecan Cookies
Blackberry Cake with Cinnamon Streusel
adapted from Pastry Affair
yields: one cake, 20 cm in diameter
Ingredients:
for the cake
125 g flour

1/2 tsp baking soda

1 pinch of salt

1/4 tsp ground ginger

55 g butter

110 g sugar

1 egg

115 g sour cream

250 g blackberries
for the streusel
3 Tbsp brown sugar

55 g butter

55 g flour

1/2 tsp cinnamon
Preheat the oven to 180° C.
Butter and flour a 20 cm springform pan.
Cream the butter and sugar, until light and fluffy. Beat in the egg, then the sour cream. Gradually add the dry ingredients and mix until fully incorporated.
Spread the batter into the springform pan and top with the blackberries. Press them slightly into the batter.
Mix all the ingredients for the streusel, until well mixed and coarse crumbles have formed. Crumble the streusel evenly on the cake.
Bake for 50-60 minutes, until the cake is golden brown and an inserted skewer comes out clean.