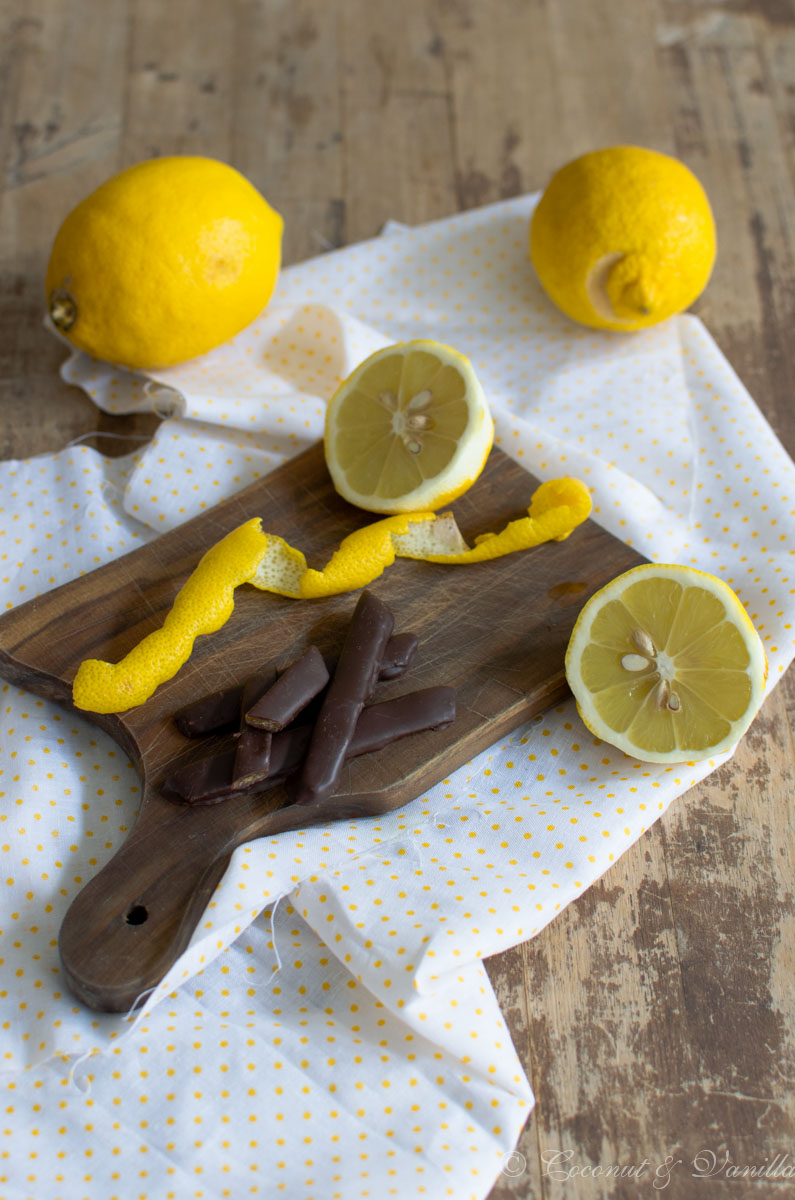 Als ich das Zitronengelee machte, habe ich überlegt was ich mit den ganzen übrig gebliebenen Schalen machen könnte. Es wäre doch schade die einfach so wegzuschmeißen.
Natürlich kann man die Schale einfach trocknen oder sie mit Salz oder Zucker mischen. Ich weiß aber, dass ich diese Dinge nicht nutze. Und ich weiß auch, dass solche Sachen hübsche Geschenke sind, aber ich kenne niemanden der diese Sachen dann wirklich nutzt und ich möchte keine Sachen verschenken die nur rumstehen und irgendwann weggeworfen werden.
Der Geistesblitz traf mich, als ich "kandieren" las! Ich hatte vor langer Zeit schon mal Orangettes gemacht, die ganz hervorragend waren, warum also nicht das gleiche mit Zitronenschalen versuchen? Gesagt, getan!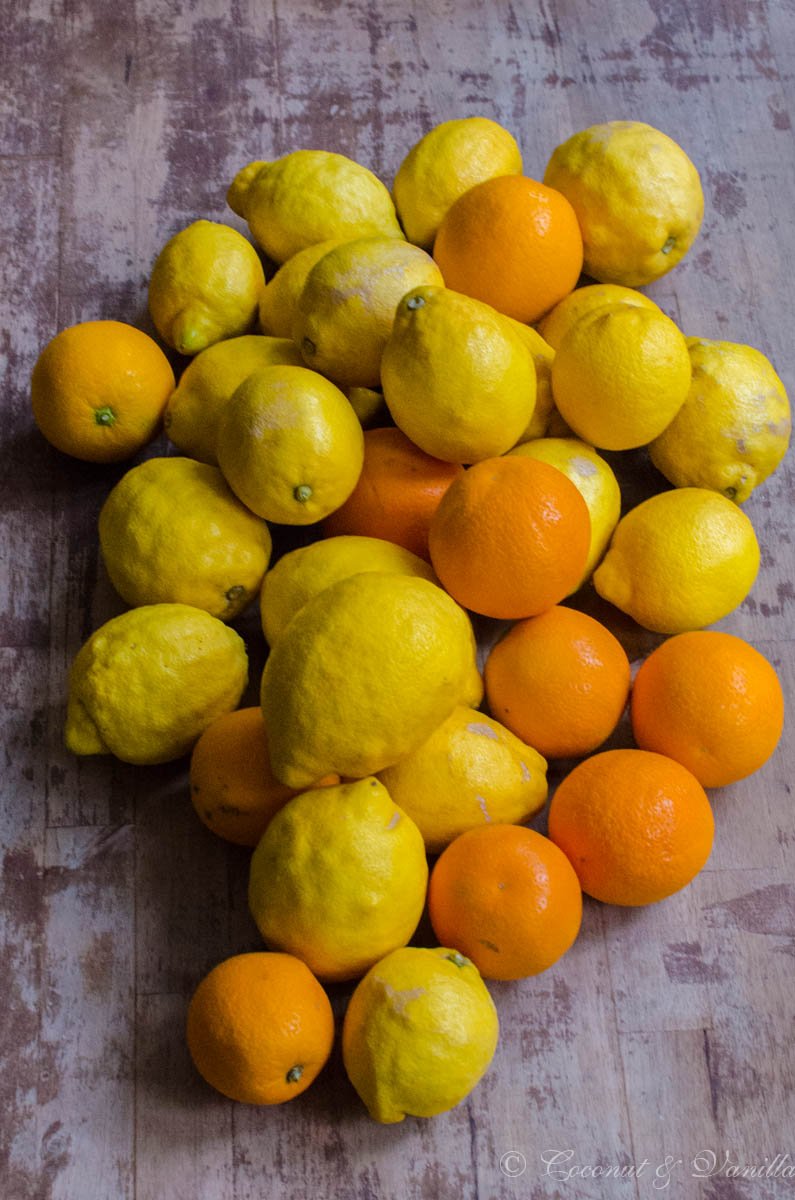 Ich liebe Orangettes, weil sie mich stark an diese Erfrischungsstäbchen erinnern, die ich schon seit meiner Kindheit so liebe! Am besten gekühlt, dann knackt die Schokolade so schön und die erfrischende Flüssigkeit mit Orangen- oder Zitronengeschmack läuft in den Mund und in der Schokolade ist dann noch so eine Kristallschicht. Mmmh, lecker!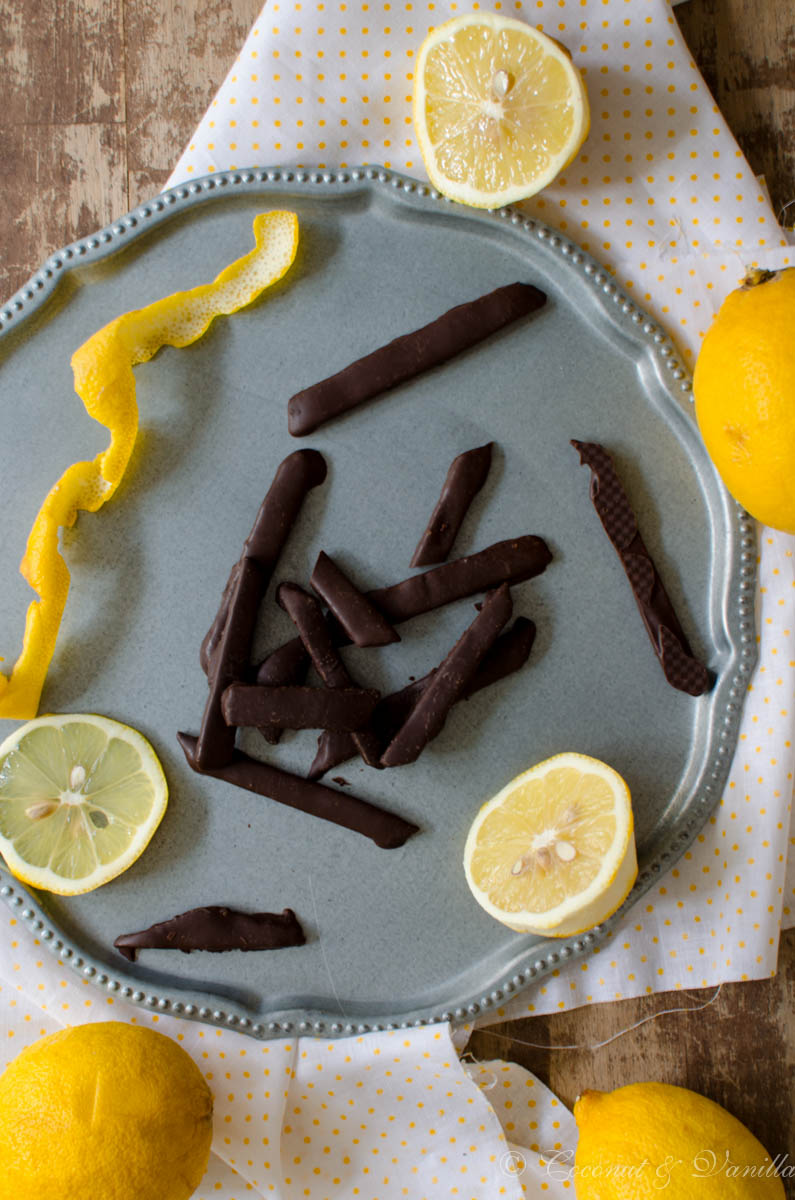 Vor einem Jahr: Rhabarberkuchen Upside Down
Vor zwei Jahren: Kaffeelikör
Vor drei Jahren: Extrakte: Vanille, Zitrone, Orange
Vor vier Jahren: Toastbrot
Lemonettes
Zutaten:
6 Bio-Zitronen, nach Möglichkeit mit dicken Schalen
100 ml Zitronensaft, am besten frisch gepresst
250 g Zucker
200 g Zartbitterschokolade / Zartbitterkuvertüre (mind. 50 % Kakaogehalt), grob gehackt
Die Zitronen je zweimal rundherum in regelmäßigen Abständen einritzen. Die Schale in vier Teilen abziehen.
In einem Topf Wasser aufkochen und die Schalen für 1 Minuten blanchieren. Die Schalen herausnehmen und abtropfen lassen.
In einem mittelgroßen Topf den Zitronensaft, den Zucker und 400 ml Wasser zum Kochen bringen. Die Schalen dazugeben und bei kleiner Hitze zugedeckt für 1,5 Stunden köcheln lassen. Die Schalen herausnehmen und auf einem Kuchengitter abtropfen und 1 Stunde trocknen lassen. Meine Schalen hatten innen noch viel weiße Schale, das sogenannte Mesokarp. Das entfernt man am besten, denn es ist sehr bitter. Im jetzigen Zustand funktioniert das am Besten, da die Schalen nach dem Kandieren sehr weich sind. Dazu einfach das Weiße mit einem scharfen Messer abschaben. Die Schalen in Streifen schneiden.
Backpapier zurechtlegen. Die Schokolade/Kuvertüre über dem Wasserbad schmelzen. Die kandierten Zitronenstreifen komplett mit Schokolade umhüllen. Am besten geht das mit einer Pralinengabel (sonst eine normale Gabel benutzen). Die schokolierten Zitronenstreifen auf das Backpapier zum Trocknen legen.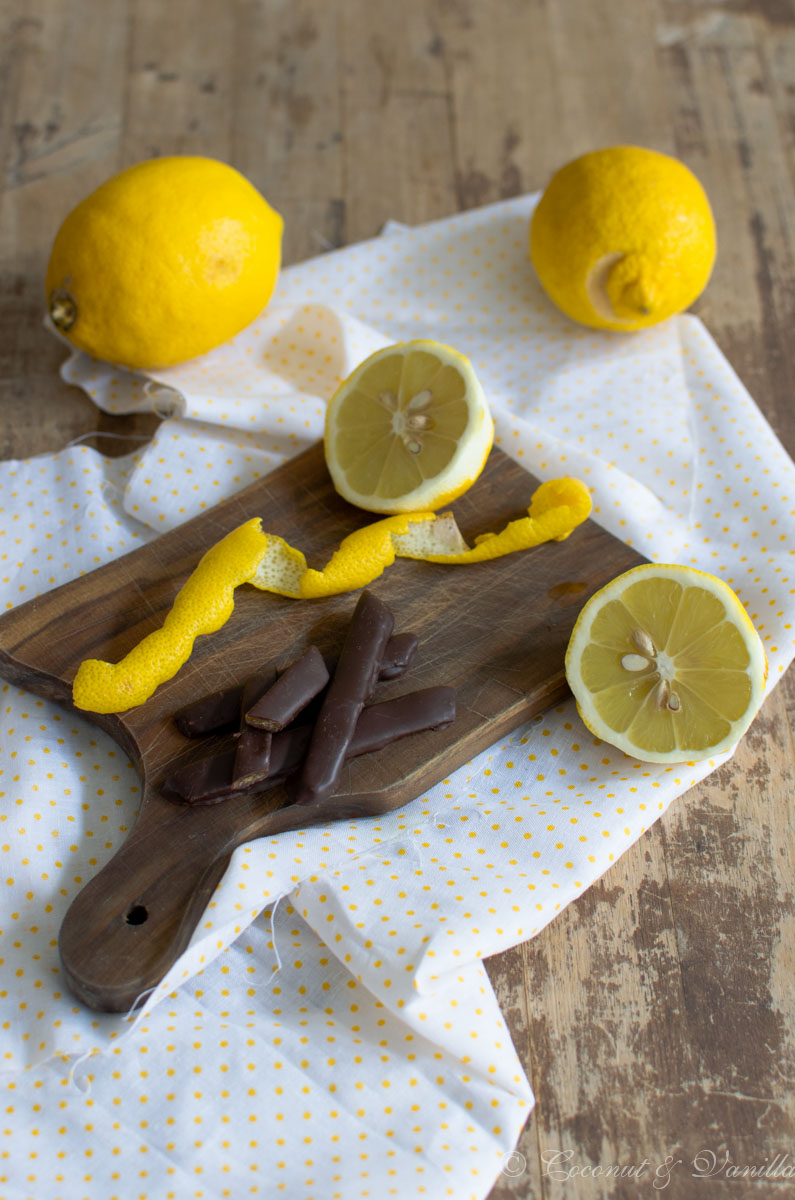 As I cooked the lemon jelly I thought about what to do with all the zests. It would be a pity to throw them all away.
Of course you can always dry the zest and mix it with salt or sugar. But I know from experience that I will not use that stuff. I also know these are lovely gifts, but I also do not know anybody who is using this really and I don't what to gift things that are only covered by dust and then thrown away.
But I had a brillian idea as I read the word "candied"! A long time ago I made orangettes, which were awesome. Why not try the same thing with lemon peels? And so I did.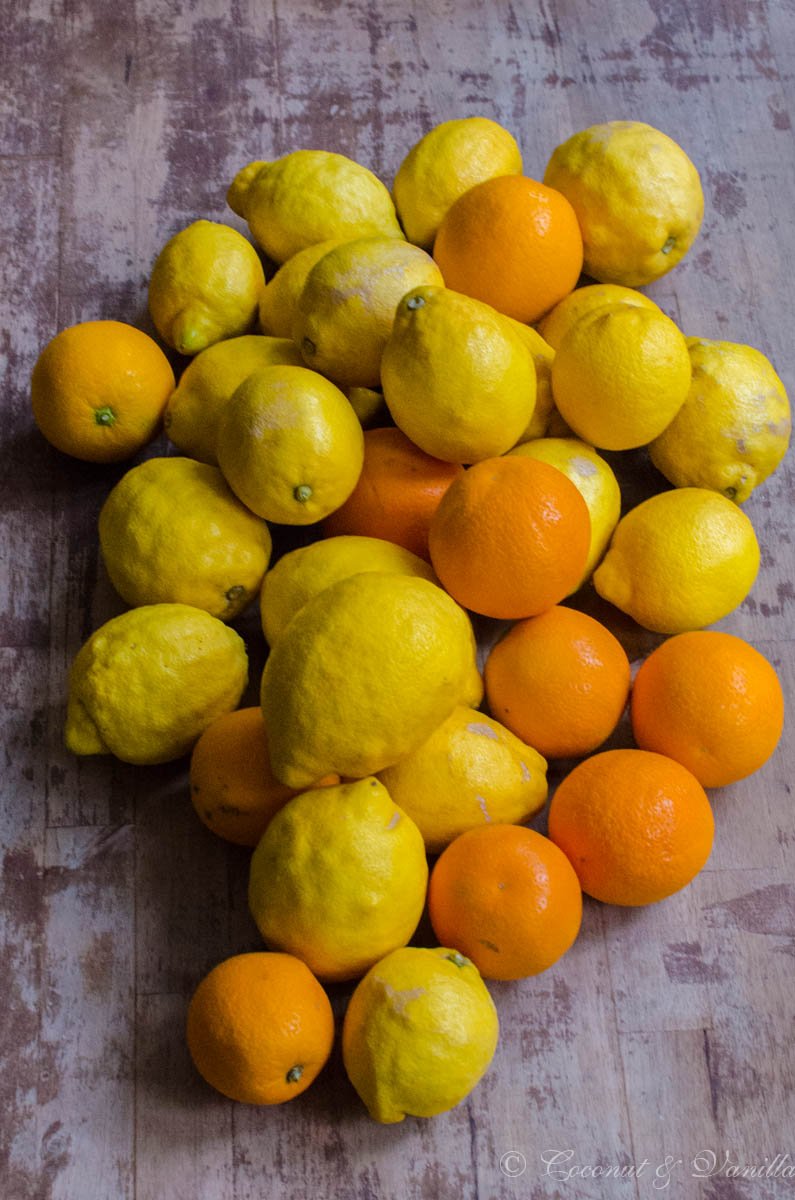 I love orangettes, as they remind me of the some childhood sweets called "refreshing sticks". They were chocolate sticks with a crytallized sugar layer and filled with a refreshing liquid with orange or lemon aroma. They were best served cold. Oh, so good!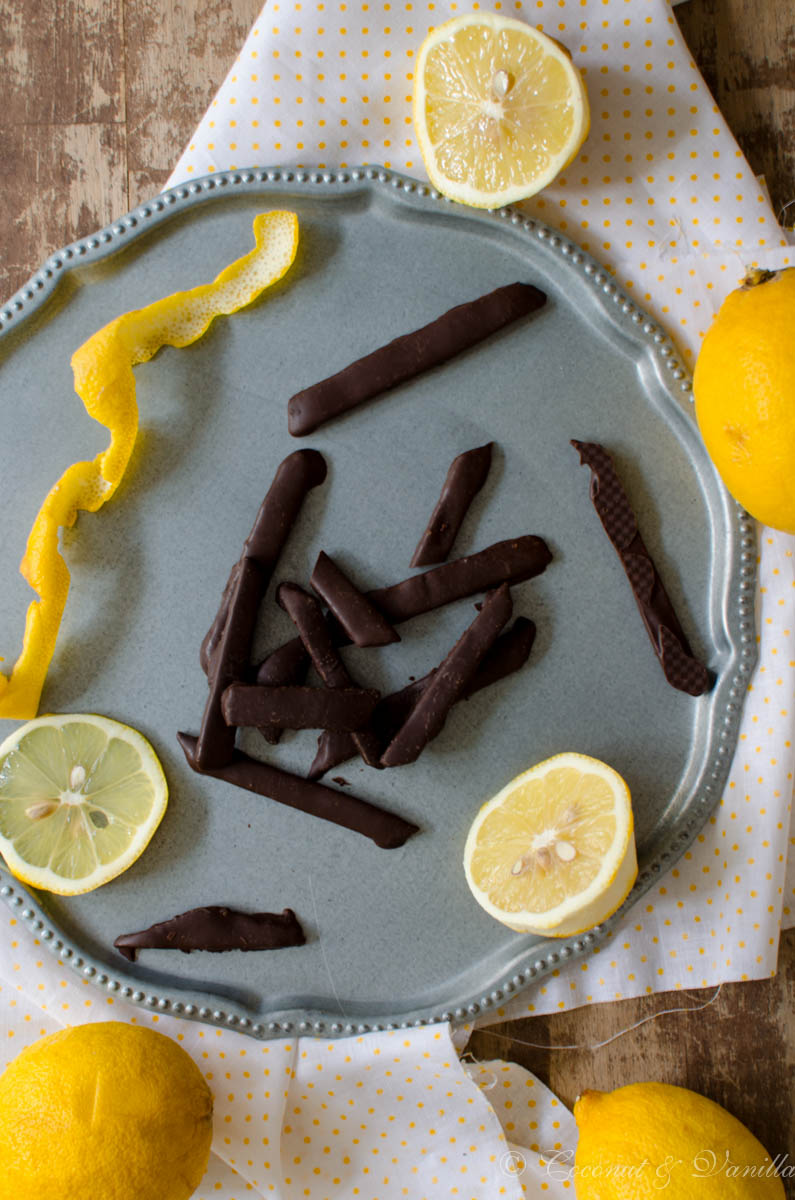 One year ago: rhubarb cake upside down
Two years ago: coffee liquor
Three years ago: extracts: vanille, lemon, orange
Four years ago: toast bread
Lemonettes
Ingredients:
3 organic lemon, preferably with a thick peel

100 ml lemon juice, best freshly squeezed

250 g sugar

200 g bittersweet chocolate (at least 50 % chocolate), coarsely chopped
 Carve the oranges two times all around at regular intervals and peel the skin off in four pieces.
Boil water in a large pot. Blanch the peels for 1 minute. Remove the peels and let them drain.
Combine the lemon juice, the sugar and 400 ml water in a medium pot and bring it to the boil. Add the lemon peels and let it simmer for 1,5 hours covered with a lid. Remove the peels and let them drain and dry on a cooling rack for 1 hour.
If your peels have a lot of the inner white peel, called mesocarp, it's best to remove it now, because it's really bitter. It works quite well in that phase, because after candying the peels are very soft. You can just scrape the white parts off with a sharp knife.
Cut the peels in stripes.
Prepare a sheet of parchment paper.
Melt the chocolate in a double boiler. Cover the candied lemon strips fully with chocolate. Using a chocolate dipping fork is helpful (otherwise use a normal fork). Place them on the parchment paper and let the chocolate dry.