Orangettes oder auch Orangetten werden Stäbchen aus kandierte Orangenschalen genannt, die mit Zartbitterschokolade überzogen werden.
Diese kleine Leckerei habe ich für die Aktion Post aus meiner Küche Mia geschickt. Sie schreibt auf dem Blog Küchenchaotin. Díe erste Leckereien-Verschickerei stand unter dem Motto "Schokolade". Na wem da nichts einfällt?!
Irgendwie passten wir auch ganz gut zusammen. Sie hatte ein Chaos, weil bei ihr Strom und  Wasser ausfiel und bei mir wollte das was ich eigentlich machen wollte gar nicht funktionieren. Ich wollte Fudge machen und der wurde so gar nicht fest. Das Zeug steht noch im Kühlschrank und wird zu Eis verarbeitet werden. Kann man ja nicht einfach wegschmeißen.
Beim Transport ging es weiter. Hier im Süden kletterten die Temperaturen ja auf einmal in die Höhe, die leckeren Krokanttrüffel von Mia litten ziemlich darunter. Ich hab erst mal das ganze Paket bei Ankunft in den Kühlschrank verfrachtet.. Meine Ware war dafür größtenteils zerbrochen, als sie in Kiel ankam. Neben den Orangettes gingen nämlich noch Gewürzschokoladenlöffel mit auf die Reise, die für Trinkschoki gedacht war. Alle zerbrochen. Aber auch wenn alles etwas schief ging, schmeckt das Ergebnis doch immer noch genauso gut. Nein, eigentlich viel besser, denn es wurde mit Liebe gemacht und verschickt von uns.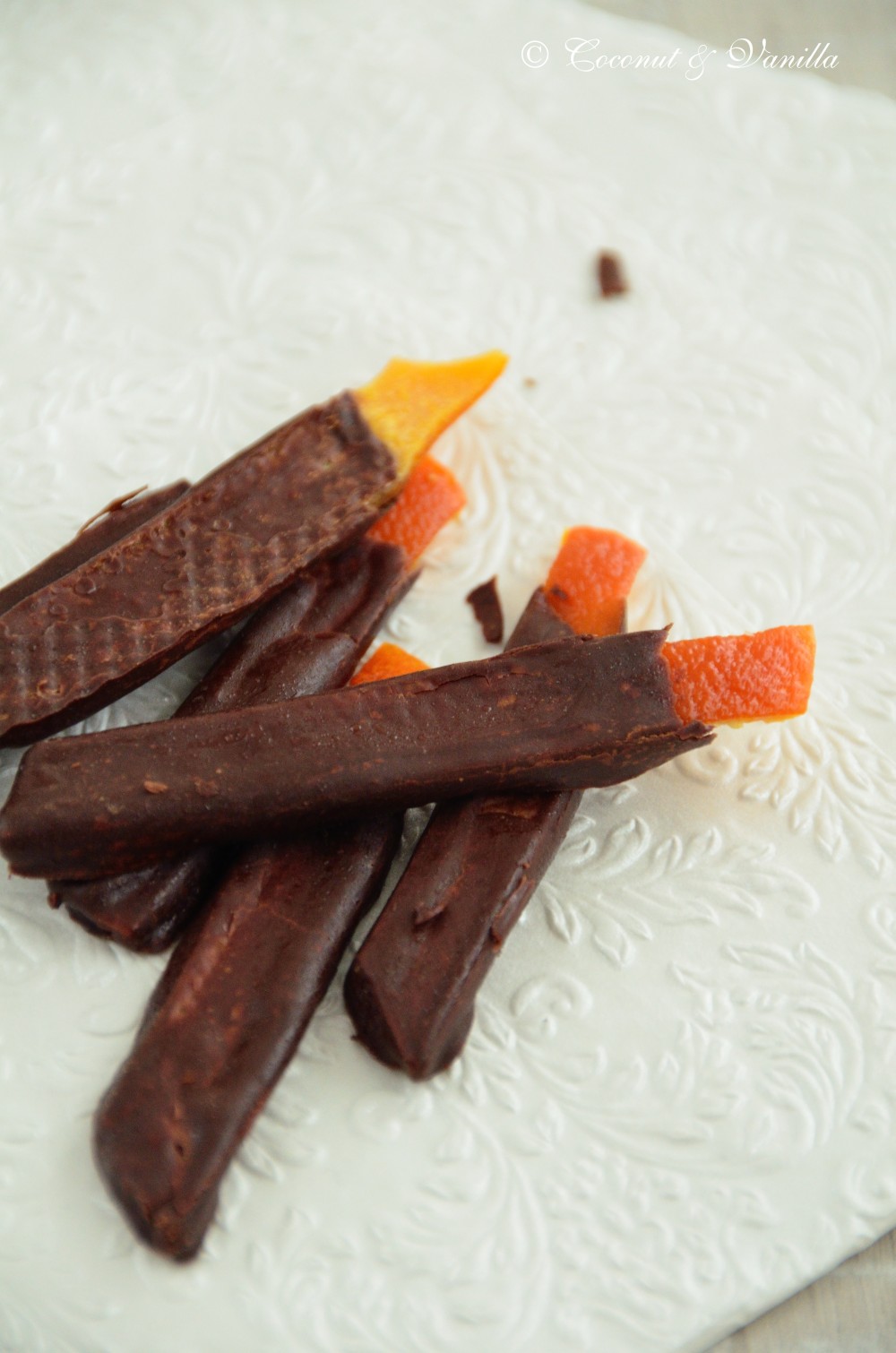 Die Orangettes sind ein absolutes Highlight, auch wenn sie etwas Zeit benötigen. Davon muss man aber nicht viel Zeit investieren. Am längsten dauert am Ende das Schokolieren der Orangenstäbchen.
Die kandierte Orangenschale zergeht einem auf der Zunge, sie ist sehr cremig und doch erfrischend. Ein perfektes Paar mit der dunklen Schokolade. Überhaupt nicht trocken oder zäh, wie man das von Trockenobst kennt (welches wir beide nicht mögen). Ich habe die Orangetten zu 3/4 schokoliert, da man so noch ein Stück Orangenstäbchen anfassen und den Rest durch die Schokolade ziehen konnte. Das Stück ohne Schokolade wird leider nach kurzer Zeit trockenerer und härter als der Rest. Ich werde daher nächstes Mal die Stäbchen komplett mit Schokolade überziehen.
Die Orangettes sollte man auch recht schnell verbrauchen, denn aus einem mir unerfindlichen Grund fängt die Schokolade an zu schwitzen und nach einiger Zeit bröckelt dann auch die Schokolade ab. Man sieht es auf den Bildern, ich habe nämlich vergessen welche von dem verschickten Gut und dem Päckchen zu machen. Deswegen musste ich kurzfristig die Reste bemühen.
Diese Orangettes werden euer Leben verändern, sie sind ein Traum (und sehen in Wirklichkeit schöner aus, als auf meinen grauseligen Bildern)!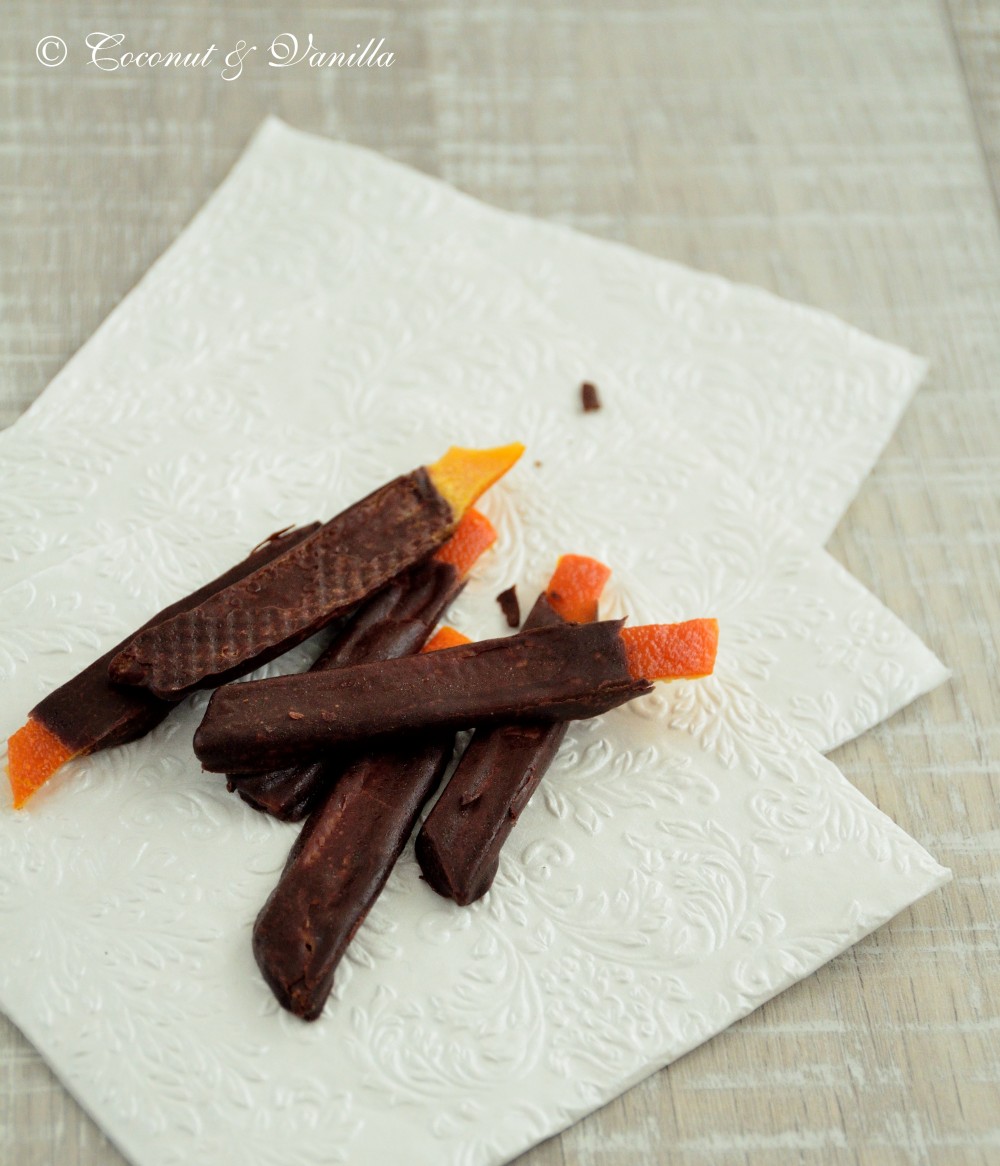 Vor einem Jahr: French Toast / Arme Ritter
Vor zwei Jahren: Rhabarber-Streusel-Kuchen
Orangettes / Orangetten
aus Rezepte aus dem Obstgarten von Valérie Lhomme
ergibt etwa 200 g
Zutaten:
3 Bio-Orangen, nach Möglichkeit mit dicken Schalen
100 ml Orangensaft, am besten frisch gepresst
250 g Zucker
200 g Zartbitterschokolade / Zartbitterkuvertüre (mind. 50 % Kakaogehalt), grob gehackt
Die Orangen je zweimal rundherum in regelmäßigen Abständen einritzen. Die Schale in vier Teilen abziehen.
In einem Topf Wasser aufkochen und die Schalen für 1 Minuten blanchieren. Die Schalen herausnehmen und abtropfen lassen.
In einem mittelgroßen Topf den Orangensaft, den Zucker und 400 ml Wasser zum Kochen bringen. Die Schalen dazugeben und bei kleiner Hitze zugedeckt für 1,5 Stunden köcheln lassen. Die Schalen herausnehmen und auf einem Kuchengitter abtropfen und 1 Stunde trocknen lassen. Meine Schalen hatten innen noch viel weiße Schale, das sogenannte Mesokarp. Das entfernt man am besten, denn es ist sehr bitter. Im jetzigen Zustand funktioniert das am Besten, da die Schalen nach dem Kandieren sehr weich sind. Dazu einfach das Weiße mit einem scharfen Messer abschaben. Die Schalen in Streifen schneiden.
Backpapier zurechtlegen. Die Schokolade/Kuvertüre über dem Wasserbad schmelzen. Die kandierten Orangenstreifen komplett mit Schokolade umhüllen. Am besten geht das mit einer Pralinengabel (sonst eine normale Gabel benutzen). Die schokolierten Orangenstreifen auf das Backpapier zum Trocknen legen.
Orangettes are candied orange peels, which are coated with dark chocolate.
I sent this sweet treat to Mia from the blog Küchenchaotin. We were partners for the great project Post aus meiner Küche (mail from my kitchen), in which blogger (300 altogether) are sending treats from their kitchen to other blogger. The first round was announced under the theme "chocolate". Who doesn't wind up with an idea for chocolate treats?!
We quite fit together. Mia had a whole chaos in her apartment, as she was cut off from water and electricity and the original recipe I wanted to make for her, didn't worked at all. I wanted to make fudge, which didn't set a bit. The mixture waits in the fridge to become ice cream. Too good to just discard it.
The chaos went on on the transport. Here in the south temperatures climbed up on Saturday. The delicious brittle truffle from Mia suffered under the heat. As it arrived I popped it the fridge immediately, it was almost melting away. Therefore my treats were mostly broken, as they arrived in Kiel. Besides the Orangettes I also prepared some spiced chocolate spoons, which were meant for drinking chocolate. All broken. But although some things went awry, the results taste still delicious. No, they taste even better, because they were made with love and send from us.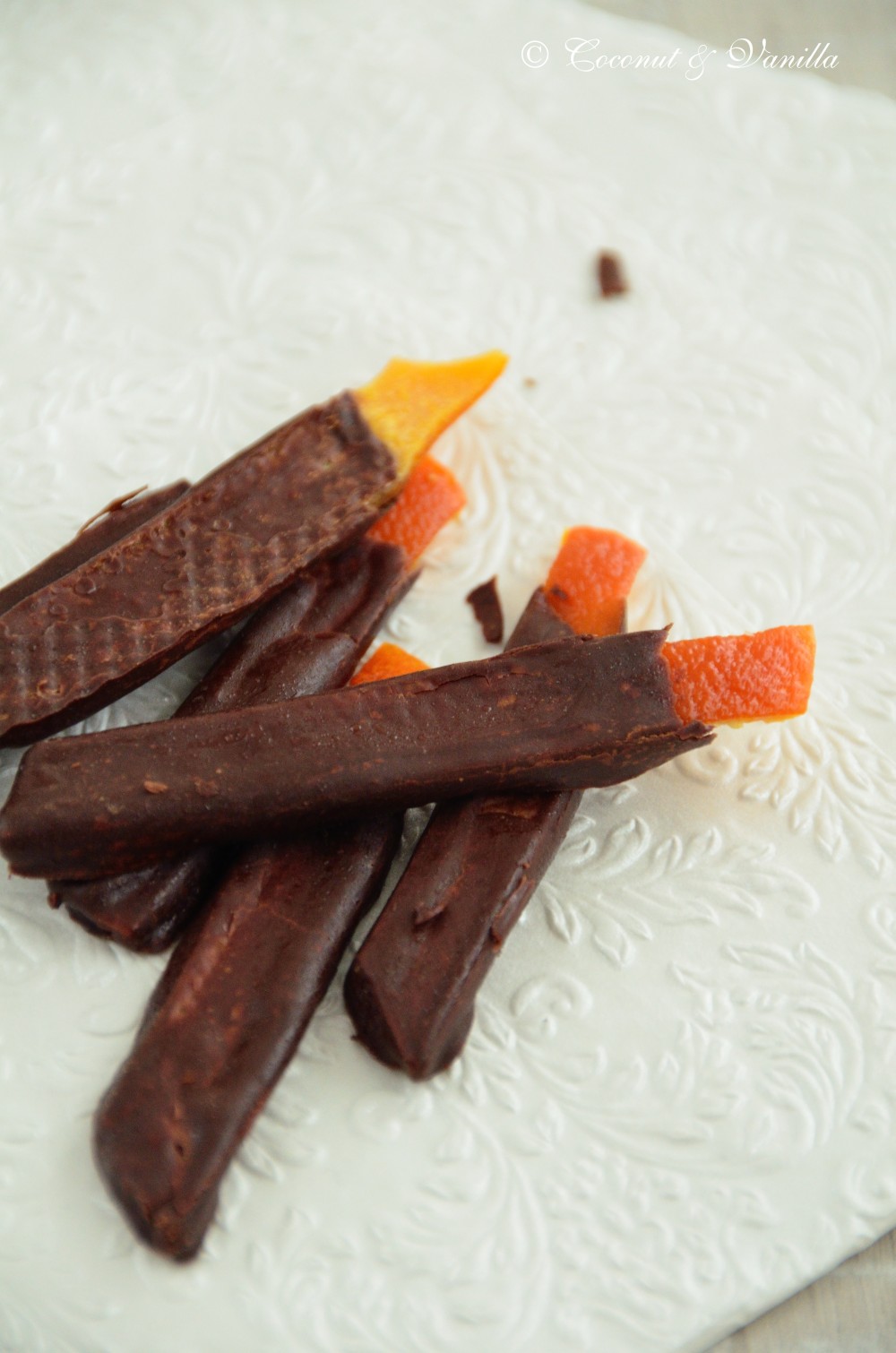 The Orangettes are an definite highlight, although they take some time. But you don't need invest a lot of time. It takes the most time to cover the candied orange sticks with chocolate.
The candied orange peels are melting in the mouth, they are creamy, but also refreshing. A perfect pair with the dark chocolate. Not dry in the slightest or chewy, as you know it from dried fruit (which we both don't like). I covered the peels  three quarters in chocolate, so you can hold them on one end and soak the rest. But the piece without chocolate became dryer and harder after a short time. So next time I will coat the whole peels.
You should use up the Orangettes quite quickly, as the chocolate begins to sweat for an undefined reason, so the chocolate also begins to peel off after some time. You get an idea of it in the pictures, since I totally forgot to take some pictures of my treats and the parcel. For that reason I did have to make some pics of the rests.
These Orangettes will change your lives, they are a real dream (and are much more beautiful in real, than in my awful pictures)!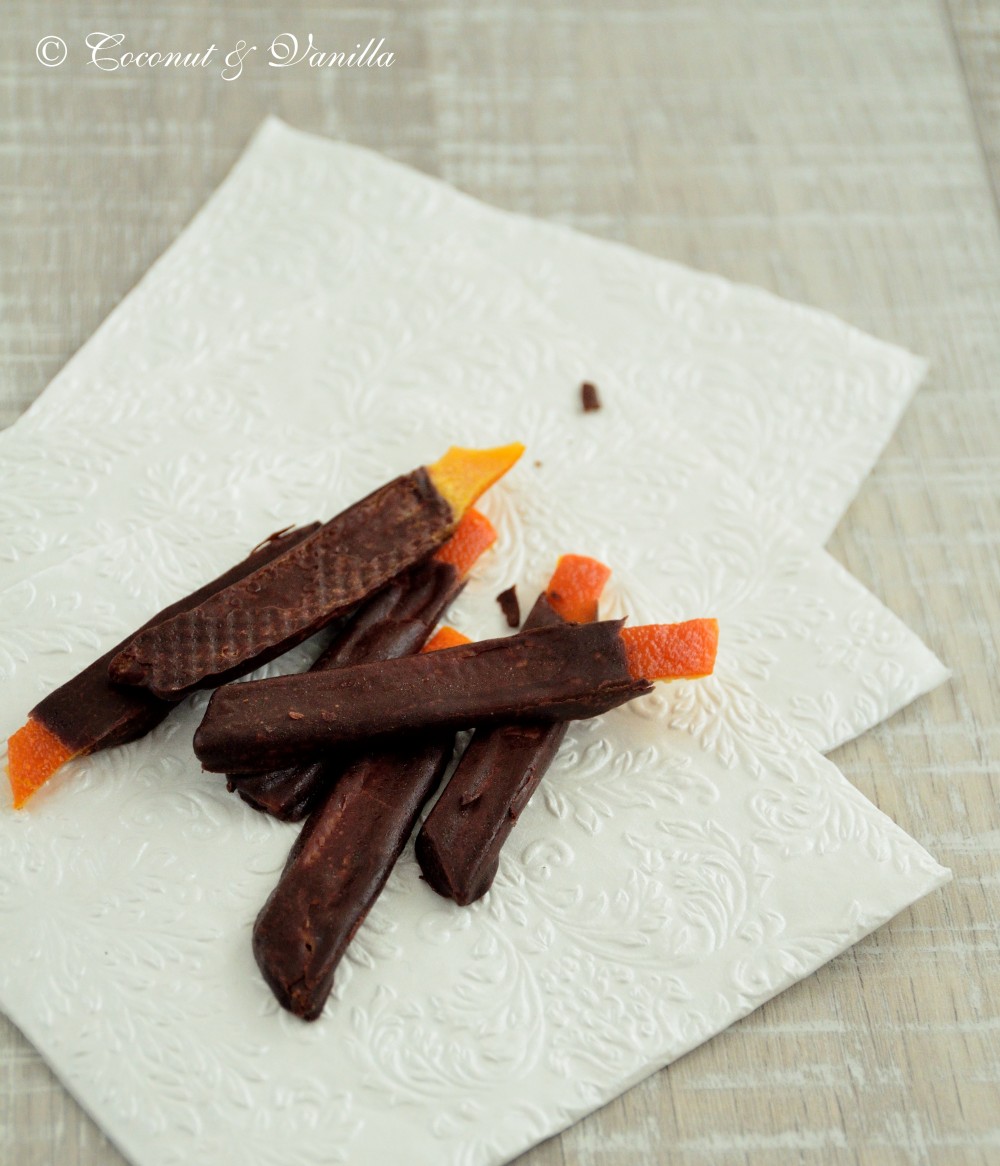 One year ago: French Toast
Two years ago: Rhubarb Streusel Cake
Orangettes
from the book Rezepte aus dem Obstgarten by Valérie Lhomme
yields about 200 g
Ingredients:
3 organic oranges, preferably with a thick peel

100 ml orange juice, best freshly squeezed

250 g sugar

200 g bittersweet chocolate (at least 50 % chocolate), coarsely chopped
 Carve the oranges two times all around at regular intervals and peel the skin off in four pieces.
Boil water in a large pot. Blanch the peels for 1 minute. Remove the peels and let them drain.
Combine the orange juice, the sugar and 400 ml water in a medium pot and bring it to the boil. Add the orange peels and let it simmer for 1,5 hours covered with a lid. Remove the peels and let them drain and dry on a cooling rack for 1 hour.
If your peels have a lot of the inner white peel, called mesocarp, it's best to remove it now, because it's really bitter. It works quite well in that phase, because after candying the peels are very soft. You can just scrape the white parts off with a sharp knife.
Cut the peels in stripes.
Prepare a sheet of parchment paper.
Melt the chocolate in a double boiler. Cover the candied orange strips fully with chocolate. Using a chocolate dipping fork is helpful (otherwise use a normal fork). Place them on the parchment paper and let the chocolate dry.